4 Dec, 2007
BCHR: Bahraini Human Rights Defender at Risk
Director of BYSHR is put to trial with the charge of heading unlicensed NGO
Bahraini authorities launch a legal pursuit campaign against unlicensed human rights groups
On Tuesday, 27 November 2007, the young human rights activist and undergraduate student, Mohamed Abdul Nabi Al-Maskati, 20, was tried by the Fourth Degree Minor Criminal Court. The notification of the hearing mentioned that Maskati is summoned to attend the hearing of the case no. 21741/2006 with charge of "activating unregistered association before issuing the declaration of registration."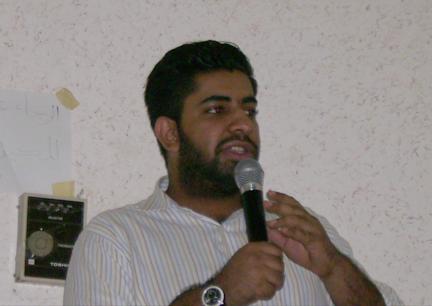 When the judge announced the charges leveled against the young activist, Maskati replied that he did not violate law. His justification was that he is following the international law of human rights signed by Bahrain, and consequently has become part of its internal laws, particularly after signing the International Convention for Civil and Political Rights. The laws he is charged with are contradicting the international commitments of Bahrain. The judge decided to postpone the trial to 21 January 2008.
Maskati is the head of Bahrain Youth Society for Human Rights (BYSHR) which failed to get registered because of the restricting procedures including but are not limited to Penal Code 1976 and Association Law 1989. The Bahraini laws criminalize the formation of any group without the approval of authorities, prevent handling political issues, and provide that all members should exceed the age of 18. All these conditions are not applicable to BYSHR. The real reason behind pursuit of NGO is its activism and unveiling many governmental violations. Despite the young age of its members, BYSHR played a great role in arranging training workshops, monitoring and documenting human rights violations, participating effectively in forming a regional network for young rights activists in eight Arab countries. BYSHR has also become an effective member of the Bahraini Coalition for Truth, Justice, and Reconciliation which has other six human rights groups and five political associations. Most of the unregistered human rights groups in Bahrain received similar notification by The Ministry of Social Affairs requesting them to stop their activities in their NGOs or they will be prosecuted.
Bahrain Center for Human Rights (BCHR) is astonished that Maskati is put to trial upon a restricted law that was previously condemned by international NGOs. BCHR was shut down according to this law before. The same law is pending governmental amendments right now, according to the governmental call for holding meetings to discuss the proposed amendments of the law. BCHR is concerned that Maskati trial is a notification for the other 10 human rights groups, networks, and committees which the government sees as illegal groups.