2 Jun, 2012
Pro-Democracy Demonstrator Ahmed Aoun Must Be Provided Medical Treatment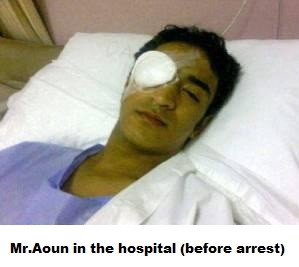 Update - 02 June 2012 According to information received by BCHR, the authority of dry dock detention center where Ahmed Auon is held refused to allow him to attend his scheduled surgery on 29 May 2012. The BCHR demand immediate medical attention to save Ahmed Ouns eye, and demands the release of Ahmed.
MAY 24, 2012
(BCHR - Copenhagen) – Mr. Ahmed Aoun is a seventeen year old student and demonstrator in Bahrain who has a metal pellet lodged in his eye which was fired from a police shotgun following his participation in a pro-democracy demonstration. When Mr. Aoun sought treatment in a private hospital, he was arrested by the police and has not received medical treatment. Mr. Aoun is currently awaiting surgery which, after delays resulting from his police detention, has been scheduled for 29 May 2012.
After Mr. Aoun was injured by the police, he sought treatment in a private hospital where he received the primary surgery on his cornea. A second surgery is needed to remove the bird shot from his eye, but he was arrested from the hospital by plain-clothed police officers on 13 May 2012 before this could be completed. His doctor refused the arrest due to the medical situation of Aoun but his opinion was disregarded.
During interrogation, Mr. Aoun informed the public prosecutor that during his detention he was beaten and subjected to sexual harassment. Mr. Aoun informed his family that he suffers from bleeding in his eye and severe pain and that he fainted multiple times during detention. For that reason he was taken to the clinic at the Ministry of the Interior and to the Salmaniya hospital, but the pellet in his eye was not removed; he was handcuffed during the times that he was at the hospital.
Mr. Aoun was examined by a physician on May 21st, and is scheduled to have the pellet removed from his eye on May 29th, he is currently still detained and undergoing a trial.
Many pro-democracy activists are afraid to seek treatment in hospitals for fear of arrest, and are therefore forced to receive inferior treatment at home, or remain untreated. Dozens of Bahrani protesters have lost their eyes as a result of these brutal police tactics[1], and assaults from the police in Bahrain using birdshot have resulted in at least one death in recent months[2].
Bahrain Watch has observed a near continuous use of birdshot since the pro-democracy demonstrations began on 14 February 2011[3], which has been escalated since the Formula 1 race in April[4]. The police in Bahrain regularly use shotguns to fire birdshot – which consists of metal pellets ranging from 2.2mm to 3.8mm in diameter – to suppress pro-democracy demonstrations; many protesters have been injured only in the back.
The Bahrain Center for Human Rights calls for:
Swift medical treatment for Ahmed Aoun and his release from jail.
Access to adequate healthcare for all Bahraini people, including pro-democracy activists, without the threat of imprisonment.
The suspension of violent police tactics, including the use of birdshot, which constitute a violation of human rights.
Medical report of Ahmed: