20 Aug, 2012
Mohammed Sahwan, injured with 80 shrapnel in his head and neck, denied medical treatment in the prison of Bahrain
Bahrain: Authorities still preventing treatment of injured prisoners, leaving them languishing in prisons in this heinous crime
August 20, 2012
The Bahrain Center for Human Rights is closely monitoring with concern the cases of injured prisoners in need of immediate treatment after being injured due to the brutal repression carried out by security forces in Bahrain in the past 18 months. What raises our concern is that many of the prisoners are serving harsh sentences without proper medical treatment, against the backdrop of peaceful demonstrations demanding freedom and democracy.
In this report, the BCHR sheds light on the case of injured prisoner Mohammed Mulla Hassan Sahwan (36 years) from Sanabis, as only one case among many similar ones to showcase the prisoners' suffering in their deprivation of proper medical treatment despite their serious injuries.

Details of Muhammad Sahwan's injury:
Mohammed Mulla Hassan Sahwan was sentenced to 15 years in the Central Prison of Bahrain (Jaw), after he was convicted along with four others of "planning to carry out an armed terrorist cell in Bahrain against vital installations and personalities" in a case known as the "Qatar Cell". Their trial was void of any evidence and the judgment was based on confessions taken under torture, while the court ignored the investigation despite the provision of medical reports substantiated. Sahwan was injured on 17 April 2011 during the state National Safety (martial law), a period known for the brutal violence conducted by security forces in Bahrain alongside the army to crush peaceful demonstrations as well as arbitrary arrests. On that day riot police forces, supported by armed civilians, started raiding and attacking houses in the village of Sanabis and they fired teargas canisters and bullet cartridge (shotgun) which is forbidden internationally. Mohammed Sahwan was near his father's house when riot police fired cartridge (shotgun) at him, injuring his leg, neck, head and other parts of his body. The shot made him fall on the ground, laying there for a period of time in fear of either being killed or getting arrested. Eventually he got up and ran, resorting to a nearby house while bleeding. Shotgun had spread on his body (head, neck, ear and part of the face and the entire back and one of the legs) and his condition was very serious. He was first aided secretly by doctors from Doctors Without Borders within a small apartment which was not fully prepared for necessary treatment. Fragments of shotgun were extract out of his leg, however some shrapnel remained in his head due to the need for an ultrasound before extracting them from a serious and sensitive part of the body. Muhammad Sahwan did not get the chance to go to a hospital in fear of being arrested, since hospitals were all under the control of the army and security forces who were arresting and torturing people inhumanely.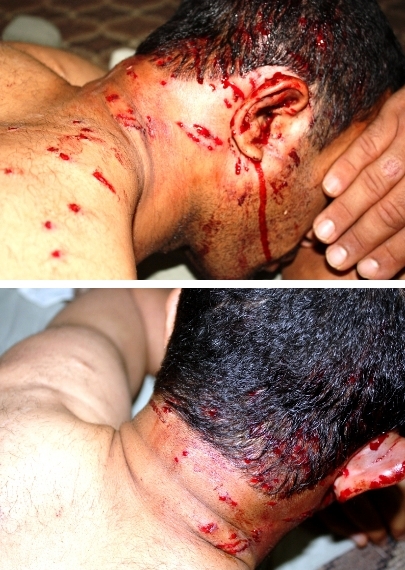 In October 2011 and after months, Sahwan travelled through the King Fahad Causeway to Saudi Arabia in search of treatment but he did not find a hospital that he felt safe to be in, as a result of security cooperation between Saudi Arabia and Bahrain. He decided to go to the State of Qatar in search of treatment, only to be arrested at the border along with those with him.
Detention and torture in the State of Qatar before being received by the intelligence, national security forces in Bahrain:
In the State of Qatar, Mohammad Sahwan and others with him were imprisoned and tortured psychologically and physically, as they were placed in a white room with surveillance cameras even in the toilet. They were interrogated at length, as Sahwan was threatened that he would not see his family again and no one would know of his whereabouts at all. He was told that he will go missing "just like how Mousa Al Sader went missing in Libya". After 32 days of detention in Qatar, the officer told them that they will be taken to the airport in a stunt of psychological torture and mockery, allowing them to seek treatment in Iran. However, they were taken to the airport and then to Bahrain and when they arrived the National Security Agency were waiting for them.

Torture in the building of the Criminal Investigation Department in Bahrain:
After being transferred from Bahrain International Airport to the building of the Criminal Investigation Department in Bahrain, Mohammed Sahwan and others with him were brutally tortured. According to his testimony the torture was supervised by Isa Al-Majali, a Jordanian officer who is known infamously for his brutal torture techniques. A number of reports were issued and documented regarding Al-Majali's involvement in torturing many Bahraini political prisoners. See the report: (bahrainrights.org/ar/node/5359) In his testimony on torture, Mohammed Sahwan told his lawyer, that Al-Majali said to him the following: "We have examined you at the hospital and saw more than 50 bullets of shotgun in your head, and they are all on the right side of your head. I shall hit you with all tools I have on your left side until you see the shotgun coming out of your head from the right side and blood is scattering out of your head unless you sign this statement. "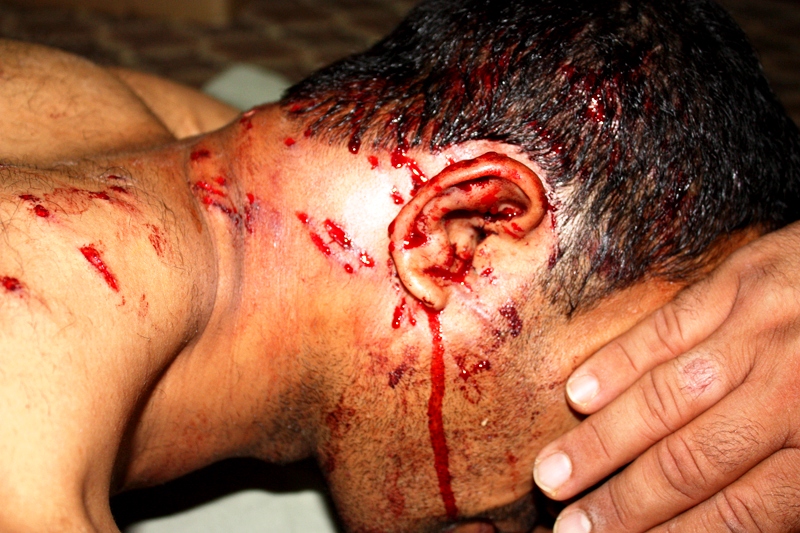 Initially Muahmmed Sahwan refused to sign the statement which contained false charges against him, and he was severely tortured yet he kept refusing. Al-Majali then started to threaten him of sexually assaulting his wife and said to him: "I'll bring your wife here in front of your eyes and we will rape and do what we want with her, you will be handcuffed and you won't be able to do anything, unless you sign the statement". Mohammed Sahwan signed the statement which was pre-prepared by them without knowing its contents. All the defendants in the same case (Qatar Terrorist Cell case) were subjected to torture. Their names are Muhammad, Ali, Isa and a religious figure named Ali Al-Mostarshid. Lawyer Mohammed Al Jishi gave the court a medical report of one hundred pages proving that his client Ali Al-Mostarshid was subjected to torture but all the allegations were ignored without investigation and all of the 5 detainees were sentenced to 15 years imprisonment without real evidence and based solely on their confessions which were taken under torture. The appeal court is looking into the case and has postponed it till September 9 2012.

Consequences of injury and the pain of the shotgun: 80 fragments in the head and neck and the rest are scattered around the body: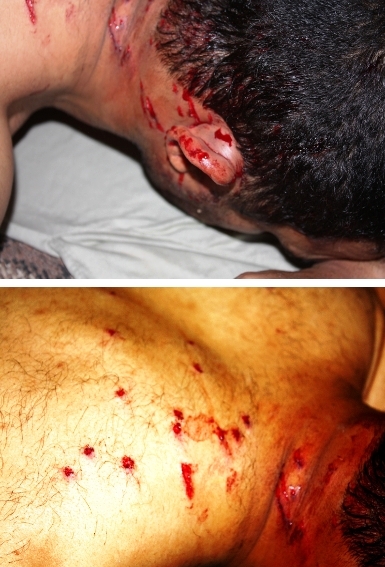 After months of detention, Mohammed Sahwan who is detained in Dry Dock temporary prison was examined by a doctor in the clinic of the Ministry of Interior. The doctor took x-rays, which showed that 80 fragments of shotgun are in his face, head and neck, and the rest scattered in the back and some others in one of his legs, all of them in need of urgent extraction. Prisoner Mohamed Sahwan was taken to the Military Hospital which is ran by the Bahrain Defence Force (army) and the surgeon informed Mohammed that he will not be able to perform the operation because it's dangerous, and that Mohammed will remain for the rest of his life medicating on painkillers to avoid the chronic pain caused by the fragments in his head. Mohammed kept suffering from pain for several months until his condition worsened. He was taken again to the military hospital where he received the same response, despite insisting on undergoing the operation regardless of how dangerous it is just to rid himself of the excruciating pain. After many appeals to his family, the prison administration at the Temporary detention center at Dry Dock agreed to transfer him to Salmaniya Medical Center. He was examined by a doctor who told him that he can perform the operation, but the doctor claimed that he is fully booked with no available appointments.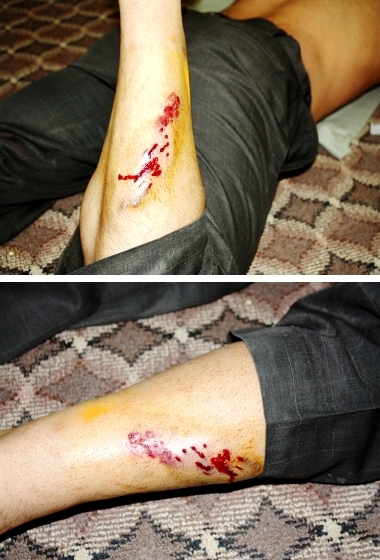 Prevention of medical care at Jaw Prison:
On May 27 2012, Mohammad Sahwan was sentenced to 15 years imprisonment and he was transferred to Jaw Central Prison, where he was prevented from going to the hospital despite the fact that he had scheduled appointments. He was prevented from even going to the prison clinic itself. When he was in pain, he was deprived from the pills prescribed by his doctor to reduce the pain. During Mohammed Sahwan's calls to his family, he screamed due to increasing pain. Ms. Reem Khalaf, Mohammed Sahwan's lawyer demanded him to be treated medically or at least be examined by a doctor. She also demanded that during the first appeal session on 1st July 2012, yet the prison administration and public prosecution did not respond to her appeals.
The BCHR has reported previously on such cases, such as the situation of Jaffar Salman (was released few days ago after 18 months detention), who was injured in his eyes whilst being deprived of medical treatment (bahrainrights.org/en/node/4804) as well as Younis Ashoori (was released few days ago after 18 months detention), who suffers from chronic kidney stones. (bahrainrights.org/en/node/5095 )
The Bahrain Center for Human Rights believes that denying injured prisoners their treatment is a direct violation of Article 25 of the Universal Declaration of Human Rights, which states that everyone has the right to health and medical care. This is a breach of international law which guarantees the right to treatment even in time of war, yet in Bahrain this right is ignored constantly.
Therefore, the Bahrain Centre for Human Rights demands the following:
- To immediately provide the necessary treatment to Muhammad Sahwan and all other prisoners in need of medical care in the prisons of Bahrain.
- For the authorities in Bahrain to commit to international conventions which they have ratified, especially the rights of prisoners to receive full medical care.
- The release of Mohammed Sahwan and others convicted in the case where the judgment is only based on confessions extracted under torture, which is internationally prohibited.
- Accountability against those involved in torture, bringing them to a fair and independent judiciary, including the Jordanian officer Isa Al-Majali, who's name was repeated in many documented cases of torture.
**
Note: Photo source bahrainmirror.com