30 Dec, 2012
Bahrain: Bassil Al-Qattan; Extensive Use of Teargas by Bahrain's Authorities Claims Another Victim
Photo: Left Basel Al-Qattan and his son , Right Basel in ICU
30th December 2012
The Bahrain Center for Human Rights (BCHR) expresses its grave concern over the death of a Bahraini citizen due to Bahrain's authorities extensive use of teargas in the streets and inside the homes of crowded villages.
Basel Mansoor Al-Qattan (44 years old) a father of two (9 year old girl and 12 year old boy), suffered for a long period of time from cardiomyopathy and asthma, which made him vulnerable to the teargas that lead to his death on the 19th of December, 2012, according to family.
Al-Qattan's family stated to the BCHR that he was first subjected to teargas on the 5th of August, 2012, while he was driving his car in a protest area and riot police were firing teargas, this had caused him to experience a degree of suffocation, his heart was damaged, and this exposure caused him to cough blood for a long period of time.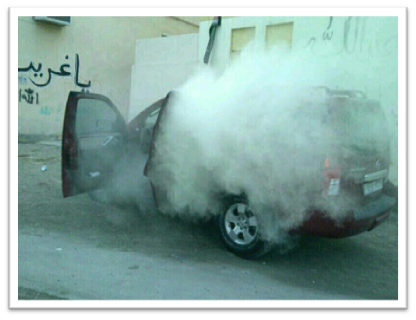 Photo: In similar incident, teargas being thrown inside a car
According to his family, due to his weakened health condition and his decreased mobility, Al-Qattan moved from his 3rd floor flat to the ground floor, and on the 12th December, 2012, riot police used an extensive amount of teargas in the area around his home following a peaceful protest. Al-Qattan's location on the ground floor, and subsequent closer proximity to the tear gas, caused further health complications, in spite the attempts by his 12-year-old son, who activated the air filter they keep in their home for such cases. After this incident, his health was so poor that he was finally driven to the hospital.
Al-Qattan's family delayed going to the hospital because they feared that he would be arrested without receiving any medical attention if they stated to the officials at Salmaniya Hospital the reason for the health problems was "teargas inhalation". This is a legitimate fear shared by many citizens, and the BCHR regularly receives a large number of reports of injuries, most of which are treated in private homes out of fear of arrest at the hospital.
After spending 8 days in the Intensive Care Unit, Basel Al-Qattan was announced dead on 19th December 2012.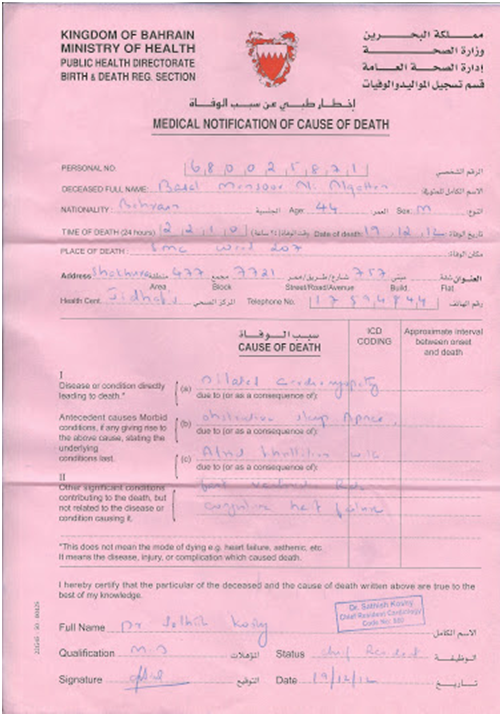 Photo: Medical Notification of Cause of Death for Basel Al-Qattan
According to a doctor consulted to look into the case: "Basel Al-Qattan was suffering from Obstructive Sleep Apnea caused by a bilateral cardiomyopathy. As a result, a patient having this condition will be suffering from severe breathing difficulties to the extent that a patient wont be able to lie straight on the ground or in bed without being suffocated. This condition would make him vulnerable to having severe depression in his respiratory system with any small stimulus. With this condition, having being exposed to a small amount of teargas can lead to fatal deterioration in his condition."
The use of extensive teargas by the Bahraini authorities is alarming, the BCHR received and documented a number of cases of death and as per BCHR Report "The BICI Reforms: Promises of Progress, a Worsening Reality" dated 19th November 2012:
"According to the statistics confirmed by the BCHR, the number one cause of death by the Bahrain authorities is the extensive use of teargas of 31% of total number of deaths"
YouTube Videos of Extensive Use of Teargas:
1. Bahrain police fired tear gas on a woman car a child inside‬‬‬‬‬ 2. Bahrain police attack women car by teargas‬ 3. Riot Police shooting tear gas from a window inside a home in Aali 4. Riot Police invade homes in Bahrain and shooting tear gases inside 5. BAHRAIN: house burning because of tear gas Shootings
The BCHR calls on the United States, the United Kingdom, the UN and all other allies and international institutions to put pressure of the Government of Bahrain to stop its use of excessive force in response to the continued peaceful protests, and to consider a meaningful solution to resolve the persistent political issues of instability in the country. The BCHR calls on the Government of Cyprus and other Ally Governments to Bahrain to stop supplying the government of Bahrain with arms that are used against peaceful protesters, causing severe injuries and deaths among them.
Read: 1. Richard Sollom's testimony to the Tom Lantos Human Rights Commission (US Congress) on Bahrain's use of teargas against civilians. 2. PHR's New Report: Weaponizing Tear Gas 3. Two more deaths in Bahrain due to teargas, activist beaten, and other updates