30 Dec, 2012
Bahrain: Award Winning Photographer Ahmed Humaidan Kidnapped and Detained
Systematic Crackdown on Freedom of Expression Continues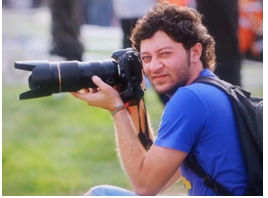 Photo: Ahmed Humaidan
Date: 30th December 2012
The Bahrain Center for Human Rights condemns the continued harassment and arbitrary arrest of journalists in Bahrain. Renowned and award-winning photographer, Ahmed Humaidan, (25 years-old) was kidnapped by 15 security officers, in civilian clothing, and is currently being detained. On the 29th of December, 2012, at approximately midnight and while Ahmed Humaidan and his friends were entering the city center shopping mall, 15 men in civilian clothing, who are believed to belong to the security forces, surrounded Humaidan and abducted him without declaring the location where they were going, nor identifying themselves. His family sought information about him in different police stations and the Criminal Investigation Department (CID) without receiving any information. After 19 hours without news on his whereabouts, Humaidan called his family for 20 seconds to inform them that he is alive, and that he is at the Criminal Investigation Department (CID) being interrogated without the presence of his lawyer.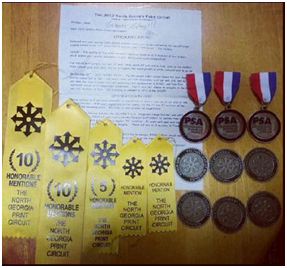 Photo: Badges and medals won by Ahmed Humaidan for his photojournalism
Through his photos, Ahmed has documented many moments in the daily protests (See his instagram page for example: instagram.com/ahmedhumaidan and 500px.com/AhmedHumaidan)
Ahmed Humaidan is a member of the FIAP "Fédération Internationale de l'Art Photographique" and the PSA "Photographic Society of America".
He won 143 international awards in photographic competitions and he is considered the 2nd highest ranked Arab photographer in winning photography contest, among his awards are: - Gold Medal in FKNS Grand Prix 2012 – Serbia. - Gold Medal from FIAP for Hungarian Circuit 2012. - Honorary Badge from for PSA International Exhibition (Photojournalism Prints) – 2012
The Bahrain Center for Human Rights believes that the arbitrary arrest of Ahmed Humaidan is solely related to his legitimate work as a photographer and his activity in documenting protests and police attacks, which has led to exposing the severe human rights violations by the authorities in Bahrain.
Photo: Photojournalist Mazen Mahdi in an archive photo while be targeted by police
In a similar situation, on the 28th of December, 2012, DPA photographer and renowned photojournalist Mazen Mahdi was arrested by police while covering a protest. Mazen tweeted via his account @MazenMahdi: " Being Arrested #Bahrain" and after his release one hour later he tweeted: "The reason for stopping me was not participating in anything but for taking pictures .. Apparently @moi_bahrain thinks cameras weapons!"
This was the second time Mahdi was arrested in just the month of December, 2012, which the BCHR believes is an attempt to hinder his work and intimidate him.
The authorities in Bahrain have made targeting journalists a common practice since last year.
Today, another photographer, Hasan Matooq is in prison since 2011 is serving a sentence of 3 years that was handed by military court for allegations of faking photos of injuries.( Read more about his case: bahrainrights.org/en/node/4876)
BCHR demands that the Bahraini government release photographer Ahmed Humaidan, and other detainees imprisoned for their views, and peaceful work as observers of demonstrations, immediately and unconditionally. We demand the Bahraini government to allow the practice of freedom of expression without being targeted.
Read More:
1. Reporters Without Boarder: Despite Government's Promises, Journalists Continue To Be Harassed And Attacked 2. BCHR : Bahrain: Continued harassment of journalists 3. CPJ: Bahrain arrests critical journalist