17 Feb, 2014
On Anniversary of Uprising, As Many As 300,000 Take To The Streets Despite Government Crackdown
Friday, February 14th, marked the third anniversary of the pro-democracy protests in Bahrain, and hundreds of thousands of people took to the streets over the weekend to demand their right to freedom and democracy. The government responded with a heavy use of teargas and the use of shotguns loaded with pellets. The BCHR documentation team confirmed that at least 50 people were injured during the protests. The BCHR documented 94 arrests in the days leading up to the protests, and throughout the weekend - from 10 February through 16 February.
The largest pro-democracy protests came on Saturday, February 15th for a peaceful demonstration. The official estimate from Al-Wefaq for the size of the protests on Saturday was 300,000.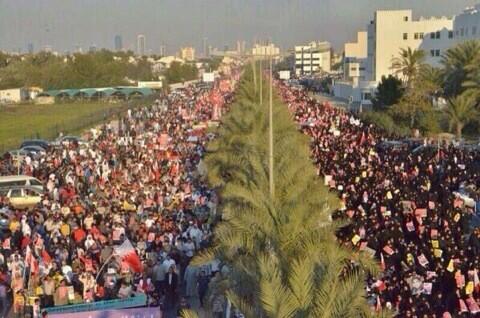 Over the course of the last three years, the government's excessive use of force has resulted in 93 death - the leading cause of death is the excessive use of teargas, which the government continues to abuse. There are still more than 2,200 political prisoners in detention, and the courts are regularly used as a political tool to punish dissidents. After three years of promises from the government that they will begin working towards real reform, torture remains widely practiced on a systematic level, and Bahraini people are subjected to enforced disappearance on an almost daily basis.