24 Mar, 2014
Bahrain: After Bomb Blast, Detainees Reportedly Tortured
The Bahrain Center for Human Rights is seriously concerned over the recent arrest of four individuals in connection with an alleged bomb blast in Diah, Bahrain. A clear pattern has emerged, as documented by the BCHR, of detainees reporting that they are subjected to torture during the first hours and days of their arrest (for recent cases, see: http://bchr.hopto.org/en/node/6781 and http://bchr.hopto.org/en/node/6772 ). It is particularly important during this critical time that the BCHR insists that the detainees must be granted access to a lawyer, and that their whereabouts are clearly communicated to the family at all times.
An arrest warrant was issued just hours after the authorities claim that the blast took place. Twenty-nine individuals were arrested including several from the Mushaima and Al Samea families (see, in Arabic: http://www.bbc.co.uk/arabic/middleeast/2014/03/140309_bahrain_blast_trail.shtml). The individuals who have been charged in the case are: Abbas Jameel Taher Mohammed Al Samea, 25 years-old, who was previously sentenced to five years in prison on charges under the internationally criticized terrorism law; Ali Jameel Taher Mohammed Al Samea, 24 years-old, who was also previously tried in absentia and sentenced to five years in prison on charges of terrorism; Taher Yusuf Ahmed Mohammed Al Samea, 22, and Sami Mirza Ahmed Mushaima, 40.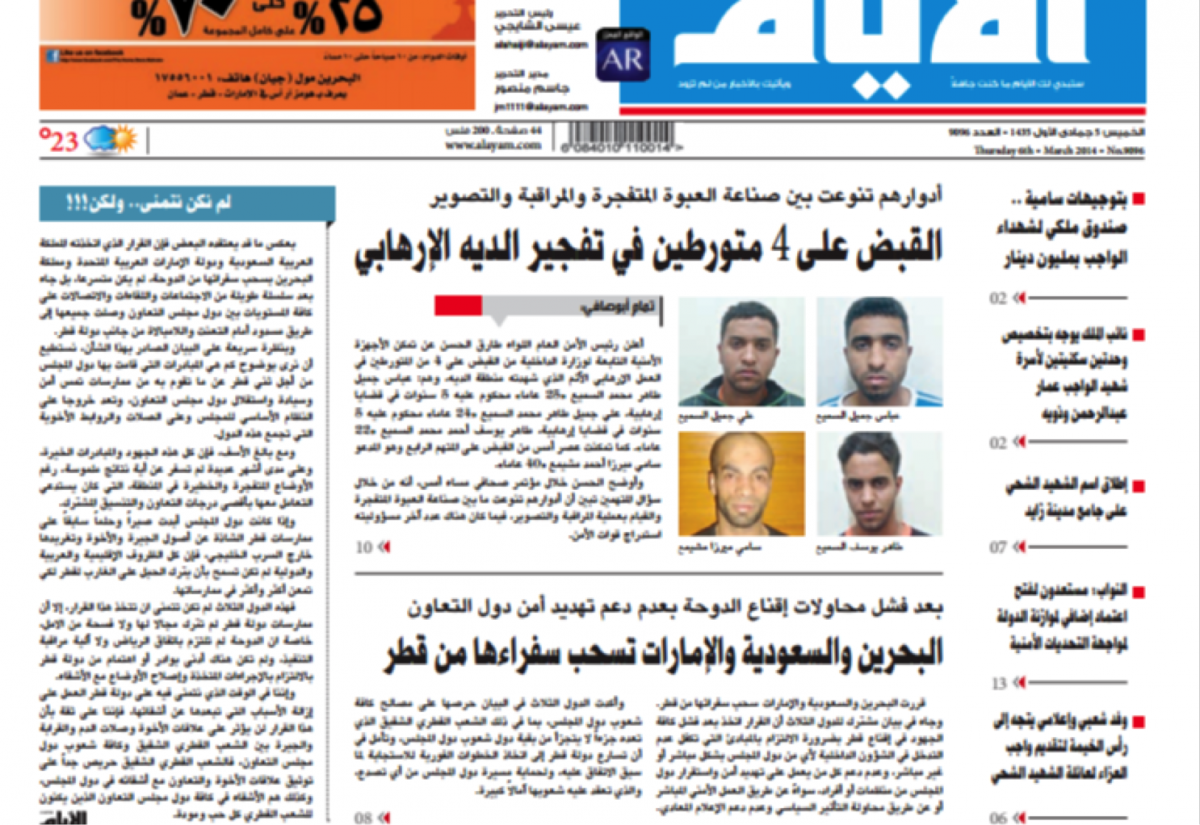 Translation of the news article presuming guilt in the case: Arrest of four people involved in Diah terrorist bombing
Sami Mushaima previously reported to the BCHR that he was subjected to torture while in police custody in 2010 on terrorism charges. He was reportedly interrogated by Bader Ebrahim Ghaith, who is currently employed at the National Security Apparatus. Mushaima was reportedly severely tortured, and electric shocks marks were visible on his body according to eyewitnesses. Mushaima stated that he was placed in extremely cold water, and then made to stand in front of an air conditioner while blindfolded. The authorities also forced him to remain in handcuffs while he was in his prison cell. Bader reportedly took a personal role in torturing Mushaima, including beating him on his genitals. Mushaima was prevented from going out of his cell as other prisoners were, and prevented from going to the toilet freely. The authorities forced Mushaima to stand for prolonged periods of time. One of his fellow prisoners stated that Bader told him he was going to be sentenced to 15 years imprisonment, and that the judge reads the sentences they decide on. Mushaima was arrested hours following Daih explosion. His father's house was raided and he was arrested along with three of his brothers; his mother and sister in law were reportedly beaten and the house was vandalized. According to his family, their house was raided again the following day, when security forces brought in large bags and went to the roof. The family witnessed weapons, bottles and other things being taken out of these bags and police were taking photos of them like they were there before. The house was attacked three more times at dawn after that. On 16 March, two more members of the family were arrested. Sami Mushaima is the main suspect in Daih explosion case, despite the fact that he is illiterate and that he was just released a few months ago from prison.
Mushaima was subjected to enforced disappearance for several days after his arrest. On 23 March, the family saw Mushaima for the first time. His mother said that his teeth were either broken or pulled out. He was wearing a jacket even though the weather was hot, and the jacket may have been used to conceal signs of abuse; there were visible burn marks on his hands. Mushaima's family has stated that they have lived in constant fear for years as their home has been raided by the police more than twenty times since 2011.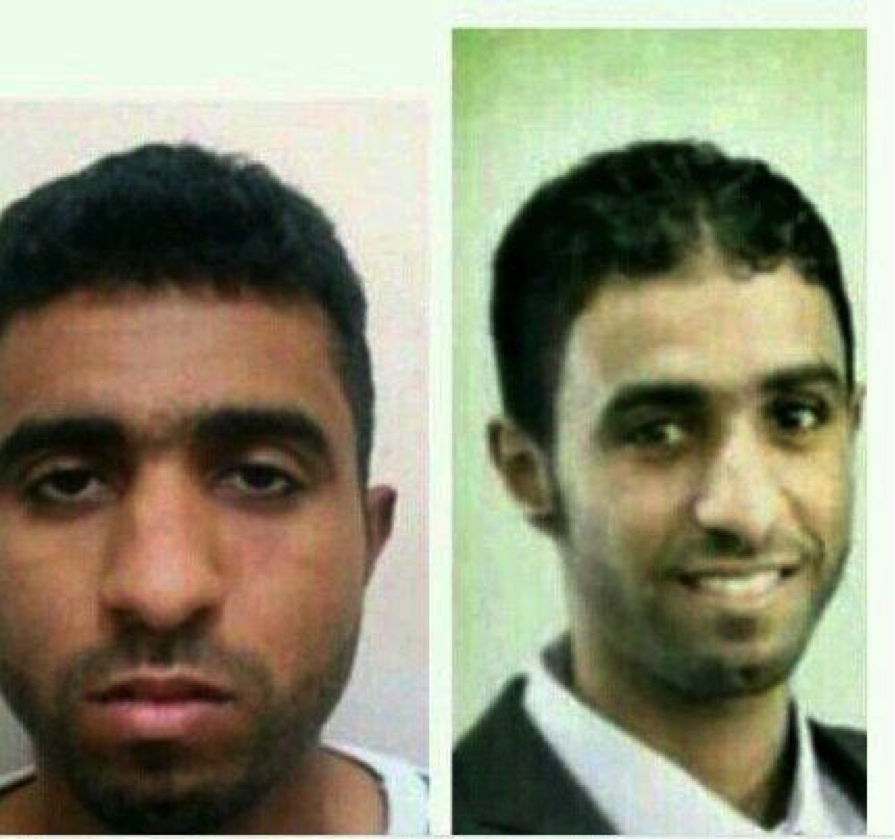 Abbas Al Samea: left is the photo published by the Ministry of Interior
Abbas Al Samea is another detainee in the case. He was arrested with at least three other members of his family whom were recently released; he was allegedly tortured in detention. Al Samea's mother said about his photo that was published by the Ministry of Interior that she didn't recognize him "Abbas' face was swollen from torture. It is pale and there is a bruise on his eye." His family stated that he called saying he was fine and not to worry about him. When he was asked about his whereabouts he didn't answer. Like Sami, Abbas Al Samea, along with his brothers, were also detained in 2010 and said that he was subjected to severe torture. He was reportedly electrocuted in his genital area, striped naked and splashed with cold water, forced to stand naked in a cold room, whipped and beaten with plastic hose. Abbas is the only detainee in the case who has yet to be transferred to the Dry Dock detention center, which means he is most probably still being detained in the Criminal Investigation Directorate. He has not been allowed a visit from his family, and they are gravely concerned over his wellbeing.
Based on the above information, the Bahrain Center for Human Rights calls on the United States, the United Kingdom, the United Nations, the European Union, and all the close allies and international institutes to lay pressure on the authorities in Bahrain to:
immediately provide all detained individuals in this case with a lawyer, and allow them access to family visits;
end the practice of torture to extract false confessions, and end the practice of subjecting detainees to enforced disappearance;
investigate the news outlets that illegally presume guilt in alleged terrorism crimes, and hold the responsible individuals accountable;
immediately and unconditionally release all political detainees who have been arbitrarily arrested for politically motivated charges due to the current popular movement for freedom and democracy;