16 Feb, 2015
Fourth Anniversary of the Bahraini Uprising: Violent Attacks on the Peaceful Marches and Protests
On 14 February 2011, a pro-democracy movement started in Bahrain, where tens of thousands of Bahraini citizens took to the streets demanding political reforms and a constitutional monarchy defending their basic human rights including the right of freedom of speech. The authorities consider participation in human rights activities as an act of disloyalty and such individuals are arbitrarily arrested and punished.
The 14 February this year marks the fourth anniversary of the launch of the movement demands that had been taken from the Pearl Roundabout based before being brutally attacked, leaving many victims, including injuries and deaths in addition to the detainees.
Peaceful marches and events have been out since Thursday 12 February 2015 and were majorlyattacked. A number of violations bythe Bahraini authorities have been documented in the past few days:
Arbitrary arrests:
In the period between 12 and 14 February 2015, 69 cases of arbitrary arrests have been documented by the Bahrain Center for Human Rights (BCHR), including more than 20 children of less than 18 years old. Only 11 people out of the 69 were released at a later time, one of them is Mahdi Mansoor Mirza who was released under the condition of presenting at the Public Prosecution for minors today, Monday 16 February 2015.
Illegal houseraids:
In the same period, the Bahrain Center for Human Rights (BCHR) has documented 21 cases of house raids with no search warrant presented by the police forces in civilian clothing as can be seen on the following picture.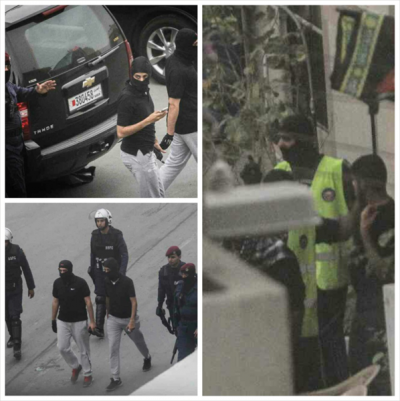 Excessive violence in confronting peaceful protests:
The Bahrain Center for Human Rights (BCHR) has also documented more than 120 peaceful protests [1] encountered by authorities using excessive forms of violence leaving more than 100 citizens injured [2], ranging from direct injuries due to tear gas canisters to injuries related to the lead pellets fired from a shotgun [3].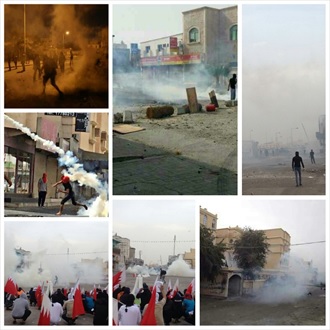 Excessive repression, especially in residential neighberhoods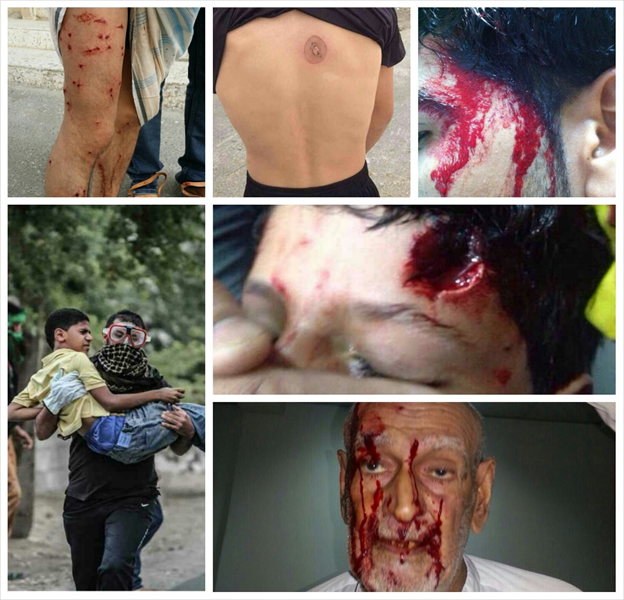 Injuries caused by excessive use of force and the repression of peaceful demonstrations

Excessive use of tear gas canisters
Nabeel Rajab, president of the Bahrain Center for Human Rights (BCHR), commented on the size of the number of participants in the marches and protests demanding basic human rights and democracy: "The size of the popular demonstration on February 14 stroke me in that it was bigger, more widespread and accepted among the people, even more than it was before I was imprisoned in 2012."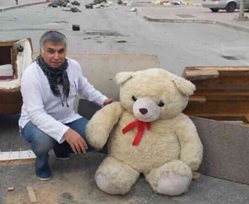 Nabeel Rajab with a teddy bear which was placed in the street by protestors to prevent the police from entering
As documented above, the Bahraini regime is in clear violation of fundamental human rights, especially the right to freedom of expression defended in international conventions and more specifically stated in Article 19 of the Universal Declaration of Human Rights which states that "everyone has the right to freedom of opinion and expression which includes freedom to hold opinions without interference and to seek, receive and impart information and ideas through any media, regardless of frontiers."
Based on the above, the Bahrain Center for Human Rights (BCHR) calls on the United States, the United Kingdom, the United Nations and all other relevant international institutions and human rights organizations to put pressure on the government of Bahrain to:
- Put an immediate end to human rights violations, particularly the right to freedom of expression and freedom of peaceful assembly
- Hold accountable all those responsible for human rights violations, especially those who hold high positions in government
- Fairly compensate the victims according to the size of their injuries