8 Apr, 2015
To mark the 4th anniversary of Abdulhadi's Arrest: Al-Khawaja and Seif: Two Families Stand Firmly for Freedom and Social Justice
This is the story of two families from different countries who share the same pursuit of human rights despite immense personal costs. The first comes from Bahrain, while the second hails from Egypt. Human rights defense has passed from one generation to another in these families of courageous men and women, some of whom are in jail on lengthy sentences for standing up for their beliefs.
By
Khalid Ibrahim
First part in Bahrain:
Al-Khawaja Family
Abdulhadi Al-Khawaja:
After the popular uprising in Bahrain during February 2011, Abdulhadi Al-Khawaja resigned from his work with Front Line Defenders, where I used to work with him. When I asked him why, he said: "I want to be with my people while they struggle in pursuit of freedom." That answer summarizes the life of Abdulhadi Al-Khawaja, the prominent, internationally known and admired prominent human rights defender who faced imprisonment, torture, harassment, and intimidation as the price for demanding freedom for his people in Bahrain.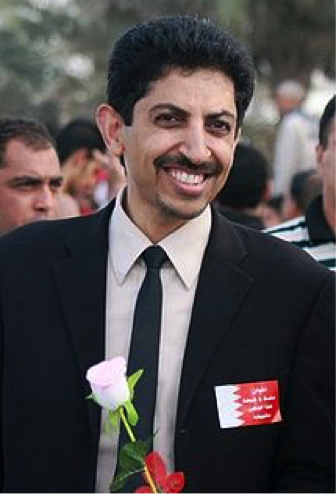 Abdulhadi Al-Khawaja participating in a peaceful demonstration in February 2011
Al-Khawaja faced immense violations to his civil and human rights as a peaceful citizen beginning from the monstrous way in which he was arrested on 9 April 2011. This was followed by brutal torture, resulting in a broken jaw and requiring several operations, then finally by an unfair trial in which the simplest of international standards for fair trials and due process were missing. Al-Khawaja was sentenced by the National Safety court – a Bahraini military court – on 22 June 2012 to life imprisonment. As the sentence was being pronounced, Al-Khawaja raised his fist and said: "We will continue on the path of peaceful resistance."
The picture below was taken by one of the policemen in the courtroom who thought that by taking such a picture he would humiliate Al-Khawaja. Instead Al-Khawaja's beloved ones hung this picture all over the walls of their houses; to them, this picture in actual fact embodies his strength and courage as well as his rejection of all methods of oppression and terror.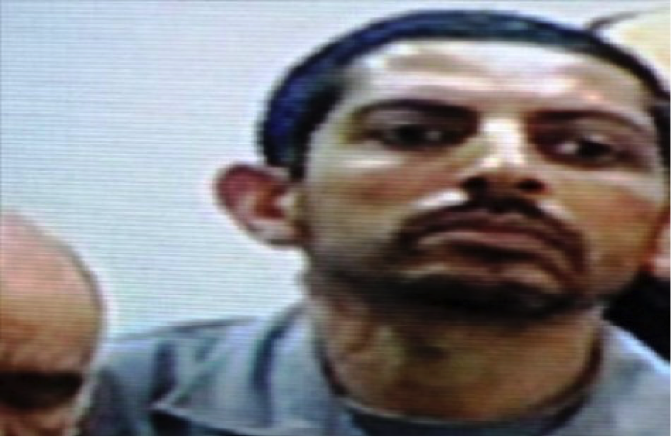 In prison, he was extremely mistreated, which is why he carried out a hunger strike along with his fellow inmates several times asking to be released and for better treatment towards them in prison. On 8 February 2012, he started a hunger strike on his own, calling for their collective freedom, which led to a dangerous deterioration of his health. On 28 May 2012, Al-Khawaja announced the suspension of his hunger strike on the 110th day, after having been force-fed. On 25 August 2014, he started a new hunger strike after having been in the same prison for three and a half years, protesting his arrest on charges related to freedom of expression. This time he stayed on hunger strike for 30 days.
In this next picture, Abdulhadi Al-Khawaja is in the last days of his first hunger strike: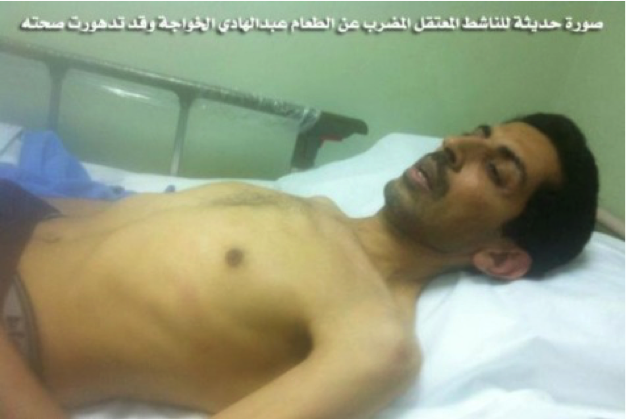 On 2 March 2015, Abdulhadi Al-Khawaja, a co-founder of the GCHR and former President of the BCHR, began a three-week water-only hunger strike in protest of his continued arbitrary detention, poor prison conditions, and restrictions on family contact, lack of investigation into torture of prisoners and other mistreatment of prisoners of conscious. (For an update, see http://www.gc4hr.org/news/view/972)
One should admire that Abdulhadi Al-Khawaja is doing his best to support human rights movements in the Middle East and North Africa and he has many relationships with human rights defenders in Syria, Palestine, Western Sahara, Tunisia, Sudan, Saudi Arabia, Yemen and other countries of the region. He has always strongly believed in the necessity of full solidarity and coordination between human rights defenders in order to achieve the ultimate goal, which encompasses building free and prosperous societies in which citizens can enjoy their freedoms fully whether civil or human rights.
Khadija Al-Mousawi:
It would not have been easy for Abdulhadi Al-Khawaja and the rest of his family to reach this rare level of struggle, resistance, sacrifice, selflessness and bravery without the outstanding contributions and the heroic role of Khadija Al-Mousawi, Al-Khawaja's wife and partner in life. She is a unique woman who is characterized by her strong and brave personality as well as her adoption of sacrifice for freedom. Al-Mousawi always thinks of the victims of oppression in Bahrain and forgets what she and her family are going through, despite suffering severe violations denounced worldwide.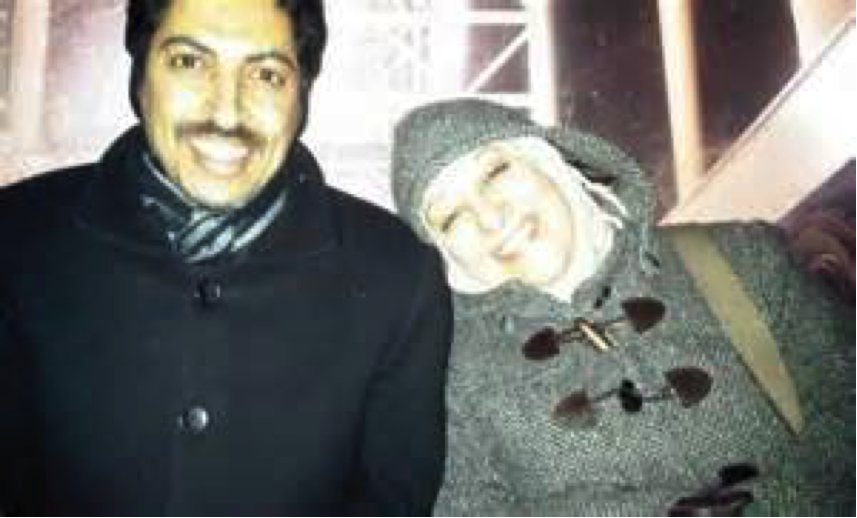 Khadija Al-Mousawi and her husband Abdulhadi Al-Khawaja
And the next tweet shows a clear idea of her true conviction in what her family members are doing as peaceful activists even though their activities expose them to direct harassment and risk of arrest by the government of Bahrain. She is proud of their work and strongly supports them at all times, becoming a big part of what they do at heart in planning, implementation and evaluation.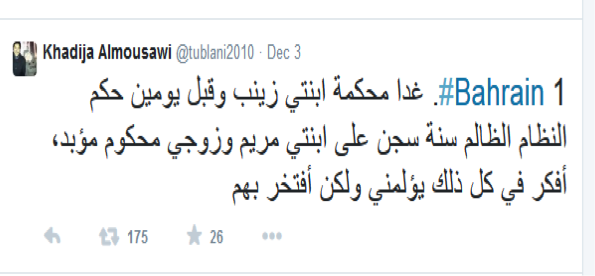 Zainab Al-Khawaja:
No one has caused severe discomforts to the government of Bahrain or any of its authorities like the human rights activist Zainab Al-Khawaja has. No one can predict what she might do next since she could be anywhere, at the gate of any prison or ministry protesting and telling the world about the oppression and discrimination experienced by the Bahraini people, as well as the deprivation of their basic human rights. They have tried to jail her on trumped up charges, however, even in jail, she can expose their incredible and unreliable claims by using international law mechanisms and the support of the international community.
Zainab Al-Khawaja is the voice of the Bahraini people tweeting for their freedom and their hopefully blissful future. She is the daughter of her father, a brave woman with no fear, who used her twitter account to expose the black record of the Bahraini government in the field of human rights. The decision to target her is due to her enormous courage.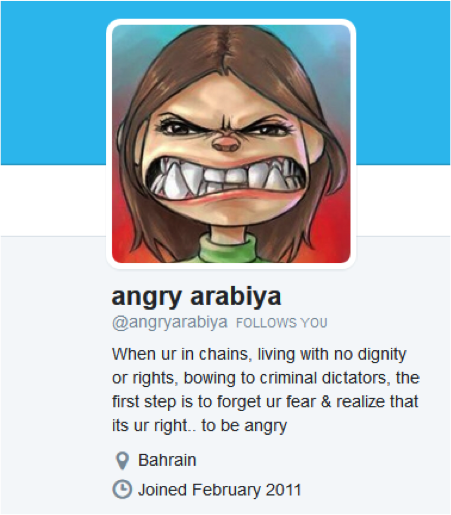 Look at her in that picture standing alone majestically with her head held high calling for freedom in front of the Bahraini Security forces with their weapons. She really is a lioness, the courageous daughter of Abdulhadi Al-Khawaja.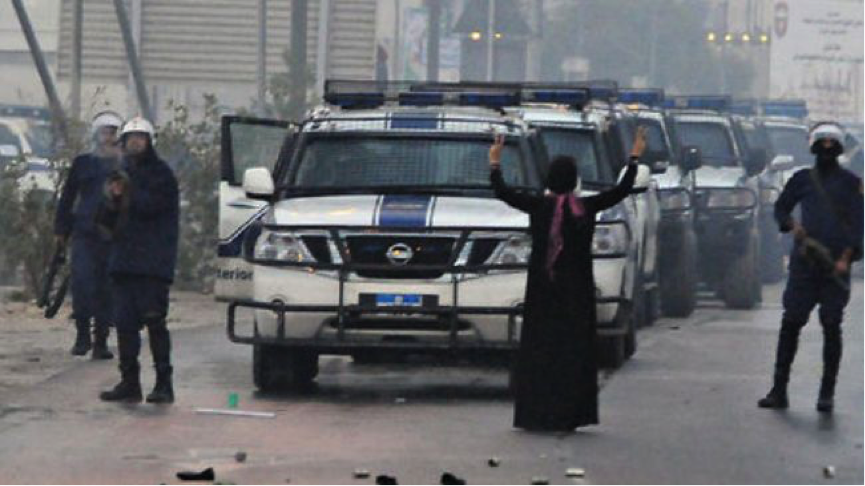 And in another photo, though she is surrounded by police officers on all sides, she keeps on protesting peacefully and asking for the freedom of her Bahraini people.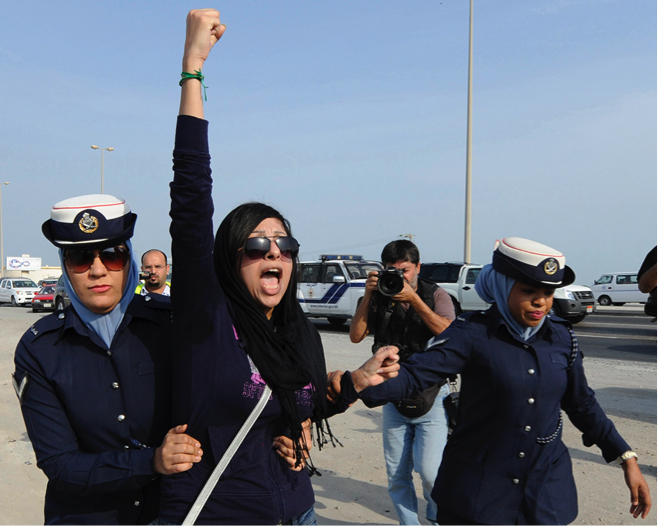 Zainab is in danger now since she could be arrested at any minute. On 4 December 2014, she was sentenced to three years in prison with a fine of 3000 Bahraini Dinars, on charges of tearing up a picture of the Bahraini monarch during a court session held in October 2014. She has paid 100 Bahraini Dinars bail for her release until the next appeal, which is to be held on 15 June 2015. She also faces other sentences amounting to over four years in prison. See http://www.gc4hr.org/news/view/847 and an Update: http://www.gc4hr.org/news/view/926.
Although the Khawajas have been jailed, tortured and are still being harassed they are proud of what they do: defending the civil and human rights of oppressed Bahraini people. There she is again, Zainab saying a beautiful and touching statement on behalf of her family claiming that freedom deserves every type of sacrifice, in the following tweet:

Maryam Al Khawaja:
Maryam Al-Khawaja participated in the February 2011 protests and later left the country to tell the whole world the truth about what is actually happening in Bahrain. Nothing could stop her from taking trips to all continents and not only in order to rally support for the honorable cause of the people of Bahrain but also as Director of Advocacy of the Gulf Center for Human Rights. She has also done her best to support human rights movements in Saudi Arabia, UAE, Syria, Iraq and other countries.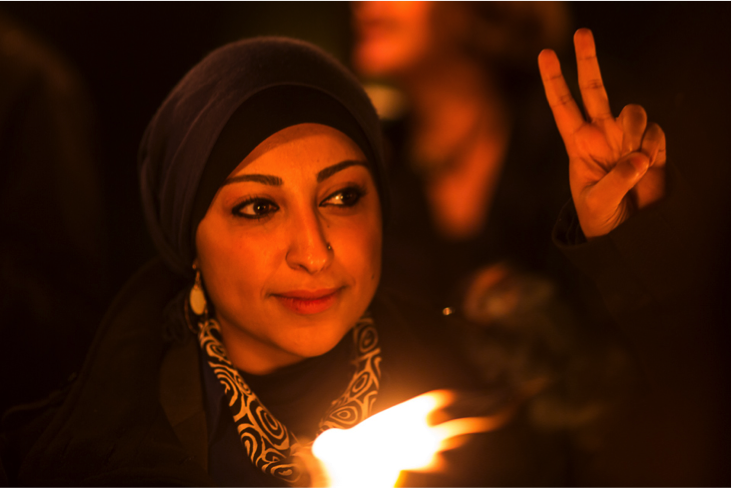 Maryam is no exception; she also has traits from the Al-Khawaja family in terms of courage and sacrifice even given the threats of harassment by the Bahraini government. She has incessantly received messages threatening her with murder but she still chose to go back to Bahrain several times because of her love for her country and her commitment to working from within Bahrain.
On 01 December 2014, a court sentenced Maryam Al-Khawaja to one year in prison based on trumped up charges of assaulting a lieutenant and a police officer in the Bahrain International Airport. Back on 30 August, when she went to Bahrain to visit her father who was on a hunger strike, Maryam was stopped and immediately arrested as soon as she got off the plane. She released a report explaining the details of her decision related to boycotting the sentencing court session. See: http://gc4hr.org/news/view/831
Maryam continues her work now out of the country vigorously hoping that she will return to her country, when it will inevitably be free someday.
Second part in Egypt:
Seif Family
Ahmad Seif:
Let's start with the first man of the family, the human rights activist, champion of the poor, and a man humble by nature, the man with the greatest of accomplishments, whose name is Ahmad Seif Al-Islam Abdel Fattah. His picture below has deep meaning and it can summarize all that he has done in his life, taking a humanitarian stand and defending prisoners of conscience. He has faced successive authoritarian governments in Egypt which have tried by all means to suppress his strength and perseverance. Despite their efforts to bring him down, he conquered them.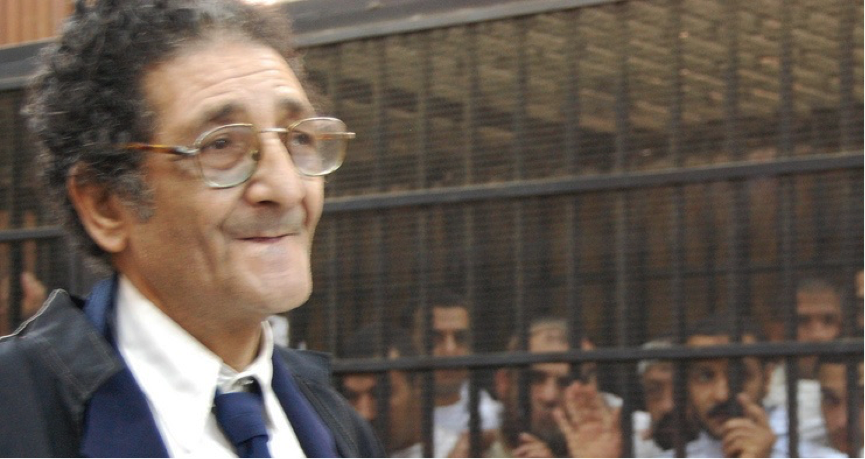 Ahmad Seif at court during one of his defense cases
On 4 September 2012, Ahmad Seif wrote in his diary (known as "Kharbashat") about his loyalty to the principles of human rights and his big dream of freedom for Egypt, which he believed to be possible. He wrote: "I promise to work hard in order to stay loyal to the standards of international human rights. Help me fulfill this promise. I might be a dreamer but why not dream? Wasn't our revolution a dream that we thought was far-fetched?" https://ahmedseif.wordpress.com/
On 9 December that year he also talked about the close tie between human rights and human dignity to Amnesty International. He said, "Of course when I became more involved in human rights, I found it has a much wider scope than torture, though all of it arises from the original basic rule, which the UDHR also upholds, and that is respect for human dignity. All that violates human dignity is an abuse to human rights." http://www.amnesty.org/en/news-and-updates/feature-stories/human-rights-defender-egypt-ahmed-seif-el-islam-20081209
Many stands taken by this amazing man in his lifetime can be highlighted. Foremost of which would be his choice to live in prison for five years rather than run away from his country despite the chances he had to do so. He also would not accept any governmental job; instead he would prioritize his work as a civil activist. Ahmad Seif had also participated in founding the Hisham Mubarak Law Center in 1999 and took a lead in its administration since its inception as the center worked to address human rights violations and to provide support to victims of these violations, who otherwise had nobody to stand up for them.
And after having lived a lifetime full of challenges and difficulties, as well as achievements, he died on 27 August 2014 after having fought sickness, while his son Alaa and his daughter Sanaa were jailed in Egyptian prisons. You can hear him on this video apologizing to his son Alaa saying: "I am sorry Alaa that you did not inherit democracy, instead you inherited prison." https://www.youtube.com/watch?v=3C0uQ_I68sU
Dr Leila Soueif:
This lawyer would not have been able to pursue his mission if it weren't for the presence of his wife and life partner, activist and doctor Leila Soueif, by his side. She supported him with a strong will that could not be diminished and always participated in his human rights activities. At the same time, she was a human rights defender in her own right, founding both the Assemblies that work for the Independence of Universities (Movement of March 9th) as well as the Egyptian Organization Against Torture. Dr Leila was a friend and champion to her husband, as well as the mother of three children Alaa, Mona and Sanaa who chose the same hard path to freedom their parents did.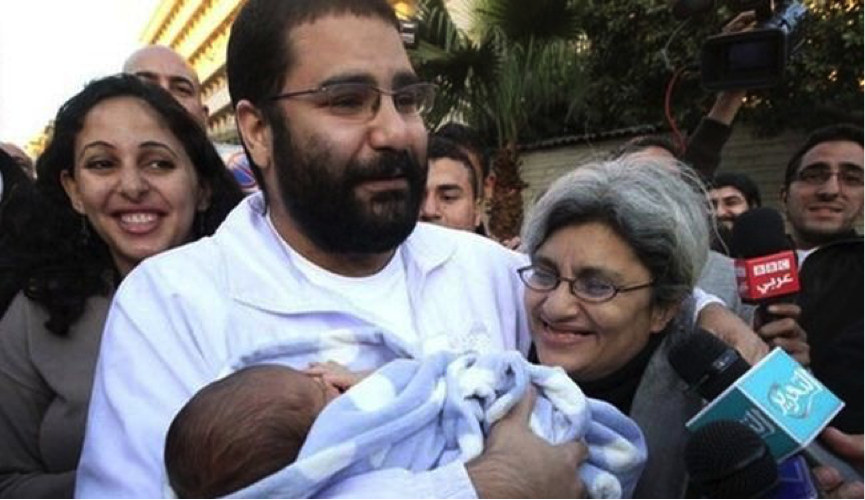 Dr Leila and Alaa, who is holding his son Khalid, and behind him stands his wife Manal
Alaa Seif:
Alaa Abdel Fattah is a well-known Egyptian blogger. He is a firm human rights defender who has founded, along with his wife Manal Baheyeddin Hassan, the blog "Manal and Alaa's bit bucket" which during 2005 was awarded the best Arabic blog by Reporters Without Borders". http://manalaa.net/node/22139
Alaa was arrested and imprisoned several times because of his human rights activities in support of freedom of expression, freedom of opinion as well as freedom of assembly and because of his desire to build state institutions that protect the rights of citizens without exception. On 11 June 2014, a court in Egypt sentenced him, along with 24 others to 15 years in jail and a fine of 100,000 pounds (US$14,000) on trumped up charges related to participating in a peaceful protest held on 26 November 2013 in Cairo. Police used force to disband the demonstration that was organized by the group "No to military trials for civilians" two days after the government issued a law restricting the right to peaceful assembly.
http://www.hrw.org/news/2014/06/11/egypt-15-year-sentences-25-peaceful-protesters
On 23 February 2015, during a re-trial of the case, Alaa was sentenced to five years in prison for violating a law banning unauthorized protests. See: http://www.theguardian.com/world/2015/feb/23/egyptian-activist-alaa-abd-el-fattah-sentenced-five-years-jail
Manal Baheyeddin Hassan:
Meeting Manal Baheyeddin Hassan recently in Beirut, I found her full of excitement and prepared to support a human rights movement and the protection of activists digitally. Despite the fact that her husband Alaa is still behind bars, she would not hide her optimism concerning a future of freedom and prosperity, clearly projected by the smile on her face in this picture below which the blogger and activist Hamzoz caught on camera.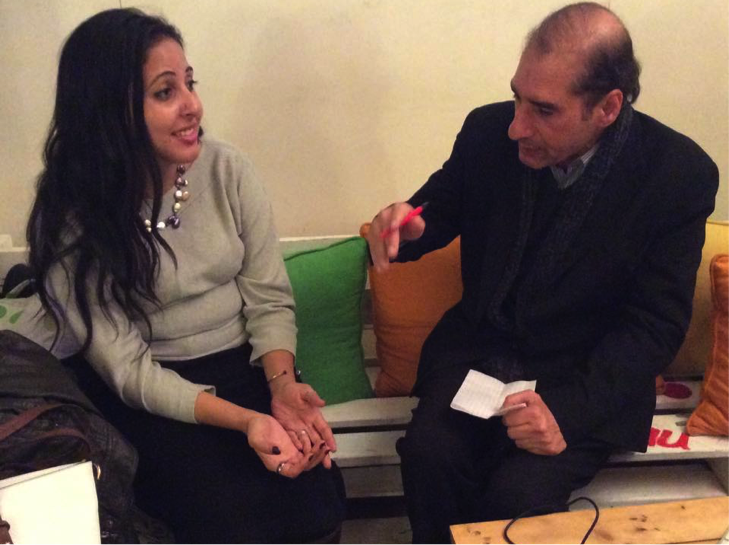 And here is another paradox in the life of this family of fighters which Ahmed Seif mentioned before he passed away: "My daughter Mona was born while I was in jail, which is exactly what happened with Alaa, my son, whose son Khalid was born while he was in jail, as though history is repeating itself."
Mona Seif:
Which leads us to Mona Seif, the human rights activist who is characterized by her infinite love for her family members and her ferocious defense of them as well as her constant participation in the Egyptian revolution, which succeeded in ousting Hosni Mubarak from power in 2011. She has also been a prominent social networking figure and keeps actively working on increasing public awareness of civilians tried by the military.
In this picture here, Mona is beside her father in an Egyptian courtroom where Ahmed Seif was pleading in defense of a group of prisoners of conscience, sitting beside him and looking at him with love and tenderness that transcends time and space to meld with the dreams and goals for which he died.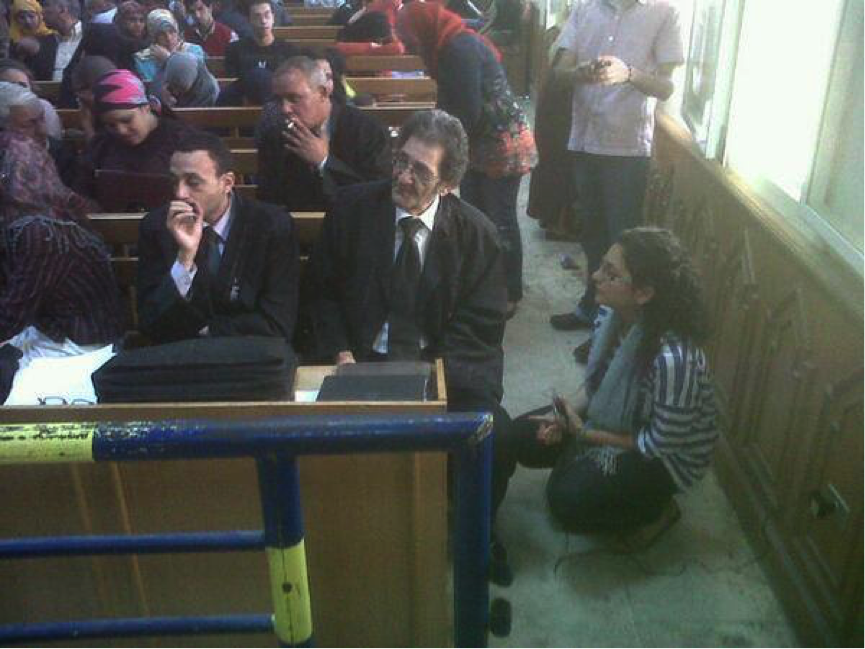 On 30 June 2014, Mona wrote on her Facebook page about her younger imprisoned sister Sanaa. Mona has affectionately described Sanaa as the last of the successive line:
"Sanaa is with me every moment of every day I talk about her to all the people around me I talk to her, I apologize to her when I'm weak, And in my mind I let my guards down with her."
Sanaa Seif:
And we get to the youngest, Sanaa Seif, who worked with all the means she had available for the sake of her imprisoned brother Alaa. In the picture below she is alone in front of Kobba palace, before she was arrested, asking for freedom for her brother Alaa Abdel Fattah and 23 others sentenced to 15 years in jail.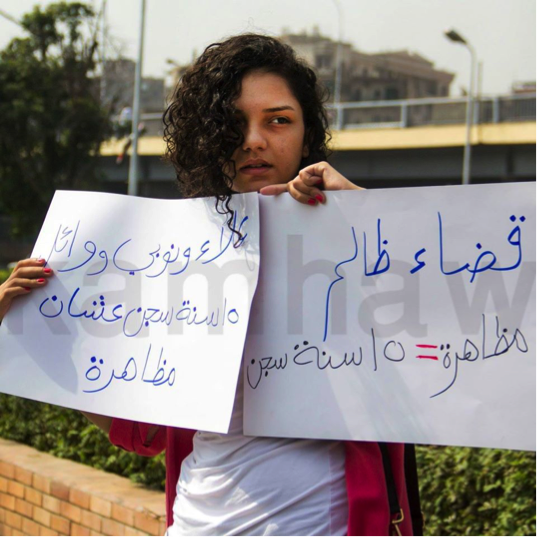 On 26 October 2014, the misdemeanor court in Cairo issued a sentence of three years in jail for 23 human rights activists, Sanaa included, and it also imposed on the 23 activists an additional three-year period of security inspection as well as a 10,000 Egyptian pound fine (around US$1,398) plus an imposed payment compensating for the damage caused by the uproar. http://english.ahram.org.eg/NewsContent/1/64/113998/Egypt/Politics-/BREAKING-Activist-Sanaa-Seif,--others-sentenced-to.aspx
A New Generation that Gives Hope:
Finally, after having introduced all members of the two families who are activists, it would only be fair to end the story with the new generation that gives hope. Let us first share what Mona wrote to her nephew, whose name is Khalid and who was born while his father was still in jail. It's a very short sentence but it provides hope for a warm and bright future to everyone:
"And with Khalid, a new journey begins… It carries so much love that it can feed us all and more."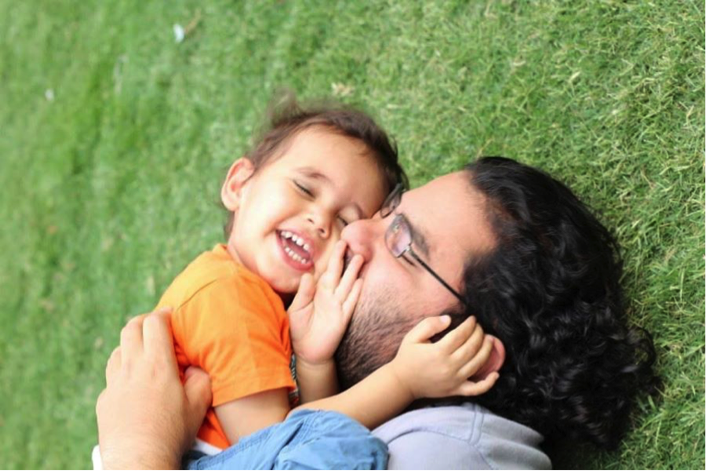 The reality, there is big hope in Bahrain as well as in Egypt for the new generations of Jude and Abdulhadi junior – the grandchildren of Abdulhadi Senior and the children of Zainab – as well as the grandchildren of Seif and the children their age who would hopefully not have to live under the current oppression ruling their countries. Instead, they should find free and prosperous societies that respect humans and their rights to generous and fruitful lives, in part because of their grandparents' sacrifices.