6 Feb, 2017
BCHR launches Annual Report Bahrain 2016: A Series of Repressive Attacks against Rights and Human Rights Defenders
6 February 2017 - The Bahrain Center of Human Rights (BCHR) publishes today its 2016 annual report on the status of human rights in the Kingdom of Bahrain. The report reviews the Bahraini government's continual violations of its citizens' rights and freedoms, and examines reprisals against human rights defenders.
Read the full report here
The year 2016 witnessed an unprecedented crackdown on human rights in the Kingdom of Bahrain since the pro-democracy uprisings in 2011. The Bahraini authorities sought to attack freedoms enshrined in the Universal Declaration of Human Rights by pursuing arbitrary arrests, attacking peaceful human rights demonstrations and issuing harsh sentences based on political grounds.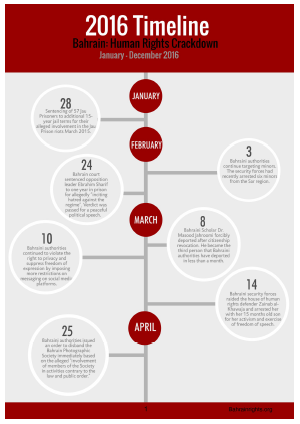 The year has witnessed a long series of reprisals against the human rights community in Bahrain. It started with the arresting, and imprisoning of prominent human rights defender Zainab Al-Khawaja in March 2016 and her 15-month toddler on charges related to her exercise of freedom of expression and peaceful dissent against the authorities. She was detained for three months in prison before she was released and forced to go into exile in June 2016. A brief time later in the same month the renowned human rights defender and President of BCHR Nabeel Rajab was arrested following a police raid on his home. His arrest signified the beginning of a series of systematic acts of judicial harassment against him based on charges related to his freedom of speech. This programmatic abuse of Rajab's freedoms is still ongoing as he continues to be kept in detention, where he has been for over 230 days. Moreover, members of the civil society including members of BCHR's staff based in Bahrain, were summoned to interrogations based on inaccurate and misleading charges. Individuals were also subjected to travel bans. Travel bans were usually handed down before the start of the UN Human Rights Council sessions in Geneva. Due to the continued judicial harassment by the authorities, some members of the human rights community were forced to go into exile.
Almost simultaneously the authorities decided to effectively curtail all freedoms in Bahrain by shuttering the largest political opposition society in Bahrain, Al-Wefaq, in June 2016. This ban came after authorities increased the prison sentence of its General Secretary Sheikh Ali Salman to 9 years in May 2016. Other political leaders continued to face judicial harassments, Ebrahim Sharif has been sentenced to 1 year in prison in February 2016 for a speech and later interrogated over another press statement.
Religious Freedoms were also under attack. Repression heightened in June 2016 as dozens of clerics were summoned, interrogated, prosecuted and sentenced to prison over charges related to freedom of speech and assembly. Shia civil society organizations were shutdown and the citizenship of the highest Shia spiritual leader, Sheikh Isa Qassim was revoked without due process and he was later put on a trial on groundless charges.
According to the report's findings, Bahraini authorities have during 2016 arbitrarily arrested 1,312 people, including 187 children. Harsh sentences have thereafter been issued by the Bahraini courts in politically motivated cases, of which 40 cases are related to freedom of expression and 19 cases related to freedom of assembly. 91 Life sentences were passed as well as 4 death sentences upheld. 204 citizenship revocation orders were recorded. Furthermore, BCHR has documented 1,523 protests during 2016, of which 155 were attacked by the riot police.
Torture has been documented, yet again, as a tactic for confession extraction. These unreliable confessions are then used as evidence in courts to convict innocent people. The death of one victim, Hasan Al-Hayky, was reportedly caused by torture that occurred during his detention in August 2016. Bahraini prisons remain densely populated, with the largest number of prisoners relative to the size of its population in the world.
Our President Nabeel Rajab has been detained for more than 230 days since his arrest in June 2016, and he pledges to continue his peaceful work for the human rights defending. Human rights are universal and indivisible, and applicable to all citizens of this world. BCHR and Nabeel Rajab, and all other Bahraini human rights activists, free or incarcerated, will continue promoting and defending human rights in the Kingdom of Bahrain, not only because we believe that freedom is a birthright for the human kind, but because it is the right thing to pursue and to strive for.
The past year has witnessed significant, and major violations of human rights, and it has ended with executions of three torture victims who were sentenced to death in late 2016, and executed in January 2017. There is a duty on all human rights believers and supporters around the world to stand up for the rights of the Bahraini people and to stop the ongoing deterioration of freedom in the country. The international community must show solidarity with the Bahraini people and condemn these human rights violations. Bahrain's close allies, the United States and the United Kingdom in particular, have a vital role to play, they must voice their condemnation of this continuing crackdown on rights, and defend the rights of Bahraini citizens and human rights defenders in Bahrain. They must bring Bahrain to the right path, by urging it to respect its obligation towards the international treaties of Human Rights.