20 Jan, 2009
BCHR listing of the blocked website by Bahrain Ministry of Information which Among them is google translation
BCHR listing of the blocked website by Bahrain Ministry of Information
حركة الحريات والديمقراطية حق 1. http://www.haaq.org
ملتقى الجنوب المقاوم 2. http://www.bintjbeil.org/forum/index.php
موقع بروكسي 3. http://proxify.com
موقع يزود بروكسي 4. http://nofilter.biz/
موقع يزود بروكسي 5. http://www.proxyworld.com/
موقع يزود بروكسي 6. http://www.anonnow.com/
موقع يزود بروكسي 7. http://www.anonworks.com/
موقع يزود بروكسي 8. http://www.proxywars.net/
موقع يزود بروكسي 9. http://www.opencity.us/
موقع يزود بروكسي 10. http://www.poro6.com/
موقع يزود بروكسي 11. http://www.bind2.com/
موقع يزود بروكسي 12. http://www.zendproxy.com/
موقع يزود بروكسي 13. http://zoxy.info/
موقع يزود بروكسي 14. http://www.seenoip.com/
موقع يزود بروكسي 15. http://www.ibypass.org/
موقع يزود بروكسي 16. http://www.ipzap.com/
موقع يزود بروكسي 17. http://kproxy.com/index.jsp
موقع يزود بروكسي 18. http://www.attackcensorship.com/attack-censorship.html
موقع يزود بروكسي 19. http://mrnewguy.com/
موقع يزود بروكسي 20. http://www.unblockwebsites.com/
موقع يزود بروكسي 21. http://spysurfing.com/
موقع يزود بروكسي 22. http://www.stupidcensorship.com/
موقع يزود بروكسي 23. http://www.evilsprouts.co.uk/defilter/
موقع يزود بروكسي 24. http://www.bypassbrowser.com/
موقع يزود بروكسي 25. http://www.proxymouse.com/
موقع يزود بروكسي 26. http://www.fsurf.com/
موقع يزود بروكسي 27.http://www.browseatwork.com/
موقع يزود بروكسي 28. http://www.surfonym.com/
موقع يزود بروكسي 29. http://www.iamnewguy.com/
موقع يزود بروكسي 30. http://www.ninjaproxy.com/
منتديات أحرار البحرين 31. http://www.ahraralbahrain.net/
منتديات البحرين للحوار الحر 32. http://www.montadayatbh.org/
منتديات المحفوظ 33. http://www.almahfood.com/vb
منتديات الجفير 34. www.juffair.org/
منتديات على الأصغر 35. www.alialasghar.net
شهداء البحرين 36. www.shaheed-bh.com/
الصرح الوطني 37. www.wattaninet.org/
ملتقى المالكية 38. www.malkiya.net/vb/
ملتقى بني جمرة 39. www.banijamrah.org/
كرباباد 40. www.karbabadiat.net/
حركة احرار البحرين 41. www.vob.com/
الصحافة 42. http://www.alsaheefa.net/
الحوار المتمدن 43. www.rezgar.com/موقع
موقع أوال 44. www.awal.org
أوال 45. www.awaal.net
ملتقى كرزكان 46. www.karzakan.com
ملتقى الدراز 47. http://alduraz.net/
وعد 48. http://www.aldemokrati.org/
منتديات الثقلين 49. http://www.althaqlain.com/
موقع بنت جبيل 50. http://www.bintjbeil.org/
الشبكة العربية لمعلومات حقوق الإنسان 51. http://www.hrinfo.net/
مركز البحرين لحقوق الإنسان 52. http://www.bahrainrights.org/
منديات شهركان 53. http://www.shahrakkan.org/
كرد تايمز 54. http://www.kurdtimes.com/
موقع البوابة 55. http://www.albawaba.com/
لادني 56. http://www.ladeeni.net/
الكنائس العربية 57. http://www.arabchurch.com/
الأقباط الأحرار 58. http://freecopts.net/
59. http://annaqed.com/
60. http://www.rezgar.com/
الصحيفة 61. http://www.alsaheefa.net/
بحرين تايمز 62. http://www.bahraintimes.org/
بحرين اونلاين 63. http://bahrainonline.org/
منديات البحرين 64. http://montadayat.org/
شهداء البحرين 65. http://shaheedbh.com/
مترجم الغوغل 66. http://google.com/translate
20 Jan, 2009
BCHR Report to CEDAW Committee-The Situation of Women Migrant Domestic Workers in Bahrain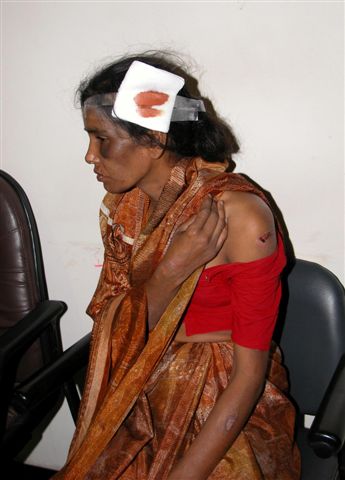 The Situation of Women Migrant Domestic Workers in Bahrain
Report submitted to the 42nd session of the CEDAW Committee October 2008
Table of contents I. Introduction 3 1. Overview of the major violations of women's rights in Bahrain 3 2. The particular vulnerability of women migrant domestic workers 3
II. The situation of women migrant domestic workers 5 1. Lack of legal protection and the kafala system 5 2. Violence against women migrant domestic workers 7 3. Lack of access to justice 7 4. Trafficking 10
III. Recommendations 12
IV. Annex 14 1. Relevant provisions of CEDAW 14 2. Sources 16
I. Introduction
1. Overview of the major violations of women's rights in Bahrain
The most pressing problems faced by women in Bahrain include the following:  Discrimination in the workplace and denial of senior posts in both the private and public sectors;  Family law is uncodified and governed by all-male religious Sharia courts. Influential sections of the religious establishment oppose a codified family law, while the government has recently demonstrated a lack of interest in pursuing the matter. Meanwhile, Sharia courts and Public Prosecution have resorted to threatening activists who dare to criticize its discriminatory positions and practices;  Nationality: Children and spouses of Bahraini women married to non-Bahraini men are not entitled to citizenship;  Violence against women: Sexual harassment and domestic abuse against women is commonplace, with very little institutional support for victims, and marital rape is not considered a crime under Bahraini law. 2. The particular vulnerability of women migrant domestic workers
The Bahrain Centre for Human Rights (BCHR), Caram Asia and the Bahrain Youth Society for Human Rights (BYSHR) consider that the CEDAW Committee should also give special attention to the plight of women migrant domestic workers, since they have been by and large ignored and excluded from the discourse on women's rights in Bahrain. Whilst across the world, women and children are the most vulnerable section of society to the effects of economic, political and social ills, for migrant women, the conditions are even worse. According to the ILO, domestic work is the "single most important category of employment among women migrants to the Gulf as well as to Lebanon and Jordan". Foreign embassies and NGOs estimate that there are 70,000 foreign domestic workers in Bahrain of predominantly Sri Lankan, Indonesian, Indian, and Filipino origin. Gender discrimination in public life and employment is generally visible. However, migrant workers working behind closed doors, especially female domestic workers, are often "invisible" and are therefore particularly vulnerable to abuse and exploitation. They are not protected by labour laws and are effectively subjected to conditions of involuntary servitude. Many are faced with exorbitant recruitment and migration fees. In the workplace, problems include long (or undefined) working hours, low salaries and late payment of salaries and poor and repressive living conditions. They suffer restrictions on movement, including the withholding of passports and are particularly vulnerable to psychological, physical and sexual abuse. It is extremely difficult for such victims of abuse to seek legal redress.
II. The situation of women migrant domestic workers
1. Lack of legal protection and the kafala system
Women migrant domestic workers face long (or undefined) working hours, low salaries and late payment of salaries and poor or repressive living conditions. According to a 2005 ILO study, in Bahrain the average number of work hours for female domestic workers was 108 per week, in Kuwait 101, and in the UAE 105. These women had an average of 1 day off per month. All those interviewed for the study spoke of control on their freedom of movement. Every woman interviewed reported that her passport was held by their employer. None of them were given remuneration for working overtime. This information was confirmed to the UN Special Rapporteur on the human rights of migrants and three other special procedure mandate holders: many women domestic migrant workers have to work 15 to 17 hours a day, seven days a week. Upon arriving in Bahrain, women migrant workers are subjected to mandatory health testing related to sexual and reproductive health without consent or counselling. There is as yet no data on the issue of pregnancy and how it is handled by employers. In the contract of employment, conditions are set according to the employer's discretion and in many (possibly the majority) cases there is no contract at all. The Ministry of Labour has created a model contract - but how much it is used, and how useful it is, is not clear. In addition, employers are required to pay for the flight costs of their employees - but from cases we seen in Bahrain, many employers do not do this.
 Lack of contractual clarity means female migrant domestic workers often end up carrying out multiple forms of work: women are often babysitters, kitchen helpers, cleaners, they work inside the family home and in their relatives homes too. The Kafala sponsorship system means that expatriate workers can only enter, work, and leave certain countries with the assistance or explicit permission of their sponsor or employer, who is a local in the country. The Kafala system was drawn from a concept of "guardianship" by which domestic workers are given residence in their employers abode. This is basis upon which visas are issued to domestic workers. . Domestic workers are legally required to live with their sponsor (employer). Since their legal status in Bahrain depends on the continued visa sponsorship of their employers, those who attempt to escape from exploitative situations risk arrest, prolonged administrative detention and deportation. The dependence created by the sponsorship system has the consequence that many domestic workers who suffer abuse do not make complaints against their employers. There have even been cases of imprisonment of victims of abuse who had left their sponsor's home in order to file a complaint (See further below, 3. Lack of access to justice). Because of the domain in which they work - households – domestic workers also do not fall under national labour laws, their work is not legally recognized and they are not legally classified as workers. Because of their 'unrecognised' status, they are unable to exercise the rights and freedoms afforded to workers and it is difficult to scrutinise and regulate their working and living conditions. Concerns regarding discrimination and violence against women migrant domestic workers, their working conditions, and their lack of protection under the Labour Code have also been raised by the CERD Committee and highlighted by the UNHCR. The UN Special Rapporteur on the human rights of migrants also requested Bahrain to take effective measures to prevent and redress the serious problems faced by female domestic workers, including debt bondage, passport retention, illegal confinement, rape and physical assault.
2. Violence against women migrant domestic workers In 2008, there were numerous credible reports that domestic workers in Bahrain, especially women, were subjected to verbal and physical abuse, including beating, sexual molestation and rape by employers and recruiting agents. Between 30 to 40 percent of the attempted suicide cases handled by the government's psychiatric hospitals were foreign domestic workers. Although sexual harassment is prohibited in Bahrain it remains a widespread problem for women, especially women migrant domestic workers and those working in other low level service jobs. Many of these cases were reported to local embassies, the press, and the police; however, most victims were too intimidated to sue their employers, although they had the right to do so.
3. Lack of access to justice
Few women migrant domestic workers are able or willing to seek legal redress - many because they are unaware of their rights, but also because they do not have access to the institutions where they could seek help. Because of their dependence on the employers (sponsors) for their legal status, many do not report abuse for fear of arrest, detention or deportation. Furthermore, there is evidence to suggest that public authorities often privilege employers in disputes involving migrant workers. The government has published pamphlets on expatriate workers' rights in several languages, provided manuals on these rights to local diplomatic missions, and operates a telephone hotline for victims. However the government does not provide direct assistance to victims. Courts reportedly allow victims who do register complaints to sue for damages or return home. If the victim brings a suit against the employer, the plaintiff cannot leave the country for the duration of the case. Under the sponsorship system, an expatriate worker cannot seek alternative employment while a case is in court. Since its inception in 2002, the Migrant Worker Protection Society (MWPS) has supported several victims who have taken their cases to court, but compensation to victims was reportedly very low. In the course of 2008 MWPS withdrew several court cases, including three rape cases, citing a complete lack of success in the courts. Because in past years MWPS has been unsuccessful at resolving cases against sponsors in the courts, MWPS recommends that individuals instead attempt to resolve cases through mediation between their embassies and the sponsors. Most of these mediations have resulted in the payment of back payments followed by repatriation.
The Pakistani embassy reported that it successfully resolved 200 cases through mediation between the sponsor and the worker, referred 135 to the Ministry of Labour, and 40 to lawyers. The Pakistani embassy repatriated over 750 workers. In September the MWPS assisted an Indian housemaid who was severely beaten with a cricket bat by her sponsor and suffered a broken leg. She was in the hospital and out of work for more than two months. The Indian embassy filed a complaint against her sponsor for the beating. At year's end the investigation was ongoing, and the housemaid was out of work. Domestic workers who have no embassy representation in the country are often subjected to the worst types of abuse, including physical and sexual abuse. With no diplomatic mission to represent them, runaway domestic workers have few places to turn for support. On 13 June 2008, a Sri Lankan housemaid sought assistance from the MWPS after running away from her Bahraini sponsor's allegedly abusive family. The housemaid claimed her sponsor's wife and two elder children abused her on daily basis. She was allegedly made to work seven days a week and paid a salary of approximately $132 (50 dinars) a month. The maid's sponsor denied the allegations but after police questioning agreed to end his legal sponsorship, and the housemaid was repatriated with the assistance of MWPS. In July 2008, the Ministry of Labor began investigating a complaint lodged by the MWPS on behalf of a number of housemaids based on reports that a leading labor recruitment agency was complicit in the abuse of individuals it had recruited. The investigation is ongoing. In 2008 there were approximately 500 labor cases involving a total of over 650 expatriate workers sent from the Ministry of Labour to the Public Prosecution for investigation and prosecution.
4. Trafficking Under Article 6 of CEDAW, "States Parties shall take all appropriate measures, including legislation, to suppress all forms of traffic in women and exploitation of prostitution of women". Bahraini law does not specifically prohibit trafficking in persons. Workers in Bahrain originating from Southeast Asia, South Asia, the Horn of Africa, and the former Soviet Union report conditions that indicate trafficking, such as withholding of passports, restrictions on movement, and physical or psychological intimidation to work. Some victims reported being forced into commercial sexual exploitation; however, the most common forms of trafficking in persons involves unskilled construction laborers and domestic workers. It is estimated that up to half of low and unskilled expatriate workers are subjected to illegal contract substitution, whereby workers agree to a contract in their home country but are required to agree to and sign a different contract upon arrival, nearly always for less pay and often for different work. Victims of trafficking experience non-payment of salaries; inadequate meals; physical, sexual, and psychological abuse; absence of rest days; and/or extremely long working hours. The primary traffickers are employment agencies operating in countries of origin. These agencies approach workers in their home countries and offer visas at prices in the range of $3,975 (1,500 dinars), payable after arrival. Upon arrival at the airport, workers' passports are taken from them, ostensibly to facilitate customs; however, the passports frequently are not returned. Frequently, traffickers, including some from influential families, tricknew workers into paying for fraudulent visas and nonexistent jobs, leaving stranded workers further vulnerable to trafficking due to their illegal immigration status in the country and high debt in their home country. Prostitution is illegal in Bahrain, but in 2008 there was evidence that a number of foreign women, particularly Thai women, were forced into commercial sexual exploitation through deception or intimidation. Although many Thai women traveled to the country voluntarily, traffickers reportedly used false job offers and physical force to traffic some of them into commercial sexual exploitation. The fear of deportation or employer retaliation prevents many victims of trafficing from making complaints to the authorities. Under Bahraini law, the government can fine employers guilty of forced labor up to $2,650 (1,000 dinars) and/or sentence them to terms of imprisonmentnot exceeding two years. Sponsors are required to put up a deposit of $265 (100 dinars) for each runaway worker. Between July 16 and July 21, working in concert with an international NGO, a government shelter focusing on female victims of domestic abuse and trafficking assisted the return of two trafficking victims to their home countries. Between January 7 and 18, the government partnered with a foreign organization to train a special, multidisciplinary anti-trafficking unit. Several NGOs provided assistance in the form of housing, basic health care, education, and transportation to trafficking victims with the government's approval, including the MWPS, the Art of Living Foundation, the Indian Community Relief Fund, and the BHRWS. III. Recommendations
BCHR, Caram Asia and BYSHR make the following recommendations to the government of Bahrain:
 To consult civil society organizations on the provisions of the bill related to domestic violence and to adopt the bill as soon as possible thereafter.
 Take immediate steps to amend the Labour Law to cover domestic workers and to put in place all necessary measures to ensure its implementation.
 To adopt anti-trafficking legislation, in conformity with the Palermo Protocol and other international conventions, including by ensuring that all elements of trafficking in persons are defined as crimes. The drafting process should take place in consultation with civil society.
 To implement all recommendations issued by the UN Special Rapporteur on Trafficking in Persons following her visit to Bahrain in October-November 2006, including:  To abolish the sponsorship system.  To establish mechanisms to monitor the working conditions and compliance of employment contracts of domestic workers in the households of their employers.  To inspect, in the presence of employers and workers, all migrant workers' contracts.  To prohibit mandatory HIV/AIDS-testing of targeted groups.  To guarantee foreign workers the right to an accessible and fair system of justice.  To automatically inform embassies when their nationals are being detained, and facilitate visits by the relevant consular officials.
 To ratify the International Convention on the Protection of the Rights of All Migrant Workers and Members of Their Families.To ratify relevant International Labour Organization (ILO) Conventions, including Convention No. 97 (1949) on Migration for Employment, and No. 143 (1975) concerning Migrations in Abusive Conditions and the Promotion of Equality of Opportunity and Treatment of Migrant Workers. ------------------------------------------------------- IV. Annex
1. Relevant provisions of CEDAW
The following CEDAW articles are particularly relevant to female domestic workers in Bahrain.
Article 6 States Parties shall take all appropriate measures, including legislation, to suppress all forms of traffic in women and exploitation of prostitution of women.
Article 11 1. States Parties shall take all appropriate measures to eliminate discrimination against women in the field of employment in order to ensure, on a basis of equality of men and women, the same rights, in particular: a. The right to work as an inalienable right of all human beings; b. The right to the same employment opportunities, including the application of the same criteria for selection in matters of employment; c. The right to free choice of profession and employment, the right to promotion, job security and all benefits and conditions of service and the right to receive vocational training and retraining, including apprenticeships, advanced vocational training and recurrent training; d. The right to equal remuneration, including benefits, and to equal treatment in respect of work of equal value, as well as equality of treatment in the evaluation of the quality of work; e. The right to social security, particularly in cases of retirement, unemployment, sickness, invalidity and old age and other incapacity to work, as well as the right to paid leave; f. The right to protection of health and to safety in working conditions, including the safeguarding of the function of reproduction. 2. In order to prevent discrimination against women on the grounds of marriage or maternity and to ensure their effective right to work, States Parties shall take appropriate measures: a. To prohibit, subject to the imposition of sanctions, dismissal on the grounds of pregnancy or of maternity leave and discrimination in dismissals on the basis of marital status; b. To introduce maternity leave with pay or with comparable social benefits without loss of former employment, seniority or social allowances; c. To encourage the provision of the necessary supporting social services to enable parents to combine family obligations with work responsibilities and participation in public life, in particular through promoting the establishment and development of a network of child-care facilities; d. To provide special protection to women during pregnancy in types of work proved to be harmful to them.
3. Protective legislation relating to matters covered in this article shall be reviewed periodically in the light of scientific and technological knowledge and shall be revised, repealed or extended as necessary.
2. Sources
Report on Bahrain by United Nations Special Rapporteur on the Human Rights Aspects of the Victims of Trafficking in Persons, especially Women and Children, Sigma Huda, http://ap.ohchr.org/documents/dpage_e.aspx?m=137
Human Trafficking in Bahrain, US State Department Report and Archived Articles, http://gvnet.com/humantrafficking/Bahrain.htm
BCHR: Arbitrary detention and unfair trials in Bahrain during 2006, www.bahrainrights.org/en/node/1626
Female Domestic Workers living under the Kafala system in GCC states and the Region, www.bahrainrights.org/en/node/1289 CARAM Asia / BCHR: State of health of Migrant 2007- Mandatory testing in Bahrain, www.bahrainrights.org/en/node/1599 BCHR: Death Toll Continues to Rise: Migrant Worker Suicides, www.bahrainrights.org/en/node/1187
BCHR: Suffering in Silence, Domestic Workers Need Legal Protection, www.bahrainrights.org/ref07010200 Statement: Women's Petition Committee 1st November 2006, www.bahrainrights.org/node/674 BCHR: A women's Rights Activist Faces Trial and Imprisonment, www.bahrainrights.org/ref05060301
BCHR: Young divorcee is threatened for speaking out against Sharia courts, politicized judges and the lack of a personal status law, www.bahrainrights.org/ref07011401
Domestic Workers, Little Protection for the Underpaid, http://www.migrationinformation.org/Feature/display.cfm?ID=300
18 Jan, 2009
Front Line: Harassment of woman human rights defender, Ghada Jamsheer
2009/01/17 - Front Line is deeply concerned following information received regarding an alleged harassment campaign against Ghada Jamsheer, a woman human rights defender. Ghada Jamsheer is the president of the Women's Petition Committee, an organisation which campaigns for the rights and dignity of women in the shari'ah family courts.
While Ghada Jamsheer was attending the AWID (Association for Women's Rights in Development) conference in South Africa between 14 and 17 November 2008, her home was reportedly entered by a state security agent and detailed photographs were taken. Her house phone, mobile phone, and email account are reportedly under surveillance and received many threatening SMS.Ghada Jamsheer and her family have also been threatened and followed in a car, while members of security in civilian clothes have been sent to her house to shout at her with abusive language.
Finally, she has been accused of attacking officers performing their duties and has been prevented from accessing the media.Front Line is concerned that the harassment campaign and the media ban on Ms. Ghada Jamsheer is directly related to her legitimate work in defence of human rights, in particular women's rights in Bahrain, and that it may form part of an ongoing campaign against human rights defenders in the country. Front Line is seriously concerned for the physical and psychological integrity of Ghada Jamsheer, as well as that of her family.
Front Line urges the authorities in Bahrain to:
1.
Carry out an immediate, thorough and impartial investigation into the harassment against Ghada Jamsheer and her family, with a view to publishing the results and bringing those responsible to justice in accordance with international standards ;
2.
Take all necessary measures to guarantee the physical and psychological security and integrity of Ghada Jamsheer and the members of her family;
3. Guarantee in all circumstances that human rights defenders in Bahrain are able to carry out their legitimate human rights activities without fear of reprisals, and free of all restrictions including judicial harassment.
Front Line respectfully reminds you that the United Nations Declaration on the Right and Responsibility of Individuals, Groups and Organs of Society to Promote and Protect Universally Recognized Human Rights and Fundamental Freedoms, adopted by consensus by the UN General Assembly on 9 December 1998, recognises the legitimacy of the activities of human rights defenders, their right to freedom of association and to carry out their activities without fear of reprisals. We would particularly draw your attention to Article 9 (3-c):
"everyone has the right, individually and in association with others, /inter alia: (/c) To offer and provide professionally qualified legal assistance or other relevant advice and assistance in defending human rights and fundamental freedoms", and to Article 12 (1 and 2): "(1) Everyone has the right, individually and in association with others, to participate in peaceful activities against violations of human rights and fundamental freedoms; (2) The State shall take all necessary measures to ensure the protection by the competent authorities of everyone, individually and in association with others, against any violence, threat, retaliation, de facto or /de jure/ adverse discrimination, pressure or any other arbitrary action as a consequence of his or her legitimate exercise of the rights referred to in the present Declaration."
--------------------------------------------------------------------------------
Source URL: http://www.frontlinedefenders.org/node/1769
16 Jan, 2009
Minister calls for ban on websites
(BCHR/IFEX) - On 14 January 2009, local newspapers disclosed a ministerial order by the new minister of culture and information and a member of the royal family, Sheikha Mai bint Mohammed Al Khalifa, addressed to all telecommunications companies and Internet service providers, calling on them to prevent access to websites that were banned by the ministry.
This is the first resolution issued by the minister this year and the first administrative resolution to give sharp and clear instructions to telecommunications companies and Internet service providers to prevent "all the customary ways to access blocked sites," whether through Internet addresses or through the use of alternative servers (proxies) or any other way.
The text of the minister's resolution stated that "lifting the block on any site should only be on the instructions of the minister herself." She asked the companies and Internet service providers to "use unified technical solutions" to comply with the instructions in her resolution.
The minister's actions were justified as a campaign against "pornographic websites and public morality," as stated in the ministerial resolution, but it is well known that the list of banned sites in Bahrain goes beyond that to include websites of local public discussion forums, popular committees, political establishments, human rights organisations, religious and non-religious groups, nationalists, electronic newspapers, news and advertisements sites, and even humour sites.
The Bahrain Center for Human Rights (BCHR) is alarmed by this measure that further tightens the grip on freedom of expression and access to information.
The BCHR believes that this act restricts the access of local Internet users to certain websites which cover subversive or unfavourable topics like the misappropriation of public lands, administrative and financial corruption, sectarian discrimination against majority Shia, and favouritism. This attitude was even more fierce in the aftermath of an incident that is locally known as "Bandergate report." The total of banned sites then exceeded 26, which included local and international sites.
Nabeel Rajab stated that "the Bahraini government has to wake up and realise that it is the year 2009, and its latest actions will not block people from reality and truth, but will convince more and more people that we are living under a repressive and dictatorial regime."
The actions of the Bahraini authorities violate freedom of expression as stipulated in Article 19 of the ICCPR signed by Bahrain on 20 September 2006.
RECOMMENDED ACTION:
Send appeals to Bahraini authorities calling for: - the lifting of the ban on all electronic sites about public, cultural and human rights related to Bahrain and others. - the amendment of Press Decree Code no. 47 of 2002 so that it conforms with international human rights standards.
APPEALS TO:
His Highness Sheikh Khalifa bin Salman Al-Khalifa Cabinet Prime Minister,
Her Excellency Shaikha Mai Al-Khalifa, Minister of Information
Fax: +97 3 1 721 1363
Please copy appeals to the source if possible.
Updates the issue of Internet censorship in Bahrain: http://www.ifex.org/en/content/view/full/99565
MORE INFORMATION:
For further information contact Nabeel Rajab, President, BCHR, Manama, Bahrain, tel: +973 3963 3399 / 3940 0720, fax: +973 1779 5170, e-mail: nabeel.rajab@bahrainrights.org, info@bahrainrights.org, Internet: http://www.bahrainrights.org
15 Jan, 2009
Human Rights Watch World Report 2009 - Bahrain Section
Human Rights watch -Bahrain Events of 2008 Human rights conditions in Bahrain deteriorated in 2008. Despite the important reforms that the king, Shaikh Hamad bin `Isa al-Khalifa, adopted in 2001-02, the government has done little to institutionalize human rights protections in law. The government continues to subject freedom of expression, assembly, and association to arbitrary restrictions. People detained after demonstrators and security forces clashed in Manama in December 2007 alleged they were tortured. Opposition political societies that boycotted the first National Assembly elections in 2002 participated in 2006 elections, but some groups have since boycotted the Assembly, protesting what they regard as the absence of real legislative authority for the elected representatives.
In June 2008 the government executed a Bangladeshi man convicted of murder, the third execution in two years. Except for a single execution in 1996, a time of great political turmoil, Bahrain had not executed anyone since 1977.
Freedom of Expression and Information Authorities continue to use the press law (Law 47/2002) to restrict coverage of controversial matters, including official corruption. In May 2008 the government announced a new draft press law that would remove criminal penalties for most journalistic infractions but appeared to retain the option of criminal penalties for certain types of written or spoken comment, including those found to harm national unity. The draft was awaiting approval by the National Assembly as of November 2008.
In July the independent Bahrain Center for Human Rights (BCHR) reported that six journalists from publications affiliated with opposition political movements had been detained briefly and faced charges of inciting sectarian strife.
The country's sole residential internet service provider, Batelco, is government-owned. The BCHR in October estimated that the authorities were blocking at least 22 discussion forums and other websites, including its own.
Freedom of Assembly Law 32 of 2006 requires the organizers of any public meeting to notify the head of Public Security at least three days in advance, and authorizes that official to determine whether a meeting warrants police presence on the basis of "its subject ... or any other circumstance." The law stipulates that meeting organizers are responsible for "forbidding any speech or discussion infringing on public order or morals," but leaves "public order or morals" undefined.
In December 2007 security forces and protesters clashed in and around Manama following the death of a protester in an earlier confrontation with security forces. Several demonstrators affiliated with opposition political movements subsequently faced charges, including those of illegal assembly, attacking security forces, and arson relating to the torching of a police vehicle during the clashes. Relatives of the detainees and several men detained briefly in connection with the clashes told Human Rights Watch that interrogators had tortured detainees and sexually assaulted at least one. Several detainees said interrogators abused them to elicit confessions. A court-ordered medical inquiry in April 2008 concluded that the men may have had injuries consistent with the abuses they described, but that delayed medical examinations made it impossible to verify claims of torture. In July Bahrain's High Criminal Court sentenced 11 of the detainees to jail terms ranging from one to seven years. Several of those convicted were subsequently pardoned; five were appealing their sentences as of November 2008.
Impunity Decree 56/2002, which confers immunity from investigation or prosecution on government officials alleged to be responsible for torture and other serious human rights abuses committed prior to 2001, remains on the books. Despite the efforts of local human rights groups to establish a means for addressing such violations, the government insists that the matter is closed. In its submission to the United Nations Human Rights Council's Universal Periodic Review (UPR) mechanism in April 2008, Bahrain stated "there are no cases of torture in the kingdom."
Freedom of Association and Civil Society The government continues to deny legal status to the Bahrain Center for Human Rights, which it ordered to be dissolved in 2004 after the BCHR's president publicly criticized the prime minister. Several other groups, including the National Committee for the Unemployed and the Bahrain Youth Human Rights Society, attempted in 2005 to register with the Ministry of Social Development, as required by law, but at this writing had received no response to their applications.
In 2007 the Ministry of Social Development drafted new legislation on civil society organizations, but at this writing the ministry had not submitted the draft to the parliament. The draft law contains some improvements over the existing Law 21/1989, but includes numerous provisions incompatible with international standards and best practices regarding freedom of association. For example, a version of the draft law circulated in November 2007 authorizes the Ministry of Social Development to close any organization for up to 60 days without a court order if it deems the organization to have violated any Bahraini law. It also appears to leave open the possibility of criminal penalties by stipulating that all Bahraini law applies to violations of the associations law.
Bahrain has ratified some International Labour Organization conventions, but neither of the two core conventions governing freedom of association. Law 33/2002 permits workers to form and join unions, but the General Federation of Bahrain Trade Unions (GFBTU) filed a complaint with the ILO in June 2005 protesting what it said was the government's repeated refusal to register six trade unions in the public sector. In 2007 the GFBTU filed another complaint protesting a November 2006 edict by the prime minister prohibiting strikes in numerous sectors of the economy on the grounds that they provide essential services. In March 2008 the ILO's Committee on Freedom of Association called on Bahrain to amend its trade union law and the prime minister's ruling, including providing a more limited definition of "essential services." But in April Bahrain's UPR submission noted that "trade union pluralism can weaken and split the trade union movement," and "all States tend to place restrictions on pluralism and limit the number of trade unions and federations, placing them under the umbrella of a single entity so they can address economic challenges." In September six Bahraini rights groups said Bahrain's Ministry of Education circulated a warning that month to employees that they risk termination if they take part in unauthorized demonstrations or advocate strikes in vital industries.
Migrant Worker Rights Migrant workers face the risk of exploitation, despite some formal protections under Bahraini law including the right to join unions. In practice, foreign workers' dependence on their employer's sponsorship for legal residence curtails their ability to pursue legal remedies in labor disputes. Existing labor law does not extend to domestic workers, over whom employers exercise inordinate power to withhold wages and passports. Bahrain's labor minister has vowed to abolish the sponsorship system by the end of 2008.
Women's Rights Bahrain has no written personal status law. Instead, separate Sharia-based family courts for Sunni and Shia Muslims hear marriage, divorce, custody, and inheritance cases. Family court judges, who are generally conservative religious scholars with limited formal legal training, render judgments according to their individual reading of Islamic jurisprudence. They have consistently favored men in their rulings and are unapologetically adverse to women's equality. In October three Bahraini women with pending divorce and custody cases met with representatives of the Ministry of Justice and Islamic Affairs to urge them to establish a committee charged with reviewing the decisions of these courts. Women's rights organizations continue to call for a written unified personal status law.
Counterterrorism Measures In August 2006 the king signed into law the "Protecting Society from Terrorist Acts" bill, despite concerns expressed by the UN special rapporteur on the promotion and protection of human rights while countering terrorism that it contained excessively broad definitions of terrorism and terrorist acts. Article 1 prohibits any act that would "damage national unity" or "obstruct public authorities from performing their duties." Article 6 prescribes the death penalty for acts that "disrupt the provisions of the Constitution or laws, or prevent state enterprises or public authorities from exercising their duties." The law also allows for extended periods of detention without charge or judicial review. A group of Bahraini and foreign defendants accused of preparing terrorist attacks, the first people tried under the law, were sentenced in early 2008 to jail terms of several months but then released on the basis of time served in pretrial custody.
Key International Actors Bahrain hosts the headquarters of the United States Navy's Fifth Fleet and figures in logistical support for military operations in Iraq and Afghanistan. The United States designated Bahrain a major non-NATO ally in 2002.
Bahrain was the first country to undergo the UPR in April 2008. Its voluntary pledges to the Human Rights Council include the establishment of a national human rights institution, expected to be in place by January 2009. Bahrain won a seat on the HRC in May 2008. Local and international NGOs also urged its government to ratify treaties and instruments including the Optional Protocol to the Convention against Torture and ILO conventions including Nos. 87 and 98 on freedom of association and collective bargaining.
14 Jan, 2009
Bahrain: Security Authorities return to the use of torture by "falaqa" and electrocution to extract confessions from detainees
Bahrain: Security Authorities return to the use of torture by "falaqa" and electrocution to extract confessions from detainees
The detainees were unaware that they were being filmed while stating their confessions in a pre-prepared film to convict them and to mislead public opinion
The Bahrain Center for Human Rights expresses its deep concern and worry for the health and life of 14 Bahraini citizens who were arrested since 15 December by the National Security Apparatus, and whom the authority claims to be members of a "terrorist cell group", and were trained in Syria last summer, as was stated in the film that was prepared in advance and which was broadcasted on Monday evening, 28 December.
What adds to the concern is what the lawyers of detainees reported and which is related to their clients being put through torture; whose marks were evident on their bodies. They are being held in solitary confinements, and most of them do not know the other detainees with them in the same case or the nature of the charges against them. According to what the detainees expressed to their lawyers, most of them have not visited Syria before, as was stated in the film. As per the information conveyed to the BCHR by the detainees' lawyers, some of them were arrested as "hostages" until he handed over his wanted brother to the security Apparatus who came to arrest him when he was not at home; the other was brought in as a "witness" in the case to find themselves accused of being part of the alleged cell. Among the lawyers defending the alleged cell are the lawyers Ahmed Al-Arrayid, Hafedh Hafedh, Mohammed Ahmed and Mohammed Al-Jishi.
According to the statement made by the majority of detainees, the methods of torture , which was practiced by the National Security includes: 1) Electrocution in the armpits and in the genital organs of the detainees 2) Hanging up for long hours with tied hands, and beating on sensitive areas on the body 3) Falaqa – which is inserting a solid bar between the arms and legs after tying them, and hanging the detainee between two props where the body is kept hanging in the air, with head and leg positioned upside down, then the feet are beaten with a solid bar. 4) Solitary confinement and forcing them to stand for long hours with hands tied and eyes folded, with deprivation of sleep and going to the lavatory, and insulting and hurling abusive and libel words.
The BCHR fears that that torture, especially the electric shock, will cause permanent damage to the health of those detainees for the rest of their lives. The family of the young Maytham Bader Al-Sheikh – one of the convicts of the incidents of December 2007 and an activist in the Unemployed Committee – state that he was infected with a permanent and dangerous neuron disease and brain damage that are threatening his life due to torturing with the electrocution. It is noteworthy that Maythem was one of the ones who were exposed to heavy doses of physical and psychological torture during the first stage of investigation and which included electrocution in the various parts of the body and on his genital organs, in addition to sexually assaulting him.
On the other hand, and until they met with their lawyers, the detainees were not aware that they videotaped while they were making their "confessions", and that they were broadcasted on Bahrain TV and on the newspapers. Regarding the circumstances of their confessions on TV, the detainees stated that one of the members of the National Security Apparatus informed them that a "sheikh" of the ruling family – without revealing his full name – will meet them to hear their statement and will submit it to the king of Bahrain for the purpose of releasing them. That employee asked them to repeat the "confessions" – which were extracted under torture – before the "sheikh" in order for him to seek their release. Accordingly, they were dressed differently and neatly in order to present a good image in front of the "sheikh", as it appeared on Bahrain's government TV screen, without being aware of the fact that there was a camera that was filming their conversation with the "sheikh" whose name they do not know. It is worth mentioning that the National Security Apparatus is headed by Sheikh Khalifa bin Abdulla Al-Khalifa, Bahrain's former ambassador to UK.
Sheikh Khalifa bin Abdulla had played the role of the link between the king – Sheikh Hamad bin Isa Al-Khalifa – and between two of the leaders of the Bahraini opposition who met him in the summer of 2007 in London; one of these two was Mr. Hasan Mushaima, whose name was mentioned among the confessions in that film as one of the main instigators of the terrorist cell.
The National Security Apparatus, headed by Sheikh Khalifa, replaced the former State Security Service of the Ministry of Interior Affairs and which is responsible for torturing a large number of citizens and exiling them, and is responsible for the death of many ppeople.
Nabeel Rajab, president of the BCHR stated that, "Picturing the political tension and the crisis plaguing the country as foreign plots or security issues and terrorist cells will not help in solving those poised issues but it would rather complicate matters. The Bahraini authorities should have preferably started laying down solutions for those issues, first and foremost the systematic discrimination against the Shiite population, and to stop the political and sectarian naturalization and to release all political detainees and to start a serious dialogue with the forces of society."
The BCHR appeals to those concerned in the stability of the situation in Bahrain, and demands the following:
1. To stop all systematic practices of torture by the National Security Apparatus and Criminal Investigations, and to initiate an independent investigation in all subjects of torture and to prosecute the ones caught up in it, and to cure the damages made to the victims of torture. 2. To stop targeting political activists or human rights defenders or trying to ruin their reputation. 3. To refrain from picturing the political tension and country's crisis as if it were security issues, and the need to stop treating the political issues as security one.
The Bahrain Center for Human Rights – BCHR 9 January 2009
13 Jan, 2009
Activist prevented from speaking at mosque after criticising ruling elite
Date: 13 January
(BCHR/IFEX) - For two weeks in a row, reforms activist Hasan Mushaima has been prevented from reaching the Al-Sadeq mosque in the capital city of Manama, where he used to deliver a speech after the Friday evening prayers. Heavily armed foreign mercenaries were deployed to take over the area of the mosque, preventing its caretaker from opening it for prayers and blocking those who attend the mosque from entering its parking lot.
Mushaima is the secretary general of the HAQ Movement for Civil Liberties and Democracy, a civil society organisation that is calling for respect for human rights, the combating of corruption and political naturalization, as well as good governance. In his speech, Mushaima speaks about human rights violations, economic rights, prisoners of conscience and human rights defenders. He also calls for democratisation and is a loud critic of corruption and the role of the ruling elite and the Executive in the misappropriation of lands and administering a change of demography plan. Mushaima participates regularly in an event on human rights and political developments in Bahrain sponsored by Lord Eric Avebury, the vice chairman of the Human Rights Parliamentary Group in the House of Lords, an activity fiercely attacked by the Bahraini authorities-controlled media.
Nabil Rajab, the president of BCHR, has been near the Al-Sadeq mosque and has witnessed the heavy security presence that was put in place to prevent Mushaima and those who want to pray from coming close to the mosque. Rajab stated: "The action of the local authorities to prevent Mr Mushaima from addressing the public is a blatant violation of freedom of expression as stated in Article 19 of the ICCPR ratified by Bahrain on September 20, 2006."
RECOMMENDED ACTION: Send appeals to Cabinet Prime Minister Sheikh Khalifa bin Salman Al-Khalifa: - calling on the Bahraini authorities to show respect for human rights, in particular freedom of expression - urging the authorities to stop using force to silence activists and to allow Mushiama to continue addressing public issues without hindering his rights and the rights of those who attend the Al-Sadeq mosque and listen to him
APPEALS TO: His Highness Sheikh Khalifa bin Salman Al-Khalifa Cabinet Prime Minister Fax: +97 3 1 721 1363
Please copy appeals to the source if possible.
MORE INFORMATION:
For further information contact Nabeel Rajab, President, BCHR, Manama, Bahrain, tel: +973 3963 3399 / 3940 0720, fax: +973 1779 5170, e-mail: nabeel.rajab@bahrainrights.org, info@bahrainrights.org, Internet: http://www.bahrainrights.org
10 Jan, 2009
Public Prosecutors Office Files Case Against Prominent ME Human Rights Activist
Former BCHR President Released on Bail Targeting of Activists Continues in Violation of Freedom of Expression Media Defamation Campaign Continues Against Activists
The BCHR is greatly disturbed upon hearing about the recent moves by the Public Prosecutors Office (PPO)against the prominent human rights activist Mr. Abdulhadi Alkhawaja, former President of the Bahrain Centre for Human Rights. The PPO has charged Mr. Alkhawaja with encouragement of the overthrow of the government, incitement of hatred against the government and circulation of rumors which harm national interest.
Mr. Abdulhadi denied all charges during the 3.5 hours interrogation with the Public Prosecutors and refused to answer most questions due, as he stated, to the fact that the PPO and the entire judiciary system is not independent from the government and the laws by which he is to be tried are restrictive and violate, in accordance to many international human right organizations, international standards of human rights. He stated to the Public Prosecutor that much of what he may say to defend himself would probably be used out of context to condemn him given the flexible and restrictive nature of the charges and the laws used in Bahrain.
Mr. Abdulhadi also bluntly refused the implication that he has ever encouraged the use of violence, and said that non of his public speeches nor his writings has he ever done so and it is not part of his ideology. He also stressed that he has always encouraged the use of peaceful protest as can be clearly seen in all his writings and work.
The BCHR is also highly disturbed by the defamation campaign against Mr. Abdulhadi in the press that is well known for its allegiance to the government. Whereby they have not addressed the nature of the charges, nor Mr. Abdulhadi's work, but rather used insolent language and derogatory words that the BCHR refuses to repeat. This campaign has continued and is clearly sanctioned by the government. Most activist is Bahrain are not given a chance to clear their names in these same papers, nor are any of there reports published, which makes it a clear slandering campaign. The BCHR President MR. Nabeel Rajab was also a target of many of these campaigns specially after his return from a presentation in the US congress on discrimination in Bahrain.
Worth mentioning is that the former President of the BCHR was arrested in 2004, after speaking against the Prime Minister's 40 years monopoly of that post as well as his governments violations and discrimination. He was charged with similar charges and was tried and sentenced to 1 year in jail but was pardoned by the king under intense pressure from international organizations and continuous demonstrations and protests calling for his release. He was also briefly arrested in February 2007 after a speech he made calling for reform and changes in the government as well as the release of the human rights activist arrested in what is known as the "December Case".
The Bahrain Centre for Human Rights would like to remind all parties that • Freedom of expression is not only applied when an individual is expressing himself in matters deemed acceptable by the government, but is also applied in other cases whereby any individual is given the opportunity to be critical of government practices, which is the essence of democracy • It is still maintained that the laws by which activist are tried in Bahrain, specifically the Bahraini Penal Code, are restrictive and do not comply with international standards, as has been repetitively stated by International Human Rights Organizations • As is continuously proven, the Bahraini judiciary as well as the PPO are not independent and are subjected to higher government decisions making them incompetent and subjective in their execution of the law • That a man is innocent until proven guilty, and defamation campaigns against activists, who are not given a chance to defend themselves in the local media is unacceptable and goes against a number of universal rights • That the systematic targeting of activist is making the Bahraini governments credibility highly questionable and can be seen as a clear plan by the government to rid itself of any activist who may disagree or speak out against it. This is becoming clear due to the recent targeting of a number of activist in different waves of arrests (the December Case, the Karzakan case as well as the recent Terrorist Cell case) as well as the case of Mr. Mohammed Almasqati, President of the Bahrain Youth Society of Human Rights, whose trail commences next week on charges of engaging in work in an unregistered Society
The BCHR calls upon International Human Rights Organizations and other stake holders to address the Bahraini government on these issues and to pressure it to, drop all charges against Mr. Abdulhadi Alkhawaja, accept criticism of the government and calls for reform as it falls under freedom of expression, cease this systematic campaign against Bahraini human rights activists both by the government as well as its media, reform its restrictive laws and guarantee the independence of the PPO as well as the Judiciary branch of government .
10 Jan, 2009
GDN:Nabeel Rajab: authorities had seriously violated the defendant's right of innocence until proven guilty
TV 'confessions' against the law By BASMA MOHAMMED Published: 7th January 2009
LAWYERS for the 14 Bahrainis arrested over the alleged National Day terror plot are to complain to judicial authorities over a television broadcast purportedly showing them confessing. The broadcast and release to the print media of the men's alleged confessions are against the law, said Mohammed Ahmed, one of the four-man defence team for the 14 accused.
He said he would be filing a complaint with the Supreme Judicial Council.
Authorities said at the time that the alleged confessions were made without pressure and were broadcast and published in public interest.
Interior Minister Shaikh Rashid bin Abdulla Al Khalifa later briefed MPs and Shura Council members on the case and said he was aware of the criticism, which he was willing to debate in public.
Mr Ahmed said Bahrain's laws stipulated that it was illegal to publish anything that may affect legal proceedings, or to identify suspects before they have gone to trial.
"The penal law is very clear, my reference is article number 246 from the law that states punishment for any publication that can affect a trial," said Mr Ahmed.
He said the law stipulated that violators could face jail and/or a fine.
Human rights activists have also condemned the broadcast and publication of the alleged confessions, saying they breached international law.
The 14 were arrested after police uncovered an alleged plot to attack targets including clubs, Manama nightspots, Exhibition Road (Avenue) and Diplomatic Area, on December 17, during the National Day holiday.
The plot was allegedly masterminded by two Bahrainis living in the UK and the 14 allegedly underwent training in Syria.
Human rights activist Nabeel Rajab said that authorities had seriously violated the defendant's right of innocence until proven guilty.
"The Public Prosecution has not only violated international court measures but also violated Bahraini law that prohibits publishing anything about a case that is undergoing investigation," said Mr Rajab.
He said the television confessions also included film clips of rioting and protests not related to the case.
Human Rights Society general secretary Dr Abdulla Al Derazi backed Mr Rajab, saying the confessions had no evidential value, since they had been broadcast and published before the trial.
He said he supported the government in trying to guarantee people's security, but that the handling of this case violated human rights. basma@gdn.com.bh
--------------------------------------------------------------------------------
© Gulf Daily News
http://www.gulf-daily-news.com/printnews.asp?Article=239562
7 Jan, 2009
Front line: Arbitrary detention of human rights defender Abdul-Redha Hassan Al-Saffar
Bahrain: Arbitrary detention of human rights defender Abdul-Redha Hassan Al-Saffar Front Line is deeply concerned following reports that the Bahrainian authorities have refused to disclose the whereabouts of human rights defender, Mr Abdul-Redha Hassan Al-Saffar, who was arbitrarily arrested, early in the morning of 21 December 2008, from his residence in Mahooze village by state security forces despite there being no arrest warrant against him. No reason has been given for his arrest and his whereabouts are as yet unknown. Further Information
Posted 06 January 2009. Abdul-Redha Hassan Al-Saffar, 36 years old, has been active in helping the families of the detainees in Bahrain and has also worked to support the Unemployed Committee. He is well known for his role in organising peaceful sit-ins in collaboration with the families of detainees and the Unemployed Committee.
Front Line believes that the arbitrary detention of Abdul-Redha Hassan Al-Saffar is directly related to his legitimate and peaceful activities in defence of human rights, in particular his exercise of the right to assembly. In view of reports of Abdul-Redha Hassan Al-Saffar's detention and the fact that his whereabouts are currently unknown, Front Line is gravely concerned for his physical and psychological integrity and believes that this may form part of a campaign to restrict the work of human rights defenders in Bahrain.
http://www.frontlinedefenders.org/node/1749