31 Jan, 2009
AMNESTY INTERNATIONAL: Bahrain: Concerns about recent arrests and allegations of torture
Document - Bahrain: Concerns about recent arrests and allegations of torture
30 January 2009
AI Index: MDE 11/001/2009
Amnesty International has written to the Bahraini government expressing serious concern about the continuing detention of two prominent Shi'a opposition activists and about allegations that 13 people arrested in December 2008 were tortured and otherwise ill-treated before their "confessions" were broadcast on television. In the early hours of 26 January 2009 Hassan Meshaima', aged 61 and leader of the unauthorized al-Haq political association, 'Abd al-Jalil al-Singace, spokesperson of the same association, and Mohammad Habib al-Muqdad, a religious scholar, were arrested from their homes by security officials and taken to the Dry Dock Prison in al-Muharraq. They were later questioned for several hours in the presence of their lawyers and then charged with terrorism-related offences. 'Abd al-Jalil al-Singace was released on bail on 27 January, but the other two are still being held. All three reportedly deny the charges.
The specific charges brought against the three include "taking part in establishing an illegal association which opposes Bahrain's constitution and which uses terrorism as a means to achieve its goals", which carries a sentence up to life imprisonment, according to Article 6 of Law 58 of 2006 relating to terrorism. The other charges,"calling and propagating for the overthrow of the regime and the political system by force" and "propagating for hatred of the regime" are punishable by five and three years of imprisonment respectively, according to Bahrain's Penal Code. On 24 January, two days before their arrest, the three were summoned to appear before the Public Prosecutor for questioning, but they declined to do so apparently because the summons failed to give reasons, as required by Bahrain's Criminal Procedure Code.
Lawyers for the three and media reports have linked their arrests to those of a group of young men who were detained on 15 December 2008 and are now accused of "terrorism". On 28 December, almost two weeks after their arrests, a government-controlled TV station broadcast a video recording of what were said to be the "confessions" of the 13 detainees, who were said to have participated in a "terrorism plot"and to have received military training in 2006 in al-Hujaira, a district of the Syrian capital, Damascus.They were said to have been planning to carry out violent attacks and sabotage and to have named Hassan Meshaima' and the two others arrested on 26 January as instigators of the plot. The names and photographs of the 13 accused, together with their alleged confessions, were published in several Bahraini newspapers after the televised confessions.
In its letter to Bahrain's Interior Minister Shaikh Rashid bin 'Abdullah bin Ahmad Al Khalifa, Amnesty International called for an urgent and independent investigation into allegations that the 13 people detained in December were tortured with electric shocks, beatings and by being suspended by the wrists for long periods soon after their arrest and while they were being held incommunicado in the headquarters of the National Security Apparatus in Manama. The organization called for any officials found responsible for torture or other serious abuses to be brought to justice. The detainees are reported to have been transferred to the Dry Dock Prison only after they had made "confessions".
In its letter, Amnesty International also questioned why the videotaped "confessions" had been broadcast on TV and said this undermined both the presumption of innocence and the detainees' right to fair trial. If and when the accused are brought to trial, the court would need to consider very carefully the impact of the broadcast and other publicity incriminating the defendants and whether this made it impossible for them to receive a fair trial. As well, it would need to assess whether any "confessions" which might be presented as evidence against the accused were obtained under torture or other duress, in which case they must be ruled inadmissible.
Amnesty International requested prompt clarification about the exact reasons for the continuing detention of Hassan Meshaima' and Mohammad Hamid al-Muqdad. If the two are being held solely because of their non-violent political activities, including criticism of the government, Amnesty International would consider them to be prisoners of conscience and call for their immediate and unconditional release. The organization urged that all these detainees be humanely treated and have regular access to their lawyers, families and medical care, especially for Hassan Meshaima', who is said to be diabetic and suffering from ill-health.
Public Document
****************************************
For more information please call Amnesty International's press office in London, UK, on +44 20 7413 5566 or email: press@amnesty.org
International Secretariat, Amnesty International, 1 Easton St., London WC1X 0DW, UK www.amnesty.org
29 Jan, 2009
BCHR/IFEX: Activists imprisoned for writing slogans and posting portraits to commemorate torture victims
Date: 28 January 2009 The Bahrain Center for Human Rights (BCHR) has learned that three young men aged 19 and 20 were summoned on 8 January 2009 to renew their detention for an extra 15 days on charges of writing graffiti and sticking posters on the walls of the Ras Rumman area in the capital, Manama.
The three young men were detained at on 16 December 2008, while they were busy writing slogans and pasting pictures and posters in memory of victims of torture who were killed in Bahrain in past years. The Committee of Martyrs and Victims of Torture (CMVT) organises annual activities, focused on 17 December, Martyrs Day, to commemorate those who died as well as those still suffering as a result of torture in Bahrain, and to seek reparation and redress. Close to this event and during unrest, it is customary to see graffiti and portraits of martyrs on the walls of villages and cities in Bahrain. The authorities usually send a security-backed group to scratch out and wipe clean the graffiti and slogans after a short period of display.
BCHR President Nabeel Rajab stated, "Graffiti is one way of expressing views and is an area which is also coming under censorship, as evident from this incident". He continued, "It is sad that those young men are being punished and apprehended for trying to find a peaceful way of expressing themselves". Rajab added, "I urge the authorities to widen its tolerance for practices of freedom of expression and without any reprisals to release those young men".
BCHR expresses its concern over the fierce grip over all forms of freedom of expression, and considers this act a signal of deterioration to this as well as other rights. BCHR is alarmed by the fact that laws are devised and used in Bahrain to introduce more restraints and constraints on all forms of freedom of expression and protest.
MORE INFORMATION:
For further information contact Nabeel Rajab, President, BCHR, Manama, Bahrain, tel: +973 3963 3399 / 3940 0720, fax: +973 1779 5170, e-mail: nabeel.rajab@bahrainrights.org, info@bahrainrights.org, Internet: http://www.bahrainrights.org
29 Jan, 2009
The Human Rights activist Maythem Al-Sheikh is at risk as a result of torture during the interrogation period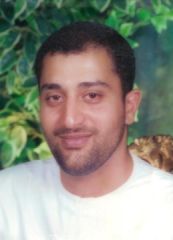 25 January 2009
The Bahrain Center for Human Rights expresses its deep concern regarding the health and life of the young Maythem Bader Jassim Al-Sheikh (33 years), the activist in the Unemployed and Low-waged Committee, due to him being infected with Multiple Sclerosis disease. He is believed to be infected with this disease as a result of the torture he was exposed to after his arrest from his house at dawn on 21 December 2007.
The information that the Center received indicates that the symptoms of this disease are beginning to appear on Maythem Al-Sheikh just weeks after his arrest and torture he was exposed to on the hands of members of the Criminal Investigation Office. Since last August, Maythem Al-Sheikh tried to communicate his sufferings from the disease to the prisons administration, but his attempts failed due to the ignorance and doggedness of this department, until the Bahrain Society for Human Rights appealed to the Public Prosecution to present him to a specialist to diagnose his condition. Last November, after three months of his request, he was presented and for the first time to a nerves specialist to diagnose his condition. However, despite the proof of being infected with the above mentioned disease, he was only transported to the hospital to receive treatment on Wednesday, 12 January 2009.
Maythem Bader Al-Sheikh was sentenced to 5 years of prison in a case known locally as the incidents of December 2007, and which took place after the death of a young man in his 30's, a Jidhafs resident, during the protests on the Victims of Torture Day. The procedures of the arrest, investigation and trial raised suspicions in regards to failing to observe international standards for the procedures and fair trial. The International Frontline organization, in February 2008, considered Maythem and several of his companions, among them well-known activists, that they were arrested because of their peaceful activities in the human rights field. While the Human Rights Watch organization demanded, in July 2008, to immobilize the execution of the sentences and to carry out a thorough investigation in the allegations of the detainees being exposed to mistreatment and torture during their detention, the Bahrain authorities did not respond, until the time of writing this statements, to any of the investigation demands in the torture allegations at the detention center, especially in the first period that followed the arrest in the Criminal Investigation Office.
According to what the detainee Maythem Bader Al-Sheikh said to his visitors, members of the BCHR, when they visited him in the military hospital last Friday, that he was exposed to severe torture when he was arrested and for 45 continuous days in a building specified for torture called the (Detect) building, and is located in the Criminal Investigations Complex in Adliya area. This was in order to extract sayings and to force him to say confessions to acts he did not commit. Maythem was exposed to all sorts of torture, which included suspension by the hands all night, electric shock in various parts of the body and especially the sensitive areas, harassment and attempt of sexual assault, inserting a wooden rod by force in his rear part. The most he suffered from was the torture that took place on New Year's night of 2008, when a group of torturers continuously tortured him until the morning hours of that day. The torture effects were visible when his family members were permitted a visit after the end of the interrogation period. Among the names that participated in the interrogation and torture, according to his sayings are:
 Captain Fahad Al-Fadhala (Bahraini)  Lance Corporal Duaij Al-Kubaisi (Bahraini)  Corporal Hamza Al-Shomaley (Bahraini)  First Lieutenant Isa Al-Majali (Jordanian)  First police officer Abdul-Malik (Yemeni)
The medical report that was presented to the Court in the case, in which Maythem was accused, indicates the possibility that incidents of torture did happen to the detainees that Maythem was among. However, the Court reckoned neither the report nor the witnesses' statements. It was, on the contrary, remarkable that the sentence did not consider the detention period which is nearly a year, nor the holidays that are suppose to be deducted from the sentence, as is usual and as is known.
Members of the ruling family head the Ministry of the Interior, the National Security Service, the Ministry of Justice, the Supreme Council, and the judges of the Higher Criminal Court, which Maythem and his fellows were sentenced in, and which strengthens the doubts in the independency and integrity of the sentence issued by the Court. Several BCHR reports stated the escalating rate of systematic torture in all security issues and arrests related to it, since December 2007 and until this moment. It is believed that there is a relation between the mounting public protests and the general resentment against the authority's policies in the various issues, among them the arbitrary arrest and torture.
Based on the above, the Bahrain Center for Human Rights (BCHR) demands the authorities in Bahrain the following:
1. To immediately release the prisoner Maythem Bader Al-Sheikh, and all the other detainees who are believed to be arrested because of their peaceful demanding activities.
2. To urgently send Maythem Al-Sheikh to receive treatment outside Bahrain, since Bahrain lacks specialized centers, whether for the serious organic disease that he suffers from or from the psychological torture effects.
3. To open an urgent, independent and transparent investigation in the torture incidents that took place against the detainees, and especially Maythem Al-Sheikh, and to suspend the accused from work, to prepare for their presentation to a fair trial before a non-biased and just court.
4. To carry out a specialized medical examination to the rest of the detainees in the security issues which started in what was known as December 2007 incidents, and what followed that, and to reveal what the exposure to torture caused them during the investigation and detention period.
28 Jan, 2009
Joint Statement by BCHR,BHRS and BYSHR: Alarming Deterioration in Human Rights Situation, Detaining Two Prominent Activists
Bahrain: Alarming Deterioration in Human Rights Situation:
Detaining Two Prominent Activists while Releasing a Third on Bail and Ban of Travel Interrogation Issues: Internet Articles, Speeches, Assembly and Association Charges Based on Terrorism Law punishable up to Life Imprisonment
Assaulting relatives of the detainees at the General Prosecution Office Fear of Casualties and More Arrests Following Protests in Many Villages Abbas Al-Murshed, a Columnist, Hit by a Rubber Bullet in the Eye
January 28, 2009
The Bahrain Society for Human Rights (BHRS), the Bahrain Centre for Human Rights (BCHR) and the Bahrain Youth Society for Human Rights (BYSHR) are alarmed for the recent escalation of human rights violations in Bahrain.
The BHRS, the BCHR and the BYSHR, have learnt that after 24 hours of arrest and interrogations, the Public Prosecutors Office ordered the release on bail and travel ban of Dr. Abdul-Jalil Alsingace and the extending in the detention of the other two activists; Mr. Hassan Mushaima, and Mr. Mohammed Habib Almuqdad for undefined period pending further investigations. The three activists were arrested between 2-3am on January 26, 2008 and were held in solitary detention at the Dry-Dock "Temporary Detention Centre" from time of arrest until showing up at the prosecution at 5:30pm on the same day.
Dr. Abdul-Jalil Abdulla Alsingace, (47 years) resident of Karbabad area, a professor at Bahrain University and the head of the Human Rights Committee of the Movement of Civil Liberties and Democracy Movement (HAQ). HAQ Movement is an unregistered grassroots organization established in November 2005, which has been campaigning for democratic reforms and human rights. Dr. Alsingace is a blogger and known for his frequent articles critique of the government. He was subjected to a smear media campaign after participating in seminar on religious freedoms at the US congress last October .
Mr. Hassan Ali Mushaima, (61 years) from Jidhafs area, a retired teacher, previous vice president of Al-Wefaq political society, current president of the HAQ Movement and an activist who has been campaigning for democratic reforms and human rights for more than fifteen years resulting in his detention many times through that period. Early this year, Mr. Mushaima was subjected to physical assault by the Special Forces at Bahrain Airport upon his arrival from the UK after participating in a seminar at the British House of Lords focusing on reforms in Bahrain. For three weeks on a row before his arrest , armed Special Forces were deployed to prevent Mr Mushaima from addressing public through his weekly speeches at Al-Sadeque Mosque.
Mr. Mohammed Habib Almuqdad, (47 years) from Bilad Al-Qadeem, a Shia scholar and social activist, is known to be outspoken delivering speeches in Shia community centers "Matams" in deferent areas of Bahrain raising public issues such as poverty, corruption, sectarian discrimination, arbitrary detention and torture. He is the head of Al-Zahra Charity Institution for Orphans.
Mr. Hassan Mushaima, and Mr. Mohammed Habib Almuqdad are still in solitary confinement. They have been denied any contact with family and proper legal consultations. Lawyers had attended the interrogation sessions at the General Persecution Office as observers.
The BSHR, the BCHR and the BYSHR are concerned for the health condition of Mr. Hassan Mushaima. His health deteriorated during the long hours of arrest and interrogations. According to his family, Mr. Hassan Mushaima suffers of high blood pressure, Diabetes mellitus and Gout.
Dr. Abdul-Jalil Alsingace told BCHR, shortly after his release, that he was interrogated mainly on; his articles on "sensitive" issues published on the internet, his activity in unregistered organization namely HAQ movement, his role in organizing and leading public protests and unauthorized gatherings and his travels to the USA and the United kingdom including his participation and role in seminars organized there.
According to lawyers; Dr. Abdul-Jalil Alsingace could be charged with "joining a society which aimed at de-activating the constitution, changing the regime and instigating hatred against it. Charges against Mr. Hassan Mushaima may include: "Illegally organizing and managing a group of people and using terrorist means to promote the changing of the political system". While charges against Mr. Mohammed Habib Almuqdad may include "Joining a group and supporting it financially to prevent authorities from implementing laws in addition to abusing personal freedom of citizens through acts of terror" and "trying to subvert the political system and instigating hatred against the Ruling Family".
The charges, punishable up to life imprisonment, are based on the restrictive 1976 Penal Code and the 2006 Counter Terrorism (CT) Law which prosecutes on intentions and upgrades punishments mentioned in any law when the criminating act was related to "Terrorism". The two codes have been internationally denounced for violating basic rights. The CT law was particularly denounced by the UN Special Rapporteur on the Promotion and Protection of Human Rights and Fundamental Freedoms while Countering Terrorism , the International Commission of Jurists , Amnesty International , Human Rights Watch and many other human rights organizations.
The BHRS, the BCHR and the BYSHR, are further concerned for the escalation of violations post the detention of the three activists. On the early morning of January 26, 2008, the Security Special Forces was reported to have physically assaulted relatives, mostly women, of the three detained activists who gathered near the General Prosecution Office to inquire about the whereabouts of the three detainees. Mr. Mohammed Mushima, 21 years, Ms. Fatima Altaitoon, Miss Najat Alsingace and Ms Zainab Alghaffas, were forcibly pushed and beaten by batons on the face and body.
Furthermore, the arrest of the three activists sparked a wave of unrest in many of the predominantly Shia villages. In the last two days, heavily armed Special Forces have been deployed to besiege villages and showered them with chemical tear gas and rubber bullets to suppress angry demonstrators who responded by hurling stones on Security Forces, blocking roads by bricks and setting blaze to rubber tires and garbage canisters. Abbas Mirza Al-Murshed, 35 years, columnist, was hit by a rubber bullet in the right eye (Photos Attached). The BHRS, the BCHR and the BYSHR fear more casualties and new wave of arbitrary arrests.
Conclusion and recommendations:
Based on many previous cases, the escalating hostile attitude of the authorities against dissidents and human rights defenders and by examining the nature of work and speeches of the three activists, the BHRS, the BCHR and the BYSHR, have strong grounds to believe that the detention as well as the charges against the three activist are related to their performance of legitimate peaceful activities related to democratic reforms, promotion of human rights, and the practice of basic rights specially freedoms of expression, assembly and association.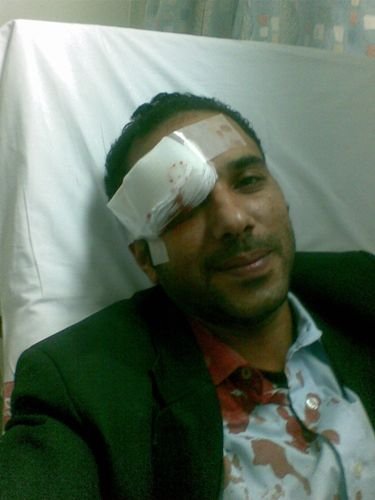 Therefore, The Bahrain Centre for Human Rights (BCHR), the Bahrain Society for Human Rights (BHRS) and the Bahrain Youth Society for Human Rights (BYSHR), call upon the Bahrain Authorities and all concerned actors to do what ever required to;
1. secure the immediate release of Mr. Hassan Mushaima and Mr. Mohammed Habib Almuqdad. 2. Drop the charges, and any reprisals related to their legitimate and peaceful activities, against the three activists which include lifting the travel ban against Dr. Abdul-Jalil Alsingace, 3. secure the rights of Mr. Hassan Mushaima and Mr. Mohammed Habib Almuqdad while in detention, including the instant rights to family call and visits, legal counseling and proper health care, 4. abolish the 2006 Counter Terrorism Law and to amend the 1976 Penal Cod to be in conformity with international human rights conventions specially in relation to the practice of basic human rights and freedoms, 5. put an end to the use of excessive force, arbitrary detention and unfair trials, and 6. put an end to targeting human rights defenders and provide a legalized protection for them.
27 Jan, 2009
Bahrain adopts a wholesale of negative positions towards the promotion of human rights at the international level
In an International Study to evaluate the performance of the State members in the UN's Human Rights Council:
Bahrain adopts a wholesale of negative positions towards the promotion of human rights at the international level
Bahrain displayed negative results in its positions in human rights issues at the international level. Bahrain, as a member State in the UN's Human Rights Council, took an opposing position towards 9 of 11 key issues regarding the promotion of human rights at the international level. While it declined taking a positive position in the remaining two issues.
The results were among the worst in the group of countries who took negative positions in those issues, and they were governments of countries that belonged to the Organization of the Islamic Conference and the African Union, and other countries such as China, Russia, Cuba and India. On the other hand, seven countries representing the EU displayed positive positions in all those issues, and other countries were close to doing so such as Finland, Canada, and South American countries, Japan, Switzerland, Ukraine and South Korea.
Those results were among lists that were included in an analytical study issued by an international organization called the "Democratic Alliance project", which is concerned with the evaluation of the performance of member States at the UN's Human Rights Council during its first year of establishment. The study was based on the proceedings of the Council's meeting in Geneva, and on the official statements issued by those countries or by the coalition it belongs to. Indicators related to the positions of all countries were used in 11 issues divided into four parts, as following:
Finding a credible mechanism to review the record of each country in human rights To protect the independency of the UN's mechanisms that are related to monitoring human rights situations around the world, or what is known as special procedures To deal directly with the human rights situations in certain countries or what is called country-specific mechanisms The Darfur issue
In the first part of the indicators, Bahrain was among the countries who opposed to having the non-governmental organizations and the independent experts a main role as a key and direct source of information when reviewing governments' record in relation to human rights. On the other hand, it supported relying on the government itself. Bahrain also refused to have the process of reviewing State records be run by independent experts, but rather keeping it in the hands of government representatives. Bahrain also opposed to adopting the final recommendations by a vote between government representatives, but rather have it done unanimously, and that those positions of the process of reviewing State records will be emptied of its impact and content.
In the second part of indicators, Bahrain refused that appointing officials for the UN's mechanisms who monitor human rights be through the Council's presidency from a list proposed by the other concerned governments and parties, but that the selection should rather be through the governments' representatives only.
Bahrain's government supported the decision of creating a code of conduct, decided by the governments and committed to by those responsible for the UN's mechanisms. Bahrain did not support a decision that the UN's committee in Darfur be made of independent experts instead of political representatives.
As to the third and fourth part of indicators, Bahrain did not support the decision of keeping the UN's mechanisms, which are related to the situations of human rights in certain countries. Accordingly, it was among the ones opposing the continue of examining human rights situations in the countries that had Special Rapporteurs appointed for, for examining human rights situations. Bahrain also declined to support a proposal of holding a special session to evaluate the situation in Darfur, and declined to support a decision of adopting the outcome of the UN's mission report in relation to human rights in that area.
The international organization, which issued the study, recommended the need to develop regional alliances in order to build UN human rights mechanisms, in which they become more credible and more efficient. The study, which will be issued regularly, aims at reforming the methods of selecting member states at the Human Rights Council based on its actual positions towards human rights issues, and not based on political alliances and interests.
More information can be found in the charts related to the aforementioned study in the following links:
http://www.demcoalition.org/2005_html/undem_offic.html#Report2007
http://www.demcoalition.org/pdf/HRC%20Table%20of%20Indicators%20for%20Year%20One%20-%20Full%20Chart.pdf
25 Jan, 2009
Granting the National Security Apparatus the power of General Attorney and immunity from prosecution before Civil Courts

Bahrain: Strengthening the Security Apparatus Warns of further Repression; Granting the National Security Apparatus the authority of public security, the power of General Attorney and immunity from prosecution before Civil Courts Ignoring the legislative and judiciary and taking advantage of the Lawyers Association Targeting human rights defenders Campaign of raids and arrests continues in three Shiite villages The Bahrain Center for Human Rights and the Bahrain Youth Society for Human Rights express their deep concern for the Bahraini authorities' direction towards further strengthening the role and powers of the National Security Apparatus (NSA) which, since its establishment in 2002, has been carrying out the ever-increasing role of targeting human rights defenders and the political opponents and infiltrating their organizations. The National Security Apparatus (NSA) controls the Special Security Forces - estimated to be approximately 15 to 20 thousand, most of who are non-Bahraini mercenaries - which began in mid 2005 and in escalating manner to use excessive force in suppressing peaceful gatherings and protests. Since December 2007, this NSA has waged escalating waves of raids and arrests which have affected hundreds of citizens among them dozens of human rights defenders. As well as waging media campaigns to fabricate false or exaggerated security issues to stigmatize the opponents and human rights defenders of the use of violence. The Service used systematic torture and restrictive laws to bring dozens of those to trials that lack the minimal standards of fair trial which are required by the international conventions to which Bahrain has adhered to. The new decree: Completes the security-control system, and strengthens the power of the Security Apparatus: Rather than responding to the appeals of national and international organizations of putting a end to the serious and escalating violations that the National Security Apparatus is practicing, the King issues decree number (117) for the year 2008 to amend some of the provisions of the decree of establishing the National Security Apparatus number (14) for the year 2002. The new amendments states that:  Members of the National Security Apparatus are considered as officers and non-commissioned officers and in equivalence to the Public Security Forces.  The legal Affairs of the National Security Apparatus and its members have the same functions and powers as the Public Security Forces.  The officers, non-commissioned officers, and other member's of the National Service have the same judicial functions as the public attorney in regards to the crimes which falls in the field of work of the National Security Apparatus. Thus, the National Security Apparatus became a security institution which is entirely independent of the Public Security and Defense. However, it has the benefit of double jurisdictions; those that join the functions of both the Public Security Forces and the judicial authority. Furthermore, the members cannot be prosecuted by neither the criminal nor the civil court, but only by the military court which lacks transparency and independence. This deprives persons affected from the Service's actions from their right to justice before court, and provides the suitable grounds for the members of the National Security Apparatus to commit violations and have impunity. All this explicitly contradicts the principles of the Universal Declaration of Human Rights and several International conventions, among them are: The International Covenant on Civil and Political Rights and the International Convention Against Torture which the Bahrain has acceded to and should abide by. In the course of his comment, the president of the Bahrain Center for Human Rights Mr. Nabeel Rajab stated, "What adds to the seriousness of strengthening the role of the powers and influence of the National Security Apparatus is that it is consistent with the group of laws that restrict public liberties and punishes those who practice them. Such as, State security articles from the 1976 Penal Law, the 1989 Law on Associations, the 2006 laws on Gatherings and Demonstration and the Anti-Terrorism Law. On the other hand, the political system in Bahrain strips the legislative and judicial authorities off its independence and its efficiency in monitoring and questioning the formation and practices of such institutions that play a critical role, or reforming rigid laws. In addition to, and as a result of, all this civil society institutions, human rights organizations and the press are deprived of efficiency in monitoring and influence. Consequently, the authority is creating a new repressive reality more organized and dangerous than the measures that were taken during the past state security era." Mr. Rajab adds, "While the decree number 10 for the year 2002 grants impunity to the violators of human rights; employees of the State Security Service in the previous era, the new decree grants impunity to the employees of the National Security Apparatus, contributes in setting off their violations and protects them from accountability and punishment in the present and future." Marginalizing the National Council and judiciary, and taking advantage of the Lawyers Association to support new procedures: The aforementioned decree was issued in neglect of the legislative authority represented in the National Council which in session but is subject to the dominance of the authority in terms of structure and work system. The decree also overlooked the jurisdictions and role of the judiciary authority, which in turn lacks it independence as well. However, the authority, on the other hand, was keen on securing moral support to the new decree by instructing the head of the Lawyers Association to issue a supporting legal opinion to it. The government, in the last few years, was able to dominate the Lawyers Association and end its role in support of human rights issues, especially after electing the current board of administration which is headed by the wife of one of the senior officials at the Ministry of the Interior. That reveals the gravity of the government plans in infiltrating and dominating civil society institutions. The National Security Service maintains its raids and arrests: A new wave of raids and arrests has continued; on January 12, 2009 Sami Ahmed Meftah (30 years) from Tubli area was arrested. At dawn on 18 January, houses were raided and the following arrested: Sayed Ali Sayed Shubar (30 years) from Jidhafs area, Ali Abdulhadi Meshemea (19 years) from Daih area, Abbas Jameel Taher Al-Samea (19 years) from Sanabis area, Hussein Ali Jum'a (15 years) from Hamad Town. At dawn and on the same day, the houses of the two following were raided: Mohammed Abdul-Kareem and Abdulredha Taher Samea (26 years) from Jidhafs area with the plea of being "wanted for arrest". The new wave of arrests was begun by the National Security Apparatus on the December 17, 2008 anticipating the events of the Martyrs and Torture Victims Day udder the pretext of the uncovering a "terror plot". The arrests so far have reached dozens of citizens who were detained for long periods in solitary confinement, without contact with the outside world, which easily subjects them to torture and extracting "confessions" from them which could be used to convict them through government media, and to accuse them later in court. Normally in previous such case, the National Security Apparatus was basing its actions and charges against arrestees on the state security articles from the 1976 Penal Code. While, as to the recent arrests, they are based on a more restrictive law which is the anti-terrorism law for the year 2006, and which was condemned by the UN's Special Rapporteur on Terrorism and many international nongovernmental organizations concerned with human rights. Based on the above, the Bahrain Center for Human Rights and the Bahrain Youth Center for Human Rights demand the following: 1. To put an end to the current policy of supporting laws, institutions and practices that restrict and suppress public liberties, and instead guarantee civil and political rights, and to set off public freedoms, especially the ones related to expression, gatherings and association, 2. To adopt dialogue with, and participation of, the various civil institution and groups in order to lay down practical solutions for unsettled issues, whether they are related to civil or political rights, or economic, social and cultural rights, 3. To put an end to the continuous violations and targeting human rights defenders and political opponents, and to secure a healthy and suitable environment for the work of human rights organizations and civil society institutions away from; restrictive laws and interferences and threats of the National Security Apparatus, 4. To guarantee the independence of the judiciary, and to secure the citizens right in prosecuting public officials of all specializations or levels, and to end any form of immunity and impunity, especially the ones related to arbitrary arrest, torture, unfair trials and targeting human rights defenders, 5. To refer to the legislative authority - that needs to be independent and representing public will - when issuing and mending laws, and to monitor and guarantee its efficient role in calling the executive authority to account, including the security services, 6. To reform laws related to liberties and repeal the anti-terrorism law, 7. To dissolve the National Security Apparatus and the Special Security Forces and to return their powers to the regular security services, 8. To end the policy of recruiting and using non-Bahraini mercenaries to work for the security apparatus and within the special security forces, who are being used to deal violently with peaceful gatherings and public protests, 9. To stop the systematic discrimination, isolation and marginalization policy against the Shiite community practiced by the authority in all fields.
22 Jan, 2009
Reporters Without Borders: More human rights websites blocked on information ministry's orders
Bahrain | 22.01.2009
Reporters Without Borders deplores the directive which the information ministry sent to Internet Service Providers on 14 January ordering them to block access to certain political and commercial websites and warning that only the information ministry could take the decision to unblock a website. At least 25 sites have been blocked since the directive was issued.
"Even if the blocking of a political website is nothing new in Bahrain, this directive confirms that the government wants to retain its power to censor the Internet," Reporters Without Borders said. "The fact that the Internet filtering is also targeting human rights websites indicates that this order is a first step in the reinforcement of online surveillance. We urge the information ministry so rescind this order and lift the blocking."
Proxy websites, which enable Internet users to sidestep censorship, have also been blocked since 14 January.
When Internet users try to connect to one the sites, they find a message saying: "Site Blocked: This website has been blocked by the order of the Ministry of Culture and Information based on Article 19 of decree Law No. 47, 2002 regarding the organisation of the press, printing and publishing in the Kingdom of Bahrain, due to the publication of prohibited content on the aforementioned site."
The websites of the Bahrain Centre for Human Rights and the Arabic Network for Human Rights Information (Hrinfo) have been blocked for more than two years. A total of 69 news websites are currently blocked in Bahrain.
Law No. 47 of 2002 empowers the government to close a publication or website that is deemed to have attacked the government, the official state religion, public decency or other religions in a manner likely to disturb the peace. Officials can order the closure without referring to a court first.
Article 5 of a new media law that is currently before parliament would protect Internet publications from summary closure by the government. Reporters Without Borders calls on the authorities and parliament to allow online media to benefit from this provision.
20 Jan, 2009
BCHR listing of the blocked website by Bahrain Ministry of Information which Among them is google translation
BCHR listing of the blocked website by Bahrain Ministry of Information
حركة الحريات والديمقراطية حق 1. http://www.haaq.org
ملتقى الجنوب المقاوم 2. http://www.bintjbeil.org/forum/index.php
موقع بروكسي 3. http://proxify.com
موقع يزود بروكسي 4. http://nofilter.biz/
موقع يزود بروكسي 5. http://www.proxyworld.com/
موقع يزود بروكسي 6. http://www.anonnow.com/
موقع يزود بروكسي 7. http://www.anonworks.com/
موقع يزود بروكسي 8. http://www.proxywars.net/
موقع يزود بروكسي 9. http://www.opencity.us/
موقع يزود بروكسي 10. http://www.poro6.com/
موقع يزود بروكسي 11. http://www.bind2.com/
موقع يزود بروكسي 12. http://www.zendproxy.com/
موقع يزود بروكسي 13. http://zoxy.info/
موقع يزود بروكسي 14. http://www.seenoip.com/
موقع يزود بروكسي 15. http://www.ibypass.org/
موقع يزود بروكسي 16. http://www.ipzap.com/
موقع يزود بروكسي 17. http://kproxy.com/index.jsp
موقع يزود بروكسي 18. http://www.attackcensorship.com/attack-censorship.html
موقع يزود بروكسي 19. http://mrnewguy.com/
موقع يزود بروكسي 20. http://www.unblockwebsites.com/
موقع يزود بروكسي 21. http://spysurfing.com/
موقع يزود بروكسي 22. http://www.stupidcensorship.com/
موقع يزود بروكسي 23. http://www.evilsprouts.co.uk/defilter/
موقع يزود بروكسي 24. http://www.bypassbrowser.com/
موقع يزود بروكسي 25. http://www.proxymouse.com/
موقع يزود بروكسي 26. http://www.fsurf.com/
موقع يزود بروكسي 27.http://www.browseatwork.com/
موقع يزود بروكسي 28. http://www.surfonym.com/
موقع يزود بروكسي 29. http://www.iamnewguy.com/
موقع يزود بروكسي 30. http://www.ninjaproxy.com/
منتديات أحرار البحرين 31. http://www.ahraralbahrain.net/
منتديات البحرين للحوار الحر 32. http://www.montadayatbh.org/
منتديات المحفوظ 33. http://www.almahfood.com/vb
منتديات الجفير 34. www.juffair.org/
منتديات على الأصغر 35. www.alialasghar.net
شهداء البحرين 36. www.shaheed-bh.com/
الصرح الوطني 37. www.wattaninet.org/
ملتقى المالكية 38. www.malkiya.net/vb/
ملتقى بني جمرة 39. www.banijamrah.org/
كرباباد 40. www.karbabadiat.net/
حركة احرار البحرين 41. www.vob.com/
الصحافة 42. http://www.alsaheefa.net/
الحوار المتمدن 43. www.rezgar.com/موقع
موقع أوال 44. www.awal.org
أوال 45. www.awaal.net
ملتقى كرزكان 46. www.karzakan.com
ملتقى الدراز 47. http://alduraz.net/
وعد 48. http://www.aldemokrati.org/
منتديات الثقلين 49. http://www.althaqlain.com/
موقع بنت جبيل 50. http://www.bintjbeil.org/
الشبكة العربية لمعلومات حقوق الإنسان 51. http://www.hrinfo.net/
مركز البحرين لحقوق الإنسان 52. http://www.bahrainrights.org/
منديات شهركان 53. http://www.shahrakkan.org/
كرد تايمز 54. http://www.kurdtimes.com/
موقع البوابة 55. http://www.albawaba.com/
لادني 56. http://www.ladeeni.net/
الكنائس العربية 57. http://www.arabchurch.com/
الأقباط الأحرار 58. http://freecopts.net/
59. http://annaqed.com/
60. http://www.rezgar.com/
الصحيفة 61. http://www.alsaheefa.net/
بحرين تايمز 62. http://www.bahraintimes.org/
بحرين اونلاين 63. http://bahrainonline.org/
منديات البحرين 64. http://montadayat.org/
شهداء البحرين 65. http://shaheedbh.com/
مترجم الغوغل 66. http://google.com/translate
20 Jan, 2009
BCHR Report to CEDAW Committee-The Situation of Women Migrant Domestic Workers in Bahrain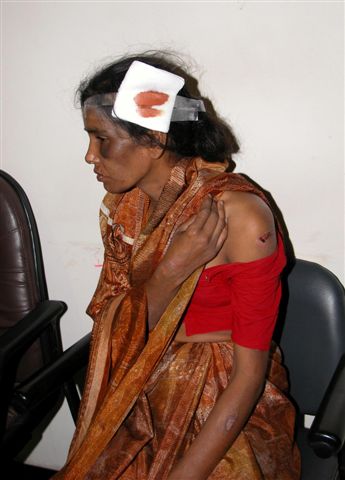 The Situation of Women Migrant Domestic Workers in Bahrain
Report submitted to the 42nd session of the CEDAW Committee October 2008
Table of contents I. Introduction 3 1. Overview of the major violations of women's rights in Bahrain 3 2. The particular vulnerability of women migrant domestic workers 3
II. The situation of women migrant domestic workers 5 1. Lack of legal protection and the kafala system 5 2. Violence against women migrant domestic workers 7 3. Lack of access to justice 7 4. Trafficking 10
III. Recommendations 12
IV. Annex 14 1. Relevant provisions of CEDAW 14 2. Sources 16
I. Introduction
1. Overview of the major violations of women's rights in Bahrain
The most pressing problems faced by women in Bahrain include the following:  Discrimination in the workplace and denial of senior posts in both the private and public sectors;  Family law is uncodified and governed by all-male religious Sharia courts. Influential sections of the religious establishment oppose a codified family law, while the government has recently demonstrated a lack of interest in pursuing the matter. Meanwhile, Sharia courts and Public Prosecution have resorted to threatening activists who dare to criticize its discriminatory positions and practices;  Nationality: Children and spouses of Bahraini women married to non-Bahraini men are not entitled to citizenship;  Violence against women: Sexual harassment and domestic abuse against women is commonplace, with very little institutional support for victims, and marital rape is not considered a crime under Bahraini law. 2. The particular vulnerability of women migrant domestic workers
The Bahrain Centre for Human Rights (BCHR), Caram Asia and the Bahrain Youth Society for Human Rights (BYSHR) consider that the CEDAW Committee should also give special attention to the plight of women migrant domestic workers, since they have been by and large ignored and excluded from the discourse on women's rights in Bahrain. Whilst across the world, women and children are the most vulnerable section of society to the effects of economic, political and social ills, for migrant women, the conditions are even worse. According to the ILO, domestic work is the "single most important category of employment among women migrants to the Gulf as well as to Lebanon and Jordan". Foreign embassies and NGOs estimate that there are 70,000 foreign domestic workers in Bahrain of predominantly Sri Lankan, Indonesian, Indian, and Filipino origin. Gender discrimination in public life and employment is generally visible. However, migrant workers working behind closed doors, especially female domestic workers, are often "invisible" and are therefore particularly vulnerable to abuse and exploitation. They are not protected by labour laws and are effectively subjected to conditions of involuntary servitude. Many are faced with exorbitant recruitment and migration fees. In the workplace, problems include long (or undefined) working hours, low salaries and late payment of salaries and poor and repressive living conditions. They suffer restrictions on movement, including the withholding of passports and are particularly vulnerable to psychological, physical and sexual abuse. It is extremely difficult for such victims of abuse to seek legal redress.
II. The situation of women migrant domestic workers
1. Lack of legal protection and the kafala system
Women migrant domestic workers face long (or undefined) working hours, low salaries and late payment of salaries and poor or repressive living conditions. According to a 2005 ILO study, in Bahrain the average number of work hours for female domestic workers was 108 per week, in Kuwait 101, and in the UAE 105. These women had an average of 1 day off per month. All those interviewed for the study spoke of control on their freedom of movement. Every woman interviewed reported that her passport was held by their employer. None of them were given remuneration for working overtime. This information was confirmed to the UN Special Rapporteur on the human rights of migrants and three other special procedure mandate holders: many women domestic migrant workers have to work 15 to 17 hours a day, seven days a week. Upon arriving in Bahrain, women migrant workers are subjected to mandatory health testing related to sexual and reproductive health without consent or counselling. There is as yet no data on the issue of pregnancy and how it is handled by employers. In the contract of employment, conditions are set according to the employer's discretion and in many (possibly the majority) cases there is no contract at all. The Ministry of Labour has created a model contract - but how much it is used, and how useful it is, is not clear. In addition, employers are required to pay for the flight costs of their employees - but from cases we seen in Bahrain, many employers do not do this.
 Lack of contractual clarity means female migrant domestic workers often end up carrying out multiple forms of work: women are often babysitters, kitchen helpers, cleaners, they work inside the family home and in their relatives homes too. The Kafala sponsorship system means that expatriate workers can only enter, work, and leave certain countries with the assistance or explicit permission of their sponsor or employer, who is a local in the country. The Kafala system was drawn from a concept of "guardianship" by which domestic workers are given residence in their employers abode. This is basis upon which visas are issued to domestic workers. . Domestic workers are legally required to live with their sponsor (employer). Since their legal status in Bahrain depends on the continued visa sponsorship of their employers, those who attempt to escape from exploitative situations risk arrest, prolonged administrative detention and deportation. The dependence created by the sponsorship system has the consequence that many domestic workers who suffer abuse do not make complaints against their employers. There have even been cases of imprisonment of victims of abuse who had left their sponsor's home in order to file a complaint (See further below, 3. Lack of access to justice). Because of the domain in which they work - households – domestic workers also do not fall under national labour laws, their work is not legally recognized and they are not legally classified as workers. Because of their 'unrecognised' status, they are unable to exercise the rights and freedoms afforded to workers and it is difficult to scrutinise and regulate their working and living conditions. Concerns regarding discrimination and violence against women migrant domestic workers, their working conditions, and their lack of protection under the Labour Code have also been raised by the CERD Committee and highlighted by the UNHCR. The UN Special Rapporteur on the human rights of migrants also requested Bahrain to take effective measures to prevent and redress the serious problems faced by female domestic workers, including debt bondage, passport retention, illegal confinement, rape and physical assault.
2. Violence against women migrant domestic workers In 2008, there were numerous credible reports that domestic workers in Bahrain, especially women, were subjected to verbal and physical abuse, including beating, sexual molestation and rape by employers and recruiting agents. Between 30 to 40 percent of the attempted suicide cases handled by the government's psychiatric hospitals were foreign domestic workers. Although sexual harassment is prohibited in Bahrain it remains a widespread problem for women, especially women migrant domestic workers and those working in other low level service jobs. Many of these cases were reported to local embassies, the press, and the police; however, most victims were too intimidated to sue their employers, although they had the right to do so.
3. Lack of access to justice
Few women migrant domestic workers are able or willing to seek legal redress - many because they are unaware of their rights, but also because they do not have access to the institutions where they could seek help. Because of their dependence on the employers (sponsors) for their legal status, many do not report abuse for fear of arrest, detention or deportation. Furthermore, there is evidence to suggest that public authorities often privilege employers in disputes involving migrant workers. The government has published pamphlets on expatriate workers' rights in several languages, provided manuals on these rights to local diplomatic missions, and operates a telephone hotline for victims. However the government does not provide direct assistance to victims. Courts reportedly allow victims who do register complaints to sue for damages or return home. If the victim brings a suit against the employer, the plaintiff cannot leave the country for the duration of the case. Under the sponsorship system, an expatriate worker cannot seek alternative employment while a case is in court. Since its inception in 2002, the Migrant Worker Protection Society (MWPS) has supported several victims who have taken their cases to court, but compensation to victims was reportedly very low. In the course of 2008 MWPS withdrew several court cases, including three rape cases, citing a complete lack of success in the courts. Because in past years MWPS has been unsuccessful at resolving cases against sponsors in the courts, MWPS recommends that individuals instead attempt to resolve cases through mediation between their embassies and the sponsors. Most of these mediations have resulted in the payment of back payments followed by repatriation.
The Pakistani embassy reported that it successfully resolved 200 cases through mediation between the sponsor and the worker, referred 135 to the Ministry of Labour, and 40 to lawyers. The Pakistani embassy repatriated over 750 workers. In September the MWPS assisted an Indian housemaid who was severely beaten with a cricket bat by her sponsor and suffered a broken leg. She was in the hospital and out of work for more than two months. The Indian embassy filed a complaint against her sponsor for the beating. At year's end the investigation was ongoing, and the housemaid was out of work. Domestic workers who have no embassy representation in the country are often subjected to the worst types of abuse, including physical and sexual abuse. With no diplomatic mission to represent them, runaway domestic workers have few places to turn for support. On 13 June 2008, a Sri Lankan housemaid sought assistance from the MWPS after running away from her Bahraini sponsor's allegedly abusive family. The housemaid claimed her sponsor's wife and two elder children abused her on daily basis. She was allegedly made to work seven days a week and paid a salary of approximately $132 (50 dinars) a month. The maid's sponsor denied the allegations but after police questioning agreed to end his legal sponsorship, and the housemaid was repatriated with the assistance of MWPS. In July 2008, the Ministry of Labor began investigating a complaint lodged by the MWPS on behalf of a number of housemaids based on reports that a leading labor recruitment agency was complicit in the abuse of individuals it had recruited. The investigation is ongoing. In 2008 there were approximately 500 labor cases involving a total of over 650 expatriate workers sent from the Ministry of Labour to the Public Prosecution for investigation and prosecution.
4. Trafficking Under Article 6 of CEDAW, "States Parties shall take all appropriate measures, including legislation, to suppress all forms of traffic in women and exploitation of prostitution of women". Bahraini law does not specifically prohibit trafficking in persons. Workers in Bahrain originating from Southeast Asia, South Asia, the Horn of Africa, and the former Soviet Union report conditions that indicate trafficking, such as withholding of passports, restrictions on movement, and physical or psychological intimidation to work. Some victims reported being forced into commercial sexual exploitation; however, the most common forms of trafficking in persons involves unskilled construction laborers and domestic workers. It is estimated that up to half of low and unskilled expatriate workers are subjected to illegal contract substitution, whereby workers agree to a contract in their home country but are required to agree to and sign a different contract upon arrival, nearly always for less pay and often for different work. Victims of trafficking experience non-payment of salaries; inadequate meals; physical, sexual, and psychological abuse; absence of rest days; and/or extremely long working hours. The primary traffickers are employment agencies operating in countries of origin. These agencies approach workers in their home countries and offer visas at prices in the range of $3,975 (1,500 dinars), payable after arrival. Upon arrival at the airport, workers' passports are taken from them, ostensibly to facilitate customs; however, the passports frequently are not returned. Frequently, traffickers, including some from influential families, tricknew workers into paying for fraudulent visas and nonexistent jobs, leaving stranded workers further vulnerable to trafficking due to their illegal immigration status in the country and high debt in their home country. Prostitution is illegal in Bahrain, but in 2008 there was evidence that a number of foreign women, particularly Thai women, were forced into commercial sexual exploitation through deception or intimidation. Although many Thai women traveled to the country voluntarily, traffickers reportedly used false job offers and physical force to traffic some of them into commercial sexual exploitation. The fear of deportation or employer retaliation prevents many victims of trafficing from making complaints to the authorities. Under Bahraini law, the government can fine employers guilty of forced labor up to $2,650 (1,000 dinars) and/or sentence them to terms of imprisonmentnot exceeding two years. Sponsors are required to put up a deposit of $265 (100 dinars) for each runaway worker. Between July 16 and July 21, working in concert with an international NGO, a government shelter focusing on female victims of domestic abuse and trafficking assisted the return of two trafficking victims to their home countries. Between January 7 and 18, the government partnered with a foreign organization to train a special, multidisciplinary anti-trafficking unit. Several NGOs provided assistance in the form of housing, basic health care, education, and transportation to trafficking victims with the government's approval, including the MWPS, the Art of Living Foundation, the Indian Community Relief Fund, and the BHRWS. III. Recommendations
BCHR, Caram Asia and BYSHR make the following recommendations to the government of Bahrain:
 To consult civil society organizations on the provisions of the bill related to domestic violence and to adopt the bill as soon as possible thereafter.
 Take immediate steps to amend the Labour Law to cover domestic workers and to put in place all necessary measures to ensure its implementation.
 To adopt anti-trafficking legislation, in conformity with the Palermo Protocol and other international conventions, including by ensuring that all elements of trafficking in persons are defined as crimes. The drafting process should take place in consultation with civil society.
 To implement all recommendations issued by the UN Special Rapporteur on Trafficking in Persons following her visit to Bahrain in October-November 2006, including:  To abolish the sponsorship system.  To establish mechanisms to monitor the working conditions and compliance of employment contracts of domestic workers in the households of their employers.  To inspect, in the presence of employers and workers, all migrant workers' contracts.  To prohibit mandatory HIV/AIDS-testing of targeted groups.  To guarantee foreign workers the right to an accessible and fair system of justice.  To automatically inform embassies when their nationals are being detained, and facilitate visits by the relevant consular officials.
 To ratify the International Convention on the Protection of the Rights of All Migrant Workers and Members of Their Families.To ratify relevant International Labour Organization (ILO) Conventions, including Convention No. 97 (1949) on Migration for Employment, and No. 143 (1975) concerning Migrations in Abusive Conditions and the Promotion of Equality of Opportunity and Treatment of Migrant Workers. ------------------------------------------------------- IV. Annex
1. Relevant provisions of CEDAW
The following CEDAW articles are particularly relevant to female domestic workers in Bahrain.
Article 6 States Parties shall take all appropriate measures, including legislation, to suppress all forms of traffic in women and exploitation of prostitution of women.
Article 11 1. States Parties shall take all appropriate measures to eliminate discrimination against women in the field of employment in order to ensure, on a basis of equality of men and women, the same rights, in particular: a. The right to work as an inalienable right of all human beings; b. The right to the same employment opportunities, including the application of the same criteria for selection in matters of employment; c. The right to free choice of profession and employment, the right to promotion, job security and all benefits and conditions of service and the right to receive vocational training and retraining, including apprenticeships, advanced vocational training and recurrent training; d. The right to equal remuneration, including benefits, and to equal treatment in respect of work of equal value, as well as equality of treatment in the evaluation of the quality of work; e. The right to social security, particularly in cases of retirement, unemployment, sickness, invalidity and old age and other incapacity to work, as well as the right to paid leave; f. The right to protection of health and to safety in working conditions, including the safeguarding of the function of reproduction. 2. In order to prevent discrimination against women on the grounds of marriage or maternity and to ensure their effective right to work, States Parties shall take appropriate measures: a. To prohibit, subject to the imposition of sanctions, dismissal on the grounds of pregnancy or of maternity leave and discrimination in dismissals on the basis of marital status; b. To introduce maternity leave with pay or with comparable social benefits without loss of former employment, seniority or social allowances; c. To encourage the provision of the necessary supporting social services to enable parents to combine family obligations with work responsibilities and participation in public life, in particular through promoting the establishment and development of a network of child-care facilities; d. To provide special protection to women during pregnancy in types of work proved to be harmful to them.
3. Protective legislation relating to matters covered in this article shall be reviewed periodically in the light of scientific and technological knowledge and shall be revised, repealed or extended as necessary.
2. Sources
Report on Bahrain by United Nations Special Rapporteur on the Human Rights Aspects of the Victims of Trafficking in Persons, especially Women and Children, Sigma Huda, http://ap.ohchr.org/documents/dpage_e.aspx?m=137
Human Trafficking in Bahrain, US State Department Report and Archived Articles, http://gvnet.com/humantrafficking/Bahrain.htm
BCHR: Arbitrary detention and unfair trials in Bahrain during 2006, www.bahrainrights.org/en/node/1626
Female Domestic Workers living under the Kafala system in GCC states and the Region, www.bahrainrights.org/en/node/1289 CARAM Asia / BCHR: State of health of Migrant 2007- Mandatory testing in Bahrain, www.bahrainrights.org/en/node/1599 BCHR: Death Toll Continues to Rise: Migrant Worker Suicides, www.bahrainrights.org/en/node/1187
BCHR: Suffering in Silence, Domestic Workers Need Legal Protection, www.bahrainrights.org/ref07010200 Statement: Women's Petition Committee 1st November 2006, www.bahrainrights.org/node/674 BCHR: A women's Rights Activist Faces Trial and Imprisonment, www.bahrainrights.org/ref05060301
BCHR: Young divorcee is threatened for speaking out against Sharia courts, politicized judges and the lack of a personal status law, www.bahrainrights.org/ref07011401
Domestic Workers, Little Protection for the Underpaid, http://www.migrationinformation.org/Feature/display.cfm?ID=300
18 Jan, 2009
Front Line: Harassment of woman human rights defender, Ghada Jamsheer
2009/01/17 - Front Line is deeply concerned following information received regarding an alleged harassment campaign against Ghada Jamsheer, a woman human rights defender. Ghada Jamsheer is the president of the Women's Petition Committee, an organisation which campaigns for the rights and dignity of women in the shari'ah family courts.
While Ghada Jamsheer was attending the AWID (Association for Women's Rights in Development) conference in South Africa between 14 and 17 November 2008, her home was reportedly entered by a state security agent and detailed photographs were taken. Her house phone, mobile phone, and email account are reportedly under surveillance and received many threatening SMS.Ghada Jamsheer and her family have also been threatened and followed in a car, while members of security in civilian clothes have been sent to her house to shout at her with abusive language.
Finally, she has been accused of attacking officers performing their duties and has been prevented from accessing the media.Front Line is concerned that the harassment campaign and the media ban on Ms. Ghada Jamsheer is directly related to her legitimate work in defence of human rights, in particular women's rights in Bahrain, and that it may form part of an ongoing campaign against human rights defenders in the country. Front Line is seriously concerned for the physical and psychological integrity of Ghada Jamsheer, as well as that of her family.
Front Line urges the authorities in Bahrain to:
1.
Carry out an immediate, thorough and impartial investigation into the harassment against Ghada Jamsheer and her family, with a view to publishing the results and bringing those responsible to justice in accordance with international standards ;
2.
Take all necessary measures to guarantee the physical and psychological security and integrity of Ghada Jamsheer and the members of her family;
3. Guarantee in all circumstances that human rights defenders in Bahrain are able to carry out their legitimate human rights activities without fear of reprisals, and free of all restrictions including judicial harassment.
Front Line respectfully reminds you that the United Nations Declaration on the Right and Responsibility of Individuals, Groups and Organs of Society to Promote and Protect Universally Recognized Human Rights and Fundamental Freedoms, adopted by consensus by the UN General Assembly on 9 December 1998, recognises the legitimacy of the activities of human rights defenders, their right to freedom of association and to carry out their activities without fear of reprisals. We would particularly draw your attention to Article 9 (3-c):
"everyone has the right, individually and in association with others, /inter alia: (/c) To offer and provide professionally qualified legal assistance or other relevant advice and assistance in defending human rights and fundamental freedoms", and to Article 12 (1 and 2): "(1) Everyone has the right, individually and in association with others, to participate in peaceful activities against violations of human rights and fundamental freedoms; (2) The State shall take all necessary measures to ensure the protection by the competent authorities of everyone, individually and in association with others, against any violence, threat, retaliation, de facto or /de jure/ adverse discrimination, pressure or any other arbitrary action as a consequence of his or her legitimate exercise of the rights referred to in the present Declaration."
--------------------------------------------------------------------------------
Source URL: http://www.frontlinedefenders.org/node/1769