29 Mar, 2014
Britain and Bahrain: still allied against democracy and human rights
An interview with Maryam al-Khawaja, a leading Bahraini human rights activist, on the continuing protests in Bahrain, the regime's continued repression and the UK's involvement in the ongoing situation.
Maryam al-Khawaja is the Acting President of the Bahrain Centre for Human Rights and Co-Director of the Gulf Centre for Human Rights. She comes from a family of prominent human rights defenders in Bahrain, with her sister having served and her father continuing to serve time as political prisoners.
David Wearing: Let's start by talking about the legal situation with your dad and your sister. Where do things stand with them at the moment?
Maryam al-Khawaja: My father is sentenced to life imprisonment. He's been through all the legal processes available in Bahrain. His sentence has been upheld at every level, right up to the end at the Court of Cassation. But of course, when we're talking about the justice system in Bahrain, there isn't really due process. Nor do you have any real insight into how the judiciary works because these are political decisions made outside of the courtroom. The courts are not independent, nor are they fair.
My sister Zainab got out of prison about a month ago after being in prison for approximately a year. She's now facing three more court cases, so she could be arrested again at any point.
DW: Can you tell us something about the political demands they were making and the non-violent techniques they employed in their activism?
MK: My father has been a human rights defender for a very long time now. He's been working on the ground there since 2001. And his demands were very much to do with human rights; demanding civil and human rights for all people in Bahrain. And his way of doing this was to create an awareness in society of what civil and human rights are.
So he would train the youth to work on their own chosen issues, helping to set up thematic committees that would work on a given issue and bring pressure on the government to deal with that issue. But of course, my father's work wasn't just limited within the borders of Bahrain. The amount of people he's trained to work on human rights across the Middle East and North Africa is countless.
And this created a real threat to the regime, the fact that not only was he working on human rights but that he was also sowing the seeds so in the future there would be hundreds of other people doing the same thing. That's why he was one of their main targets and why he's sentenced to prison today.
Zainab is very well known for her use of non-violent methodology in dealing with the situation that you face in Bahrain on a day-to-day basis. Which is, for example, when you're attacked by the police you don't run, you stand your ground, which is scary, of course, it's difficult and not anyone can do it, but for her, non-violence is an active thing.
Continue reading on http://www.opendemocracy.net/arab-awakening/david-wearing/britain-and-bahrain-still-allied-against-democracy-and-human-rights
29 Mar, 2014
Dissident says taking Formula One to Bahrain increases human rights abuses
A leading Bahraini dissident, whose father was imprisoned for life for his role in pro-democracy protests, has claimed that taking Formula One to the country increases the number of human-rights abuses.
Maryam al-Khawaja has renewed calls for the Formula One chief executive, Bernie Ecclestone, and the FIA president, Jean Todt, to remove the Bahrain race from the Formula One calendar, believing it legitimises a regime that has been heavily criticised by human-rights organisations and campaigners for press freedom.
The race was added to the schedule in 2004 although it was cancelled in 2011 at the height of sometimes violent protests against the government by pro-democracy campaigners.
"When we first started talking about this we would be told that you shouldn't mix sport and politics. In Bahrain, it's not just that the human-rights situation is bad and therefore Formula One shouldn't come to Bahrain. But having Formula One in Bahrain specifically causes human-rights violations," said al-Khawaja, who was raised in Denmark and returned to Bahrain in 2001 with her father, Abdulhadi al-Khawaja.
"The amount of arrests that happen before, during and after Formula One definitely accelerates. We've had women arrested, we've had children arrested."
Continue reading on http://www.theguardian.com/sport/2014/mar/27/formula-one-bahrain-grand-prix-human-rights-abuses
25 Mar, 2014
Bahrain: Proposed Arab Court of Human Rights: Rewind the process and get it right
During the Arab League's summit, which is being held today and tomorrow in Kuwait, the Bahrain Center for Human Rights joined sixteen other institutions in calling for greater incusion in the talks surrounding drafting a statute for the Arab Court of Human Rights. The full text of the statement is below.
March 20, 2014
Ahead of the Arab League's summit to be held in Kuwait on 25 and 26 March, national and global human rights organizations today called upon the Arab League's member States to suspend efforts to adopt a draft statute of the Arab Court of Human Rights (the Arab Court) until broad discussions and consultations have taken place with all interested stakeholders, who must be permitted to participate meaningfully in all stages of the process of establishing the Arab Court.
Our organizations have closely followed the initiatives of the League of Arab States (LAS) aimed at reforming the LAS system since popular uprisings erupted in several Middle East and North Africa countries in 2011. While our organizations welcome efforts to strengthen the LAS human rights system, including by establishing an Arab Court, we are concerned that the entire process of reform over the past three years has been conducted behind closed doors and through opaque procedures that contravene basic principles of inclusive participation and transparency. Consultations should include not only representatives from the LAS member States but also national and global civil society organizations, members of the bar and judiciary, academic and independent experts and other interested stakeholders.
Our organizations are concerned that establishing the Arab Court in a rushed and non-inclusive manner would be detrimental to the efficacy of the Court. We are further concerned that the draft statute, elaborated by the expert legal committee and expected to be submitted for approval at the LAS's summit, falls short of international, including regional, human rights standards. Areas of particular concern include the means of selection of judges, the independence of the Arab Court, the applicable law and jurisdiction of the Court, the admissibility of cases, and access to the Court.
Our organizations call on the on the member States of the LAS, LAS Summit, and Secretariat to amend the draft statute in order to:
Ensure that the nomination of candidates and election of judges is based on transparent and non-discriminatory procedures that protect against undue, inappropriate and unwarranted interference, and that take full account of appropriate personal and legal qualifications, gender balance and a fair representation of different legal systems;
Ensure that judges sit in their individual capacity, not as representatives of their national State, and serve for a single, lengthy term;
Ensure that judges can only be suspended or removed from office for reasons of incapacity or behaviour that renders them unfit to discharge their duties, following an appropriate procedure, established in advance, that guarantees the rights of the concerned judge to a fair hearing incorporating all due process guarantees;
Provide that the jurisdiction of the Arab Court extends to violations arising out of breaches of the Arab Charter and that the Court must interpret the Charter in a manner consistent with the State's other international human rights obligations;
Ensure that the requirement of exhaustion of local remedies does not have the effect of preventing rights holders from accessing the Arab Court, and that only claims brought by the same applicant on the same subject matter before another regional human rights court are precluded from the Arab Court's jurisdiction;
Ensure that all individuals within the territory of a State party, or subject to its jurisdiction, can have access to the Arab Court when they claim to be a victim of a violation, by any of the State parties, that falls under the jurisdiction of the Court; and that States do not hinder access to the Court, in particular by providing for the effective protection of victims and other participants in the proceedings and by ensuring that they are not subjected to any form of pressure or reprisals as a result of their participation in proceedings before the court;
Remove any obstacles that may limit NGO access to the Arab Court, and ensure that any NGO, not only those accredited in a respondent State, can bring a complaint before the Court; accordingly, the statute should also provide for other avenues to access the Court, including for individuals or NGOs to join proceedings as interested parties or to submit information as amicus curiae or through expert opinions;
Provide for an independent and effective monitoring mechanism that supervises the execution of the Arab Court's judgments, and provide that the Court is competent to prescribe specific measures to be adopted by member States in order to execute the Court's judgements; and
Ensure that the Arab Court is competent to prescribe interim measures, which may be granted prior to the issuance of a final judgment, to enable the Arab Court to intervene in cases where the applicant might face an imminent risk of a serious, irreversible or irreparable harm.
This statement is supported by:
International Commission of Jurists
International Federation for Human Rights
Egyptian Initiative for Personal Rights
Al Haq
Human Rights Watch
Cairo Institute for Human Rights Studies
Human Rights Information Training Center
Gulf Center for Human Rights
Human Rights Organization for the Documentation of War Crimes in Libya
Damascus Center for Human Rights Studies
Mauritanian Association for Human Right
Open Society Foundations - Arab Regional Office
Arab Women Organization of Jordan
African Center for Justice and Peace Studies
Bahrain Center for Human Rights
The Yemeni Organization for Defending Rights and Democratic Freedoms - Aden
Legal Agenda- Lebanon
21 Mar, 2014
Bahrain: Torture Continues In Bahrain, Sadiq Al-Shabani Reportedly Another Victim
The Bahrain Center for Human Rights expresses its deep concern for the Bahraini authories' persistence in reportedly adopting mental and physical torture as the means to extract confessions from detainees. The BCHR received information that the detained actor Sadiq Jaffar Al-Shabani (31 years old) was subjected to torture in the Criminal Investigation building in Adliya. Al-Shabani had been arrested by the Omani Intelligence on Monday 27 January 2014 when he was in Oman. The Omani authorities had handed Sadiq over to the Bahraini authorities and he was in an enforced disappearance for more than 10 days.[1]
Al-Shabani informed his family that he was able to identify one of the people who tortured him and he is the lieutenant Fawaz Al-Sameem, however he was unable to identify the rest. Al-Shabani had stated that the one interrogating him had asked him, 'Do you want us to treat you as a human or as an animal?' The questions then followed, in order to force him to confess to joining the 'Tamarud' (rebellion) movement – and which is a movement that runs peaceful anti-government activities – however Al-Shabani denied his relationship with the Movement, and by that they handcuffed him from behind and told him that they will treat him like an animal. Sadiq said that Al-Sameem and the rest of the interrogators stripped him fully off his clothes, and sexually assaulted him by inserting a rod in his anus, and then they showed him private photos of him with his wife which they had obtained when they raided their house during the 'National Safety' period and they threatened to rape her. Al-Sameem misled him to believe that his wife was in the next room, and they made Al-Shabani hear the voice of a girl screaming as if there was someone raping her. They also brought to Al-Shabani photos of girls from his family and they threatened to rape them all if he did not confess. His penis was pulled with a string and cold and hot water was poured on him. Al-Shabani added that he was electrocuted in his anus, and he was given a hard slap on his face and ears which caused his face to swell and his anus to bleed; this is in addition to the physical and mental pain he still suffers from. Amid the investigation, Al-Shabani was asked to determine the nature of his relationship with Sayed Yousif Al-Muhafda – Vice-president of the BCHR – and they threatened to arrest and rape him as well.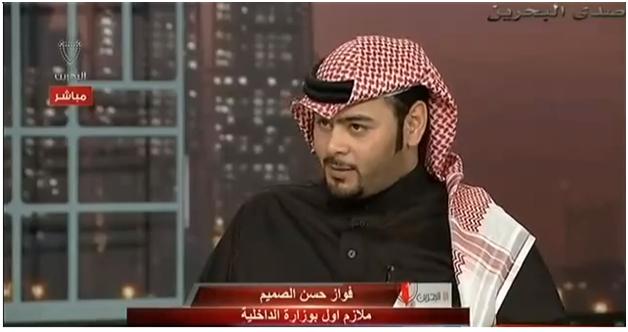 Lieutenant Fawaz Al-Sameem
This is not the first time that the BCHR receives statements from detainees about being subjected to torture by the lieutenant Fawaz Al-Sameem, among the activists who stated that are the media worker Jassim Al-Noaimi and the photographer Hussein Hubail[2]. The BCHR confirms documenting hundreds of cases that prove the existence of torture in the prisons of Bahrain[3] and which at times caused the death of 5 detainees which Mr Bassiouni had documented and mentioned in the Bahrain Independent Commission of Inquiry report. However none of those who practiced torture have been held accountable until this day which confirms the BCHR's belief that torture is a recognized system and the lack of accountability was and still is the means of impunity and thus the number of victims is escalating.
While the Authority in Bahrain denies the existence of torture in Bahrain, it is still banning the UN Special Rapporteur on Torture – Juan Mendez – from entering Bahrain too look into the conditions of more than 3000 prisoners of conscience in the Bahraini prisons. Mendez stated before the Human Rights Council during the 25th session held on 10 March 2014 that he is worried about the torture complaints that are continuing to be received in Bahrain[4], noting that he is ready to carry out the postponed visit to Bahrain without any compelling reasons and that the government has to cooperate to schedule a date for the visit without any further delay. Mendez also stressed that the countries that practice torture have to be aware that not signing the Optional Protocol to the Convention Against Torture (OPCAT) means being pursued by international law.
Based on the aforementioned, the Bahrain Center for Human Rights calls on the United States, United Kingdom, United Nations, European Union, and all the close allies and international institutes to lay pressure on the Bahraini Authorities in order to:
Put an immediate end to the practice of torture as a means to extract confessions, and to provide guarantees regarding the safety and security of detainees;
the immediate and unconditional release of Sadiq Al-Shabani and the rest of the detainees who have been arbitrarily arrested for politically motivated charges due to the current public movement for freedom and democracy;
---
21 Mar, 2014
BRITISH MP CHAIRS 'FORMULA ONE: IMPLICATIONS IN BAHRAIN' EVENT AT PORTCULLIS HOUSE
Labour MP, Katy Clark, today chaired and hosted the Bahrain Institute for Rights and Democracy event at Portcullis House. The panel included Maryam Al-Khawaja, the acting president of the Bahrain Centre for Human Rights, Daniel Carey, a civil and human rights solicitor, and Nicholas McGeehan from Human Rights Watch.
Katy Clark took the opportunity to introduce a Early Day Motion 1194 which calls on the UK government to oppose the 2014 Formula One race in Bahrain "due to ongoing human rights violations." The EDM also recalls concerns over the sexual abuse in custody of Rihanna al-Mousawi who was detained at the Bahrain Formula One track in 2013. It also recalls concerns over the extrajudicial killing of protester Salah Abbas during the race in 2012 by security forces. 25 MPs have signed the EDM to date.
Human Rights Violations in Bahrain
Acting President of the Bahrain Centre for Human Rights, Maryam al-Khawaja, began the discussion by highlighting the ongoing grave human rights violations in the country. She highlighted the dangers of the new Gulf Cooperation Council Security Agreement that "infringes upon the basic rights of all GCC citizens." Ms. Khawaja furthermore highlighted the stringent environment and reprisals faced by human rights defenders in Bahrain and refuted the speech made by the Bahrain Foreign Minister in Geneva earlier this month noting:
"Bahrain uses terrorism as an explanation to justify the crackdown against individuals in the country, whilst attempting to convince F1 that it is safe to race in the country. Why are they hosting the F1 if there is terrorism in Bahrain? F1 would not go to Bahrain if that was the case."
OECD Complaint Launched Against Formula One
Daniel Carey, who headed a legal team to file an OECD complaint to stop a 3 million shipment of tear gas canisters to Bahrain, took the opportunity to announce that an OECD complaint has been filed by Americans for Democracy and Human Rights in Bahrain against Formula One Management, sponsors and teams in the UK. The complaint alleges that the defendant organisations have not mitigated the human rights impact caused by their actions in the country. The complaint has been filed with the United Kingdom Department for Business, Innovation, and Skills in London, which is the UK's National Contact Point for the OECD Guidelines.
According to the 2011 OECD Guidelines for Multinational Enterprises, organisations have a responsibility to "… avoid causing or contributing to adverse human rights impacts and address such impacts when they occur." Organizations falling under OECD jurisdiction additionally must "seek ways to prevent or mitigate adverse human rights impacts that are directly linked to their business operations…" and "carry out human rights due diligence…" as appropriate to their involvement with abuses.
Mr. Carey also highlighted 'irresponsible statements' made by Bernie Ecclestone in the past regarding the staging of the race in Bahrain.
Bernie Ecclestone has noted in previous years:
"We don't go anywhere to judge how a country is run. I keep asking people what human rights – I don't know what they are. The government here are stupid to put this race on. It is a platform for people to use protesting."
Dorset Band Rejects Invitation to Perform During Bahrain Grand Prix
Dorset band, Magic Drum Orchestra, used the event to announce that the have firmly rejected an invitation from Bahrain to perform at the Formula One over serious concerns about the human rights situation in the country.
On receiving the booking enquiry from the Bahrain International Circuit, the band investigated the situation there and were concerned by reports from NGOs about the human rights abuses committed in the country. A member of the band visited Bahraini activists in London who were gathered to mark the anniversary of the uprising. On hearing about the violent crackdown on peaceful protests, including imprisonment, torture and teargas fired into people's homes, the band unanimously decided not to pursue the offer. They dedicated a song to the people of Bahrain as part of a recent performance to a packed out Electric Palace in Bridport, during which a police riot van arrived on the scene to investigate the noise. The song was the bands own interpretation of Rage Against the Machine's 'Killing in the Name', thought to have been originally written about state violence. They added a new introduction, to the rhythm of 'Down Down Hamad' which Bahrainis often play during protests calling for democracy.
Glyn Bush, of Magic Drum Orchestra, said "playing in Bahrain would have been our first international performance, but we felt that pursuing the offer to play would be taking the side of a repressive regime instead of supporting the people. We urge other musicians, drivers and racing fans to take a stand for democracy and human rights by boycotting the event".
Magic Drum Orchestra are the latest to support the campaign to suspend the Bahrain Grand Prix, which was initiated by Americans for Democracy and Human Rights in Bahrain, Bahrain Centre for Human Rights, Bahrain Youth Society for Human Rights, The European Bahraini Organisation for Human Rights and UK-based Bahrain Institute for Rights and Democracy and Bahrain Watch.
Magic Drum Orchestra's response to the organisers reads:
"We have discussed your booking enquiry for the Bahrain Formula One. The Magic Drum Orchestra is a British percussion band made up of over 20 people from the county of Dorset ranging in age from 15 – 55 and including teachers, conservationists, sports instructors, gardeners, shop assistants and students. We recognise that Britain and Bahrain have had a close relationship for 200 years, including Britain supplying many millions of pounds worth of arms and sending a large delegation of representatives from arms companies, the government and royal family to celebrate this relationship during the GREAT British Week held in Bahrain earlier this year.
However, we are extremely concerned about human rights violations in Bahrain and feel that performing at the Grand Prix would be taking the side of a repressive regime instead of supporting the people. We find it unacceptable to detain, torture and kill people, and strongly deplore the violent crackdown on peaceful protest that has led to thousands of Bahrain citizens being imprisoned.
We therefore decline your offer. We also encourage performers, drivers, Formula One fans and British citizens to boycott the event".
UK Allegations of ' Undeniable Progress in Bahrain' Denied
Bahrain researcher at Human Rights Watch, Nicholas McGeehan, refuted a statement made by UK Minister of State at the Foreign and Commonwealth Office, Hugh Robertson, that there is 'undeniable progress in Bahrain.' Highlighting an upcoming Human Rights Watch report, Mr. McGeehan argued that human rights abuses including torture and arbitrary detention are ongoing in the country. He also shed light on the treatment of children in Bahrain arguing "young men are being dispensed through a justice system with no justice. Protesters are thrown in jail after being subjected to non-sensical judgements whilst the manner in which security personnel, accused of grave human rights violations, have been acquitted has created a culture of impunity."
14 Mar, 2014
The GCC Agreement Imposes Further Restrictions on Public Liberties
The Bahrain Center for Human Rights expresses its concern for Bahrain and the neighbouring countries in the GCC resort to signing new security agreements and treaties while it is known that the cooperation between the security apparatuses already exists since 1994, namely since 20 years ago according to the security agreement to tackle crime. However, the new transnational security agreement for each country includes clauses that conflict the liberties stated in the International Covenant on Civil and Political Rights and also contradicts the local legislations and constitutional provisions.
On 13 November 2012, a security agreement was signed among the GCC countries in Riyadh and it was adopted during the 33rd summit held in the Kingdom of Bahrain from 24 to 25 December 2012.
Since the signing of the agreement, the BCHR has documented a number of cases in which Bahraini citizens have fallen victims of human rights violations as a result of implementing this agreement. In January 2013, three Bahraini citizens living in Oman were subjected to arbitrary arrest by the Omani intelligence, they were then transferred to Bahrain where they became victims of torture according to the information received. They were convicted of terrorism, and were defamed on local media. Following the arrest that lasted for 10 months, they were released after being acquitted by court.[1]
In January 2014, the Bahraini actor Sadiq Al-Shabani, who was living in Oman, faced arrest and enforced disappearance for an approximate period of 20 days, and he was being interrogated by Bahraini interrogators in Oman; this took place before he was transferred to the Criminal Investigations Department in Bahrain.[2]
In February 2013, the Bahraini journalists Reem Khalifa and Mansoor Al-Jamri were banned from entering the UAE through Dubai airport without providing any reasons; this seems to be in relation to the black lists which the government is working on circulating to the Gulf authorities to ban or harass the activists at frontiers.[3]
Following are the clauses that violate the international conventions:
Article (2): State Parties cooperate to hunt down system outlaws, or wanted by State Parties, regardless of their nationality, and take necessary action against them.
This article, and specifically in the use of the vague term 'system outlaws' without specifically defining it could be used in an arbitrary manner to restrict liberties and pursue political activists, opponents and human rights activists. This is a clear violation of the first clause of Article (9) of the International Covenant on Civil and Political Rights which states, '1. Everyone has the right to liberty and security of person. No one shall be subjected to arbitrary arrest or detention. No one shall be deprived of his liberty except on such grounds and in accordance with such procedure as are established by law'. It also conflicts the first clause of Article (11) of the Universal Declaration of Human Rights which states, 'Everyone charged with a penal offence has the right to be presumed innocent until proved guilty according to law in a public trial at which he has had all the guarantees necessary for his defence'. Also, it is inconsistent with the Bahraini Constitution and is considered a breach of the principle that the accused is innocent until proven guilty by a court of law that provides the necessary guarantees to exercise his right to self-defence.
Article (3): Each State Party can take legal action in regards to a crime, according to their domestic legislation, against the intervention of citizens or residents in the internal affairs of any other State Party.
It is not clear what is considered an 'intervention' in the internal affairs, yet this article is considered an apparent violation and breach of Article (19) of the Universal Declaration of Human Rights which states, 'Everyone has the right to freedom of opinion and expression; this right includes freedom to hold opinions without interference and to seek, receive and impart information and ideas through any media and regardless of frontiers'. It also violates the first clause of Article (18) of the International Covenant on Civil and Political Rights which states, 'Everyone shall have the right to freedom of thought, conscience and religion'.
Article (4): Each State Party shall cooperate to inform the other parties - upon request – about the information and personal data of the citizens of the requesting State or its residents, in the terms of reference of the Ministries of Interior.
This article conflicts with the privacy rights and specifically Article (17) of the International Covenant on Civil and Political Rights which states, 'No one shall be subjected to arbitrary or unlawful interference with his privacy, family, home or correspondence, nor to unlawful attacks on his honour and reputation. Everyone has the right to the protection of the law against such interference or attacks'. As well, it conflicts with Article (12) of the Universal Declaration of Human Rights which states, 'No one shall be subjected to arbitrary interference with his privacy, family, home or correspondence, nor to attacks upon his honour and reputation. Everyone has the right to the protection of the law against such interference or attacks'.
One of the sources of concern is that this article permits the ministries of interior to request personal information without resorting to the judicial bodies and without requiring a court ruling according to the regular implemented procedures as is the case with international agreements where such measures are usually regulated through court when the prosecution of one country requests information from another country.
Article (8): State Parties exchange the names of exiles and those with dangerous precedents and the data and information related to them, and report on their movement.
This article contradicts the right to freedom of movement and travel according to Article (12) of the International Covenant on Civil and Political Rights which states, 'Everyone lawfully within the territory of a State shall, within that territory, have the right to liberty of movement and freedom to choose his residence. Everyone shall be free to leave any country, including his own. The above-mentioned rights shall not be subject to any restrictions except those which are provided by law, are necessary to protect national security, public order, public health or morals or the rights and freedoms of others, and are consistent with the other rights recognized in the present Covenant. No one shall be arbitrarily deprived of the right to enter his own country'. It also contradicts Article (13) of the Universal Declaration of Human Rights which states, 'Everyone has the right to freedom of movement and residence within the borders of each state'. The BCHR had previously documented cases of arbitrary measures practiced against activists to restrict their freedom[4] and deprive them their right to practicing their peaceful activity.
Article (10): States Parties collectively or bilaterally work on achieving effective integration of the security services and operational cooperation among themselves, and provide support and assistance – upon request – to any State Party, in accordance with the conditions of the state and the States Parties that are required to do so, in order to meet security disturbances and disasters.
This article is considered a breach of national sovereignty, as this goes beyond security cooperation, it is operational cooperation on the ground by providing support and assistance. This legislation allows repeating the military intervention to confront people's revolutions as had happened in March 2011 when the military forces entered Bahrain under the name of the 'Peninsula Shield Forces' to crush the public protests demanding freedom and democracy. Worth mentioning that this article is actually being implemented in Bahrain; information was received that the Emirati policeman killed in March 2014 is one of the security forces participating amid the lines of the Bahraini police.[5]
Article (11): States Parties, according to each case, and at the request of a State Party works on allowing experts of the requesting State Party to be present during the stage of collecting evidence that takes place in the crimes occurred and are relevant to its security, or similar offenses occurred in its territory, or whose perpetrators hold its nationality, or have had partners who reside in it, or scheduled to ensue results in its territory.
The ambiguous terms in Article 11 raise concerns in terms of being used arbitrarily against human rights defender or political opponents.
Article (16): States Parties, as required by national legislations and agreements that the State Party commits to which is requested to extradite, to extradite persons within its territory that have been accused, or convicted by the concerned authorities of any of them.
This article conflicts with Article 21 of the Bahraini Constitution which states, 'Extradition of political refugees is prohibited'.
The BCHR believes that the aim of the new security agreement is to monitor, follow and prevent human rights activists and politicians from exercising their peaceful demand activity and to restrict their movement in the GCC countries.
While the security agreement was adopted in Bahrain without any public consent, and without it being earnestly discussed by the Council of Representatives which was quick to endorse it in June 2013[6], the Bahraini political forces considered it a blatant violation of the nature of development, as the agreement directly contradicts the constitutional articles that guarantee public and private freedoms.
Based on the aforementioned, the Bahrain Center for Human Rights calls on the United States, United Kingdom, United Nations and all the other close allies and relevant international institutes to exercise real pressure on the government of Bahrain in order to:
annul all the agreements and laws that restrict public liberties
fulfil its international commitment to the International Covenant on Civil and Political Rights it had endorsed, in order for all its laws and agreements to be inconsistent with its procedures and regulations
hold accountable and question all those implicated in the violations whether by implementation, supervision or order, especially the ones with the higher ranking posts.
---
9 Mar, 2014
Bahrain: Urgent Appeal: Minor Shot by Police detained without Charges and Without Access to Adequate Medical Care
The Bahrain Center for Human Rights is seriously concerned about the health and well being of Sadeq Jaffar AlAsfoor, 17 year-old, who has been in detention since the 8th of January 2014. AlAsfoor, who was shot at time of arrest, reported that he is experiencing pain in his stomach to the extent that he is unable to eat, but his condition is being ignored by the authorities.
On Wednesday, 08 January 2014, AlAsfoor was visiting a released prisoner in the village of Markh, Bahrain with three others. Witnesses reported that they heard the authorities open fire with live ammunition on the four young men as they left. All four of them were subjected to enforced disappearance, with one of the victims, Fadhel Abbas, reported dead 18 days after the incident (read BCHR report on http://bahrainrights.org/en/node/6727).
Following this incident, AlAsfoor was subjected to enforced disappearance for over 15 days, and his family were not certain if their son was alive, despite making inquiries at the public prosecution and the police station. His father was told that there are no criminal cases lodged against Sadiq in the police electronic system.
His family was finally allowed to briefly see him at the prisoner's clinic of the Ministry of the Interior, on Friday January 24, 2014. The visit took place with security presence and with restrictions on their talk limited to his medical condition. Sadeq AlAsfoor's family was made aware that he was injured in his kidneys, stomach, and back. It was not clear how many bullets were removed from his body.
On 20 February 2014, AlAsfoor received detention order of 37 days in custody pending investigation. He was moved on the same day to the Dry Docks prison despite his injury and need for proper medical care. The lawyer appointed by the family in this case has not been able to contact Alasfoor to date or to get concurrent information on his charges.
AlAsfoor's family visited him on Wednesday, February 26, 2014, at the Dry Docks prison and they reported that he appeared fatigued. He complained to his family about bad prison conditions.
On the 05th of March 2014, AlAsfoor contacted his family via telephone and informed them that he is experiencing severe stomach pain. AlAsfoor stated that he requested to be transferred to the hospital, but was informed that he was put on a wait list. He reported that the pain was so intense that he is unable to eat. He added that he was having difficulty walking because of problems with his leg, and that on a previous visit to the prison clinic, the doctor ignored AlAsfoor's reports of stomach pain.
The BCHR is seriously concerned about the health and well being of Sadeq Jafar AlAsfoor, who is detained without any clear charges, particularly considering the reports of lack of medical care in prisons that has led to deaths in custody the last being Jaffar AlDurazi who passed away last month[1].
Based on the above, the BCHR calls on the United States, the United Kingdom, the United Nations and all other close allies and relevant institutions to apply pressure on the Government of Bahrain to:
Immediately and unconditionally release Sadiq AlAsfoor along with all other prisoners who are held on politically motivated charges because of the ongoing popular protests for freedom and democracy.
Immediately allow access to adequate medical treatment for all prisoners, political and not political, as stated in Article (22) of the "Standard Minimum Rules for the Treatment of Prisoners: "Sick prisoners who require specialist treatment shall be transferred to specialized institutions or to civil hospitals. Where hospital facilities are provided in an institution, their equipment, furnishings and pharmaceutical supplies shall be proper for the medical care and treatment of sick prisoners, and there shall be a staff of suitable trained officers."
---
4 Mar, 2014
Joint Statement: NGOs Express Concern Over Escalation Of Violence In Bahrain And Reiterate The Legitimate Demands Of Peaceful Protestors
The undersigned NGO's express in the strongest terms their concern in regards to the escalation of violence in Bahrain and the use of foreign security forces to police peaceful protests under the guise of secretive Gulf security agreements. For the past three years, Gulf Cooperation Council (GCC) states have stated that foreign troops have not been involved in suppressing the peaceful protest movement, but the death of an Emirati policeman in the village of Daih has highlighted this problematic issue.
Since the beginning of the popular uprising in Bahrain in February 2011, numerous local and international organizations have documented ongoing widespread and grave human rights violations in the country, which has created an environment of fear, as well as an infringement on the most basic civil and human rights.
After numerous civilian deaths, many in the form of extrajudicial killings carried out by security forces, and countless arbitrary arrests, systematic physical, psychological and sexual torture, as well as the continuous use of excessive force; evidence confirmed by the findings of the Bahrain Independent Commission of Inquiry that avenues of peaceful dissent have effectively been crushed.
The protest movement, which started peacefully and remains largely peaceful, has witnessed a slow turn of splinter groups towards the use of violent tactics. Most of the human rights activists in the country are either imprisoned or exiled and the government's willingness to reform and enter into a genuine dialogue continues to be an unfulfilled promise three years on. It is the responsibility of the state to take the necessary measures towards political reconciliation rather than resort to security measures that could escalate into a full-blown violent conflict as human rights activists have been warning over the past three years.
Following the death of a protester, Jaffar al-Durazi, in police custody, the authorities in Bahrain stated that an explosion targeting police killed three policemen in Daih from the UAE, Pakistan and Yemen, and injuring others on the 3rd of March 2014. This has again highlighted the problematic use of foreign security forces and politically naturalised officers in violating human rights and the exercise of the right to self-determination, as well as the claims that GCC forces have not had any involvement in direct policing of protests. Following the death of the three policemen, security forces went on a rampage breaking cars in Daih. In less than 24 hours, and after numerous house raids in multiple areas, the Ministry of Interior announced the arrest of 25 individuals links to the "explosion". During this period, there was an attack on the AlWefaq headquarters, calls for sectarian attacks, and the Ministers Council issued a decision listing the February 14th Coalition, the SarayaAlAshtar and the Rebellion Movement as well as anyone related to them as terrorists groups. This may be used to target human rights defenders and organizations under the pretext of fighting terrorism.
Since the beginning of the uprising, the undersigned NGO's have called on the Government of Bahrain to halt the use of excessive force, and allow people the right to peaceful assembly and freedom of expression; warning that the continuation of suppression will escalate violence. Not only has the Government of Bahrain completely ignored calls from civil society, but the human rights situation has further deteriorated with not only the suppression of protests, but also the passing of laws and amendments to laws that further limit and infringe on basic civil and human rights.
The undersigned NGO's collectively reiterate that we do not condone violence under any circumstance; nevertheless we strongly believe that any form of violence is never a justification for further human rights violations carried out by Government forces. It has been the case that after every statement from the authorities of an attack on police, residential areas are put under lockdown, homes are raided, and people are arbitrarily arrested. Those individuals are usually then tortured into making forced confessions for their alleged involvement in the attack, and those confessions are the evidence used against them in court. Calls for sectarian violence have also escalated from individuals linked to the government on social media, and the use of sectarian targeting during arbitrary arrests.
The Government of Bahrain bears full responsibility for the escalation of the violence in Bahrain given its relentless three year crackdown. The undersigned NGOs call for international pressure on Bahrain to force a process of fundamental reforms and to initiate an immediate process of reconciliation, as well as the immediate halting of suppression as a response to legitimate popular demands.
Based on the above, the undersigned NGOs demand that:
1. Citizens are allowed to exercise the right to self-determination, the right to peaceful assembly and freedom of expression [International Covenant on Civil and Political Rights and the International Covenant on Economic, Social and Cultural Right]
2. Form a non-governmental independent and neutral commission, with UN supervision, to investigate all deaths that have occurred since February 2011.
3. Halt the use of politically naturalized persons, and foreign security forces; the police and military should reflect, in a demographically representative manner all parts of society while advocating for greater transparency of GCC security agreements.
4. Reform the judiciary to bring it to international standards of due process and fair trials. We consider all the rulings emanating from the current system to be in violation of the rights to fair trials and all those convicted on politically motivated charges should be released.
5. Initiate a process of real accountability of all those involved in human rights violations, especially those with administrative responsibility. Hold Bahraini officials accountable internationally, especially through international mechanisms like the United Nations, visa bans, sanctions.
6. Schedule an urgent visit for all six UN Special Rapporteurs that have requested visits and especially the UN Special Rapporteur on Torture to Bahrain.
Undersigned NGO's:
Bahrain Center for Human Rights (BCHR)
Americans for Democracy and Human Rights in Bahrain (ADHRB)
Bahrain Institute for Rights and Democracy (BIRD)
Bahrain Youth Society for Human Rights (BYSHR)
Bahrain Human Rights Society (BHRS)
European-Bahraini Organisation For Human Rights (EBOHR)
2 Mar, 2014
Press Release: Joint Letter to FIA Calling for Suspension of 2014 Bahrain Formula One Grand Prix
On 14 January 2014, a group of NGOs sent a joint letter to the Mr. Jean Todt, President of the Fédération Internationale de l'Automobile (FIA), regarding the human rights situation in Bahrain. The letter urged Mr. Todt to suspend the 2014 Bahrain Formula One Grand Prix until an inquiry by its Ethics Committee can investigate the impact the Grand Prix has on the human rights situation in Bahrain. The letter was signed by Americans for Democracy and Human Rights in Bahrain, the Bahrain Center for Human Rights, the Bahrain Institutes for Rights and Democracy, Bahrain Watch, the Bahrain Youth Society for Human Rights, and the European Bahraini Organisation for Human Rights. FIA has failed to offer any response.
The letter points to the direct correlation between intensified crackdowns on civilians and protesters in the lead up to and during previous Formula One events in the country. Restrictive measures used in the past to target activists include enclosing villages in barbed wire, setting up an excessive amount of police checkpoints, firing a disproportionate amount of tear gas into residential areas, and imprisoning protesters. In 2012, security forces killed protester Salah Abbas Habib on the first day of the Bahrain Grand Prix. There are currently more than 3,000 political prisoners behind bars in Bahrain, and there is no indication that such measures will not be used again during the 2014 Bahrain Formula One Grand Prix.
In addition to targeting protesters, the Bahrain government's restriction on free speech has led to the ongoing practice of denying journalists access to the country. The list of journalists denied access to or deported from Bahrain during the time of the Grand Prix includes a news crew from the United Kingdom's Channel 4, who were deported in 2012, and an ITN news team, who were deported in 2013.
The decision to hold the Formula One Grand Prix in Bahrain has provided the Government of Bahrain with the pretext to increase its systematic crackdown on protesters, journalists and human rights defenders. As such, FIA bares a unique ethical and moral responsibility to safeguard the integrity and reputation of motor sport worldwide by cancelling the Bahrain Formula One Grand Prix until such abuses cease to exist.
Please contact Maryam AlKhawaja (Tel. +4581757959 or email Maryam.Alkhawaja@bahrainrights.org) for further information.