17 Jul, 2016
Further Repression of Freedom of Association: Bahrain Dissolves Al-Wefaq, the Largest Political Society in the Country
Today, 17 July 2016, the Bahrain High Civil Court ordered the dissolution of the largest opposition political society in the country, Al-Wefaq Political Society, and the liquidation of its assets. We, the undersigned NGOs, strongly condemn the escalation of the Bahraini government's attacks on political societies, and its repressive acts against all forms of peaceful dissent.
On 14 June 2016, Bahraini authorities ordered that Al-Wefaq Society be suspended, and then froze all its assets, halted all of its activities, and closed its headquarters following the Ministry of Justice's request to the High Civil Court for an emergency order to shutdown the society. The court decision, and the execution of this order was quickly made and the society's headquarters were sieged and closed, and its website was blocked throughout Bahrain. Although the court had set 6 October 2016, as the commencement of the case to dissolve Al-Wefaq, the hearing was brought forward to 23 June 2016, based on the Ministry of Justice's request. The court twice moved the hearings to earlier dates than previously scheduled.
On 28 June 2016, the defense team decided to withdraw and submitted a letter to the court stating that "in light of the court's decision to postpone the hearing to 4 July 2016 for our response; and while not permitting us to enter the headquarters of Al-Wefaq to get the necessary documents to prepare our defense and support it with documents; the defense team believes that it is impossible to carry out its work legally and professionally, due to the very short deadline and the refusal of allowing access to those documents." (Find a copy of Al-Wefaq's defense letter to court here.)
The court accused Al-Wefaq with allegedly supporting violence, expressing its "solidarity with suspects convicted of instigating hatred of the political regime," "calling for a coup d'état and demeaning the judiciary and executive bodies," and calling for "demonstrations and sit-ins that could lead to sectarian strife in the country."
Despite the prevention of proper, or even adequate, legal representation, and the refusal of access to important documents to form defense pleading, today, 17 July 2016, the Bahraini judiciary took the decision to irrevocably dissolve Al-Wefaq and liquidate its assets after just one month since its closure.
The suspension of Al-Wefaq Society in June was widely condemned by international human rights bodies and governments. Most recently, on 7 July 2016, the European Parliament adopted - with a large majority - a resolution condemning recent human rights abuses by Bahraini authorities, and strongly called for an end to the ongoing repression against the country's human rights defenders, political opposition and civil society. In this resolution, MEPs stated that "free expression of legitimate and peaceful grievances must be allowed; notes with concern the Bahraini Government's suppression of legitimate political opposition, including the extension of Sheikh Ali Salman's sentence, the suspension of the Al-Wefaq National Islamic Society and the freezing of its assets; calls for greater basic freedoms for all Bahraini citizens; insists on an immediate halt to the suppression of different political opinions in the country and the repression of their leading representatives, regardless of their political or religious affiliation."
This and other recent actions taken by the government of Bahrain are gravely concerning. Yesterday, 16 July 2016, the authorities announced the referral of Shia spiritual leader Sheikh Isa Qasim, and other religious figures, to court in order to be prosecuted over charges relating to their freedom of religion – essentially they're being tried for practicing one of Shia's main religious duties. This comes following the Ministry of Social Development's closure of Al-Risala Islamic Society and the Islamic Enlightenment Society. Significantly, these were the two remaining bastions of the Shia Muslim community in Bahrain.
On 20 June 2016, Sheikh Isa Qasim had his citizenship revoked, and reportedly is being threatened with forcible deportation. Last month, the Bahraini King promulgated a bill amending the 2005 Political Societies Law, placing a ban on participation in political decision-making based on discriminatory religious grounds. Furthermore, the court's sentence against Sheikh Ali Salman, Secretary-General of Al-Wefaq Society, was doubled to nine years' imprisonment.
Therefore, we, the undersigned NGOs, call upon the United States, the United Kingdom, and the European Union to denounce the government of Bahrain's actions, immediately suspend arms sales to Bahrain, and to urge it to call off the decision to dissolve Al-Wefaq Society, and to respect the rights to freedom of association.
Signatories:
Bahrain Center for Human Rights (BCHR)
Americans for Democracy and Human Rights in Bahrain (ADHRB)
Bahrain Institute for Rights and Democracy (BIRD)
European Center for Democracy and Human Rights (ECDHR)
Justice Human Rights Organization (JHRO)
14 Jul, 2016
Return of Electronic Witch Hunt in Bahrain Leads to Arrest of Ali Abdulraheem
14 July 2016 - The Government of Bahrain is targeting public sector employees found in photos and videos of sit-ins with arrest and further punishment. We, the undersigned NGOs, condemn the return of this practice, which violates people's right to assembly.
On 12 July 2016, Ali Abdulraheem, an official at the state Labour Market Regulatory Authority (LMRA), was summoned for interrogation at the Public Prosecution for participating at the open-ended sit-in at Diraz. Abdulraheem was subsequently arrested and remanded to 15 days in detention. The arrest of Abdulraheem comes after his photo was circulated through pro-government social media channels and groups calling for his arrest. In addition, a parliament member incited against him and demanded his arrest. He then congratulated his followers shortly after Abdulraheem's arrest.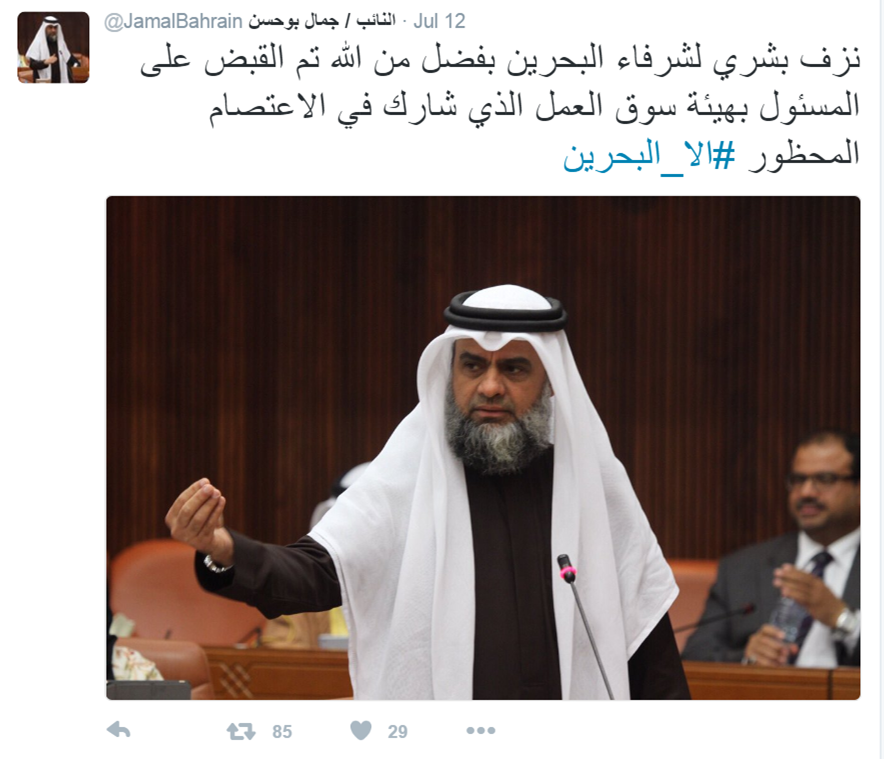 "PM Jamal Abuhasan: Good news to Bahrain's loyalists. With Grace of God, the official in LMRA, who participated in the unlawful sit-in, was arrested. #Bahrain"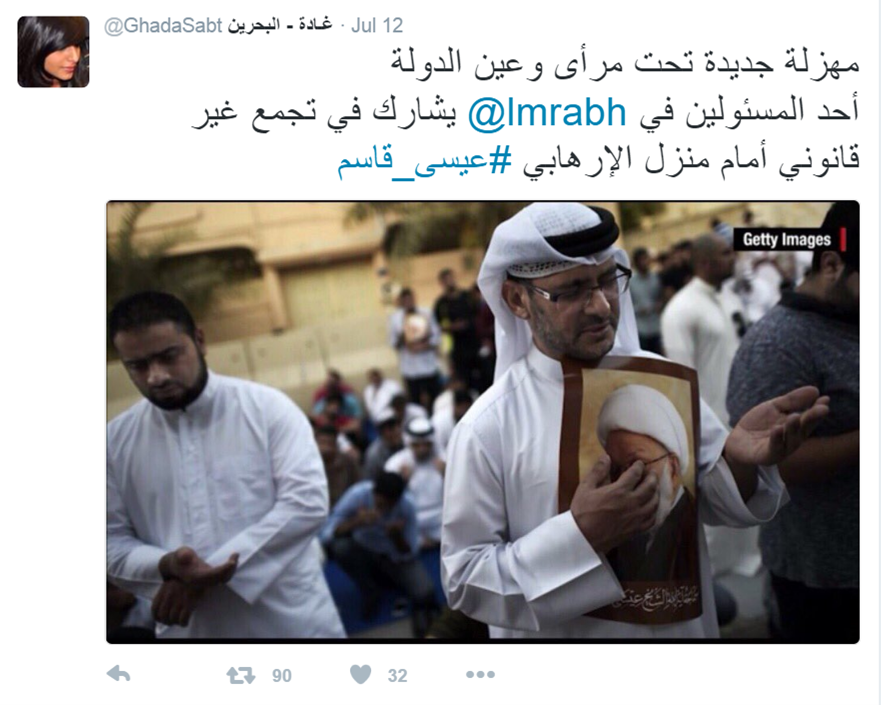 "A new joke under the sight of the government. An official in @lmrabh participate in an illegal gathering in front of the house of the terrorist #Isa_Qasim"
Since 20 June 2016, thousands of citizens have been gathering at a peaceful sit-in in Diraz around the house of Shia spiritual leader Sheikh Issa Qassim, whose citizenship was revoked that day. After the sit-in began, many pro-government social media accounts have started to call for individuals to publish the photos of the protesters so they can be identified and consequently punished, including imprisonment, cutting their government services such as housing, and suspending them from their jobs, among other penalties. Reminiscent of the mass and widespread "witch hunt" of 2011, several Twitter handlers, some with thousands of followers, have started identifying protesters, publishing their photos, and calling them traitors.

"Brothers/ Sister, please provide us with photos of individuals (protesters) in Diraz? We will expose those traitors, whether they're businessmen or employees! Their punishment will be harsh. #Bahrain"

"Whoever violates the country's laws and stages sectarian protests must be punished and deprived of his privileges! Starting with housing, scholarships, and governmental jobs."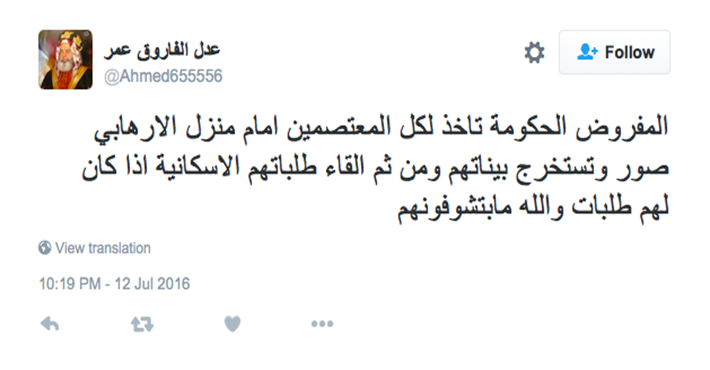 "The government should take photos of all the protesters [participating in the sit-in] in front of the house of the terrorist, get their details, and then cancel their housing requests, if they have any."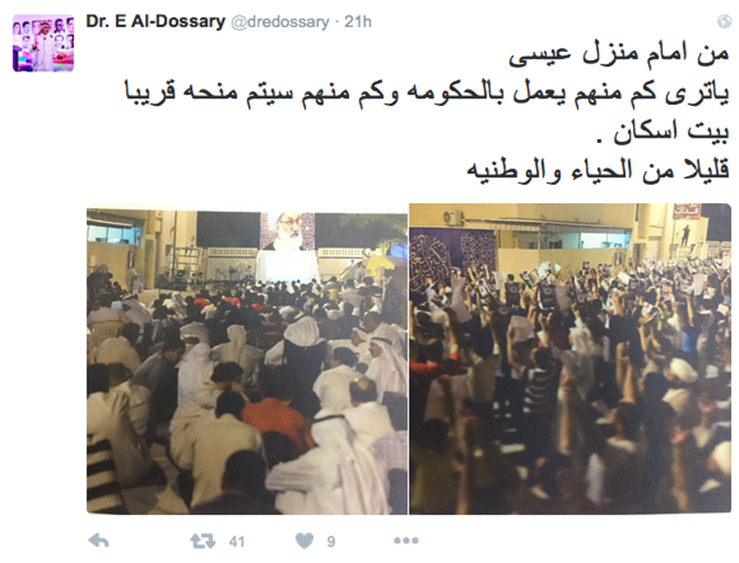 "From the house of Isa. I wonder how many [of the protesters] work for the government, and how many will be granted a house [by the government] soon. Have shame and patriotism."
In 2011, a similar "witch hunt" practice was observed and documented by the BICI, which concluded in paragraph 1637 of its report that some twitter accounts have targeted anti-government protesters, disclosed their whereabouts and personal details, and openly harassed, threatened and defamed certain individuals. Many of those individuals were later arrested and tortured by the government. The BICI has considered such online harassment to be in violation of the right to privacy while amounting to hate speech and incitement to violence. However, since 2011, no one who has participated in these campaigns has faced any consequences.
We consider the government's arrest and prosecution of Ali Abdulraheem and any other citizen for merely participating in a peaceful protest as a violation of the right to freedom of expression and assembly. We additionally express our grave concern over the mass targeting of peaceful protesters at the sit-in.
We, the undersigned, call on the Government of Bahrain to respect the rights to freedom of expression and assembly, immediately release Ali Abdeulraheem and all individuals arrested for merely practicing these rights, and to end the electronic hate campaign that is clearly intended to silence dissent and which is supported by the authorities without consequence.
Signatories,
Bahrain Center for Human Rights
Americans for Democracy & Human Rights in Bahrain
Bahrain Institute for Rights and Democracy
European Center for Democracy and Human Rights
Justice Human Rights Organisation
14 Jul, 2016
RSF condemns court's decision to keep Nabeel Rajab in detention
After a court extended Bahrain Centre for Human Rights president Nabeel Rajab's detention in connection with some tweets for another three weeks yesterday, Reporters Without Borders (RSF) reiterates its condemnation of Bahrain's constant obstruction of freedom of information and its repeated harassment of journalists and bloggers.
Read the full article here.
14 Jul, 2016
Bahrain wields travel curbs in crackdown on opponents-activists
After a border official stopped him leaving Bahrain last week, citing a security order, Mohammed al-Tajer said he checked with the departments in charge of passports and investigations and was told no travel ban was in place.
The 50-year-old lawyer, who had been planning a short visit to Saudi Arabia, was not surprised. He had joined a growing list of people confined to their country as part of what rights groups describe as an attempt to crush the opposition.
Tajer said some people found out when they headed to the airport last month to fly to Geneva to attend a meeting by the U.N. Human Rights Council. Others were informed when they tried to cross the King Fahd Causeway to Saudi Arabia last week.
"There are 17 of us -- some of them are not rights activists or well known figures," Tajer, who has defended prominent Bahraini opposition activists, told Reuters.
Read the full article here.
13 Jul, 2016
Duraz: A Community Under Siege
12 July 2016 – On 20 June, Bahrain's Ministry of Interior revoked the nationality of Sheikh Isa Qassim, the spiritual leader of Bahrain's Shia community, rendering him stateless. In response, hundreds of demonstrators began a peaceful sit-in around Sheikh Qassim's home in the village of Duraz, where he also preaches. Since then, the authorities have subjected Duraz to an unprecedented lockdown, in what is a form of collective punishment against the entire village. The government's action violates the rights to freedom of opinion, expression, assembly, and movement for all the residents of Duraz and their families.
Duraz is located in the north west of the main island. To its west is Budaiya and to its east is Barbar. Its south side faces onto the major Budaiya Highway, and on the other side are the villages of Bani Jamra and Saar. Duraz has an estimated population of 20-30,000 people.
Restrictions of Free Movement
In the days after the government's decision to denaturalize Sheikh Isa Qassim, rendering him stateless, police established blockades closing off most of the roads leading into and out of Duraz. All major and minor entrances have been sealed off, and there are now only two entrances to Duraz. One is on Budaiya Highway and the other is the entrance to Saar from Barbar. The others are currently blocked with concrete slabs, sandbags, police cars, and barbed wire. At the two entrances left opened, there are queues to enter and leave which can take anywhere between 15 and 60 minutes to pass through.
A variety of different security officials staff the checkpoints. Personnel at checkpoints include Public Security officers, traffic police, plain-clothes officers, and community police.
Only persons with a Duraz address on their ID can enter the village. Reportedly, if a car containing a mix of residents and non-residents of Duraz tries to enter the village, police will only allow it through if the non-residents leave the vehicle.
This restrictions on free movement intensified during Eid Al-Fitr, the celebration at the end of Ramadan, on 5-6 July. Families were not able to visit relatives resident in Duraz, and many were unable to participate in celebrations. The Abu Subh beach park, located in Duraz and typically busy during Eid, was virtually empty.
The blockade is impacting the local economy significantly. Local businesses in Duraz have reported to local newspaper Al Wasat that customers and sales are down by as much as 90% in shops, salons and supermarkets, as regular non-Duraz customers can no longer visit.
The government's restrictions on entry and exit in Duraz collectively punish all residents of the village, as well as those with family in Duraz. As a result of these repressive measures, relatives, friends, and co-workers cannot visit each other freely. This is in violation of Article 13 of the Universal Declaration of Human Rights and Article 12 of the International Covenant on Civil and Political Rights, both of which protect the freedom of movement and assembly.
Restriction of Internet
All major Internet Service Providers (ISPs) – including the three largest, Batelco, Zain, and Viva – have enforced a daily internet blackout between 7:00 p.m. and 1:00 a.m. since 20 June. While the exact time when the blackout occurs varies day-to-day, it is always for those approximate hours. According to a Batelco customer that has spoken with BIRD, customer support reported that the blackouts are due to an unidentified "fault."
The blackouts affect not only Duraz but also the surrounding villages. Bani Jamra, Saar, Barbar and Budaiya have all experienced the blackouts to varying degrees.
Additionally, the blackouts have had negatively impacted the village's businesses. E-commerce traders and consumers, IT professionals, and office workers in and around Duraz cannot engage in their regular work activities. Shopkeepers' card machines are rendered useless, as they use internet connections to process payments, and transactions can only be made by cash, potentially limiting customers.
The UN considers access to internet to be part of our protected right to freedom of opinion and expression, and describes internet restrictions such as those imposed on Duraz to be "impermissible."
We, the undersigned, unequivocally condemn the collective punishment of an entire community following the Government of Bahrain's unjust decision to render Sheikh Isa Qassim stateless. We call on the Government of Bahrain to:
End immediately the blockade of Duraz, allowing freedom of movement for all persons wishing to enter and leave the village.
End immediately the nightly internet blackouts, and allow people to freely express themselves online
End immediately all restrictions on the freedoms of assembly and association in Duraz and allow people to peacefully express their opinion.
Reinstate the citizenship of Sheikh Isa Qassim and that of all people revoked of citizenship unfairly.
Signed,
Bahrain Institute for Rights and Democracy
Americans for Democracy & Human Rights in Bahrain
Bahrain Center for Human Rights
European Center for Rights and Democracy
Justice Human Rights Organisation
13 Jul, 2016
FIDH - High Criminal Court decided to postpone the trial of Mr. Nabeel Rajab
According to the information received, on July 12, 2016, the request for release filed by Mr. Nabeel Rajab's lawyers was dismissed by the judge. Mr. Rajab remains in detention pending the next hearing.
Mr. Rajab had been notified of today's hearing on June 26, 2016. This hearing is part of a case over two charges related to statements he made on Twitter in 2015 about conditions of detention in Jaw prison and the war in Yemen. He may face up to 10 years of prison if convicted in that case, for which he has been already detained from April 2 to July 13, 2015.
Meanwhile, investigations are ongoing in another case for which he was rearrested on June 13, 2016. Mr. Rajab is currently heldin solitary confinement at West Riffa police station. Over the past month, his health has drastically deteriorated while in detention (see background information). His family, who saw him today, reported that he was looking pale and seemed to have lost more weight since they last saw him on July 5, 2016.
Read the entire article here.
13 Jul, 2016
Crackdown In Bahrain
"Baba, sumoud!" ("Daddy, stay steadfast!")
Ten-year old Malak Rajab called out these words as Bahraini police led her father, prominent human rights defender Nabeel Rajab, from his home to waiting police vehicles in July 2012. His crime: insulting the Prime Minister in a tweet.
I filmed Rajab and his young daughter in their front yard from the upstairs window of their house; I had to film clandestinely, as I had entered the country under false pretenses—Bahrain was denying entry to nearly all journalists and human rights defenders. But I captured the girl's defiant resistance as she trailed after the police who had her father in tow.Later that day, I witnessed her fear as the reality settled in: she did not know when her father would come home.
Read the full article here.
12 Jul, 2016
Bahrain Extends Arbitrary Detention of BCHR's President Nabeel Rajab, Court Postpones His Trial to 2 August
12 July 2016 - The High Criminal Court today postponed the trial of prominent Human Rights Defender Nabeel Rajab, President of Bahrain Center for Human Rights (BCHR), to 2 August 2016. The judge refused his lawyers' request of release, thus he will remain detained pending his trial. The undersigned NGOs strongly condemn the persecution of Rajab and extension of his detention. We call on the government of Bahrain to immediately and unconditionally release Rajab, and respect his human rights in detention.
Rajab appeared before the court on charges of "insulting a statutory body", "insulting a neighboring country", and "disseminating false rumors in time of war". These are in relation to remarks he tweeted and retweeted on his Twitter handler in 2015 about credible allegation of torture at Jau prison and the Saudi-led war in Yemen. He may face more than 10 years in prison if convicted, for which he was already detained from 2 April to 13 July 2015. Despite the charges having first been made over a year ago, today's court hearing was Rajab's first for this case.
Since his arrest on 13 June 2016 on separate charges, Rajab has been detained in solitary confinement with no contact with other prisoners and in very poor conditions. He is currently being detained at West Riffa police station. He is being denied the minimum standards of the treatment of prisoners, which has been the cause for deterioration of his health, including the loss of 8 kgs since his arrest.
Rajab's lawyer states that he is being subjected to harassment in detention. His right to privacy is not respected during visits: all visits are under close monitoring by two police officers, who sit close to the family. Concerns over his deteriorating health is growing. His family, who saw him today, say he looked pale and seemed to have lost more weight since their last visit on 5 July.
On 28 June 2016, after two weeks in solitary confinement, Rajab's health deteriorated and he was transferred by ambulance to the Coronary Care Unit (CCU) in Bahrain Defense Hospital after he suffered from irregular heartbeats. On 29 June 2016, the authorities transported Rajab back to the police station although his health was reportedly still unstable. Rajab suffers from additional illnesses that are only worsened due to his detention conditions. His blood tests have shown that he suffers from a urinary tract infection and low mononucleosis, and he's awaiting the results of more blood tests. Rajab needs to have two different surgical operations, to treat gallstones and an enlarged gallbladder. He also suffers from enlarged prostate. There is a high risk of further deterioration of his physical and mental health due to prolonged periods of solitary detention.
On 13 June 2016, the authorities arrested Rajab and charged him with "publishing and broadcasting false news that undermines the prestige of the state." These charges were brought against him in relation to three televised interviews in 2015 and 2016 in which he mainly discussed the human rights situation and violations committed by Bahraini security forces. It's not clear if Bahrain government plans to move forward with another trial on these charges, which are separate from the current trial.
The arrest of Rajab, who is also Founding Director of the Gulf Centre for Human Rights (GCHR) and Deputy Secretary General of FIDH, was widely condemned in June by international human rights bodies and governments, including United Nations Secretary-General Ban Ki-moon who said that "such actions by the State authorities could potentially damage the human rights situation in the country." In addition the United States, France and Germany have raised concerns.
The Office of the UN High Commissioner issued a statement mentioning the case of Rajab and other recent alarming issues in Bahrain, while the Human Rights Commission of the US Congress expressed concern about Rajab's health during detention. Most recently, in July, members of the European Parliament demanded the release of Rajab in their open letter addressed to High Representative of the European Union for Foreign Affairs and Security Policy. The European Parliament reiterated its demands for the release of Rajab and its condemnation of the widespread campaign against human rights and political activists in Bahrain.
We, the undersigned, calls on the international community to press further for Rajab's basic human rights to be respected, including to protect his health, and to publicly and clearly call for his immediate and unconditional release; and for an end to the government of Bahrain's reprisals against human rights defenders.
For more information on Nabeel Rajab, please visit this page, and for any further developments on his case please visit this page as it is regularly updated with the latest information.
Signed:
Bahrain Center for Human Rights
Bahrain Institute for Rights and Democracy
Americans for Democracy & Human Rights in Bahrain
European Center for Democracy and Human Rights
Justice Human Rights Organisation
12 Jul, 2016
Human Rights First - Bahraini Officials Urged to Drop Charges Against Nabeel Rajab
Washington, D.C.—Human Rights First today urged the government of Bahrain to drop all charges against and immediately release prominent human rights defender Nabeel Rajab. The organization also urged the U.S. ambassador to Bahrain, William Roebuck, to attend in person Rajab's hearing tomorrow, where a Bahraini court will consider charges related to his tweets and retweets critical of Bahrain's treatment of prisoners and the Saudi-led war in Yemen. This unfounded prosecution constitutes a serious attack on freedom of expression in Bahrain, and occurs against the backdrop of a worsening crackdown on civil society and political dissent.
Read the entire article here.
12 Jul, 2016
Human Rights First - Four Things President Obama Should Do Immediately About Bahrain
Six weeks ago the Bahrain launched a new, surprising, wave of repression, and the kingdom's few remaining voices of dissent have now largely been silenced.
Since May 30 the main opposition group Al Wefaq has been suspended, its leader Sheikh Ali Salman has had his jail sentence increased from four to nine years, activists have been prevented from attending the United Nations Human Rights Council in Geneva, Bahrain's Foreign Minister lashed out angrily at senior U.N. and U.S. officials, leading dissident Zainab al Khawaja was forced out the country, and prominent human rights defender Nabeel Rajab was arrested and taken into custody.
It's time for President Obama to take a series of steps to reverse the dangerous decline. At the very least he should distance his administration from the crackdown. Here are four things President Obama can do immediately to take a stand on Bahrain:
Read the full article here.