6 Feb, 2017
Bahrain to Try Terrorist Cell Trained in Iran, Iraq
Bahraini Fourth Criminal Court announced that a hearing will be held on February 28 to review the case of 10 suspects involved in terrorist crimes and trained by Iran's Revolutionary Guard and Iraqi Hezbollah.
Chief of Anti-Terror Crime Prosecution, Attorney-General Ahmed al-Hammadi said the public prosecution has completed its investigations in the case of forming a group to carry out terrorist acts.
Hammadi said that seven of the ten suspects are in custody while the other three are fugitives abroad. He explained that they would be referred to the court on charges of joining and running a terrorist group, possessing explosive devices and tools used to make them and forearms, and training on using them.
Continue reading here.
6 Feb, 2017
BCHR launches Annual Report Bahrain 2016: A Series of Repressive Attacks against Rights and Human Rights Defenders
6 February 2017 - The Bahrain Center of Human Rights (BCHR) publishes today its 2016 annual report on the status of human rights in the Kingdom of Bahrain. The report reviews the Bahraini government's continual violations of its citizens' rights and freedoms, and examines reprisals against human rights defenders.
Read the full report here
The year 2016 witnessed an unprecedented crackdown on human rights in the Kingdom of Bahrain since the pro-democracy uprisings in 2011. The Bahraini authorities sought to attack freedoms enshrined in the Universal Declaration of Human Rights by pursuing arbitrary arrests, attacking peaceful human rights demonstrations and issuing harsh sentences based on political grounds.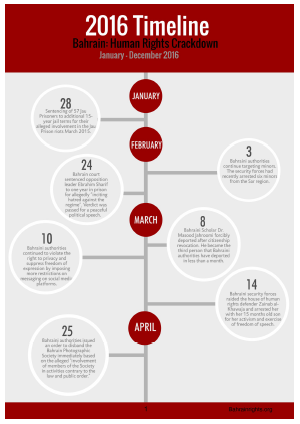 The year has witnessed a long series of reprisals against the human rights community in Bahrain. It started with the arresting, and imprisoning of prominent human rights defender Zainab Al-Khawaja in March 2016 and her 15-month toddler on charges related to her exercise of freedom of expression and peaceful dissent against the authorities. She was detained for three months in prison before she was released and forced to go into exile in June 2016. A brief time later in the same month the renowned human rights defender and President of BCHR Nabeel Rajab was arrested following a police raid on his home. His arrest signified the beginning of a series of systematic acts of judicial harassment against him based on charges related to his freedom of speech. This programmatic abuse of Rajab's freedoms is still ongoing as he continues to be kept in detention, where he has been for over 230 days. Moreover, members of the civil society including members of BCHR's staff based in Bahrain, were summoned to interrogations based on inaccurate and misleading charges. Individuals were also subjected to travel bans. Travel bans were usually handed down before the start of the UN Human Rights Council sessions in Geneva. Due to the continued judicial harassment by the authorities, some members of the human rights community were forced to go into exile.
Almost simultaneously the authorities decided to effectively curtail all freedoms in Bahrain by shuttering the largest political opposition society in Bahrain, Al-Wefaq, in June 2016. This ban came after authorities increased the prison sentence of its General Secretary Sheikh Ali Salman to 9 years in May 2016. Other political leaders continued to face judicial harassments, Ebrahim Sharif has been sentenced to 1 year in prison in February 2016 for a speech and later interrogated over another press statement.
Religious Freedoms were also under attack. Repression heightened in June 2016 as dozens of clerics were summoned, interrogated, prosecuted and sentenced to prison over charges related to freedom of speech and assembly. Shia civil society organizations were shutdown and the citizenship of the highest Shia spiritual leader, Sheikh Isa Qassim was revoked without due process and he was later put on a trial on groundless charges.
According to the report's findings, Bahraini authorities have during 2016 arbitrarily arrested 1,312 people, including 187 children. Harsh sentences have thereafter been issued by the Bahraini courts in politically motivated cases, of which 40 cases are related to freedom of expression and 19 cases related to freedom of assembly. 91 Life sentences were passed as well as 4 death sentences upheld. 204 citizenship revocation orders were recorded. Furthermore, BCHR has documented 1,523 protests during 2016, of which 155 were attacked by the riot police.
Torture has been documented, yet again, as a tactic for confession extraction. These unreliable confessions are then used as evidence in courts to convict innocent people. The death of one victim, Hasan Al-Hayky, was reportedly caused by torture that occurred during his detention in August 2016. Bahraini prisons remain densely populated, with the largest number of prisoners relative to the size of its population in the world.
Our President Nabeel Rajab has been detained for more than 230 days since his arrest in June 2016, and he pledges to continue his peaceful work for the human rights defending. Human rights are universal and indivisible, and applicable to all citizens of this world. BCHR and Nabeel Rajab, and all other Bahraini human rights activists, free or incarcerated, will continue promoting and defending human rights in the Kingdom of Bahrain, not only because we believe that freedom is a birthright for the human kind, but because it is the right thing to pursue and to strive for.
The past year has witnessed significant, and major violations of human rights, and it has ended with executions of three torture victims who were sentenced to death in late 2016, and executed in January 2017. There is a duty on all human rights believers and supporters around the world to stand up for the rights of the Bahraini people and to stop the ongoing deterioration of freedom in the country. The international community must show solidarity with the Bahraini people and condemn these human rights violations. Bahrain's close allies, the United States and the United Kingdom in particular, have a vital role to play, they must voice their condemnation of this continuing crackdown on rights, and defend the rights of Bahraini citizens and human rights defenders in Bahrain. They must bring Bahrain to the right path, by urging it to respect its obligation towards the international treaties of Human Rights.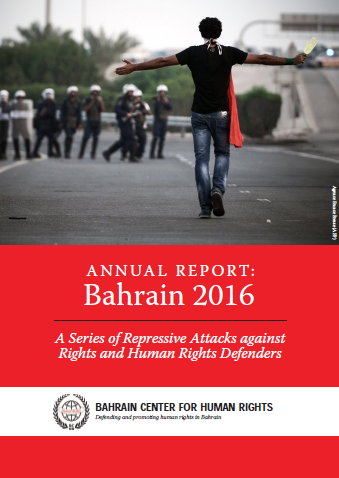 6 Feb, 2017
Despite Record-Low Temperature, Protesters Endure Diraz Sit-in
Despite the record-low temperature recorded in Bahrain (7 °C) at dawn on Friday (February 3, 2017), protesters continued their demonstration outside the house of religious leader, Ayatollah Sheikh Isa Qassim.
Protesters defied the cold, sleeping in the streets and alleys surrounding the house of Sheikh Isa Qassim, whom the authorities are trying over supporting pro-democracy rallies, and managing the Shiite religious Khums ritual.
Today, Diraz saw mass demonstrations condemning the trial of Sheikh Qassim, and the authorities' prevention of the biggest Friday prayers for 6 months now.
Continue reading here.
6 Feb, 2017
Authorities Release Prominent Cleric after Spending 6 Months in Prison over Diraz Protest
The Bahraini authorities released on Friday (February 3, 2017) Sheikh Mohammad Al-Shahabi after spending 6 months in prison over taking part in Diraz protest held against the decision that revoked the citizenship of the highest religious leader, Ayatollah Sheikh Isa Qassim.
Al-Shahabi was arrested among others over the charge of taking part in Diraz protest on June 20, 2016 and he is the first one who was released. The Appeals court had surprisingly commuted Al-Shahabi's sentence from 2 years to 6 months in prison.
The authorities arrested a number of prominent Shiite clerics over taking part in Diraz protest. The regime's courts imprisoned them over charges of assembling and inciting hatred.
6 Feb, 2017
UK covered up intelligence training with Bahrain's police, amid death sentence
UK authorities trained Bahrain's police how to gather intelligence on protestors, and then tried to cover up the scheme, international human rights group Reprieve has found. The project took place after protestors in the Gulf kingdom were rounded up and sentenced to death.
Britain's Foreign Office paid for half a dozen Bahraini police officers to visit Belfast in August 2015, where the Police Service of Northern Ireland (PSNI) shared its expertise on gathering intelligence ahead of demonstrations.
Protestors in Bahrain, such as Mohammed Ramadan, have been targeted by police and tortured into falsely confessing to capital crimes. Mr Ramadan, a father of three young children, is now on death row and could be executed at any time.
The training, which also included sessions on water cannons, dog handling and public order tactics, was kept secret. The UK government has repeatedly denied providing public order training to Bahrain.
Continue reading here.
3 Feb, 2017
NGOs send letter to Boris Johnson regarding jailed HRD Nabeel Rajab
3 February 2017
Dear Mr Johnson,
In light of recent developments in Bahrain, we write to raise our deep concern over the punitive trials of prominent human rights defender Nabeel Rajab, who is being prosecuted in three separate cases for exercising his right to freedom of expression. As Foreign Secretary you have re-committed your Office to counter the shrinking of civil society space and promote the work of human rights defenders. We therefore urge you to give effect to this commitment by calling for the release of Nabeel Rajab.
Nabeel Rajab is the President of the Bahrain Center for Human Rights, a member of Human Rights Watch's Middle East Division advisory committee and a founding director of the Gulf Center for Human Rights. He faces up to 17 years in prison on several charges, all related to his free speech.
Nabeel Rajab, who has been in detention, largely in solitary confinement, since his arrest on 13 June 2016, currently faces two separate trials related to his right to free speech. In the first of these, he is charged with "spreading rumours in wartime", "insulting a neighbouring country" (Saudi Arabia) and "insulting a statutory body". The first two charges relate to Nabeel Rajab's tweets published in March 2015 alleging torture in Jaw prison and criticising the killing of civilians in the Yemen conflict by the Saudi Arabia-led coalition. The verdict in his trial has been postponed several times suggesting that this is part of a deliberate strategy to harass him. His next hearing on this case is due to take place on 21 February.
On 28 December, during a hearing on the Twitter case, the high criminal court authorised Nabeel Rajab's release on bail; he was then immediately rearrested for investigation into the charge of "spreading false news in media interviews". According to the prosecution, Nabeel Rajab's charge relate to comments given to media outlets in which he stated that foreign journalists and international NGOs cannot enter Bahrain and that the imprisonment of opposition actors was political and illegal. However, multiple international NGOs including Human Rights First, and Reporters Without Borders, as well as academics and journalists, have been denied access since 2012. Amnesty International has also not been granted access to Bahrain since January 2015. Meanwhile, political and unlawful imprisonments are common in Bahrain: Bahrain was the subject of six UN Working Group on Arbitrary Detention rulings in 2014. Amnesty International has also documented many prisoners of conscience in Bahrain. Nabeel Rajab's next hearing on this case is scheduled for 7 February.
In addition, Nabeel Rajab has a third charge against him for "spreading false news" after he an Op-Ed written in his name was published in the New York Times in September 2016.
We note the UK Government's statements in recent years relating to Nabeel Rajab. In 2014 for example, at the UN Human Rights Council the UK together with 46 other states, urged Bahrain "to release all persons imprisoned solely for exercising human rights, including human rights defenders, some of whom have been identified as arbitrarily detained according to the UN Working Group on Arbitrary Detention." Also, since your appointment as Foreign Secretary, the Government has, through Parliament and the UN Human Rights Council, expressed concern at the re-arrest of Nabeel Rajab and confirmed that UK officials continue to raise his case with the Government of Bahrain and attend each of his hearings. While such efforts are welcome, it appears that the UK Government has not yet called for his release.
Since your appointment, the human rights situation in Bahrain has further deteriorated. The recent resumption of executions and excessive use of force against protesters, contradict the Bahraini authorities' rhetoric of progress being made.
We strongly believe that the UK, following your and the Prime Minister's visit to Bahrain in December, and particularly now that the UK has regained a seat on the UN Human Rights Council, should review its current policy on the human rights situation in Bahrain, publicly condemn regressive measures and call for the release of Nabeel Rajab and others detained solely for peacefully exercising their right to freedom of expression such as Sheikh Ali Salman, the Secretary General of al-Wefaq National Islamic Society.
The UK's significant historical, economic, security and political ties with Bahrain incur a responsibility to acknowledge and criticise negative human rights developments within the country. The UK's voice is strongly heard in Bahrain, and we urge you to act publicly and promptly in support of Nabeel Rajab's human rights work and call for his release.
We would like to request a meeting with the FCO to discuss our human rights concerns in Bahrain and Nabeel Rajab's case and hear the FCO's views on his case and what the UK government can do to uphold its commitment to reverse the shrinking civil society space in Bahrain.
Yours sincerely,
Americans for Democracy & Human Rights in Bahrain (ADHRB)
Amnesty International UK
ARTICLE 19
Bahrain Center for Human Rights (BCHR)
Bahrain Institute for Rights and Democracy (BIRD)
Bahrain Youth Society for Human Rights
Canadian Journalists for Free Expression (CJFE)
English PEN
European Centre For Democracy and Human Rights (ECDHR)
FIDH, under the Observatory for the Protection of Human Rights Defenders
Gulf Centre for Human Rights (GCHR)
Index on Censorship
Lawyer's Rights Watch Canada (LRWC)
No Peace Without Justice
PEN International
Rafto Foundation
REPORTERS SANS FRONTIÈRES (RSF)
The Bahrain Press Association
the World Organisation Against Torture (OMCT), under the Observatory for the Protection of Human Rights Defenders
Individuals
Clive Stafford Smith (OBE), director of Reprieve
Professor Damian McCormack
31 Jan, 2017
Bahrain: Halt Violence against Protesters
In response to the Bahraini security forces firing live ammunition at peaceful protesters in Diraz, Freedom House issued the following statement:
"Bahrain's security forces regularly use deadly force against protestors, as happened January 26 in Diraz," said Dokhi Fassihian, senior program manager for Middle East and North Africa programs. "The government should hold its security forces accountable for its repeated excessive use of force."
Read more here
31 Jan, 2017
Bahrain: Arrest Powers Restored to Abusive Agency
Bahrain has restored arrest and investigatory powers to an intelligence agency that conducted "terrorizing" house raids and systematically tortured detainees in 2011, Human Rights Watch said today. The decision to grant Bahrain's National Security Agency (NSA) the power to arrest and detain people suspected of terrorist offenses reverses one of the few significant security sector reforms introduced after 2011.
Read more here
31 Jan, 2017
Clashes in Bahrain as anti-government Shia cleric trial begins
Clashes erupted between police and protesters in Bahrain on Monday before a hearing in the trial of a leading Shia cleric accused of illegal collection of funds and money laundering, witnesses said Monday.
Security forces fired tear gas and buckshot at hundreds of demonstrators overnight in several Shia villages around the capital Manama protesting the trial of Sheikh Isa Qassim.
Read more here
30 Jan, 2017
Further Information: Fate and Whereabouts of Bahraini Unknown
Al-Sayed Alawi Hussain al-Alawi continues to be detained without charge or access to a lawyer since his arrest in October 2016. His family have not heard from him since 14 December 2016, nor have they received any information about his whereabouts or well-being. Amnesty International is concerned that he is a victim of enforced disappearance and is at risk of torture and other ill-treatment.
Read More Here