19 Nov, 2014
France24: Video Depicts Bahrain Police Abuse - But Will Inquiry Lead Anywhere?
A video recently emerged showing a Bahraini police officer mistreating a prisoner and showering him with insults, while making references to the man's Shiite faith. The video, posted on Monday to YouTube, quickly went viral – to the extent that the Bahraini authorities were forced to respond. The day after its release, the Interior Ministry announced the suspension of the police officers involved and the opening of an investigation. According to our Observer, it's all a smokescreen.
The images were posted by activists of the February 14 movement, the group behind the protests against the Sunni monarchy headed by King Hamad bin Issa al-Khalifa. The movement is now regarded by Bahraini authorities as a terrorist organisation.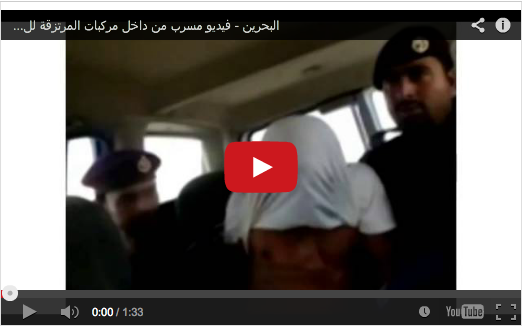 The video takes place in a police car, with a prisoner sitting on the back seat between two police officers in uniform, his hands tied behind his back and his head covered by his shirt. It is clear he is Shiite due to the police's mention of "zawaj al-mut'a", literally meaning "pleasure marriage", the name given by Shiite Muslims to "temporary marriage". The marriage is agreed between potential spouses for a limited period of time and generally sealed by a religious authority. This form of union, which is still practiced by a number of Shiites, is rejected by a large majority of Sunnis.
The policeman sitting in the seat next to the driver (whose face is hidden) asks the prisoner if he can make a "pleasure marriage" with his sister. "Do you agree?" yells the police officer. The prisoner nods his head as the officer continues: "And a Sunni, can she have a zawaj al-mut'a?". The prisoner remains silent, so the police officer gets angry: "Do not even say 'Sunni', you son of a b***!". The officer proceeds to punch the prisoner on the head and back while the other policemen try to calm him down.
The Interior Ministry said on Tuesday via its Twitter account that an investigation had been launched and that the police officers involved in the video had been suspended from their duties.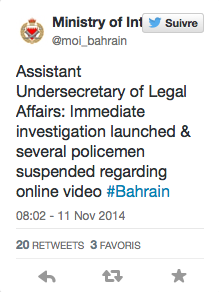 "However, Said Yousif Al-muhafdah, vice-president of the Bahrain Center for Human Rights, believes it is certain there will be no legal consequences for the police officers.
Unfortunately, the police officers who commit abuse or even acts of torture are spared due to a culture of impunity. Since 2011, there have been 7 or 8 proven cases of abuse, which came to light thanks to
leaked videos.
Each time, it's the same scenario: the authorities announce the opening of an investigation, but the investigations go nowhere and very rarely result in sanctions. The ministry's announcements are only intended to calm public opinion and sell a semblance of democracy abroad.
In the rare cases where there is a conviction, the sentences are eventually reduced. In May 2013, a police officer sentenced to 7 years of prison for shooting an unarmed demonstrator dead saw his sentence reduced to 6 months.
That same year, the court acquitted two police officers who killed a demonstrator by shooting him with buckshot pellets. The court found that the two officers had not fired with the intent to kill, and were therefore free to go [Editor's Note: In May 2014, an unarmed 14-year-old protestor was also killed by buckshot pellets during a demonstration].
In April 2012, police officers were involved in a case involving thugs damaging a grocery store owned by Shiites. The scene was recorded by the store's security camera, but it did not lead to an investigation, even though the faces of the police officers were clearly identifiable in the video.
This situation will not change until Bahrain has effective institutions and most notably an independent judicial system. To achieve that would require genuine democratic reform, and that is still a far-off dream."
The organisation Human Rights Watch issued a report last May denouncing impunity and judicial bias in the kingdom. "In Bahrain, a police officer who kills a protester in cold blood or beats a detainee to death might face a sentence of six months or maybe two years, while peacefully calling for the country to become a republic will get you life in prison," the report states.
Bahrain is a Shiite-majority country (about 75 percent of the population), ruled by an exclusively Sunni monarchy and government. Since February 2011, members of the Shiite community who feel discriminated against regularly go into the streets in protest. In May, the International Federation for Human Rights estimated that at least 89 people had been killed since the start of the protests.
http://observers.france24.com/content/20141114-shiite-prisoner-bahrain-investigation-video-sunni-police
19 Nov, 2014
The Guardian: It's Dangerous To Be So Cosy With The Gulf's Autocrats
Why is the west still so close to reactionary monarchies in the Middle East when all the evidence suggests they're on their way out?
A few days ago, the American ambassador in Beirut said he was deeply concerned about the "paralysis of Lebanon's political institutions", and called for new elections to be held as soon as possible.
This prompted a wry comment from the blogger known as The Angry Arab: "I would like the US ambassador in Saudi Arabia to call for elections 'as soon as possible'."
The Angry Arab has a point. There are some countries where it's OK for western diplomats to call for elections, and other countries where they wouldn't dream of saying such a thing.
The Gulf monarchies include some of the world's most authoritarian regimes but so long as they can be regarded as "useful" friends, western governments let them off lightly. If they are criticised at all, it's done cautiously … and preferably in private.
This timidity is most apparent in the contrasting treatment of Iran and Saudi Arabia. Iran can be criticised vigorously – and deservedly so – but in terms of translating archaic religious ideas into government policies, our friends in Saudi Arabia are at least as bad. Internationally, Saudi Arabia has also managed to spread its baleful religious influence wider than Iran has done.
Of course, it would be unfair to say that Saudi political institutions are paralysed, as they are in Lebanon – because Saudi Arabia, unlike Lebanon, doesn't have political institutions in any meaningful sense. Its pseudo-parliament is appointed by the king, and political parties are not allowed. It did (rather nervously) hold municipal elections in 2005 and 2011. in which only men were allowed to vote, and for only half the seats. As a precaution against male voters electing the wrong candidates, the other half were to be filled by royal appointment.
Being nice to Gulf autocrats certainly brings some benefits for western countries: we buy their oil and they spend the money on buying our weaponry. They also ingratiate themselves with the west by performing "useful" services from time to time – most recently when some of them joined the military alliance against Isis.
For the last half-century or so, this has formed the basis of British and American policy in the Gulf and the benefits it brings have blinded our governments to the long-term cost, which is potentially very high.
The danger in ignoring the negative side of the Gulf/west relationship has become increasingly apparent since the Arab uprisings broke out almost four years ago. Fearful of popular demands for accountable government, Gulf states have mostly aligned themselves with the counter-revolutionary side.
When protesters challenged the monarchy in Bahrain, Gulf rulers sent in troops to prop up the king. They sabotaged the Yemeni revolution with a "transition" deal that allowed the ex-president Saleh to stay in the country causing mayhem, and they are now backing Sisi's new dictatorship in Egypt – which can only create more problems for the future.
In more general ways, Gulf states (along with other ancien regimes in the Middle East) are fuelling turmoil in the region rather than alleviating it. "The cultural, educational and religious stagnation evident in so much of the Middle East and North Africa," a recent report by the Soufan security intelligence group said, "does not encourage any new way of thinking about the future beyond a desire to return to the past and start again."
And the report warned:
"So long as governance in so many countries fails to meet the expectations of the people, there will be a steady flow of hopeful recruits to the ranks of the Islamic State; and many others who lack the means or opportunity to travel may be tempted to follow its directives within their own countries."
Unless these regimes change their ways radically and quickly, they will eventually be swept away. Almost all of them are incapable of such reform, so we have to consider them doomed.
This is something western policymakers can't afford to simply brush aside. They need to take into account not only the problems these regimes are causing but the likelihood that they will not be in power for many more years – and act accordingly. For a start, that means becoming a lot more circumspect than at present in our dealings with them.
Britain's current relations with Bahrain, for example, are bafflingly cosy – even to the extent of removing an ambassador who upset the Bahraini authorities by meeting some members of the opposition, and replacing him with one who is much more amenable.
Britain also relies heavily on arms sales to the Middle East, on the dangerous assumption that the regimes buying them will still be in power to take delivery, and for as long after that as the weapons remain usable.
In 2012 David Cameron jubilantly announced a £2.5bn order for 20 warplanes from Oman, which he said would support thousands of jobs in the UK.
But deliveries are not due to start until 2017, and neither Cameron nor anyone else can be sure that Sultan Qaboos, the ailing tyrant who seized the Omani throne with British help 44 years ago, will be there to receive them – or who may eventually end up using them.
http://www.theguardian.com/commentisfree/2014/nov/11/gulf-autocrats-monarchies-middle-east?CMP=share_btn_tw
19 Nov, 2014
The Guardian: We A