10 Mar, 2017
Bahrain targets families of human rights defenders to intimidate them
The Bahrain Center for Human Rights (BCHR) is gravely concerned about recent attempts by the Bahraini authorities to intimidate human rights defenders in exile in order to prevent them from pursuing their human rights work. Bahraini human rights defenders are receiving threats on social media networks or via messenger networks targeting family members in Bahrain, and relatives are summoned by police for interrogation at the Criminal Investigations Directorate (CID) without an explanation.
Recently, the family of human rights defender Sayed Ahmed Al-Wadaei, director of advocacy at the Bahrain Institute for Human Rights (BIRD), was directly targeted after earlier threats. His brother-in-law and mother-in-law were detained by the authorities. On 2 March at 3:40AM, 18-year-old Nazar Sayed Namaa Al-Wadaei, his brother-in-law, was arrested in Jid Ali, calling his family two hours later from the CID. According to his mother's testimony to a family relative, her son claimed the authorities tortured him during interrogation. On the same day, police dressed in civilian clothes arrived at the house of Al-Wadaei's mother-in-law's, Hajar Mansoor Hasan, around 1PM and summoned her for interrogation at CID. The authorities refused to reveal the grounds for the summons. On 8 March 2017, Mansoor was presented to the public prosecution which has order to keep her in detention for another 30 days pending investigation. The charges against her are not clear yet.
Sayed Ahmed Al-Wedaei is a victim of reprisals by the Bahraini authorities, as his citizenship was revoked in February 2015 due to his human rights work and he continues to live in exile.
In October 2016, his wife Duaa Al-Wadaei, was prevented from travelling, then briefly detained along with their 18-month-old baby, while being questioned about her husband's activity, and mistreated at the Bahrain airport.
These renewed reprisals actions come as part of an ongoing reprisal and threats campaign targeting human rights defenders both directly, and indirectly, through their family members to stop their activism.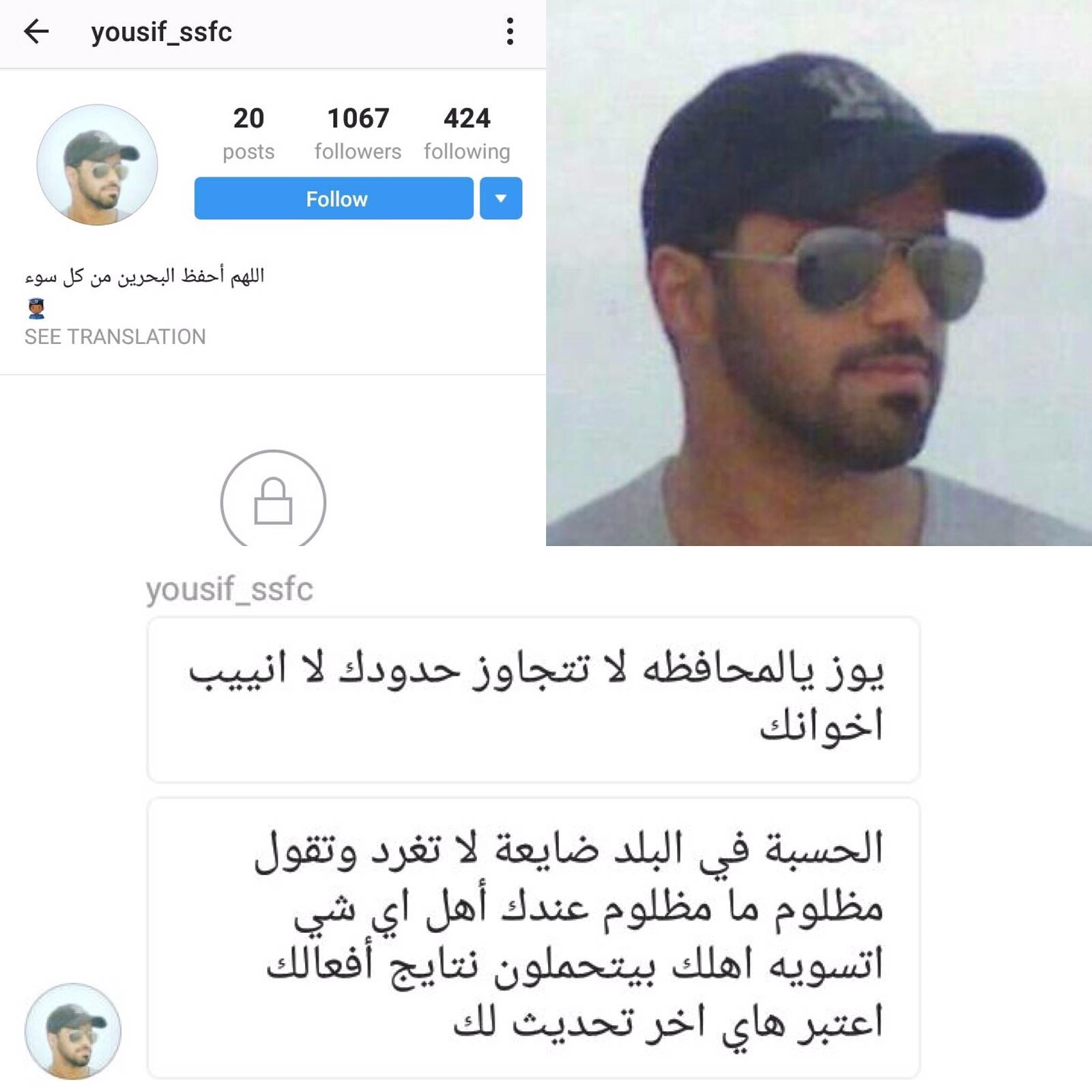 On 14 February 2017, Said Yousif Al-Muhafdha, Vice President of BCHR, received threatening messages through the photo social network Instagram, from the user account "yousif_ssfc," who is believed to be Yousif Al-Manaai, a member of the National Security Agency in Bahrain. In the message, Al-Manaai threatens Al-Muhafdha by saying that he should not "cross his borders" or else his brothers will be targeted. He adds that "there is no accountability" and call Al-Muhafdha to stop tweeting, as "whatever you do, your family will bear the cost." Al-Muhafdha has been forced to live in exile since October 2013, after being a target of arbitrary arrests and prosecution for his human rights work in Bahrain.
Three days ago, on 7 March 2017, Al-Muhafdha received an anonymous message via Whatsapp from a person claiming to belong to a Bahraini government body which threatened his family in Bahrain.
Said Yousif Al-Muhafdha says: "This is an attempt by the Bahraini government to intimidate human rights activists. They are targeting our families to silence us!"
The implementation of such threats of reprisals against relatives of activists is not a recent practice in Bahrain.
Sumaya Rajab, wife of prominent human rights defender Nabeel Rajab, BCHR's President, was fired from her work place due to her husband's human rights work, and their son and daughter suffered harassment in school during the past years because their father is a well-known human rights defender who has peacefully criticized human rights abuses by the Bahraini authorities.
Rajab has been kept in pre-trial detention since 13 June 2016, when he was arrested for "spreading false news and rumours about the internal situation in a bid to discredit Bahrain" during televised interviews with international news agencies and for tweets criticizing the war in Yemen and torture practices in Bahraini Jau Prison. Rajab was subsequently charged for articles published in the New York Times and Le Monde. He was released on bail in one case on 28 December but was immediately arrested in another. He is detained for over 260 days now, awaiting trial on 22 March in relation to his tweets, and again on 16 April, in relation to his televised statements.
BCHR calls on the government of Bahrain to:
immediately and unconditionally release Nazar Sayed Namaa Al-Wadaei and Hajar Mansoor Hasan from detention and put an end to unjustified interrogation summons;
end the practice of harassing human rights defenders through threats targeting their families; and
duly investigate and punish Bahraini government agents issuing threats against family members due to human rights activism.
BCHR calls on the international community to:
condemn practices of intimidation endorsed by the Bahraini government; and
call on Bahrain to uphold its international human rights obligations and put an end to any means of intimidation targeting human rights activists and their families.
10 Mar, 2017
HRC 34 Oral Interventions: Item #3 General Debate on Bahrain
Mr. President,
Alsalam Foundation, with Americans for Democracy & Human Rights in Bahrain, the Bahrain Institute for Rights and Democracy, and the Bahrain Center for Human Rights would like to thank the Special Procedures for their dedicated work on behalf of victims of human rights abuses worldwide. In many countries where no domestic recourse is available, communications with the Special Procedures remains one of the only means of redress.
This session, the mandates have raised serious concerns in six communications with Bahrain. The mandates expressed their continued alarm over the arbitrary arrest, detention, and prosecution of human rights defender Nabeel Rajab for his work documenting abuses. They also raised the case of Al-Wefaq, the largest opposition society in Bahrain, which was arbitrarily dissolved by the government earlier this year. Bahraini authorities mirrored this move just days ago, when they launched new legal proceedings to dissolve the Wa'ad political society, Bahrain's other major opposition group. The Special Procedures additionally expressed deep concern over the "systematic persecution and repression of the Shias," including religious leaders, peaceful dissidents, and human rights defenders. Some communications directly referred to the Bahraini government's interference in access to the HRC, with the Special Procedures noting numerous cases of human rights defenders being banned from traveling to Geneva to take part in recent sessions.
We therefore reiterate the High Commissioner's call for Bahrain to allow the Special Procedures unrestricted access to the country – and particularly the special rapporteurs on torture – so that they might monitor and investigate these increasing reports of abuse.
Thank you
10 Mar, 2017
Bahrain Report: Children without Citizenship
Bahrain has used denaturalization as a tool against individuals expressing dissent regarding the government's decision, and now it's using it against children.
Read the full report here.
Many among those whose Bahraini citizenship had been revoked were active members of the civil society, including human rights activists, journalists and opposition and religious figures. The majority of those stripped of citizenship have also been rendered stateless.
Stateless persons have no recognised rights in Bahrain, and their ability to obtain and retain housing, employment, legal representation, banking facilities and medical aid are all severely restricted. In the past fours years, 352 Bahrainis were rendered stateless following the 2011 pro-democracy uprisings. An unprecedented number of citizenship revocations occurred in 2015, when a ministerial order was issued to denaturalize 72 individuals. Later in that same year, the authorities revoked citizenship of 136 defendants through the courts over politically motivated charges. The year 2016 saw an alarming rate of citizenship revocations. The total number of people rendered stateless in 2016 in Bahrain was 92 in primary courts. The revocation of citizenship is also being levied at the families of such individuals and is a form of punishment orchestrated by the state to quell opposition and manipulate the population demographic.
In recent years, cases of children of dissidents denied nationality documents were frequently reported. It appears as a means to place pressure on the wanted fathers to submit themselves for arrest or an increased punishment for those already arrested. By refusing to issue documents confirming the nationality of the child, or identification documents, the state increases the pressure placed on families of dissidents.
BCHR has verified a total of 13 cases where children have been denied citizenship documents by Bahraini authorities. These children were born between 2013 and 2016.
Of these cases, 10 of the children have a Bahraini father who is still a Bahraini citizen, thus meeting the mandatory requirement for the child to be given Bahraini nationality. Another three children were born to Bahraini fathers who had their citizenship revoked. 9 of these children were born to a father who is wanted, that is in hiding or has left Bahrain out of fear of arrest. Even though both the father and the mother of these children are Bahraini citizens, the children lack any citizenship documents, even years after birth. In at least 2 of the cases, the father is detained in a Bahraini prison, but the authorities have made it impossible for him to sign the necessary documents to apply for the citizenship document for his child. By denying these children their citizenship documents, the Bahraini government has rendered them stateless.
Read the full report here.
9 Mar, 2017
Human Rights Council 34: UK statement in response to the report by the High Comissioner for Human Rights
We urge the Government of Bahrain to guarantee human rights and freedoms for all its citizens. The UK is committed to working with Bahrain to implement its reform agenda and strengthen human rights. We are concerned by the resumption of the use of the death penalty in Bahrain and Kuwait. We oppose capital sentences in all circumstances.
Read the entire statement here.
9 Mar, 2017
HRC 34 - EU Intervention: Item 2 - Interactive Dialogue with High Commissioner for Human Rights
The EU recognises the challenges that Bahrain faces as well as the progress made with the establishment of a number of institutions designed to enhance the protection of human rights in the country. The EU encourages the Government of Bahrain to aim for stability through further reforms and inclusive reconciliation in an environment where peaceful political grievances can be expressed freely, and where violence has no place. The human rights situation has deteriorated on many fronts over the past year, in particular cases of revocation of nationality, increased restrictions on civil society and the dissolution of Al Wefaq. The EU calls upon all parties to engage in an inclusive dialogue and condemns the use of violence as a political instrument. We greatly regret the authorities' recent decision to resume executions, urging Bahrain once again to establish an official moratorium on the death penalty.
Read the entire statement here.
9 Mar, 2017
Ireland's Minister for Foreign Affairs and Trade: Written Answers on Human Rights Cases
Written Answers Nos. 353-368
Human Rights Cases
353. Deputy Seán Crowe asked the Minister for Foreign Affairs and Trade if his attention has been drawn to the case of a person (details supplied); his views on the fact this person is facing two separate trials in March 2017 related to their right to free speech; and if he will urgently raise his concerns regarding the case of this person with his Bahraini counterpart. [11443/17]
Minister for Foreign Affairs and Trade (Deputy Charles Flanagan): I am familiar with the case of the person in question, and of his repeated imprisonment and release over the last number of years for his work as a human rights defender.
Read full answer here.
9 Mar, 2017
Bahrain: Activist's Family Targeted
Bahraini authorities are apparently targeting the family members of a prominent Bahraini activist in retribution for his human rights work, Human Rights Watch said today.
Since March 2, 2017, authorities have detained the brother-in-law and mother-in-law of Sayed al-Wadaei, a United Kingdom-based Bahraini human rights activist who has accused the Bahraini authorities, including senior members of the ruling Al Khalifa family, of serious human rights abuses. Sayed al-Wadaei's wife, Duaa, told Human Rights Watch in October that a senior official had referred to her husband as "an animal" and asked, menacingly during an interrogation at Bahrain airport, "Where shall I go first, shall I go to his family or your family?"
Continue reading here.
9 Mar, 2017
Exiled Bahraini activist's family 'detained as revenge'
Family members of a London-based Bahraini activist have reportedly been arrested on the Gulf island in "retaliation" for his human rights work, campaigners have said.
The mother-in-law and brother-in-law of Sayed al-Wadaei were both recently detained by Bahraini authorities, his wife told Human Rights Watch, following what she said were continued threats against the activist's family.
Read full article here.
9 Mar, 2017
UK must stop Bahrain's reprisals against death penalty campaigner
The family of a UK resident who campaigns against the death penalty in Bahrain is coming under sustained attack, human rights group Reprieve has warned the Foreign Secretary.
Sayed al-Wadaei, director of the Bahrain Institute for Rights and Democracy (BIRD), says that Bahrani detectives have detained and tortured his relatives.
Read more here.
9 Mar, 2017
HRC 34 Oral Interventions: ID w/ UN High Commissioner for Human Rights
Mr. High Commissioner,
Americans for Democracy & Human Rights in Bahrain with the Bahrain Institute Rights and Democracy and the Bahrain Center for Human Rights would like to thank the High Commissioner for his report. We share your concerns raised about the deeply troubling human rights situation in Bahrain.
In January of this year, Bahrain unlawfully executed three victims of torture, in a move that ended an informal moratorium on executions in Bahrain since 2010, which you remarked was "deeply regrettable." Two additional men remain at imminent risk of execution.
In your report, you raised concerns over Bahrain's closing political and civil society space. Indeed, since June 2016, the government has moved to dissolve the leading political societies, al-Wefaq and Wa'ad, imposed lengthy arbitrary prison sentences against political opposition leaders, imprisoned human rights defenders like Nabeel Rajab, issued widespread travel bans against activists traveling to Geneva, and targeted civil society members and their families with acts of reprisal.
We agree that, "repression will not eliminate people's grievances; it will increase them."
We also echo your deep concern over the increasing human rights violations in the kingdom. Just this year, the government expanded the arrest powers of the National Security Agency (NSA) and approved a measure allowing civilians to be tried in military courts. The NSA was responsible for widespread enforced disappearance and deaths of detainees under torture in 2011. The agency's arrest powers were withdrawn in line with the recommendations of the 2011 BICI Commission. Reinstating these powers represents a dangerous reversal of one of the few constructive reforms undertaken since 2011. In another move that recalls the 2011 protests and subsequent government crackdown, Bahrain's legislature this week approved a draft law that would allow military courts to try civilians.
Finally, we agree that the government must undertake concrete confidence building measures to arrest the kingdom's steep decline over the recent months. With this in mind, we ask: what steps would you recommend to Bahrain's government, parliament and judiciary to effectively and urgently reverse these recent trends? And, what are some immediate steps you would recommend to the Government of Bahrain to de-escalate the rising crisis?"
Thank you.