22 Mar, 2017
Urgent: Abdulhadi Al-Khawaja in need of urgent access to medical care to prevent lasting vision loss
The Bahrain Center for Human Rights is highly concerned about the deterioration in Abdulhadi Al-Khawaja's health. Al-Khawaja requires urgent access to a specialised medical professional for an eye examination to prevent lasting loss of vision and potentially more severe neural complications. Al-Khawaja has been serving a life sentence in Jau prison since June 2011, when he was imprisoned on false charges, in an attempt to silence his criticism of the Bahraini government's brutal response to anti-government protests in the country.
According to updates received from his family, in the past three weeks Al-Khawaja has developed problems in his right eye. He has complained about complete vision loss during daylight hours and of headaches on the right side of his head and behind his right eye.
His family has consulted an ophthalmologist in Norway, who concluded that, from the description of the symptoms, Al-Khawaja "is experiencing temporary loss of vision due to disturbances of blood supply to his eye (amaurosis fugax). Typically vision disappears rapidly (like a curtain), it is not accompanied by pain and gradually comes back. (...) Amaurosis fugax is usually caused by small blood clots (emboli) that obstruct the blood vessel to the eye. Sometimes episodes like this can be a warning sign of more severe episodes, like a large emboli that does not get removed and can cause lasting loss of vision in the eye or even cerebral strokes. (...) I would therefore strongly recommend your father being examined by an eye doctor. If what he is experiencing is indeed amaurosis fugax it is very important to identify where the emboli come from and get him started on drugs that reduce the tendency of his blood to make emboli. He should then also be examined for conditions like temporalis arteritis (usually accompanied by pain in the forehead upon touch and sometime pain in large joints like shoulders and hips). This to prevent lasting visual loss and more severe episodes like cerebral strokes so the possible repercussions can be severe."
Read the ophthalmologist's letter here.
The prison authorities have canceled his medical appointment and informed Al-Khawaja they would take him to an eye doctor if he agrees to a full strip search, which he has refused to do, due to the invasive nature of the search.
Al-Khawaja is not alone; other prisoners have had their medical appointments and hospital visits cancelled despite long waiting periods.
In addition to lack of access to medical care, prisoners are kept in locked cells most of the day, without means to access a toilet or bathroom, while shouting, screams and banging on cell doors from prisoners in neighbouring building 6 are heard throughout the day. Since 15 January 2017, when the Bahraini authorities executed alleged victims of torture, all daily newspapers have been forbidden. The prison inventory has been shut down and inmates can no longer access educational or shia television channels, despite the lack of political content featured on these channels. Family visitation hours have been cut from one hour to half an hour, and due to the arbitrary visitation schedule, relatives are having difficulties reaching the prison on time for scheduled visitations. Meetings between imprisoned fathers and their imprisoned sons have been canceled, as have visits by higher officers, whilst letters of complaint and requests are no longer answered. When walking outside their cells, prisoners are handcuffed and chained from their wrists to their ankles.
Since 20 March prisoners have testified that inmates are being denied access to paper and pencils in order to prevent them from writing, and that they have been denied access to tissue or toilet paper.
The implementation of these new regulations has led to political prisoners boycotting family visits in a form of protest.
The degrading and dehumanizing treatment of prisoners following the execution of the three individuals on 15 January 2017 violates basic principles on the treatment of prisoners.
The Bahrain Center for Human Rights calls on Bahrain to:
Allow Al-Khawaja to receive urgent and comprehensive medical care in order to prevent him suffering from blindness, and severe neural complications, without being subjected to an invasive, degrading, and unnecessary strip search
Allow access to access medical care, in a timely manner, to all individuals currently detained
Allow minimal facilities and basic hygiene items for detainees,in accordance with the basic principles on the treatment of prisoners
21 Mar, 2017
Bahrain - Prominent opposition figure charged for tweets 'inciting hatred' against government
The Bahraini authorities have once again displayed their ruthless determination to silence activists and crush all signs of dissent by charging prominent political figure Ebrahim Sharif with "inciting hatred against the regime" in a series of tweets, said Amnesty International.
Continue Reading here
20 Mar, 2017
BAHRAIN: Political Opposition Leader Ebrahim Sharif Charged With "Inciting Hatred"
20 March 2017 - Political opposition leader Ebrahim Sharif was today charged with "inciting hatred against the regime" under article 165 of Bahrain's penal code for messages he wrote on social media. Sharif was previously imprisoned from 2011 to 2015, and then again from 2015 to 2016 on similar charges stemming from his involvement in the pro-democracy movement and speeches he delivered. He could now face up to three more years in prison. We, the undersigned, strongly condemn the prosecution of Ebrahim Sharif on charges related solely to his free expression, and we call on the Government of Bahrain to cease all judicial harassment of peaceful opposition activists and human rights defenders.
Ebrahim Sharif is the former Secretary-General of the National Democratic Action Society (Wa'ad), a secular opposition group. Sharif was released following questioning by the public prosecution this morning. However, it is currently unclear whether the case will be transferred to the courts, or if the government has imposed a travel ban on the political leader after today's new charges. The authorities have charged Sharif under articles 165 and 172 of Bahrain's penal code, which respectively criminalize "inciting hatred" against the government (article 165) and against "factions of society" (article 172). The charges violate his right to free expression as enshrined in article 19 of the Universal Declaration of Human Rights (UDHR) and article 19 of the International Covenant on Civil and Political Rights (ICCPR), which Bahrain acceded to in 2006. Sharif's interrogation comes two weeks after Bahrain's Ministry of Justice and Islamic Affairs (MOJ) launched legal proceedings to dissolve Wa'ad over unsubstantiated allegations of "incitement of acts of terrorism and promoting violent and forceful overthrow of the political regime." The first court hearing for the dissolution was held today.
During this morning's questioning, the public prosecution presented to Ebrahim Sharif seven tweets he posted that covered a variety of topics. We, the undersigned, have reviewed Sharif's tweets, and could find nothing to support the charges against him.
The tweets included a response to a statement by Tunisia's Minister of Interior and a tweet of Amnesty International campaign materials on Bahraini prisoners of conscience. Among the tweets Sharif was questioned over were messages related to Abdulla Al Ajooz, a Bahraini teenager who died in February 2017 during arrest. Sharif questioned the official narrative of Al Ajooz's death and referred to the deceased as a "martyr." Sharif's tweets also criticized the MOJ decision to dissolve political opposition societies, asking, "What remains of the decor of the democratic state?"
Sayed Ahmed Alwadaei, Director of Advocacy, Bahrain Institute for Rights and Democracy (BIRD): "One by one, the Government of Bahrain has sought to silence every single outspoken critic of the regime's abuses. Now they have come to Ebrahim Sharif, the last openly critical opposition leader in the country. The Bahraini government is destroying all civil society space and creating an environment of violence."
Ministry of Justice Tries to Dissolve Wa'ad
Today also saw the first court session for dissolution proceedings launched against Wa'ad by the MOJ. The Bahraini government is accusing Wa'ad of inciting violence and filed for the group's dissolution earlier in March, though it provided no evidence of its allegations. Wa'ad's lawyers requested time to respond to the charges, and the next court date is set for 17 April 2017.
The government has targeted Wa'ad in the past, including suspending the group for a communiqué it alleged "was critical of the armed forces and disseminated false news to cause sedition and divisions between citizens" in 2011. Authorities closed its offices and blocked its website. The society's headquarters was also twice burnt down and vandalized, and the home of one of its senior figures, Munira Fakhro, was repeatedly attacked. In November 2014, the government again suspended Wa'ad in the run-up to that year's election cycle for the lower house of the National Assembly.
The attempted dissolution of Wa'ad follows a pattern set in 2016, when the Government of Bahrain took similar measures to dissolve the largest political group in the country, Al-Wefaq National Islamic Society. On 14 June, a Bahraini court approved the society's suspension within hours of receiving a request from the MOJ. Authorities immediately enforced the order, freezing Al-Wefaq's assets, blocking its website, and closing its headquarters. On 17 July 2016, after the judiciary expedited the legal proceedings, Bahrain's High Civil Court affirmed the order and formally dissolved Al-Wefaq. An appeals court upheld the dissolution on 22 September. Al-Wefaq's final appeal was dismissed in February 2017. Al-Wefaq's legal team faced significant obstacles to preparing their defense and ultimately resigned over government interference, which included security forces preventing them from entering the society's headquarters to obtain necessary documents. Al-Wefaq's Secretary-General, Sheikh Ali Salman, is currently serving a nine-year prison sentence on charges of "publicly inciting hatred, inciting civil disobedience of the law, and insulting public institutions" as well as "attempting to overthrow the regime." Amnesty International considers him a prisoner of conscience. The dissolution of Al-Wefaq and attempted dissolution of Wa'ad violate the right to association protected under article 22 of the ICCPR.
Husain Abdulla, Executive Director of Americans for Democracy & Human Rights in Bahrain (ADHRB): "Bahrain's international allies - and particularly its key military partners like the US and the UK - cannot sit idly by and allow the government to tar all peaceful opposition and dissent as a security threat. These partners are obligated to push back on government action that is so blatantly counterproductive to securing stability in Bahrain, such as targeting leaders like Ebrahim Sharif and closing all avenues for political engagement."
Ebrahim Sharif: Further Information
In 2011, police arrested and tortured Sharif. He was sentenced to 5 years in prison by a military court, alongside a group of leading politicians and human rights defenders known as the Bahrain 13. Authorities released Sharif in June 2015. At the time of Sharif's June 2015 release, the US State Department lifted an arms ban on Bahrain, citing "meaningful progress on human rights." However, he was re-arrested weeks later after he gave a speech calling for continued peaceful opposition. Sharif was sentenced to one year for "inciting hatred against the regime" and acquitted on charges of "inciting change of the regime"; he completed his sentence in July 2016.
In November 2016, Sharif was again charged with "inciting hatred against the regime" after he told the Associated Press that Prince Charles's visit to Bahrain threatened to "whitewash" an ongoing crackdown of dissent. Sharif's charges were dropped following a media outcry and international pressure. That same month, the authorities interrogated Wa'ad's then Secretary-General Radhi al-Musawi and banned him from travel.
We urge the Government of Bahrain to drop all charges against Ebrahim Sharif and to release all individuals imprisoned for exercising their rights to free expression, association, or assembly as protected under the UDHR and ICCPR. We additionally call on the government to lift restrictions on independent political and civil society space in Bahrain with a view toward resuming a legitimate national dialogue process.
Signed,
Americans for Democracy & Human Rights in Bahrain (ADHRB)
Bahrain Center for Human Rights (BCHR)
Bahrain Institute for Rights and Democracy (BIRD)
European Centre for Democracy and Human Rights (ECDHR)
20 Mar, 2017
UAE summons Swiss ambassador over U.N. Bahrain statement
The United Arab Emirates summoned the Swiss ambassador on Sunday to denounce a statement Switzerland made to the United Nations Human Rights Council the week prior criticizing fellow Gulf state Bahrain's human rights record.
The UAE's Ministry of Foreign Affairs told the Swiss ambassador "it was better if such issues were resolved through established bilateral channels between Bahrain and Switzerland," according to a statement posted on state news agency WAM.
Continue reading here
20 Mar, 2017
Bahrain mourners clash with police after Shia inmate's funeral
Shia protesters and police clashed in Bahrain on Friday following the funeral of a prisoner who died while serving a 15-year sentence for taking part in anti-regime demonstrations, witnesses said.
The Gulf state's interior ministry announced the death of the 45-year-old on Twitter on Thursday, saying he died while exercising at Jaw prison, south of Manama.
Continue reading here
17 Mar, 2017
Mohammad Sahwan Dies in Jau Prison, Police Attack His Funeral
17 March 2017 - Mohammad Sahwan, a victim of excessive use of force by police in 2012, died of sudden cardiac arrest yesterday in Bahrain's Jau Prison. Mohammad Sahwan is the first political detainee to die in Jau Prison since 2011. Today, his funeral in Sanabis was attended by thousands and met by excessive use of force from the police. We, the undersigned organizations, condemn the government's treatment of Sahwan and its attacks upon his funeral procession today.
Sahwan was previously injured in April 2011, after the king declared a state of National Safety and enabled the security forces to violently suppress the Arab Spring protests. Sahwan was shot in the back, legs, and head by police with birdshot pellets from a shotgun. Sahwan was never treated for the 80 birdshot pellets which entered his head. His family told local press in 2012 that his life was at risk as a result of the denial of care. He was unable to receive full treatment for these injuries and prevented from receiving medical care, despite multiple requests, according to the Bahrain Center for Human Rights (BCHR). On 16 March 2017, Sahwan reportedly collapsed and died of sudden cardiac arrest.
A Bahraini court sentenced Sahwan in May 2012 to 15 years in prison under the anti-terrorism law. BCHR reported in 2012 that Sahwan was detained and tortured to confess to various crimes. Sahwan told his lawyer that a police officer said to him: "We have examined you at the hospital and saw more than fifty bullets of shotgun in your head, and they are all on the right side of your head. I shall hit you with all tools I have on your left side until you see the shotgun coming out of your head from the right side and blood is scattering out of your head unless you sign this statement."
Sahwan's funeral was held today, Friday 17 March, in his hometown of Sanabis. A crowd numbering in the thousands marched in his funeral procession. Funeral-goers also demonstrated against the political and human rights situation in the country. Security forces responded to the funeral march with excessive use of tear gas and birdshot against demonstrators. At least one protester suffered a birdshot pellet injury in his eye.
Sayed Ahmed Alwadaei, Director of Advocacy, Bahrain Institute for Rights and Democracy (BIRD): "We are saddened by the passing of Mohammad Sahwan, who never received justice in life for the police violence he suffered, and it is outrageous that his funeral procession was hit by excessive force again today. No independent investigation was ever carried out into his abuse. The UN Special Rapporteur on torture must be allowed to enter Bahrain and conduct an impartial investigation into the treatment of detainees."
"Bahrain has long used coerced confessions and broad anti-terror legislation to arbitrarily detain its citizens, and it is deeply troubling to see that another prisoner has now died inside Jau," said Husain Abdulla, Executive Director of Americans for Democracy & Human Rights in Bahrain (ADHRB). "Now, however, Bahraini authorities feel even more emboldened by their relations with Washington and London - especially after the election of President Trump and Brexit - to attack funerals and protestors with impunity. There must be consequences for the government's actions from the international community."
Although Mohammad Sahwan is the first political detainee to die in Jau Prison, in 2014, Hassan Al-Sheikh, an inmate serving time on drug-related offences, died after being tortured by security forces and left in solitary confinement overnight. In 2016, an inmate in the Dry Dock Detention Centre, Hassan Al-Hayki, died amid credible allegations of torture. BIRD, ADHRB, and BCHR called for an independent investigation at the time of his passing. The government's Special Investigative Unit launched an investigation, but after just nine days declared there to be no suspicion of wrongdoing. Four days later, the authorities charged al-Hayki's lawyer with "publicly spreading false information with the intention of influencing the judicial authority in charge of the case" after he allegedly disagreed with the SIU's findings, telling "a local newspaper that there were injuries and bruises on the body of the deceased that proved beyond any doubt a criminal suspicion."
The Government of Bahrain violated Mohammad Sahwan's right to liberty (article 3, Universal Declaration of Human Rights and article 9, International Covenant on Civil and Political Rights), right to not be tortured (article 5, UDHR and article 7, ICCPR) and right to a fair trial (article 11, UDHR and article 14, ICCPR).
We condemn the Government of Bahrain's arbitrary detention and torture of Mohammad Sahwan, as well as his consistent denial of access to medical care. We additionally condemn the excessive use of force employed against Mohammad Sahwan's funeral today. Finally, we call for the release of all arbitrarily detained and unfairly convicted persons in Bahrain, and for the uninhibited access to healthcare for all prisoners.
Signed,
Americans for Democracy & Human Rights in Bahrain (ADHRB)
Bahrain Institute for Rights and Democracy (BIRD)
Bahrain Center for Human Rights
European Centre for Democracy and Human Rights (ECDHR)
17 Mar, 2017
Event: Human rights in the aftermath of Arab Spring - the Kingdom of Bahrain
On Thursday 16 March, Bahrain Center for Human Rights (BCHR) held the event "Human Rights in the Aftermath of the Arab Spring - the Kingdom of Bahrain" in collaboration with the Central Library in Copenhagen.
The event took place at the library on Krystalgade 15 in Copenhagen, Denmark between 17.00-18.30. The focal point of the event was the state of human rights in a post-Arab Spring setting in Bahrain and in the Gulf, starting with a screening of an excerpt of the documentary We Are The Giant, which tells the stories of citizens turned activists in their plight to peacefully confront injustices in their homeland and to stand up for their belief in the universality of human rights, taking point of departure in stories related to the revolution in Tunisia, Syria and in Kingdom of Bahrain.
BCHR screened the segment on Bahrain, where the Danish-Bahraini women human rights defenders Maryam and Zainab Al-Khawaja recount their experiences promoting peaceful activism, and authority-led reprisals against civic and political rights in Bahrain. In their interviews, the Al-Khawaja sisters explain the personal cost incurred by their work, and the need to continue speaking out against human rights abuses.
Following the screening, speakers Zainab al-Khawaja (Bahraini human rights activist), Isabel Bramsen (PhD Fellow at Copenhagen University) and Lars Erslev Andersen (Senior Researcher on International Security at the Danish Institute for International Studies) held presentations on the topic. Elena Mocanu (Advocacy Officer at BCHR) was the moderator of the event.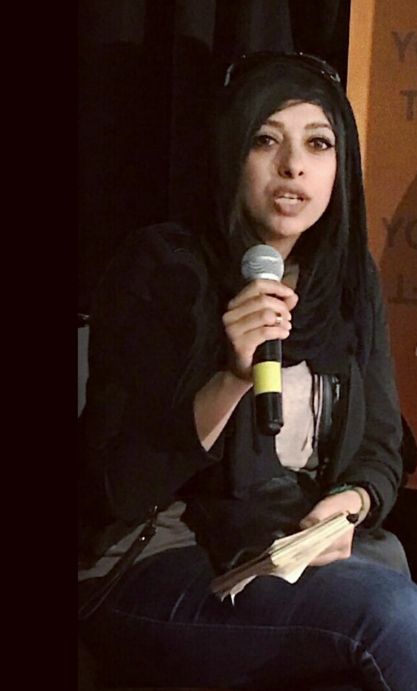 Zainab al-Khawaja spoke about her own experiences as a human rights activist in Bahrain and shared three stories of what it is like to live in Bahrain today. Her presentation centred around human rights abuses carried out by the Bahraini government regarding torture, forced confessions, unfair trials and recent executions. Zainab reported that there is "no feeling of safety in Bahrain" and that the situation is worse than in 2011. She spoke about her father, Abdulhadi al-Khawaja, and the sacrifices that the Bahraini people are doing in their fight for human rights. Concluding her presentation, she emphasized the role of Western powers in causing and perpetuating the conflict and that there is a lot of things citizens of these countries can do to pressure the leadership.
Isabel Bramsen introduced her research on the uprising in Bahrain and explained how the regime has changed tactics since the crackdown on human rights in 2011. She meant that the Bahraini government has changed their strategy from a very direct crackdown of human rights to a more "de-energized repression". The opposition movement has also evolved, which Isabel termed a "divided esc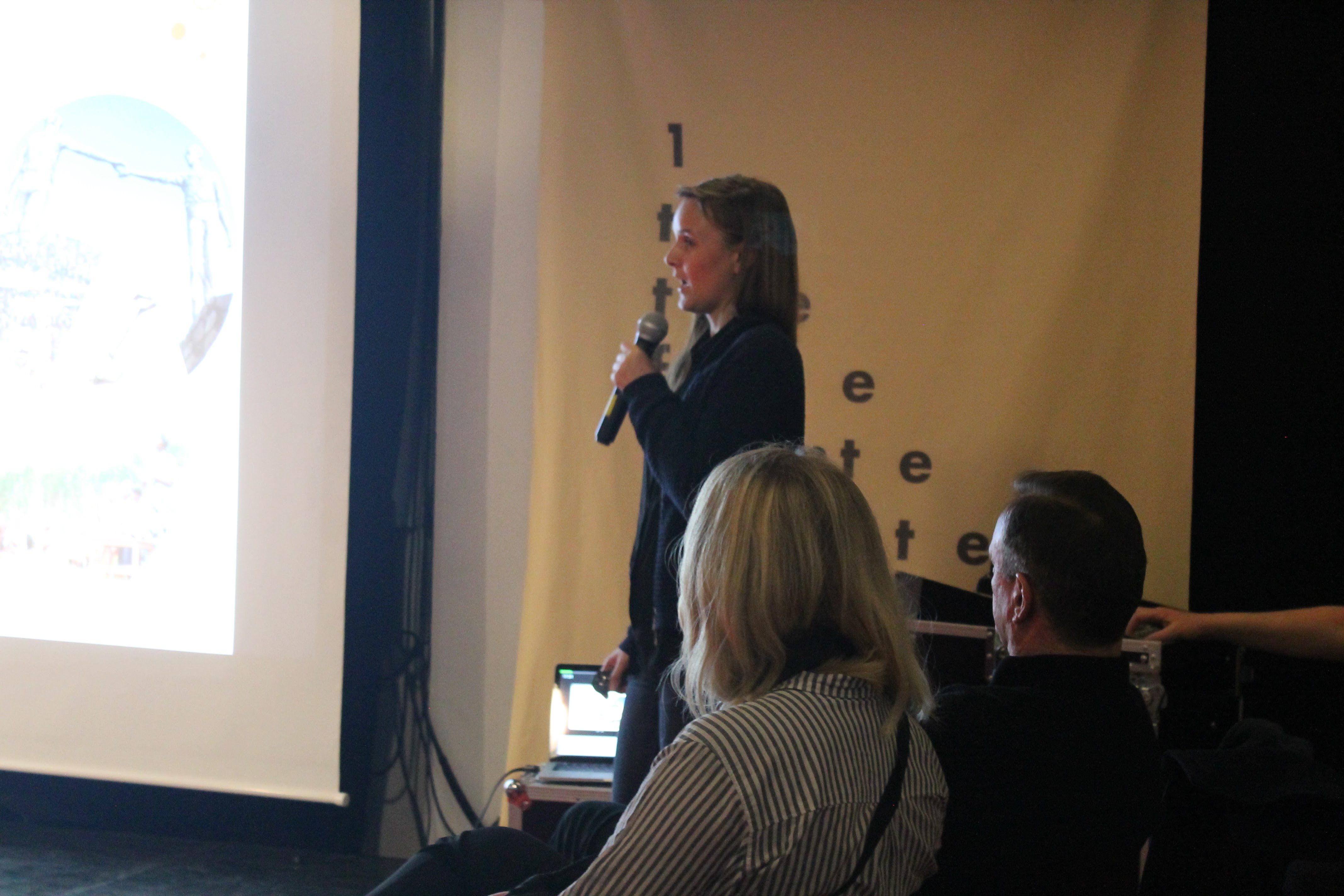 alation". In the presentation, she also clarified the context of the Arab Spring, and where Bahrain is placed within it, making comparisons to countries such as Egypt and Tunisia. Finally, she raised the question of the situation today and what we can do to make a change.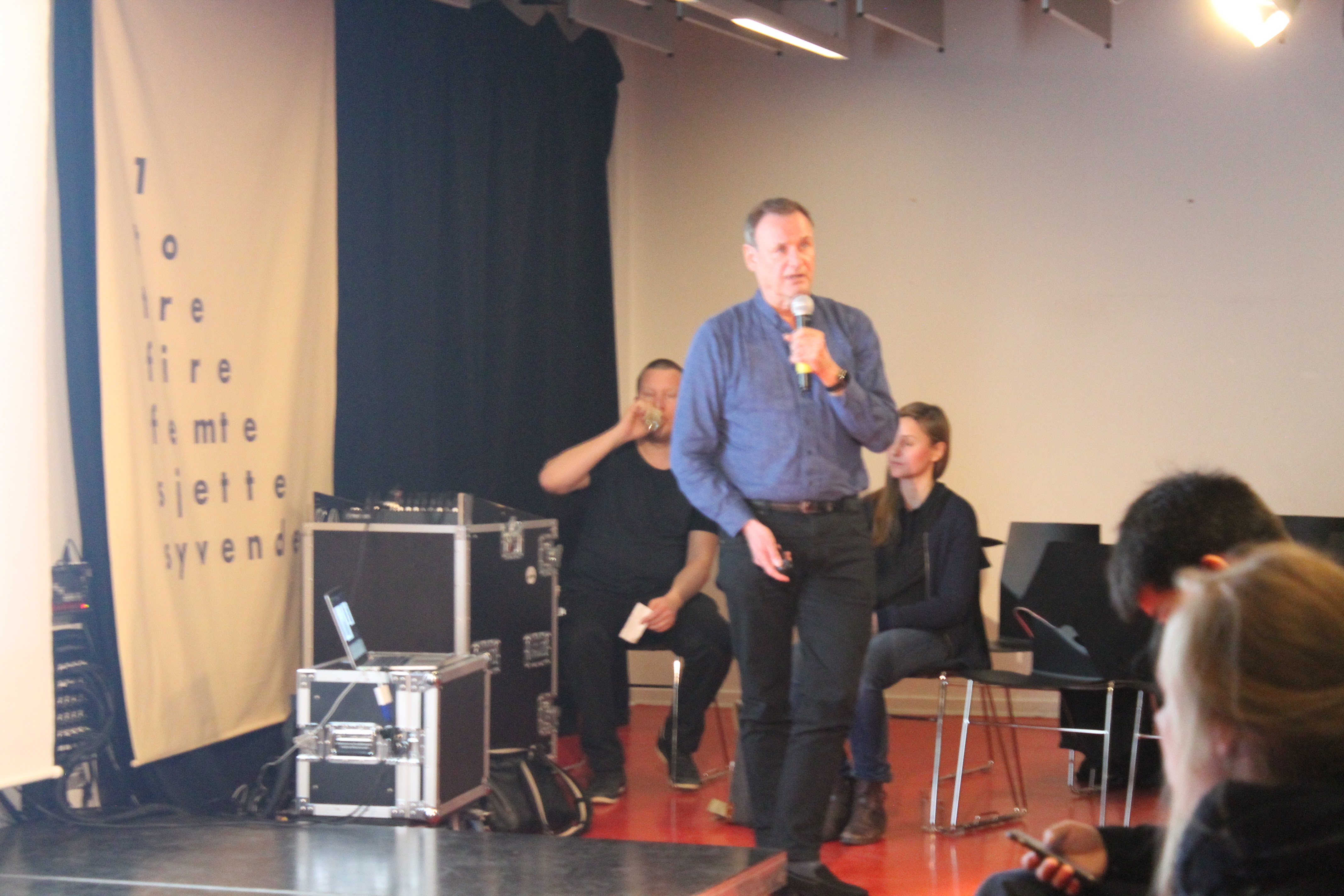 Lars Erslev Andersen gave the last presentation of the evening in which he delivered a socio-political analysis of the factors impacting the 2011 uprisings in Bahrain. In commenting on on the locals' motivation in taking part in demonstrations, he listed political, economic rights, freedom of speech and more reasons related to the fight for human rights. Lars also pointed out the royal family Al Khalifa's version of the story ("The King's Tale"), in which they describe the protests as a form of sectarian violence. Another topic of his presentation was the role of the US, Saudi Arabia and UAE. Lars drew attention to the support that Bahrain gets from its allies.
Watch the presentations here and here.
Photo credits: Lars Erslev Andersen, Bahrain (2011)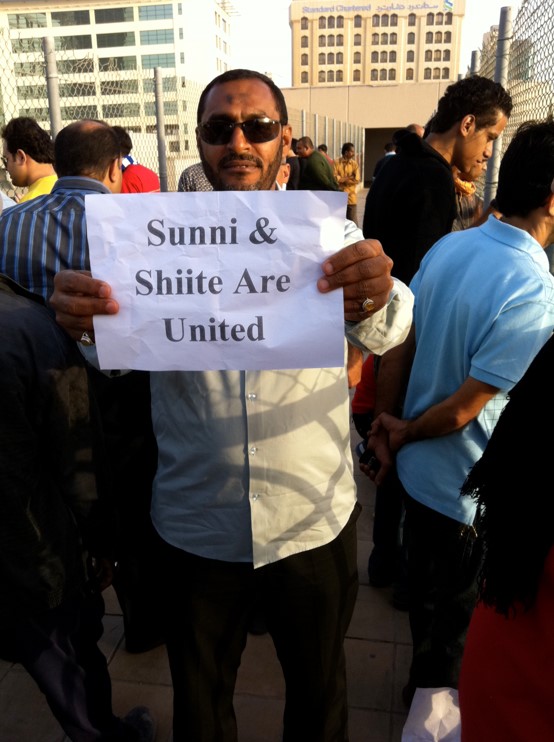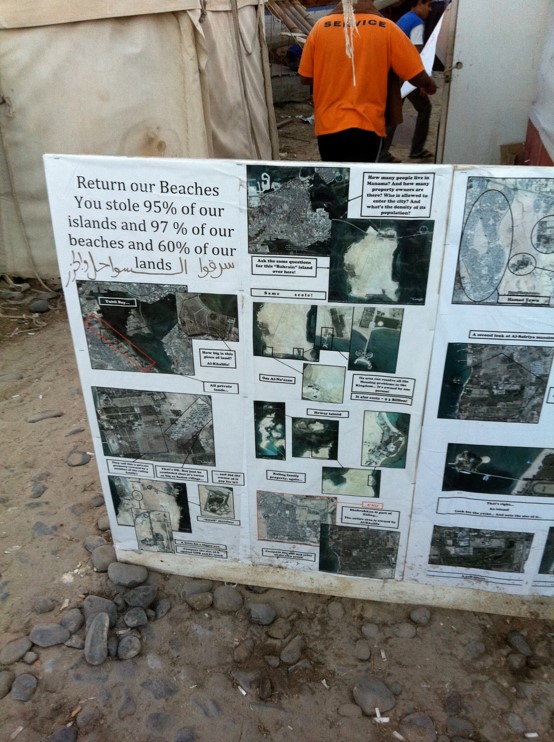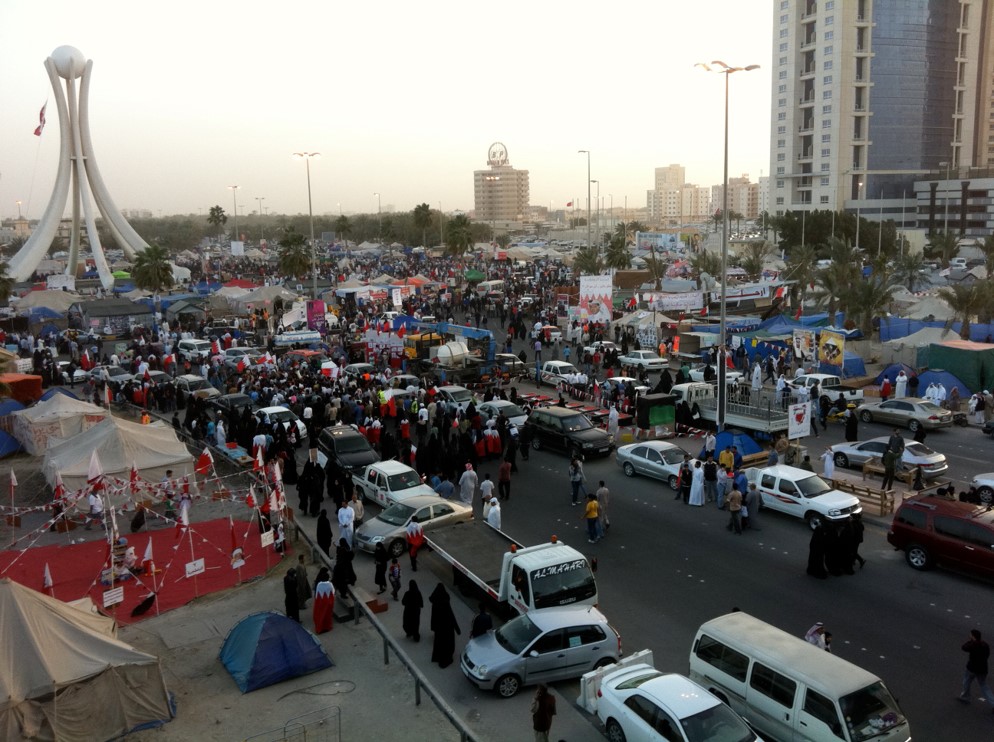 16 Mar, 2017
Bahrain parliament invites U.N. rights chief for unrestricted visit
Bahrain's parliament has invited the U.N. human rights chief to visit and promised him unrestricted access to prisons and Shi'ite villages, local media said on Wednesday, following his criticism of the kingdom's record.
A senior official at the United Nations human rights office in Geneva welcomed the invitation and said any visit would have to address issues including reports of torture and a crackdown on activists and political parties in the Sunni-ruled state.
Continue reading here
16 Mar, 2017
HRC 34: Swiss Intervention, General debate (item 4)
On 14 March at the 34th session of the Human Rights Council in Geneva, Switzerland issued a statement on human rights issues in Bahrain, Vietnam, Colombia, Egypt and South Sudan. In the section about Bahrain, the Swiss intervention highlighted the repression against the civil society and expressed concern over freedom of expression, the right to a fair trial, the use of torture, excessive force and reprisals against human rights defenders. In the statement, Switzerland called on the Bahraini government to release all human rights defenders and detainees who are in prison for exercising their fundamental human rights, including Nabeel Rajab.
Read the full statement in French below.
Monsieur le Président,
La Suisse s'alarme de la répression contre la société civile constatée dans de nombreux pays et en violation des obligations internationales de ces derniers. Au Bahreïn, celle-ci concerne tant les défenseurs des droits de l'homme et l'opposition politique que toute personne qui exerce son droit à la liberté d'expression et se montre critique à l'encontre du gouvernement. Le recours à la torture, l'insuffisance des garanties de procès équitable, les cas d'usage excessif de la force dans le contexte des manifestations pacifiques ainsi que les représailles contre les victimes qui constatent des violations de droits de l'homme ou les personnes qui coopèrent avec les Nations Unies sont préoccupantes. La Suisse appelle le gouvernement à garantir le respect des droits de l'homme de tout individu, à libérer toute personne détenue du seul fait d'avoir exercé leur droits fondamentaux, notamment Nabeel Rajab et d'autres défenseurs des droits de l'homme, et à collaborer pleinement avec les procédures spéciales de ce Conseil.
La limitation du droit de réunion pacifique au Vietnam est une autre source de préoccupation. La Suisse appelle le gouvernement à permettre la tenue de tout rassemblement pacifique et à protéger les manifestants contre toute forme de menace et de harcèlement. En Colombie, la Suisse s'inquiète des menaces grandissantes auxquelles font face certains pans de la société civile, dont de nombreux représentants subissent des intimidations, sont attaqués, voire assassinés du fait de leur engagement en faveur des droits de l'homme. Elle encourage le gouvernement à poursuivre ses efforts dans la protection de ces personnes.
Par ailleurs, la Suisse encourage l'Egypte à assurer un environnement sûr et propice pour la société civile. Elle constate avec préoccupation une limitation exercée envers les activités de la société civile et des défenseurs des droits de l'homme, avec des procédures judiciaires non-fondées engagées contre des ONG ou leurs représentants, également visés par le gel de leurs avoir ou des interdictions de voyager non justifiés. Dans le contexte de l'actuelle révision de la loi sur les ONG, la Suisse salue les efforts de l'Egypte pour saisir cette occasion pour permettre à la société civile d'assumer pleinement le rôle-clé qu'elle peut jouer dans le pays, conformément à l'engagement pris lors de la candidature à ce Conseil.
Enfin, la Suisse est gravement préoccupée par la restriction illégitime de l'espace de la société civile au Soudan du Sud et par l'augmentation concomitante généralisée du discours haineux. Elle condamne les violations des droits de l'homme commises à l'encontre des journalistes et des acteurs de la société civile et appelle le gouvernement à créer un environnement favorable au respect des droits de l'homme.
Je vous remercie.
16 Mar, 2017
HRC 34: Czech Intervention, General debate (item 4)
Human Rights Council – 34th session, Item 4 – General Debate
Statement of the Czech Republic
Thank you, Mr. President.
The Czech Republic aligns itself with the EU statement.
We are convinced that there is no effective protection and promotion of human rights when civil society organizations and individual human rights defenders are stifled. We regret to note that silencing voices of civil society is a sad reality in many parts of the world. The abduction and detention of human rights lawyer Jiang Tianyong is another attack on individuals those defending human rights of others in China. In Russia, the stigmatization of the country's oldest human rights organization, Memorial International Society, as a "foreign agent" is another decimating blow against independent civic voices.
We strongly condemn all human rights violations and abuses in Burundi and deeply regret that Burundian civil society actors, notably human rights defenders and journalists, have been a primary target of systematic repression by authorities.
As a member of the core group of the HRC resolution on the rights to freedom of association and peaceful assembly we regret the current worrying trend of restrictions on these rights all around the world. We appreciate the current cooperation and dialogue between Egypt and the European Union, including in the area of human rights. Within this framework, we encourage the Egyptian government to support free and independent civil society.
Further, we remain concerned by the executions in Iran, Saudi Arabia and Bahrain and we renew our call to halt the application of the death penalty reminding that states parties of the International Covenant on Civil and Political Rights are obliged to limit its use and, in particular, to abolish it for other than the "most serious crimes".
We continue to be are concerned about the situation in Venezuela where dissidents such as Leopoldo López remain in jail and where the political deadlock has a dire effect on human rights. We are also alarmed about the spate of extrajudicial killings of alleged drug offenders in the Philippines encouraged from the highest level and we call on their prompt and impartial investigation and bringing all perpetrators to justice.
We are deeply concerned by the serious violations and abuses of international human rights and humanitarian law reported from number of countries including Syria, Iraq (around Mosul), Yemen, South Sudan and Nigeria (its north-eastern part).
Mr. President, the Czech Republic already addressed other serious situations in individual dialogues.
Thank you.