23 Jan, 2014
Bahrain: Enforced Disappearance of Detainees and Injured with Security Forces' Bullets and Preventing their Families from being Reassured about their Health Condition
Detention of the Writer and Islamic Researcher Mahmood Al-Mousawi on the Charge of Hiding a Wanted Person
The Bahrain Center for Human Rights expresses its concern for the security practices and use of excessive force, including firing live bullets in residential neighbourhoods during an arrest which resulted in injuries among other people. The BCHR also condemns the regime's continued practices of forced disappearances and whose victims were the writer and Islamic researcher Sayed Mahmood Adnan Al-Mousawi and the wanted Ali Abdulameer – 18 years old, Sayed Mahmood Al-Mousawi's relative who was arrested after the security apparatuses had chased them, and as a result of that his friends Sadiq Al-Asfoor and Fadhel Abbas were shot with live bullets before arresting them all. Until now the families of detained victims and injured have not been provided with a chance to contact their families to be reassured about their health condition and place of detention.
According to the information received by the BCHR, the three youth Ali Abdulameer (18 years old), Sadiq Al-Asfoor (17 years old) and Fadhel Abbas (19 years old) were in a visit to a person who had been released recently in the village of Markh on the night of 8 January 2014, when they were chased by the security apparatuses who were targeting Ali Abdulameer; live bullets where shot at the youth in an attempt to arrest them, and which resulted in the injury of Sadiq Al-Asfoor and Fadhel Abbas; they were arrested with their injuries along with Ali Abdulameer. The Ministry of Interior posted on its official account on the social media network Twitter on the night of the incident that its men were able to 'arrest a number of accused in an operation to smuggle explosives and an arms depot and the injury of two while attempting to escape and running over policemen[i]'. No information was provided directly to the families of detainees and injured that could confirm their arrest or health condition.
The BCHR indicates that the use of live bullets in a residential area to arrest a wanted person is a type of use of unbalanced excessive force and which puts the lives of civilians at risk; while the need to use it was not apparent.
Manipulating the families of injured detainees and putting off giving them their right to contact their sons
Although two weeks have passed since the shooting incident, the families of Sadiq Al-Asfoor and Fadhel Abbas are still unable to be reassured about the health condition of their children or their place of detention, despite the confirmed information of them facing injuries on the night of the incident. On the next day of the incident 9 January 2014, Sadiq Al-Asfoor's father headed towards Salmaniya Medical Complex and then to BDF hospital to enquire about his son Sadiq, however the officials at both hospitals denied knowing any information about his son or about being entered to the hospital. Sadiq's father then headed to Budaiya's police station, then to the Public Prosecution who also denied having any information about Sadiq, and even when they checked their electronic system they could not find any cases registered against him.
On 16 January 2014, Sadiq Al-Asfoor's father received a call that is believed to be from the Criminal Investigation's side informing them that Sadiq is in the hospital and that they have to coordinate with the Public Prosecution if they wished to visit him. Sadiq's father attempted to coordinate a visit on the same day with the Public Prosecution, however they told him that it was late (2 o'clock pm) and that he had to wait until Sunday to try again. On Sunday he was informed that he had to write a letter requesting a visit, and although he wrote a letter on the same day 19 January 2014, he did not receive any response even with the end of the working week. Later, he was told that he had to write a new letter because the previous letter becomes ineffective after the end of the week.
Detaining Sayed Mahmood Al-Mousawi on the grounds of covering up and the enforced disappearance of Abdulameer after being subjected to beating
The family of the detainee, the writer and Islamic researcher Syed Mahmood Sayed Adnan Sayed Ali Al-Mousawi stated that at the dawn of Thursday 9 January 2014, civilian forces, backed up by regime forces, raided Sayed Mahmood's house[ii] in the village of Bani Jamra, and they searched the house and tampered the contents without showing permission for that. They added that the forces were escorted by a blindfolded youngster and every now and then they were asking him about the place where the weapons were hidden. Al-Mousawi's family stated that the youngster was in a miserable state; his clothes were torn and there were signs of blood streaming down his face. Given that his face features had changed, apparently from the extreme beating, the family was only able to recognize and identify him at a later time as the activist Ali Abdulameer who was arrested in a mysterious manner the night before.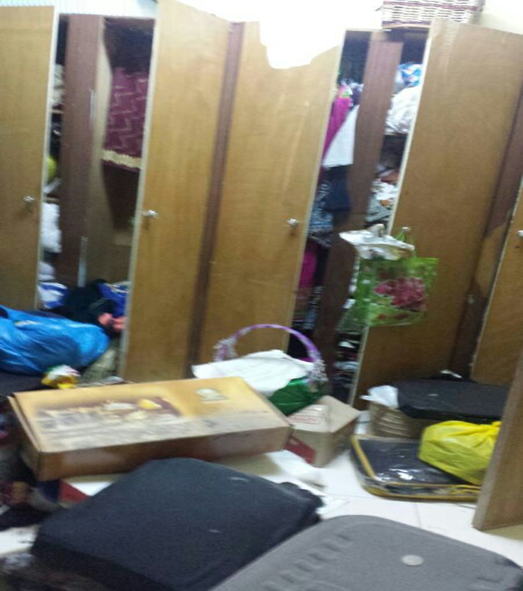 Photo – the result of the security raid of Sayed Mahmood' house
The family mentioned that the forces had left the house for a few moments and then returned to Hashim (12 years old) – Sayed Mahmood's son – and asked him how well he knew Ali Abdulameer and when he denied knowing him they threatened to arrest and torture him. In an attempt to intimidate him, the forces took his number and asked him to work with the intelligence by informing them about the timings of protests in Bani Jamra. They then went to the rooms and started searching them; they confiscated an amount of money, two phones, two computers, some books and family albums. Then they arrested Sayed Mahmood and took him to an unknown destination. On 12 January 2014, Sayed Al-Mousawi was brought forth to the Public Prosecution who ordered his detention for 7 days on the charge of covering up and his detention was renewed for another extra 10 days on 19 January 2014 where he is currently being held at the Dry Dock Prison. It's worth mentioning that Sayed Mahmood Al-Mousawi is an Islamic researcher and writer known in cultural circles, and the author of 20 books, in addition to writing several researches and attending conferences, and writing articles for newspapers, and participating in civil society institutes, as well as being one of the founders of Al-Resalah Islamic Society in Bahrain. [iii]
Ali Abdulameer did not get a chance to obtain any information about his place of detention or his health condition since his arrest. They only received a few seconds' calls telling them words that seem dictated that 'he is fine'. It is feared that he will be subjected to further torture after the way he appeared in during the house raid of Sayed Al-Mousawi.
These types of cases of excessive use of force upon arrest and which reaches attempted murder is not the first of its type, the BCHR had previously monitored in December 2012 a shooting incident against a youth that was not wanted for security reasons and he suffered a serious injury in the face when the security forces attempted to arrest the other youngster escorting him.[iv]
The BCHR believes that the spread of these practices is clear evidence that there is green light from supreme bodies allowing junior officers and members of security apparatuses to continue to commit violations especially amid the lack of accountability and control and the prevalence of impunity.
Based on the above, the BCHR calls on the United States, United Kingdom and United Nations and all the regime's close allies and relevant international institutions to:
Immediately and unconditionally release all political prisoners;
Put an end to the use of excessive force when dealing with cases of arrest and peaceful protests;
Allow parents of the injured detainees Sadiq Al-Asfoor and Fadhel Abbas to contact their families and to be reassured about their health condition;
Put pressure on the regime in Bahrain to take into account and maintain human rights;
Put pressure for the intervention of the Working Group on Enforced or Involuntary Disappearances and the UN High Commissioner for Human Rights;
Trial Bahrain internationally for the continuous and constant violations of the international conventions and treaties it had already endorsed.
It also calls on the regime in Bahrain to:
Stop practicing and pursuing the policy of enforced disappearances;
Hold all those implicated in the violations and torture accountable whether by supervision and / or order and subject them to questioning, especially the higher ranking ones.
---
4 Dec, 2013
I've Been Forced into Exile for Defending Human Rights in My Home Country, Bahrain
I am not going back to my country.
It was one of the hardest decisions I have ever made. But I made it to continue doing the work that matters most to me: documenting the human rights violations in Bahrain that have been ongoing since protests for change began in February 2011. I will stay abroad and work from exile for the Bahrain Center for Human Rights (BCHR) after receiving numerous death threats for launching a campaign to hold officials accountable for torture.
The BCHR launched a campaign called "Wanted for Justice" from Nov. 1 to Nov. 23, which has involved publishing the names and photos of people responsible for human rights violations in Bahrain. Many of these offenses have gone unpunished. What we want is simple: We want their crimes to be known internationally, and the perpetrators must be held accountable and given fair trials.
We've listed 59 people in our report. The allegations range from torturing protesters to arbitrary arrests. The list covers lower level police officers, to Bahrain's King Hamad himself.
Despite promises of reform and the government-commissioned Bahrain Independent Commission for Inquiry (BICI) report, the situation on the ground is still grim. Human rights violations will only continue as long as those responsible for carrying out torture go unpunished.
Bahrain's Prime Minister Khalifa bin Salman Al Khalifa&nbsp