27 Jun, 2016
Bahrain's sense of impunity stoked by allies and Iran
Bahrain, a serial human-rights abuser, has been on a rampage this month. On 21 June, a public prosecutor extended the detention of Nabeel Rajab, described by Reuters as "one of the most prominent rights activists in the Arab world," for eight days. He faces charges of "spreading false news… in a bid to discredit Bahrain."
A day earlier, it was announced that the country's most prominent Shia cleric Sheikh Isa Qassim would be stripped of his citizenship because he had abused his position to "serve foreign interests," and had "encouraged sectarianism and violence".
On 14 June, the authorities issued an "expedited" ruling to close the headquarters of Bahrain's main opposition group Al-Wefaq, seize its funds and suspend its activities. Court proceedings began on 23 June (the same day senior Shia clerics were summoned to a police station for questioning), having been brought forward from October.
On 11 June, prominent human rights activist Zainab al-Khawaja told Middle East Eye that she had been forced into exile after being threatened with re-arrest and indefinite separation from her children.
Read the full article here.
27 Jun, 2016
Bahraini Authorities Forcibly Deport Human Rights Lawyer Taimoor Karimi
On 26 June 2016, the International Day in Support of Victims of Torture, the Bahraini authorities deported human rights lawyer Taimoor Karimi, a torture survivor whose citizenship was revoked in 2012. The Bahrain Center for Human Rights (BCHR) strongly condemns the Bahraini authorities' actions against human rights defenders including Karimi.
Karimi was previously arrested in 2011, after which he alleged being subjected to torture while in detention. As a human rights lawyer, he defended political detainees, before his license to practice law was revoked, due to being stateless.
In November 2012, the Bahraini authorities issued an administrative decision revoking the citizenship of Karimi and 30 other individuals, citing Article 10 of the Citizenship Law which allows withdrawal of citizenship from people who have allegedly "caused damage to state security." Many of those thus denaturalized were members of civil society, including human rights defenders, journalists, political exiles, and religious and opposition figures. On 28 October 2014, the court ordered the deportation of ten denaturalized Bahrainis including Karimi. On 23 May 2016, the court of appeal upheld the decision to deport Karimi. Then on 26 June 2016, the decision was put into action. Karimi was informed that he will be deported by the General Directorate of Nationality, Passports and Residence Affairs, and shortly after, he was only given the choice to leave to Iraq.
The government of Bahrain has escalated its crackdown on free voices and dissent. Revocation of citizenship and forced deportation are the authorities' new intimidation and reprisal instrument against any opposition. Since 2012, the Bahraini authorities have revoked the nationality of 300 people and forcibly deported six denaturalized individuals following court orders to deport them. At least eight other individuals are at imminent risk of deportation. On 20 June 2016, the Ministry of Interior revoked the citizenship of Shia spiritual leader Sheikh Isa Qasim, and has reportedly threatened him with deportation.
BCHR therefore calls on the government of Bahrain to immediately:
Allow Taimoor Karimi and others to return to Bahrain;
Reinstate the nationality of all those whose citizenship was arbitrarily revoked on politically-motivated grounds since 2011;
Cease deportation orders that are based on politically-motivated charges; and
Accede to the 1954 Convention relating to the Status of Stateless Persons and to the 1961 Convention on the Reduction of Statelessness.
26 Jun, 2016
Bahrain: From 2011 to 2016, The Screams of Torture Still Echo
On the International Day in Support of Victims of Torture, 26 June, Bahrain Center for Human Rights issues the report "From 2011 to 2016, The Screams of Torture Still Echo", which takes stock of the acts and victims of torture in Bahrain in the year 2016.
Bahrain acceded to the UN Convention against Torture and Other Cruel, Inhuman or Degrading Treatment or Punishment (UN-CAT) on 6 March 1998. In accordance with its obligation under the convention, Bahrain's report was due in 1999. However, the government of Bahrain submitted its report five years late, in 2004. Although Bahrain's first treaty Periodic Report was due in 2007, no Periodic Report has been submitted since.
This report provides an overview of the current status of human rights violations in Bahrain, particularly those pertaining to allegations of ill-treatment and torture of political prisoners, including minors, while held in police custody. It also provides a background on the status of torture in Bahrain by providing readers with a glance at earlier cases and events of the last few years.
Information about ill-treatment and torture, as well as other human rights violations mentioned in this report were documented by BCHR by interviewing detainees after their release, or by recording testimonies provided by the families of detainees still in custody.
In this report, BCHR documents different methods of ill-treatment and torture used by the Bahraini authorities, which range from physical to psychological torture methods. These include beatings, forced standing, electric shocks, sleep deprivation, food deprivation, humiliating and degrading treatment, threats against family members or of a sexual nature, among others which will be mentioned in more detail in this report. The methods of ill-treatment and torture are compared with the findings from the Bahrain Independent Commission of Inquiry (BICI) report and data from other reports on torture in Bahrain.
Results of the presented data raise questions about the Bahraini authorities practices of systematic arbitrary arrests, use of methods of torture and ill-treatment during interrogation, and detention of people based on politically-motivated charges. Based on the cases we have been able to document, prison sentences often rely on forced confessions, as the interviewees claim, and on more than one occasion defendants lack access to a legal representative during public prosecution.
The findings suggest that the Government of Bahrain (GoB) is not abiding by attributable international and national law with respect to the crime of torture. The alleged new cases presented in this report represent evidence of the current state of affairs in the Kingdom of Bahrain. The report concludes that the GoB, contrary to what it claims, is still practicing grave violations of human rights, including systematic use of torture as a tool to not only punish political dissent, but also instill fear of any attempt of such dissent.
In a number of recommendations, BCHR calls on the Bahraini government to abide by applicable international and national law prescriptions, and calls on the international community to take immediate steps to address the culture of impunity and the clearly illegal use of torture and ill-treatment, to which individuals continue to be subjected at the hands of the security forces of Bahrain in 2016.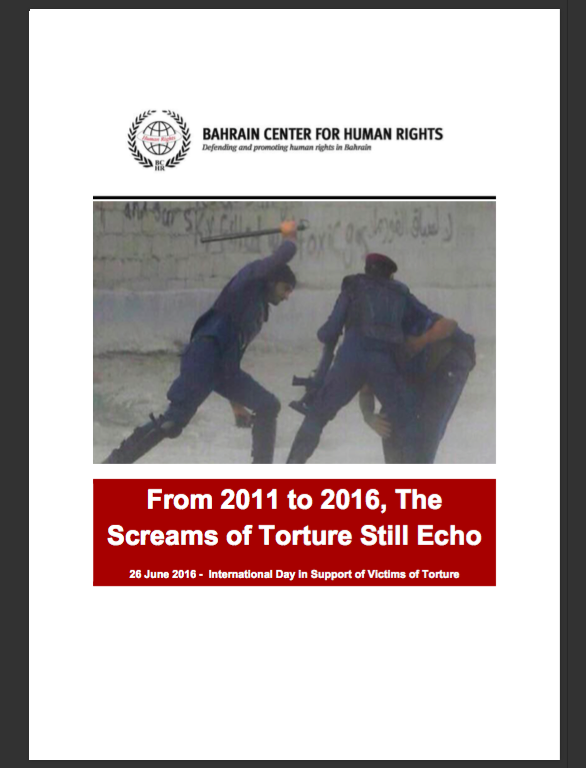 25 Jun, 2016
Urgent Appeal: Leading human rights defender Nabeel Rajab's health deteriorates due to poor prison conditions
The Bahrain Center for Human Rights (BCHR) expresses its great concern over the well-being of its detained President, the well-known human rights defender Nabeel Rajab. Rajab suffers from several illnesses which are worsening due to the poor prison conditions.
On 13 June 2016, Bahraini authorities arrested Rajab, BCHR's President, Founding Director of the Gulf Centre for Human Rights (GCHR) and Deputy Secretary General of FIDH. On 14 June 2016, they transported him to the public prosecution and charged him with "spreading false news and rumours about the internal situation in a bid to discredit Bahrain." His charges are in relation to statements he gave during past television interviews, in which it was reported that he spoke of credible allegations of torture at the hands of security forces, and the authorities' placement of restrictions on human rights activities and activists. In other interviews, Rajab talked about the targeting of Al-Wefaq Society and its members, as well as the lack of independence of the judiciary in Bahrain. Rajab's statements are backed up by credible allegations, which have been documented first hand by the BCHR and other local and international human rights organizations. On 21 June 2016, the public prosecution extended his detention by another eight days pending investigation. His lawyer's request to release him was rejected.
Although Rajab was transferred to a different detention center based on a request submitted by his lawyer, he is still enduring the challenge of extremely poor conditions in this pre-trial detention. He is being detained at West Riffa police station in solitary confinement, with no contact nor any interaction at all with other prisoners. The living conditions in his cell are extremely unsanitary, as the toilet and shower are unclean, unhygienic, and filled with potentially disease-carrying sludge. There is either no or very little water in the bathroom.
In addition, Rajab suffers from illnesses that are only worsened due to his detention conditions. His blood tests have shown that he suffers from a urinary tract infection and low mononucleosis, and he's awaiting the results of more blood tests. Rajab also needs to have two different surgical operations, to treat gallstones and an enlarged gallbladder. Rajab suffers from enlarged prostate. He also needs to be seen by a hematologist. His operations will be scheduled in August.
BCHR is deeply concerned about Nabeel Rajab's well-being. We therefore call on the international community to press for his basic human rights to be respected, for his immediate and unconditional release, and for an end to the government of Bahrain's reprisals against human rights defenders.
24 Jun, 2016
Warnings of abuse of Australian surveillance tech in police state Bahrain
A leading Australian intelligence company is selling state-of-the-art surveillance technology to Bahrain amid concerns it could be used to target pro-democracy campaigners, according to an investigation by international human rights advocates.
Published on Thursday, the report by London-based non-government organisation Bahrain Watch found that iOmniscient, which is headquartered in Sydney, has since April partnered with US company Pelco and Bahrain's LSS Technologies to provide the Bahrain Interior Ministry with enhanced surveillance equipment.
24 Jun, 2016
Women's groups accuse Bahrain of cutting funds on political grounds
Government slashes aid to 18 NGOs due to budget crisis and blocks foreign funding, leaving victims of domestic violence with little support.

MANAMA - Maryam Mansoor left her husband after years of domestic abuse, but with no support struggled to provide for her five children by selling flowers on the streets of Manama. She had few places to turn and her self-confidence eroded.
That all began to change when the 35-year-old started visiting a women's charity for weekly counselling and support from a social worker - help that made her feel like she could start living a normal life.
But three months ago, the sessions stopped.
Read the full article here.
24 Jun, 2016
Abdulhadi Al Khawaja Sentenced Five Years Ago Today
In Bahrain the past month has been marred with travel bans, attacks on opposition figures, arrests, and exiles. As the country returns to levels of repression not seen since 2011, it is important not only to focus on the latest offenses, but also to remember the many injustices absent from the headlines. Five years ago today leading human rights defender, Abdulhadi Al Khawaja, was sentenced to life in prison by a Bahraini court after a grossly unfair military trial.
Beginning with protests in 1979 at university in London, Al Khawaja has pushed for democracy in Bahrain his entire adult life. After receiving political asylum in Denmark, he established the Bahrain Human Rights Organization (BHRO). In 2001, Bahrain granted general amnesty for exiles and Al Khawaja returned to the island nation with his family. One year later, he co-founded the Bahrain Centre for Human Rights (BCHR). In the years leading up to the 2011 protests, Al Khawaja was detained, assaulted, and convicted multiple times in unfair trials for his human rights activism.
Read full article here
23 Jun, 2016
UN criticizes repression in Bahrain, urges dialogue
A UN special adviser sharply criticized Bahrain's government Wednesday for repressing opponents and revoking the citizenship of the Gulf state's top Shiite religious leader.
Adama Dieng, the special adviser for the prevention of genocide, warned that the country and the region were facing "a critical moment."
He noted a series of other "worrying developments," including the re-arrest of Nabil Rajab, the founder of the Bahrain Human Rights Centre, travel bans on human rights activists, the dissolution of Bahrain's main opposition group, an increase in the sentence of a jailed opposition leader, and the interrogation last week of five Shia clerics.
Read fill article here
23 Jun, 2016
U.S., UN Criticize Bahrain's Repression Of Shi'a, Stalled Reforms
The United States and a United Nations special adviser sharply criticized Bahrain for repressing Shi'a and revoking the citizenship of the Gulf state's top Shi'ite leader.Adama Dieng, the UN special adviser on genocide, warned on June 22 that the country faces "a critical moment," as the U.S. State Department concluded that the government's efforts to improve human rights have stalled.
"It is now even more crucial for the authorities and for all relevant parties to recommit to an inclusive national dialogue in the interest of all people of Bahrain," Dieng said.
Read Full article here
23 Jun, 2016
US: BAHRAIN FALLS SHORT ON POLITICAL, HUMAN RIGHTS REFORMS
WASHINGTON (AP) -- Bahrain has fallen short in implementing a series of political and human rights reforms, according to the State Department, undermining efforts to stabilize the tiny island kingdom after its Sunni-ruled government crushed Arab Spring protests five years ago
Widespread protests in February 2011 that were led by the country's majority Shiites sought greater political rights from the Sunni monarchy. Authorities crushed the demonstrations with help from their Gulf neighbors, but low-level unrest continues. Small groups of protesters frequently take to the streets and regularly clash with riot police. Many government opponents and rights activists remain in jail.
Read Full article here