16 Feb, 2015
Fourth Anniversary of the Bahraini Uprising: Violent Attacks on the Peaceful Marches and Protests
On 14 February 2011, a pro-democracy movement started in Bahrain, where tens of thousands of Bahraini citizens took to the streets demanding political reforms and a constitutional monarchy defending their basic human rights including the right of freedom of speech. The authorities consider participation in human rights activities as an act of disloyalty and such individuals are arbitrarily arrested and punished.
The 14 February this year marks the fourth anniversary of the launch of the movement demands that had been taken from the Pearl Roundabout based before being brutally attacked, leaving many victims, including injuries and deaths in addition to the detainees.
Peaceful marches and events have been out since Thursday 12 February 2015 and were majorlyattacked. A number of violations bythe Bahraini authorities have been documented in the past few days:
Arbitrary arrests:
In the period between 12 and 14 February 2015, 69 cases of arbitrary arrests have been documented by the Bahrain Center for Human Rights (BCHR), including more than 20 children of less than 18 years old. Only 11 people out of the 69 were released at a later time, one of them is Mahdi Mansoor Mirza who was released under the condition of presenting at the Public Prosecution for minors today, Monday 16 February 2015.
Illegal houseraids:
In the same period, the Bahrain Center for Human Rights (BCHR) has documented 21 cases of house raids with no search warrant presented by the police forces in civilian clothing as can be seen on the following picture.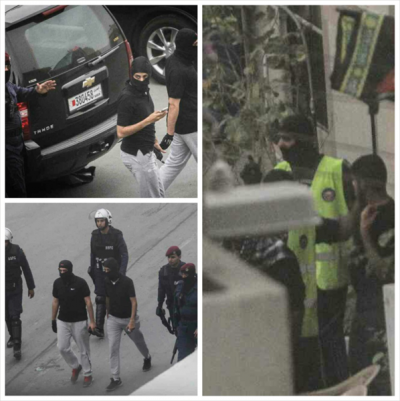 Excessive violence in confronting peaceful protests:
The Bahrain Center for Human Rights (BCHR) has also documented more than 120 peaceful protests [1] encountered by authorities using excessive forms of violence leaving more than 100 citizens injured [2], ranging from direct injuries due to tear gas canisters to injuries related to the lead pellets fired from a shotgun [3].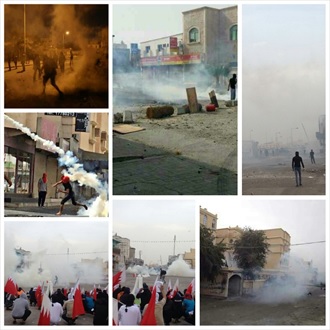 Excessive repression, especially in residential neighberhoods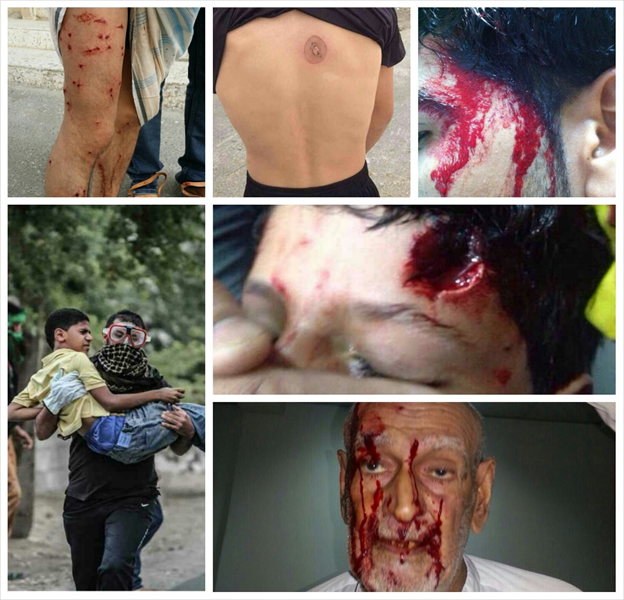 Injuries caused by excessive use of force and the repression of peaceful demonstrations

Excessive use of tear gas canisters
Nabeel Rajab, president of the Bahrain Center for Human Rights (BCHR), commented on the size of the number of participants in the marches and protests demanding basic human rights and democracy: "The size of the popular demonstration on February 14 stroke me in that it was bigger, more widespread and accepted among the people, even more than it was before I was imprisoned in 2012."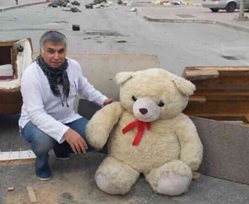 Nabeel Rajab with a teddy bear which was placed in the street by protestors to prevent the police from entering
As documented above, the Bahraini regime is in clear violation of fundamental human rights, especially the right to freedom of expression defended in international conventions and more specifically stated in Article 19 of the Universal Declaration of Human Rights which states that "everyone has the right to freedom of opinion and expression which includes freedom to hold opinions without interference and to seek, receive and impart information and ideas through any media, regardless of frontiers."
Based on the above, the Bahrain Center for Human Rights (BCHR) calls on the United States, the United Kingdom, the United Nations and all other relevant international institutions and human rights organizations to put pressure on the government of Bahrain to:
- Put an immediate end to human rights violations, particularly the right to freedom of expression and freedom of peaceful assembly
- Hold accountable all those responsible for human rights violations, especially those who hold high positions in government
- Fairly compensate the victims according to the size of their injuries
13 Feb, 2015
NGOs Commemorate the Four Year Anniversary of Bahrain's Peaceful Uprising
On 14 February 2011, more than 200,000 people from all walks of life flooded the streets of Bahrain to protest state corruption, government oppression, sectarian discrimination and a lack of self-representation and equality in law. On the fourth anniversary of the uprising in Bahrain, Americans for Democracy and Human Rights in Bahrain (ADHRB), the Bahrain Center for Human Rights (BCHR) and the Bahrain Institute for Rights and Democracy (BIRD) call on the Government of Bahrain to uphold the rights to freedom of expression and assembly ahead of the fourth anniversary, which is likely to see large scale demonstrations and rallies. The organisations also call on the Bahraini government to immediately release all arbitrarily detained political prisoners and human rights defenders and for all in Bahrain to unequivocally reject violence.
Please click here for a PDF of this statement.
Since February 2011, the Government of Bahrain has responded to protests for rights and democracy with excessive. Four years later, more than 3,000 prisonersare in jail, an estimated 5 Bahrainis per day are subjected to enforced disappearance, and dozens have been killed at the hands of their government, which has committed these violations with impunity. Just as protests have not stopped, the excessive use of tear gas and birdshot pellets continue to cause serious injuries to individuals, including children. Additionally, the government continues to employ policies that fuel sectarian divisions and marginalize peaceful opposition.
Bahrain has also issued legislation that allows for harsher penalties to be used to silence dissent. Misuse of anti-terrorism legislation has led to the revocation of citizenship of at least 115 individuals without due process, as well as the arrest of prominent opposition leaders like Sheikh Ali Salman. Human rights defenders and activists also face ongoing judicial harassment, with the majority of them currently imprisoned or awaiting trial, including BCHR President Nabeel Rajab who is currently appealing a 6-month prison sentence for a tweet.
"The Government of Bahrain must immediately stop employing violence and oppression in response to the legitimate demands of the Bahraini people for rights and democracy," said BCHR President Nabeel Rajab. "Instead, the international community must ensure that Bahrain adopts a political solution that address these demands and meet its obligations to international human rights treaties."
The aforementioned organizations call on the United Kingdom, the European Union, the United States and other national and international bodies to:
Apply pressure on the Government of Bahrain to release all human rights defenders and political activists imprisoned for exercising their basic rights;
Apply pressure on the Government of Bahrain to halt all judicial harassment of human rights defenders and political opposition members;
Apply pressure on the Government of Bahrain to drop all charges against those sentenced for exercising their internationally protected right to freedom of expression
Urge the Bahraini government to repeal laws that infringe upon internationally protect rights;
Urge the Bahraini government to start an inclusive political dialogue that leads to a comprehensive solution to the political crisis; and
Urge the Government of Bahrain to ensure that civil society organizations and human rights defenders in Bahrain may conduct their work without fear of retaliation or reprisal.
9 Feb, 2015
Champions for Justice: Bahrain's Prisoners of Conscience
More than four years since the Bahrain government's brutal crackdown on pro-democracy protestors, arbitrary arrests, injuries to protestors and politically motivated prison sentences continue. Numerous Bahrainis remain behind bars today, including hundreds of prisoners of conscience.
Every month, ADHRB, BIRD and BCHR ask all defenders of human rights to take part in highlighting each of these prisoners as a Champion for Justice by tweeting about them under the hashtag #BahrainPrisoner and changing their Facebook profile picture to a picture of the featured person. We also ask that you write to your Member of Congress about these prisoners.
Below is a summary and update on all of the Bahraini prisoners we have featured in the Champions for Justice campaign over the past year.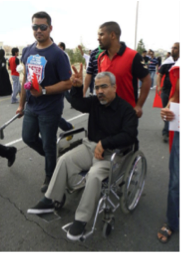 Dr. Abduljalil al-Singace is a mechanical engineer, prominent blogger, and human rights activist who has promoted human rights as a member and leader of multiple political societies. Dr. Singace was arrested in 2011 for his participation in the peaceful protest movement. During his initial detention, Dr. Singace was subjected to torture and ill-treatment, including forced standing, verbal and sexual assault, beatings, and prolonged solitary confinement. He was tried in the National Safety Court in June 2011 and sentenced to life in prison for allegedly plotting to topple the government. Dr. Singace continues to face deteriorating health conditions as a result of torture in addition to his previous medical aliments that have only worsened under the minimal care provided whilst he remains in prison.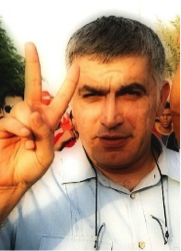 Nabeel Rajab has been the subject of persecution by Bahraini security forces for his activism for years prior to the breakout of major protests in the country in 2011. Since that time, Mr. Rajab has been targeted by government smear campaigns, subjected to tear gas attacks at his residence, and arbitrarily arrested. Like many Bahraini detainees, Nabeel has been subjected to torture and other cruel treatment throughout his time in jail. Seven months after completing a two-year prison sentence, Mr. Rajab was arrested again because of a Tweet deemed "insulting" to the Ministry of Interior and Bahrain's security forces. Several organizations and members of the European Parliament have urged the Bahraini government to drop the charges and release Mr. Rajab unconditionally. Nabeel Rajab is currently out on bail, awaiting his appeal on February 11th, 2015.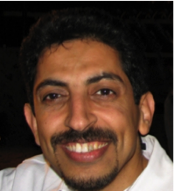 Abdulhadi al-Khawaja played a prominent role in the most recent peaceful protests in 2011, leading demonstrators in their opposition to government repression. In April 2011, government forces stormed his daughter's apartment, severely beat him and arrested him. Al-Khawaja was sentenced by a military court to life in prison based on confessions obtained under torture. Since his arrest, Al-Khawaja has been subject to many instances of abuse from his captors. The Government of Bahrain has refused to investigate these allegations and al-Khawaja has been denied adequate medical care since his detention.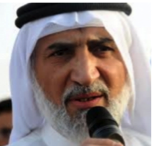 Abdulwahab Hussain joined many human rights defenders in organizing the 2011 protest movement against the Bahrain government and was subsequently arrested on March 17, 2011. He and his daughter were both beaten during the arrest and Hussain was subjected to torture and mistreatment during his incarceration. Hussain has been consistently denied access to medical care while in prison, despite his suffering from a chronic neurological disorder.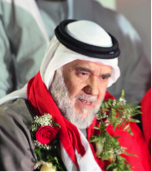 Hassan Mushaima is a Bahraini political activist, teacher and Secretary General of the al-Haq Movement. Mushaima has previously been targeted by the Bahraini government, and his most recent arrest and subsequent life sentence was for his involvement in the peaceful Bahrain protest movement in 2011. In 2010, Mushaima was diagnosed and treated for stage four follicular lymphoma in London and has since been on regular medication to prevent relapse of the disease. In April 2014, Mushaima's family announced that he was cancer-free, though he still continues to serve his life sentence in prison.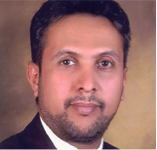 Mahdi Abu Deeb is the founder and president of the Bahraini Teachers' Association, and was arrested in 2011 for organizing peaceful protests. Despite demands for his release, from organizations such as al-Wefaq's Education Department, Mahdi Abu Deeb remains in prison serving a five year sentence. Mr. Abu Deeb has been subjected to torture, even after delivering a forced confession, causing considerable pain in his neck, lower back, and knees. Having been sentenced in 2011, Mr. Abu Deeb should be eligible for early release.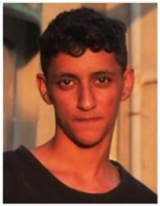 Teenager and American citizen Abdulla Jaffar was arrested in March 2014, and accused of attending an illegal protest. During the course of his arrest, he was assaulted by security officers and tortured into giving a false confession. He was released on bail in June 2014 after he was no longer able to take his final exams and subsequently missed a year of schooling. His trial was postponed multiple times because the alleged eyewitness was not present in the court. Finally in January 2015, the judge rescheduled the trial for February 17th, 2015, declaring that he will deliver the verdict without hearing the witness' testimony.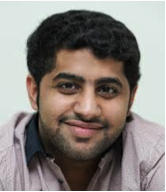 Award winning photographer Hussain Hubail was arrested in July 2013, and forced to confess to multiple crimes he did not commit. Before Mr. Hubail's appeals trial, his lawyer tried to arrange bail on the basis of worsening health conditions caused by the lack of proper health care within the prison. However, these requests were consistently denied. His family has attempted to garner support from the media when dealing directly with Bahraini authorities proved ineffective. Mr. Hubail suffers from a heart condition and requires a routine supply of medicine, but it is uncertain whether the prison is regularly distributing Mr. Hubail's much needed medication. On September 21 2014, the High Court of Appeals upheld Hussain Hubail's five year prison sentence on charges including "using social media networks to incite hatred of the regime", "calling on people to ignore the law", and "calling for illegal demonstrations."
Dr. Saeed al-Samahiji is an ophthalmologist and human rights activist who extended his medical expertise to help injured pro-democracy protesters in 2011. Al-Samahiji was arrested for treating protesters along with dozens of other doctors and medical professionals, and served one year in prison. Within months of his release after serving his sentence, he was arrested in 2013 for insulting the King at the funeral of a slain protester and was sentenced to another year in prison. Despite calls for Dr. Saeed al-Samahiji's release, there have been no signs of change in his scheduled release date of July 2015.
Detailed profiles of each prisoner, template letters, and image files are available on our website: www.adhrb.org.
6 Feb, 2015
Bahrain: 14-years old Mohammed al-Sawad risks losing his eye after being targeted for peaceful protest
The Bahrain Center for Human Rights is gravely concerned about the Bahraini authorities' use of disproportionate force against peaceful protesters. Mohammed al-Sawad, a 14-year-old boy, was seriously injured after security forces fired shotgun pellets at him which caused severe injuries. There is fear that Mohammed might lose his eye sight.
On 30 January 2015 at 1 PM, Mohammed participated in a peaceful protest in Duraz after Friday prayers calling for the release of Shaikh Ali Salman, the General-Secretary of Al-Wefaq's Society, when security forces dispersed the protest using tear gas and shotgun pellets. Security forces fired shotgun pellets directly at Mohammed from an armored vehicle at a distance of approximately 3 meters. Mohammed tried to escape; however, he fell unconscious and was taken by some individuals at the scene to Bahrain International Hospital. The hospital refused to receive and treat him so he was transported by ambulance to Salmaniya hospital.
Mohammed was admitted to the ICU. He suffers from injuries in the face, mouth, head, chest, abdomen and lungs. His condition deteriorated, which worsened his internal bleeding in the lung. Currently, Mohammed's health is stabilized; however, fear remains that he might lose his eye sight if he did not receive adequate treatment.
Recently, many cases were documented of severe injuries caused by extensive use of disproportionate force by security forces in Bahrain, which has resulted in severe injuries. Security forces shot another 14-year-old boy, Mohammed al-Hawi. Al-Hawi was leaving his house, when security forces shot him with a tear gas canister at the head. As a result, al-Hawi suffered concussion and brain bleeding for which he is being treated.
The Bahraini authorities have been forcefully suppressing protests and freedom of assembly. The number of peaceful protests staged recently has considerably increased and the use of force by the authorities has escalated.
Based on the above, BCHR calls on the United States, the United Kingdom, the United Nations, all other close allies and concerned international institutions to exercise real pressure on the government of Bahrain to:
> Put an end to the systematic repression on peaceful protesters and respect their protected freedom of expression and assembly;
> To respect its international obligations for the safeguarding of all rights enshrined in the Universal Declaration of Human Rights and the subsequent UN Conventions.
5 Feb, 2015
Bahrain: Stop arbitrarily rendering citizens stateless
04 February 2015
Amnesty International is seriously concerned about the Bahraini authorities' increasing resort to revocation of nationality as a means to punish critical voices, as the authorities stripped 72 individuals of their Bahraini nationality, rendering many of them stateless. The organization urges the authorities to rescind this decision and stop targeting dissidents.
On 31 January, the Ministry of Interior issued a statement that it had withdrawn the Bahraini nationality of 72 individuals involved in "illegal acts". They included former MPs, doctors, human rights activists and political opponents who have been forced to live abroad because of their anti-government activities. The list also comprised a number of individuals who have allegedly been fighting for the armed group calling itself the "Islamic State" (IS).
The Ministry's statement cited as "illegal acts" a number of terrorism-related offences. However, it also included acts such as "inciting and advocating regime change through illegal means", "defaming brotherly countries" and "defaming the image of the regime, inciting against the regime and spreading false news to hinder the rules of the constitution".
While some of the alleged acts may – if proven - constitute crimes, some are acts the punishment of which is contrary to international human rights law, and the vagueness of the charges themselves makes it difficult to distinguish between a criminal act and exercising one's right to freedom of expression. Even when people are investigated or prosecuted on suspicion of criminal conduct, the authorities must ensure due process is fully respected. If charged, they must be given a fair trial without recourse to the death penalty. Deprivation of nationality is permitted only under narrow circumstances under international law, and must be accompanied by sufficient due process protections and a right to appeal.
In contrast to this, many of those on the list first heard about the decision to revoke their nationality on the news and have received no prior notice. Stripping citizens of their nationality on the basis of vague allegations without due process protections is arbitrary and in violation of Bahrain's international human rights obligations.
In a worrying move, the authorities have put the names of a number of known Bahraini human rights and political activists on the same list as other Bahrainis who have been alleged IS fighters. Over the past years, the Bahraini authorities have increasingly used vague wordings to imprison individuals for peacefully expressing their views or for calling for regime change in an attempt to tighten the screw on activists. Many of the activists on the Ministry of Interior's list were forced out of the country as a result of judicial harassment or for fear of prosecution.
The Ministry's decision effectively means that those on the list who only hold Bahraini nationality find themselves stateless. The right to a nationality, which must not be deprived arbitrarily, is enshrined in Article 15 of the Universal Declaration of Human Rights. Article 7 of the 1961 Convention on the Reduction of Statelessness also prohibits, with very few specific exceptions, any loss of nationality which results in statelessness. Subsequently, the obligation to avoid statelessness has been recognized as a norm of customary international law.
In addition to decisions by the Ministry of Interior to revoke nationality, Bahraini court judges have in recent months handed down sentences that included the revocation of nationality. At least 21 received court orders stripping them of their nationality. Nine of them had this order overturned by an appeal court on 27 January 2015.
New amendments to a number of Bahraini laws have broadened the reasons for which an individual could have his or her nationality revoked. On 24 July, a new decree (21 of 2014) was issued amending the 1963 Citizenship Law. Article 10 (Paragraph C) which was used to revoke the nationality of the 31 was expanded to also include "anyone whose acts contravene his duty of loyalty to the Kingdom". The new amendments also empower the Minister of Interior to revoke the nationality of any Bahraini citizen who takes up another nationality (except that of a GCC country) without prior permission from the Ministry. Also, in July 2013, amendments were made to the 2006 anti-terrorism law giving courts powers to hand down rulings stripping defendants of their nationality when they are convicted with vaguely-worded terrorism offences.
Mixing human rights and political activists with alleged IS fighters in the same list is clearly meant to tarnish the image of those seeking to expose human rights violations in Bahrain or call for reform. It is also a clear sign of the Bahraini authorities' growing use of security solutions to clamp down on dissent.
On 28 October 2014 a lower court in the capital, Manama, ordered the deportation of 10 of 31 people whose Bahraini nationality was arbitrarily revoked on 7 November 2012 and fined them 100 Bahraini Dinars (approximately US$ 250). The 10 live in Bahrain and the rest of the 31 abroad. They include two former MPs, as well as activists and clerics.
The nine men and one woman only have Bahraini nationality and have therefore been rendered stateless. The day after the verdict, their lawyers lodged an appeal and their case was transferred to an appeal court. A hearing is scheduled for 14 April 2015. The deportation order has been halted until the court issues its verdict.
5 Feb, 2015
UN rights experts urge Bahrain to release arrested opposition leader
4 February 2015 – A group of United Nations human rights experts are urging the Government of Bahrain to release opposition politician and religious figure Sheikh Ali Salman who was arrested in December 2014 on charges that include inciting change of regime by non-peaceful means.
"The charges appear to stem from the Government's dissatisfaction with opinions that Sheikh Salman expressed in public speeches and televised interviews, in which he called for the establishment of a democratic regime and for Government accountability," the human rights experts said in a press release issued earlier today.
"If this is indeed the case, his arrest and prosecution would amount to a breach of his fundamental human rights to freedom of expression, freedom of association and freedom of religion or belief," they continued. "We have asked the Government of Bahrain to clarify the situation and to provide more information on these allegations."
Sheikh Salman's arrest came only two days after his re-election for a fourth term as the Secretary General of Al Wefaq National Islamic Society, Bahrain's main opposition political party. The UN experts voiced further concern at allegations that his hearing on January 28, when he was denied bail, did not take place in accordance with due process standards as his legal representative was allegedly not allowed to examine the evidence to prepare for his defence.
The experts commenting on the matter include Mads Andenas, Chair-Rapporteur of the Working Group on Arbitrary Detention; David Kaye, Special Rapporteur on the promotion and protection of the right to freedom of opinion and expression; Michel Forst, Special Rapporteur on the situation of human rights defenders; Heiner Bielefeldt, Special Rapporteur on freedom of religion or belief; and Maina Kiai, Special Rapporteur on the rights to freedom of peaceful assembly and of association.
On a number of occasions, UN experts have expressed grave concerns to the Bahraini Government concerning the harassment and arrest of human rights defenders, including the sisters Maryam Al-Khawaja and Zainab Al-Khawaja, and Ghada Jamsheer – three women human rights activists exercising their rights to free expression and free association.
In addition, the Organization's human rights experts have repeatedly urged the authorities to review Bahraini laws and practices to be compliant with the country's obligations under human rights law, especially the freedoms of expression and association and the right not to be arbitrarily deprived of liberty.
Meanwhile, in their press release today, the UN experts said indications that peaceful demonstrations in support of Sheikh Salman had been disbanded by the authorities through the use of force were "particularly worrying," citing reports that at least 150 people were arrested and around 90 were injured during the protests and in clashes with the police. At the same time, another 72 people had their Bahraini citizenship revoked in what the experts said was "yet another attempt by the Government of Bahrain to clamp down on opponents."
"We urge the Government of Bahrain to promptly release all those who have been detained for peaceful expression of their views," the UN experts declared.
UN human rights experts are part of what is known as the Special Procedures of the Human Rights Council. They are not UN staff and do not receive a salary for their work. They are independent from any government or organization and serve in their individual capacity.
5 Feb, 2015
Zahra, one of the toughest ladies I have met
When we see Zahra on a T-shirt?
The lump in my stomach grows when I say goodbye to Zahra (29) from Bahrain. Is it just a matter of time before she gets arrested?
The background image of Zahra's mobile is Nabeel Rajab, head of the Bahrain Centre for Human Rights, where Zahra works. But their meetings are no longer conducted in Nabeel's office. Human rights advocate is sentenced to two years in prison for encouraging "illegal gatherings" and Amnesty describes it as an "affront to freedom of expression" that Nabeel still sitting behind bars.
- I have worked with Nabeel since 2007. I miss him so much, exclaimed Zahra, and looking down on her screen
- I have him with me everywhere.
Zahra and I meet in Rabat, capital of Morocco. Under the auspices of Amnesty are a number of young activists from the Middle East and North Africa gathered to share experiences and learn how they can better fight for human rights in their countries. But Zahra (29) is already excessive in the game. Her job at the Human Rights Center in Bahrain is to document and follow up on cases of torture and violations of freedom of expression. In addition, she is arranging for training activists on using human expression terminologies. This is necessary for them to express themselves correctly when reporting on events, such as on Twitter.
This is not innocuous tasks in the small island state of Bahrain, where serious human rights violations sadly commonplace and government turn bones down hard on any kind of criticism. When I talk with Zahra, she says that five out of almost ten members at the center are currently in prison. Former head of the Bahrain Human Rights Centre, Danish-Bahraini Abdulhadi al- Khawaja, is serving a life sentence. Health conditions are poor. He went on hunger strike over extended periods, and has not get medical care. Amnesty works for both Rajaab and Al-Khawaja to be released immediately. Currently, there are al-Khawaja's daughter Maryam who heads the human rights center, and she fights a continuous battle to get set free from danger.
Zahra has not yet been arrested herself. But police have raided her home and keep it under surveillance when demonstrations take place nearby. Zahra just smiles when I ask her to take care of herself.
- My friends have said that "we will not see your face on a T-shirt!" Laughs 29-year-old. She knows it's dangerous to be a human rights activist in Bahrain, but she does not have any other option but to continue working for basic rights. As the freedom to send a Twitter message without fear.
- I'm not scared, says Zahra quiet, and adds: - No one in Bahrain is safe. But where does she discourage?
- We have rights, she says simply. Finished it. And then she smiles a little wryly, when she sees her new Amnesty friends have tears in her eyes, and not altogether will drop ceiling a farewell clip.
The day after Zahra went home to Bahrain, I got e-mail from her with the following conclusion: "Second, I would like to confirm that I am in my office I have not been jailed yet."
I hope it continues that way.
1 https://twitter.com/ChristensenLene/status/287602264456187904
4 Feb, 2015
Freedom House's Annual Report on Political Rights and Civil Liberties: Freedom in the World 2015
Regional Trends
The negative pattern in 2014 held true across geographical regions, with more declines than gains in the Middle East and North Africa, Eurasia, sub-Saharan Africa, Europe, and the Americas, and an even split in Asia-Pacific.
Middle East and North Africa: Tunisia a bright spot in troubled region Although Tunisia became the Arab world's only Free country after holding democratic elections under a new constitution, the rest of the Middle East and North Africa was racked by negative and often tragic events. The Syrian civil war ground on, the Islamic State and other extremist militant factions dramatically extended their reach, and Libya's tentative improvements following the downfall of Mu'ammar al-Qadhafi rapidly disintegrated as the country fell into a new internal conflict. Rival armed groups also overran a fragile political process in Yemen, and the effects of the Syrian war paralyzed elected institutions in Lebanon. Egypt continued its rollback of post- Mubarak reforms and solidified its return to autocracy with sham elections and a crackdown on all forms of dissent.
Following high-profile killings of Israeli and Palestinian civilians and a campaign of rocket attacks on Israel by Gaza-based militants, the Israel Defense Forces launched a 50-day air and ground offensive in Gaza over the summer. More than 2,200 people died, mostly Gazan civilians, and tens of thousands of homes in Gaza were damaged or destroyed. Israel was criticized for responding to attacks by Hamas militants in a disproportionate way, while Hamas was criticized for entrenching rocket launchers and fighters in civilian neighborhoods.
Notable gains or declines:
BAHRAIN'S political rights rating declined from 6 to 7
due to grave flaws in the 2014 legislative elections
and the government's unwillingness to address
long-standing grievances among the majority Shiite
community about the drawing of electoral districts and
the possibility of fair representation.
Egypt received a downward trend arrow due to the
complete marginalization of the opposition, state
surveillance of electronic communications, public
exhortations to report critics of the government to
the authorities, and the mass trials and unjustified
imprisonment of members of the Muslim Brotherhood.
Iraq's political rights rating declined from 5 to 6 due to
the Islamic State's attempts to destroy Christian, Shiite,
Yazidi, and other communities under its control, as well
as attacks on Sunnis by state-sponsored Shiite militias.
Lebanon received a downward trend arrow due to the
parliament's repeated failure to elect a president and
its postponement of overdue legislative elections for
another two and a half years, which left the country
with a presidential void and a National Assembly
whose mandate expired in 2013.
Libya's political rights rating declined from 4 to 6,
its civil liberties rating declined from 5 to 6, and its
status declined from Partly Free to Not Free due to the
country's descent into a civil war, which contributed to
a humanitarian crisis as citizens fled embattled cities,
and led to pressure on civil society and media outlets
amid the increased political polarization.
Syria received a downward trend arrow due to
worsening religious persecution, weakening of civil
society groups and rule of law, and the large-scale
starvation and torture of civilians and detainees.
Tunisia's political rights rating improved from 3 to
1 and its status improved from Partly Free to Free
due to the adoption of a progressive constitution,
governance improvements under a consensus-based
caretaker administration, and the holding of free and
fair parliamentary and presidential elections, all with a
high degree of transparency.
Yemen received a downward trend arrow due to the
Houthi militant group's seizure and occupation of the
capital city, its forced reconfiguration of the cabinet,
and its other demands on the president, which
paralyzed Yemen's formal political process.
Courtesy: Freedom House - Freedom in the World 2015: Regional Trends - Middle East and North Africa/ Bahrain
Click here to view the full report
4 Feb, 2015
Human Rights Watch - World Report 2015: Events of 2014 - Bahrain
Bahrain
In 2014, the main opposition party continued to refuse to participate in the national dialogue process to protest authorities prosecuting some of its senior members and, with other opposition parties, boycotted November's elections in protest at an unfair electoral system.
Bahrain's courts convicted and imprisoned peaceful dissenters and failed to hold officials accountable for torture and other serious rights violations. The high rate of successful prosecutions on vague terrorism charges, imposition of long prison sentences, and failure to address the security forces' use of lethal and apparently disproportionate force all reflected the weakness of the justice system and its lack of independence.
Human rights activists and members of the political opposition continued to face arrest and prosecution, and the government invested itself with further powers to arbitrarily strip critics of their citizenship and the rights that attach to it.
Judicial System
Bahraini courts sentenced more than 200 defendants to long prison sentences, including at least 70 for life, on terrorism or national security charges. The number of prosecutions, the often vague nature of the charges, the high rate of convictions, and the length of the sentences imposed raised serious due process concerns. Bahrain's civilian criminal courts failed to provide impartial justice and frequently convicted defendants on terrorism charges for acts that amount to legitimate exercise of their rights to freedom of expression and
association.
In 2013, for example, an appeals court concluded that a lower court had been right to convict Abdul Wahab Hussain, an opposition leader, on terrorism charges and sentence him to life imprisonment because he had founded a group dedicated to establishing a republic in Bahrain. The same appeals court also upheld the terrorism convictions and life sentences for Hassan Mushaima and Abdul Jalil al-Singace, members of the unlicensed opposition group Al Haq, because they had participated in meetings of the group that Hussain founded and possessed "publications advocating for the group." The court declared that while unlawful means, such as the use of force, are required for an act to qualify as terrorism, such force "need not necessarily be military [askari]," because "moral pressure" could result in terrorism.
Fifty individuals were convicted on charges of establishing and joining a group known as the February 14 Coalition with the aim of "sowing chaos in the country, committing crimes of violence and sedition, attacking public and private property, intimidating citizens and harming national unity." The court found that only one of the 50 defendants had committed an identifiable act of violence—assaulting a policeman during his arrest at his home, causing "cut and scratch injuries"
to the officer. The defendants received sentences ranging from 5 to 15 years in prison.
Excessive Use of Force and Lack of Accountability
Security forces fatally shot at least three people in circumstances indicating that they used excessive force. Bahraini authorities and courts have rarely held members of the security forces accountable for unlawfully using force against protestors and detainees.
In January, security forces shot and killed Fadhel Abbas Muslim Marhoon. Authorities said police officers shot him in self-defense as he drove an "oncoming car" towards them, but photographs of his body appeared to contradict this version and show that he had sustained a gunshot wound to the back of his head. In February, security forces shot Abdulaziz al-Abar at a funeral procession; surgeons removed shotgun pellets from his brain, but he died on May 18.
In May, security forces shot and killed Sayed Mahmood, 14, after police dispersed a funeral protest. A hospital death certificate, three witness accounts, images
of the wound, and a forensic pathologist's opinion indicated that his death had resulted from unlawful use of lethal force by security forces, to whom he had posed no threat when he was shot.
In 2011, the Bahrain Independent Commission of Inquiry (BICI), appointed to investigate official conduct during anti-government protests that year, concluded that "police units used force against civilians in a manner that was both unnecessary and disproportionate."
In response to one of the BICI's recommendations, the government established the Office of the Ombudsman within the Interior Ministry "to ensure compliance with professional standards of policing set forth in the Code of Conduct for the Police" and to report misconduct to the ministry and any criminal acts to the public prosecutor. The government created a Special Investigations Unit within the Public Prosecution Office as well.
The Office of the Ombudsman issued its first annual report in May, which listed 11 deaths under investigation, including that of Fadhel Marhoon, whom police shot and fatally wounded on January 8. The Ombudsman's Office told Human Rights Watch that it had forwarded details of the deaths of al-Abar and Mahmood to the Special Investigations Unit for investigation.
The BICI also found that Bahrain's security forces had killed at least 18 demonstrators and detainees without justification and recommended that the authorities investigate the deaths "with a view to bringing legal and disciplinary action against such individuals, including those in the chain of command, military and civilian, who are found to be responsible under international standards of 'superior responsibility.'"
An analysis of court documents conducted by Human Rights Watch showed that the justice system has failed to hold members of the security forces accountable for serious rights violations, including in cases where their use of excessive and unlawful force proved fatal. The authorities have prosecuted only a few of the security personnel implicated in the serious and widespread abuses that the BICI documented, focusing almost exclusively on low-ranking officers who, in most cases, have been acquitted or punished with disproportionately lenient sentences.
For example, a court convicted a police officer only of assault, although it accepted that he had shot and fatally wounded a man from a distance of one meter because it concluded that the officer did not open fire with an intent to kill. The court imposed a seven-year prison term in this case, which an appellate court later reduced to six months. In another case, an appeals court slashed to two years the ten-year prison terms that a lower court imposed on two police officers convicted of beating a detainee to death. The appeals court said that the two defendants deserved "clemency" on the absurd grounds that they had been "preserving the life of detainees, among them the victim." These and similar decisions by courts threaten to undermine the ability of the Ombudsman's Office to carry out its responsibility to ensure that police and other security forces comply with the law.
Human Rights Defenders
On August 30, Bahrain's public prosecutor charged human rights activist Maryam al-Khawaja with assaulting a police officer at Manama airport when she arrived from abroad to visit her father, Abdulhadi al-Khawaja, who is serving a sentence of life imprisonment for his political activities. Authorities released her on bail on September 18.
Bahrain authorities arrested a prominent rights activist, Nabeel Rajab, on October 1. At time of writing he faced a three-year prison sentence on charges that he "offended national institutions" due to comments he made on social media. Rajab, who was released from prison on May 24 after serving two years for organizing and participating in demonstrations, criticized the government for using counterterrorism laws to prosecute human rights defenders and accused Bahraini security forces of fostering violent beliefs akin to those of the extremist group Islamic State, also known as ISIS.
Rights activist Zainab al-Khawaja spent five weeks in prison after her arrest on October 15 on charges that she insulted the king after she ripped up a photo of King Hamad during a court hearing. At time of writing, she faced six outstanding charges, five of which, according to information provided by her lawyer, clearly violate her right to free expression. She had been released in February 2014 after serving a one-year prison term for illegal assembly and insulting the police.
German authorities granted political asylum to a senior staff member of the Bahrain Center for Human Rights (BCHR), Sayed Yousif Almuhafdah, in March. Almuhafdah had been the subject of death threats on social media after the BCHR launched a campaign that accused senior members of the ruling Al-Khalifa family of responsibility for serious rights abuses and called for their criminal prosecution. Almuhafdah sought asylum after he and his wife received summonses to appear before Bahrain's public prosecutor.
Freedom of Expression and Association
In April, King Hamad ratified Law 1/2014, which amends article 214 of the penal code to provide for a maximum jail term of seven years and a fine of up to 10,000 Bahraini dinars (US$26,500) for offending the king, Bahrain's flag, or the national emblem.
On July 10, the public prosecutor charged Sheikh Ali Salman and Khalil al-Marzooq, respectively leader and deputy leader of Al Wifaq, Bahrain's main Shia opposition party, with violating the law on political associations. This occurred after they met the visiting United States assistant secretary of state for democracy, human rights and labor, Tom Malinowski, without the government's permission. On July 7, the authorities declared Malinowski persona non grata and ordered him to leave Bahrain.
The year 2014 saw four award-winning Bahraini photographers either in jail or facing criminal charges, some or all of whom were apparently targeted by the authorities on account of their peaceful exercise of their profession. They included Hussain Hubail, sentenced by a court to a five-year prison term on April 28 on charges that included using social media networks to "incite hatred of the regime," calling on people to ignore the law, and calling for illegal demonstrations. His family and that of Ahmed Humaidan, another photographer whose 10-year sentence was confirmed by the Supreme Court in August, alleged that authorities mistreated the men in pretrial detention.
Citizenship
The government published amendments to the 1963 Citizenship Law in the Official Gazette on July 24. Article 10 now permits the Interior Ministry, with cabinet approval, to revoke the citizenship of any Bahraini who "aids or is involved in the service of a hostile state" or who "causes harm to the interests of the Kingdom or acts in a way that contravenes his duty of loyalty to it."
Authorities either obstructed the right of appeal or refused to justify their 2012 decision to arbitrarily revoke the citizenship of 31 Bahrainis, including 9 men and 1 woman who remain in Bahrain, for allegedly "damaging the security of the state." Only 1 of the 31 was able to appeal against the Ministry of Interior decision to revoke his citizenship, but a court upheld the minister's decision on April 29 and asserted, without citing evidence, that it was "intimately related to national security." The court noted that the Interior Ministry was not obliged to justify its decision and that the ministry's actions were "not subject to judicial oversight as long as its decisions are free from abuse of authority."
Women's Rights
Law no. 19 of 2009 on the Promulgation of the Law of Family Rulings regulates matters of personal status in Bahrain's Sunni courts. It does not apply in the country's Shia courts, with the consequence that Shia women, who comprise the majority of women in Bahrain, are not covered by a codified personal status law. Domestic violence is not specifically addressed in the penal code and marital rape is not considered a crime.
Migrant Workers
Approximately 460,000 migrant workers, mostly from Asia, make up 77 percent of Bahrain's private workforce. Due to shortcomings in Bahrain's legal and regulatory framework and the authorities' failure to enforce relevant labor laws, they endure serious abuses, such as unpaid wages, passport confiscation, unsafe housing, excessive work hours, physical abuse, and forced labor. Conditions for female domestic workers are of particular concern. A regional Gulf Cooperation Council unified contract for domestic workers has yet to be approved, but early drafts fall short of the minimum standards outlined in the Domestic Workers Convention that the International Labour Organization adopted in 2011.
Key International Actors
Forty-seven states, including the US and the United Kingdom, signed a joint statement criticizing Bahrain and calling for the release of political prisoners at the United Nations Human Rights Council in Geneva in June. However, despite ongoing rights abuses and the expulsion of a senior US diplomat in July, Bahrain's key allies—the UK, the US, and the European Union—failed to make explicit calls for the immediate and unconditional release of 13 high-profile activists serving long-term sentences in Bahrain.
In February, the European Parliament did, however, adopt a strong resolution condemning human rights violations in Bahrain and calling on the EU high representative and EU member states to develop a clear strategy setting out how the EU will, both publicly and privately, actively push for the release of imprisoned activists. No such strategy emerged.
Bahrain, along with its closest regional ally and benefactor, Saudi Arabia, and other Gulf states, participated in US-led air strikes against Islamic militant groups in Iraq and Syria.
Courtesy: Human Rights Watch - WORLD REPORT 2015: Events of 2014 - Bahrain
Click here to view the full report
2 Feb, 2015
Bahrain revokes citizenship of 72 people, including journalists, doctors and activists
On 31 January 2015, the Bahrain Ministry of the Interior revoked the citizenship of 72 individuals, including journalists, doctors, political activists and a human rights activist, rendering most of them stateless. Americans for Democracy and Human Rights in Bahrain (ADHRB), the Bahrain Center for Human Rights (BCHR) and the Bahrain Institute for Rights and Democracy (BIRD) condemn the continued use of citizenship revocation by the Government of Bahrain as a reprisal against human rights activists and pro-democracy campaigners.
The Bahrain Ministry of Interior has published the names of 72 Bahraini citizens in a statement declaring the revocation of their citizenship for a number of "illegal acts" without any due process of law, and in effect, rendering many of them stateless. The Ministry invoked its newly given powers under a revision made to Article 10/c of the 1963 Bahraini Citizenship Act, with the approval of the Council of Ministers, which issued a decree to revoke the nationality of these individuals. The reference number of the decree was not mentioned. In absence of a reference to the decree number, chances for appeal against the decision can be highly restricted.
The Ministry of Interior's statement claimed that "each citizen of Bahrain has the responsibility to act in ways that do not harm the interests of the Kingdom." Alongside spying, financing terrorism, participation in terrorist actions, the statement lists: "defaming the image of the regime, inciting against the regime and spreading false news to hinder the rules of the constitution," "defaming brotherly countries" and "inciting and advocating regime change through illegal means" as justification for their decision.
These justifications have been used to revoke the citizenship of human rights activists, political activists, journalists, academics and religious figures. Among the named are blogger Ali Abdulemam, who was sentenced to 15 years in prison in absentia because for running an online news forum; Dr. Ali Al-Dairi, founder of the online news site Bahrain Mirror; journalist Abbas Busafwan; university professor Masoud Jahromi; and former opposition MP Shaikh Hasan Sultan.
The revocation of citizenship without any due process is a severe violation of international law, namely Article 15 of the Universal Declaration of Human Rights which states that "no one shall be arbitrarily deprived of his nationality."An arbitrary revocation of nationality may also lead to violations of other human rights conventions such as the right to a family life, the right of children to have a nationality under the UN Convention on the Rights of the Child, obligations under the International Covenant on Civil and Political Rights and the Convention on the Reduction of Statelessness. Individuals that have been rendered stateless also face severe difficulties in enjoying social and economic rights and freedoms.
"We are constantly told by the British government that Bahrain is on the path of reform," said Sayed Ahmed Alwadaei, Director of Advocacy at BIRD. "At exactly the same time, the Bahraini government is trying to ruin the lives of its critics." Alwadaei fled to the United Kingdom after his arrest and torture in 2011. He is one of the 72 listed in the Ministry of Interior's statement and has been left stateless.
Since November 2012, Bahrain has revoked the citizenship of around 124 persons either through direct statements by the Ministry of Interior or through court orders.
Based on the above, the aforementioned groups call on the United States, the United Kingdom, the United Nations and all other close allies and concerned international institutions to exercise real pressure on the government of Bahrain to:
● Restore citizenship to all citizens who were unfairly stripped of their citizenship without recourse to due process in law.
● Halt the policy of citizenship revocation used as a punishment against critics and dissidents practicing their right to freedom of opinion and expression.
● Join and adhere to the 1954 UN Convention relating to the Status of Stateless Persons and the 1961 Convention on the Reduction of Statelessness