8 Apr, 2015
FIDH/OMCT/ECDHR/BCHR/BIRD/ADHRB joint letter to the EU on the arrest on Nabeel Rajab in Bahrain
Brussels, 7 April 2015,
Dear Ms Vice-President/High Representative,
On 2 April 2015, at approximately 4:00 PM local time (GMT+3), Bahraini security forces and police arrested Nabeel Rajab, prominent human rights defender and president of the Bahrain Center for Human Rights (BCHR). Reports indicate that over 20 police vehicles surrounded his home in Bani Jamra. In a statement shortly following his arrest, the Bahraini Ministry of Interior confirmed the charges against Nabeel, stating that he "posted information that could incite others and disrupt civil peace," and that he "illegally defamed a statutory body."
Nabeel Rajab has been accused of insulting a statutory body (by denouncing acts of torture in Jaw prison) and spreading rumours during wartime (by criticising Bahrain's involvement in the current conflict in Yemen). Nabeel remains under solitary confinement in prison, as is not expected to be released before 11 April 2015, at the earliest. For these two charges, Nabeel Rajab faces up to 10 years in prison.
In an opinion piece that Nabeel published on Huffington Post last week, Rajab stated, "Prisoners have rights and prisons should be centres of rehabilitation. In Bahrain, inmates are punished for being inmates, and punished collectively. Torture is a crime against humanity, yet it is a constant feature in Jaw."
This is not the first time that the government has punished Rajab for exercising his internationally-guaranteed right to free expression. In May 2014, Rajab completed a two-year prison sentence after taking part in peaceful assemblies and protests criminalized by the government. Mr Rajab is currently facing another trial for a previous tweet he wrote in September 2014. His appeal for this 6 months sentence was scheduled for 15 April. It however took place on 5 April and was then delayed until 4 May, the prosecutor arguing the existence of new evidence under this case. Further, Nabeel's home was raided that same day and all the electronics in his home (whether his own or not) were seized for evidence.
Nabeel has previously reached out to the EU to seek support for his case and long standing battle for Human Rights in Bahrain. In past occasions, the European External Action Service and the European Parliament have issued formal statement demanding his immediate release, as well as of others fellow human rights defenders and Bahraini citizens labelled criminals by the Government for peacefully speaking their mind about the human rights violations and democratic deficit in Bahrain. Despite these gross human rights abuses and the blatant injustice they suffer, the EU institutions have not used their full leverage on the matter.
Nabeel's case is just an example of the many injustices committed in Bahrain and in the Gulf Region daily, because they dare to speak out and to defend basic human rights and ideals. Injustice does not stop there; the treatment detainees receive in prisons amounts to grave torture and inhuman or degrading treatment, putting their physical and mental health at grave risks, as well as the health and security of their relatives.
The European Centre for Democracy and Human Rights (representing Americans for Democracy and Human Rights in Bahrain, the Bahrain Center for Human Rights and the Bahrain Institute for Rights and Democracy) and the Observatory for the Protection of Human Rights Defenders, a joint programme of FIDH and OMCT, urgently seek to raise awareness of the human rights situation in Bahrain and the Gulf Region and call upon the European Union to stand firm against these abuses of freedom suffered by many. We also urge you to ask for the charges brought against Nabeel, and other unjustly imprisoned Bahrainis, to be dropped immediately and for their unconditional release.
8 Apr, 2015
To mark the 4th anniversary of Abdulhadi's Arrest: Al-Khawaja and Seif: Two Families Stand Firmly for Freedom and Social Justice
This is the story of two families from different countries who share the same pursuit of human rights despite immense personal costs. The first comes from Bahrain, while the second hails from Egypt. Human rights defense has passed from one generation to another in these families of courageous men and women, some of whom are in jail on lengthy sentences for standing up for their beliefs.
By
Khalid Ibrahim
First part in Bahrain:
Al-Khawaja Family
Abdulhadi Al-Khawaja:
After the popular uprising in Bahrain during February 2011, Abdulhadi Al-Khawaja resigned from his work with Front Line Defenders, where I used to work with him. When I asked him why, he said: "I want to be with my people while they struggle in pursuit of freedom." That answer summarizes the life of Abdulhadi Al-Khawaja, the prominent, internationally known and admired prominent human rights defender who faced imprisonment, torture, harassment, and intimidation as the price for demanding freedom for his people in Bahrain.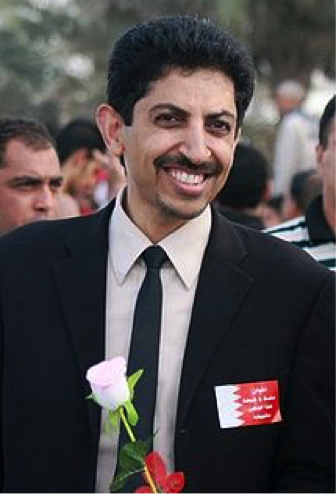 Abdulhadi Al-Khawaja participating in a peaceful demonstration in February 2011
Al-Khawaja faced immense violations to his civil and human rights as a peaceful citizen beginning from the monstrous way in which he was arrested on 9 April 2011. This was followed by brutal torture, resulting in a broken jaw and requiring several operations, then finally by an unfair trial in which the simplest of international standards for fair trials and due process were missing. Al-Khawaja was sentenced by the National Safety court – a Bahraini military court – on 22 June 2012 to life imprisonment. As the sentence was being pronounced, Al-Khawaja raised his fist and said: "We will continue on the path of peaceful resistance."
The picture below was taken by one of the policemen in the courtroom who thought that by taking such a picture he would humiliate Al-Khawaja. Instead Al-Khawaja's beloved ones hung this picture all over the walls of their houses; to them, this picture in actual fact embodies his strength and courage as well as his rejection of all methods of oppression and terror.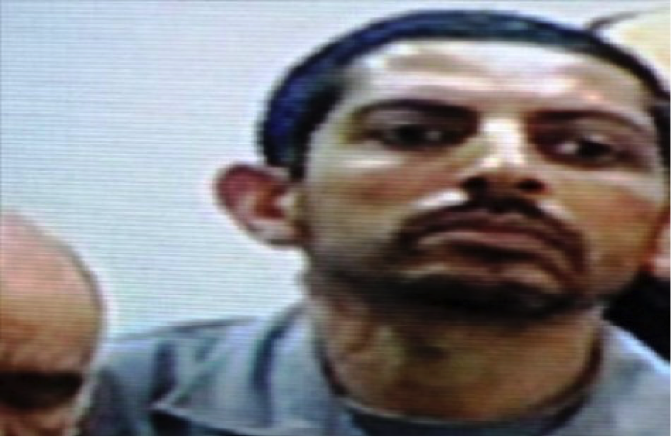 In prison, he was extremely mistreated, which is why he carried out a hunger strike along with his fellow inmates several times asking to be released and for better treatment towards them in prison. On 8 February 2012, he started a hunger strike on his own, calling for their collective freedom, which led to a dangerous deterioration of his health. On 28 May 2012, Al-Khawaja announced the suspension of his hunger strike on the 110th day, after having been force-fed. On 25 August 2014, he started a new hunger strike after having been in the same prison for three and a half years, protesting his arrest on charges related to freedom of expression. This time he stayed on hunger strike for 30 days.
In this next picture, Abdulhadi Al-Khawaja is in the last days of his first hunger strike: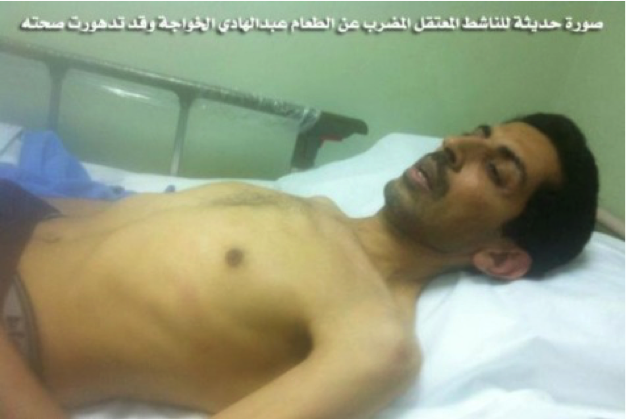 On 2 March 2015, Abdulhadi Al-Khawaja, a co-founder of the GCHR and former President of the BCHR, began a three-week water-only hunger strike in protest of his continued arbitrary detention, poor prison conditions, and restrictions on family contact, lack of investigation into torture of prisoners and other mistreatment of prisoners of conscious. (For an update, see http://www.gc4hr.org/news/view/972)
One should admire that Abdulhadi Al-Khawaja is doing his best to support human rights movements in the Middle East and North Africa and he has many relationships with human rights defenders in Syria, Palestine, Western Sahara, Tunisia, Sudan, Saudi Arabia, Yemen and other countries of the region. He has always strongly believed in the necessity of full solidarity and coordination between human rights defenders in order to achieve the ultimate goal, which encompasses building free and prosperous societies in which citizens can enjoy their freedoms fully whether civil or human rights.
Khadija Al-Mousawi:
It would not have been easy for Abdulhadi Al-Khawaja and the rest of his family to reach this rare level of struggle, resistance, sacrifice, selflessness and bravery without the outstanding contributions and the heroic role of Khadija Al-Mousawi, Al-Khawaja's wife and partner in life. She is a unique woman who is characterized by her strong and brave personality as well as her adoption of sacrifice for freedom. Al-Mousawi always thinks of the victims of oppression in Bahrain and forgets what she and her family are going through, despite suffering severe violations denounced worldwide.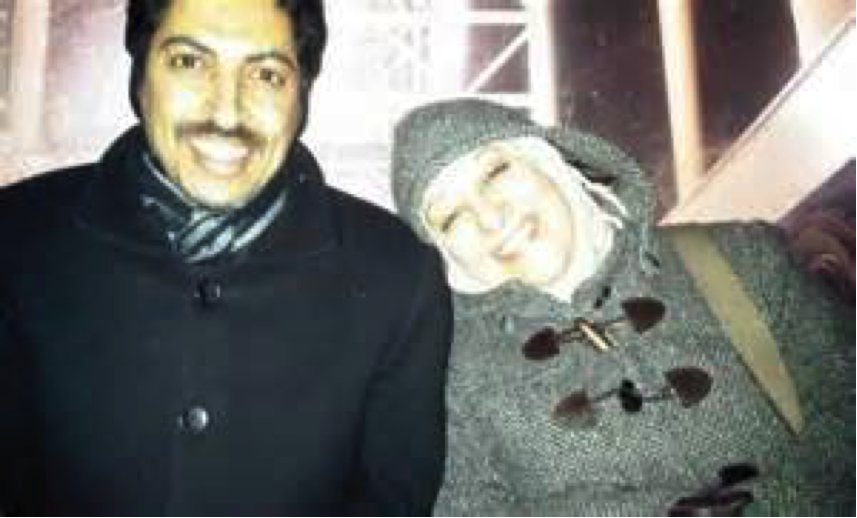 Khadija Al-Mousawi and her husband Abdulhadi Al-Khawaja
And the next tweet shows a clear idea of her true conviction in what her family members are doing as peaceful activists even though their activities expose them to direct harassment and risk of arrest by the government of Bahrain. She is proud of their work and strongly supports them at all times, becoming a big part of what they do at heart in planning, implementation and evaluation.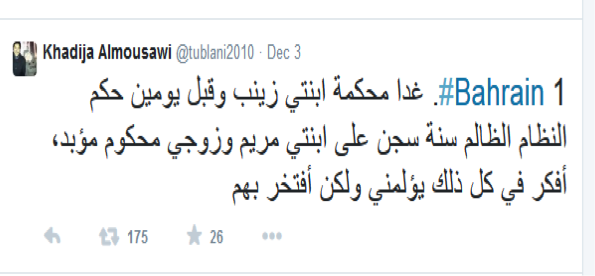 Zainab Al-Khawaja:
No one has caused severe discomforts to the government of Bahrain or any of its authorities like the human rights activist Zainab Al-Khawaja has. No one can predict what she might do next since she could be anywhere, at the gate of any prison or ministry protesting and telling the world about the oppression and discrimination experienced by the Bahraini people, as well as the deprivation of their basic human rights. They have tried to jail her on trumped up charges, however, even in jail, she can expose their incredible and unreliable claims by using international law mechanisms and the support of the international community.
Zainab Al-Khawaja is the voice of the Bahraini people tweeting for their freedom and their hopefully blissful future. She is the daughter of her father, a brave woman with no fear, who used her twitter account to expose the black record of the Bahraini government in the field of human rights. The decision to target her is due to her enormous courage.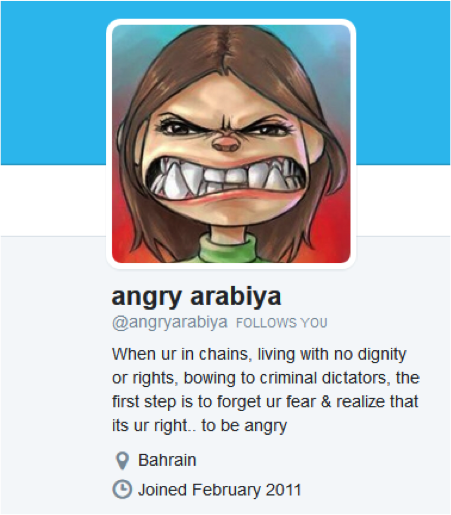 Look at her in that picture standing alone majestically with her head held high calling for freedom in front of the Bahraini Security forces with their weapons. She really is a lioness, the courageous daughter of Abdulhadi Al-Khawaja.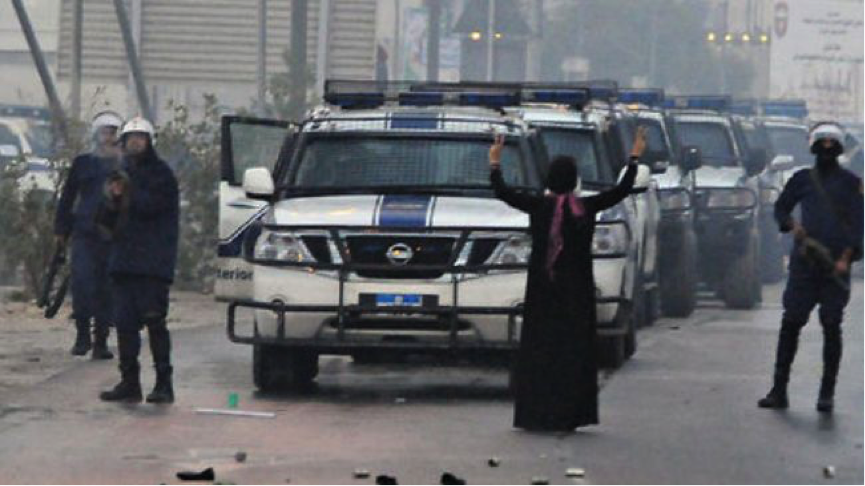 And in another photo, though she is surrounded by police officers on all sides, she keeps on protesting peacefully and asking for the freedom of her Bahraini people.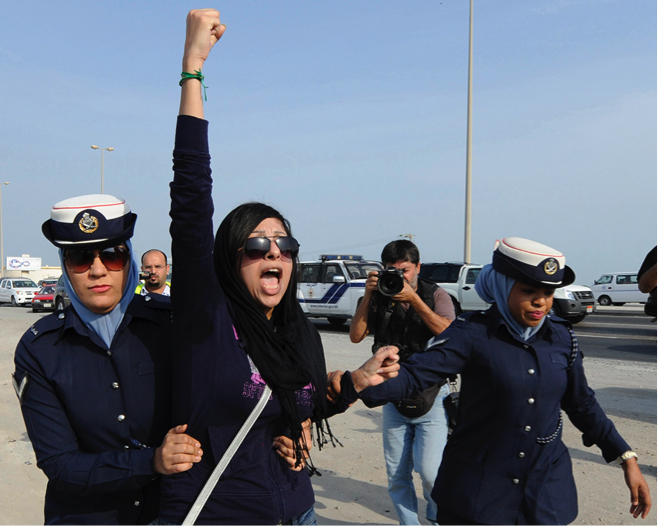 Zainab is in danger now since she could be arrested at any minute. On 4 December 2014, she was sentenced to three years in prison with a fine of 3000 Bahraini Dinars, on charges of tearing up a picture of the Bahraini monarch during a court session held in Octobe