26 Jun, 2017
Bahrain jailed activists over tweets but still gets U.S. arms deal
More than 3,000 people have been imprisoned in Bahrain since the 2011 Arab Spring as the government continues its crackdown on dissidents. Over 100 have been killed.
The small Arab monarchy is also home to the U.S.' biggest regional naval base and historically a large consumer of U.S. arms. Those sales had been frozen by the U.S. following the country's attacks on protesters, but President Trump recently lifted those sanctions, allowing for the sale of $2.8 billion worth of American fighter jets.
Read full article here.
26 Jun, 2017
Another Light Goes Out in Bahrain as Al Wasat Closes
Yesterday's letter from the Board of Directors to the staff of Bahrain's only independent newspaper Al Wasat was a heavy blow for the country, and for journalism in the Middle East. It confirmed that the board had "decided to terminate the employment contracts with the employees, due to the cessation of business activities of Al-Wasat newspaper, in accordance with the decision of the Ministry of Information Affairs issued on 4 June 2017, a decision that has caused losses to the Company."
The 4 June closure ordered by the government, which now attacks any public criticism, was the third time the newspaper had been ordered to stop publishing since widespread pro-democracy protests broke out in 2011, and was based on the pretext that the paper had published content "offensive to a sisterly Arab state," after it covered protests in Morocco.
Read full article here.
26 Jun, 2017
Bahrain newspaper, shut down by government, lays off staff
A prominent independent newspaper in Bahrain earlier shut down by the government as part of a crackdown on dissent has laid off its staff.
The daily Al-Wasat sent a statement Saturday to employees saying it had to let them go after the tiny island nation's rulers ordered it closed on June 4 .
Read full article here.
26 Jun, 2017
Torture and impunity in Bahrain - A Briefing On The Situation
Marking the UN International Day in Support of Victims of Torture, the Bahrain Center for Human Rights (BCHR) strongly condemns Bahrain's systematic use of torture.
Read the BCHR briefing in PDF format here.
Thus, BCHR has documented numerous cases during 2015-2017 of alleged torture that demonstrate that Bahrain systematically utilises torture during interrogation and detention. Reports received by BCHR suggest that human rights defenders, amongst those women, and even children and disabled persons are allegedly being subjected to acts of torture. BCHR's latest report on torture in Bahrain highlights 39 cases of torture in 2015-2016. Of these, 2 involved the torture of women, 5 the torture of children and 3 the torture of disabled persons.
Various methods of physical and mental torture have reportedly been applied, including: use of solitary confinement, sexual harassments and abuses, threats to loved ones, bodily beatings including with instruments, electrocution, explicit and repeated hitting of sensitive areas, pulling off toe nails, torture by water, subjection to extreme temperatures, listening to others being tortured, confined spaces, hanging, stripping, sensory deprivation, withholding of food and water, restricted access to bathrooms and other basic needs, restricted access to medical facilities, loved ones and lawyers. Read the report in full here.
Torture is a crime under international law. According to all relevant instruments, it is absolutely prohibited and cannot be justified under any circumstances. This prohibition forms part of customary international law, which means that it is binding on every member of the international community, regardless of whether a State has ratified international treaties in which torture is expressly prohibited. The systematic or widespread practice of torture constitutes a crime against humanity.
Bahrain has ratified the Convention against Torture and Other Cruel, Inhuman or Degrading Treatment or Punishment (the "UNCAT") and a number of other international treaties (ICCPR and UDHR) and regional treaties (the Arab Charter on Human Rights) all expressly prohibiting torture. Moreover, the national laws of Bahrain, including both its Constitution and Penal Code, expressly prohibit torture. However, Bahrain does not seem to abide by its own rules. Thus, Bahrain has largely failed to prosecute torture cases despite hundreds of allegations of torture in its detention facilities in the past few years, including many documented by BCHR, and perpetrators of torture are usually left untouched which leads to a climate of impunity. The National Institution for Human Rights and the Ombudsman should both be investigating the numerous torture allegations, however, are blatantly failing to do so.
Bahrain's record on torture has been strongly criticised by the international community, most recently by the UN Committee against Torture in its concluding observations on Bahrain. The Committee against Torture is an international body of experts that monitors state compliance with the UNCAT.
Read the full document of the concluding observations on Bahrain here.
In the concluding observations the Committee noted "with deep concern" the arbitrary imprisonment and ill-treatment of human rights defenders, in particular human rights defender and BCHR President Nabeel Rajab and human rights defender and former BCHR President Abdulhadi Al-Khawaja. The Committee urged Bahrain to release human rights defenders who are deprived of their liberty in retaliation for their human rights work. The Committee clearly rejected the argument made by the Bahraini government that counter-terrorism would be a valid excuse to abduct, interrogate and torture human rights activists and political prisoners.
The Committee also expressed strong concern at "the climate of impunity which prevails in Bahrain".
Nabeel Rajab has been in solitary confinement for most parts of his detention which has at the time of writing gone on for 378 days and his family is reporting that they have not been able to communicate with him since last week. According to the Committee against Torture, "[e]xcessive use of solitary confinement constitutes cruel, inhuman or degrading punishment or, depending on the circumstances, torture (arts. 2, 11-13 and 16)". Moreover, Rajab has developed multiple health issues following his pre-trial detention. In April, he underwent surgery for a bleeding ulcer, and was returned to prison one day after the surgery. Three days after his surgery, Rajab was rushed to the hospital due to a serious infection he developed post-surgery in detention. He has since then been hospitalised, too weak to participate in court hearings resulting in a further postponement of the two trials against him. Recently his family reported that Rajab has been facing harassment in the hospital and new orders to be transferred back to prison so he can be sentenced. An overview of the proceedings can be found here.
Ebtisam AlSayegh, a woman human rights defender, was interrogated for seven hours without her lawyer present, in retaliation to her human rights work and participation at the UN Human Rights Council sessions this year. She was reportedly sexually assaulted during her interrogation and subjected to verbal abuse, with interrogators threatening to rape her if she did not put an end to her human rights activities. She was admitted to hospital after the interrogation.
Additionally, political prisoners and jailed activists and human rights defenders have reportedly been subjected to harsh conditions whilst in prison. Most recently, following the attack by the Bahraini police on the town of Duraz prisoners were held at Jau prison where they reportedly faced baseless reprisals, were stripped of their clothes and subjected to beatings.
Abdulhadi Al-Khawaja, a prominent human rights defender serving a life sentence in Jau since 2011 due to his human rights activities, has suffered repeated repercussions in prison, taking a serious toll on his health. In March this year he was denied access to adequate medical attention; he suffers from severe complications because of his ill-treatment and alleged torture in detention. With him also other prisoners at the Jau prison are being denied medical care. In 2011 the Bahrain Independent Commission of Inquiry (BICI) had concluded that Al-Khawaja was subjected to torture and inhuman treatment during his arrest and detention. He was severely beaten, resulting in a broken jaw, and later spent two months in solitary confinement where he was reportedly subjected to severe acts of torture. He continues to be denied adequate medical attention.
Beginning of this year three men were executed convicted for killing three police officers in 2014. Their confessions were reportedly obtained under torture. The three men allegedly used improvised explosive devices which led to the death of the three officers. One of the men, a teacher, was at school at the time of the bombing incident. Reports allege the three men were subjected to severe torture, including beatings, electrocution, sexual assault, a broken nose and the knocking out of teeth.
Mohammed Ramadan and Hussain Ali Moosa were sentenced to death in December 2014 for their alleged involvement in an explosion in al-Dair on 14 February 2014 that resulted in the death of a policeman. They took the judgement to the Appeals Court, on the grounds that they were falsely accused, tortured and coerced to confess to a crime they hadn't committed. On 16 November 2015 Bahraini Court of Cassation rejected their final appeal and upheld their death sentence. The two men are at imminent risk of execution pending the King of Bahrain's approval.
The Bahrain Center for Human Rights calls on the Bahraini government to:
Unambiguously proclaim at the highest level that torture will not be tolerated;
Announce and ensure that investigations and prosecutions will be carried out promptly against perpetrators of torture and those with command responsibility in all cases;
Ensure that evidence obtained through any form of coercion or torture is inadmissible in all judicial proceedings;
Conduct prompt and impartial investigations into such cases and take appropriate remedial measures;
Ensure that Abdulhadi Al-Khawaja is provided with adequate medical assistance; and
Put an end to the solitary confinement of Nabeel Rajab and ensure that he is provided with adequate medical assistance and redress.
Read the BCHR briefing in PDF format here.
26 Jun, 2017
Torture in Bahrain: a State Behaviour and Systematic Policy
Marking the UN Intl. Day in Support of Victims of Torture, the Bahrain Center for Human Rights, together with Salam for Democracy and Human Rights, the European-Bahraini Organizations for Human Rights (EBOHR), Bahrain Forum for Human Rights and the Gulf Institute for Democracy and Human Rights published a report that reviews the patterns and types of human rigths violations, the allegations and methods of torture used against detainees on political grounds.
Read the report in full here.
22 Jun, 2017
Human rights defender Abdulhadi Al-Khawaja: 6 years served of life sentence
On 22 June 2017 human rights defender and BCHR's former President Abdulhadi Al-Khawaja has spent 6 years in Jau prison as part of his life sentence. On that same date 6 years ago, a Bahraini military court sentenced him to life in prison for his human rights activities. Al-Khawaja was sentenced along with many others, who became known as the "Bahrain 13". Their case was based on freedom of expression issues. Al-Khawaja received his life sentence after an unfair trial marred by serious and credible allegations of torture.
Al-Khawaja's health has gravely deteriorated during the 6 years in prison. He has, among others, developed problems in his right eye with complete vision loss during daylight hours and headaches on the right side of his head and behind his right eye. He has recently been on a 24 days hunger strike. During the hunger strike he suffered from low blood sugar levels, stomach ache and intense pain in his lower back. He also experienced muscle spasms and had trouble urinating.
Al-Khawaja's decision to go on a hunger strike was motivated by the inhumane treatment of detainees in Jau Prison and the continued harassment of human rights defenders in Bahrain. Thus, prisoners at Jau are subjected to severe deprivation of medical care and restrictions on their contact with other inmates and the outside world, including their families. Al-Khawaja's life was at risk during his hunger strike, due to previous health issues and poor prison conditions.
The degrading and dehumanizing treatment of prisoners - a situation that has intensified following a crackdown on prisoners' rights at Jau Prison in 2015 - violates human rights standards and the United Nations' Standard Minimum Rules for the Treatment of Prisoners (the Nelson Mandela Rules). According to rule 1 of the Nelson Mandela Rules, "no prisoner shall be subjected to [...] cruel, inhuman or degrading treatment or punishment, for which no circumstances whatsoever may be invoked as a justification."
Al-Khawaja suspended his hunger strike on 5 May 2017, however, is still in a very poor state of health necessitating frequent medical attention.
The Bahrain Center for Human Rights calls on the government of Bahrain to:
ensure that Abdulhadi Al-Khawaja is treated humanely and with dignity according to article 10 of the International Covenant on Civil and Political Rights (ICCPR), which Bahrain has ratified, as well as the Nelson Mandela Rules; and
end all reprisals against human rights defenders.
21 Jun, 2017
BCHR's President Nabeel Rajab faces worsening mistreatment, denied access to lawyers and family
The Bahraini authorities should immediately ensure that the President of Bahrain Center for Human Rights (BCHR), Nabeel Rajab, whose health is deteriorating has immediate access to his family and lawyers. His family reported that they have not been able to communicate with him since last week. BCHR is highly concerned over its President's mental and physical health as Rajab has been held in pre-trial detention for over a year now, which has taken a grave toll on his health. BCHR reiterates its call on the Bahraini authorities to release him on humanitarian grounds.
Rajab's health condition has steadily worsened during his lengthy detention; on 5 April he underwent surgery for bleeding ulcers. In that instance, he was allowed a minimum time in the medical facility before he was sent back to his prison cell. Due to the unhygienic detention conditions, Rajab developed a post-surgery infection and was rushed back to the Ministry of Interior hospital three days later. He has been slowly recovering ever since. Recently, however, his family reported that Rajab was facing harassment in the hospital and new orders to be transferred back to prison so he can be sentenced.
It is unclear exactly what his health condition is at the moment as no calls or news of his condition have been released for the past week. As no information is known, the concern of BCHR is that Nabeel Rajab is unfit to be released from hospital and his health may suffer again if he is send back too soon.
16 June 2017 marked one year in pre-trial detention based on charges related to tweets and re-tweets related to allegations of torture among political inmates in Bahrain's Jau prison, and on charges based on his interviews with the foreign press. The trial related to the press interviews was postponed from 12 to 13, and yet again to 14 June, the same date he was scheduled for his trial on tweets and re-tweets. On 14 June, his lawyers walked out of the trial in protest of Rajab's absence in the Court. The trials have been postponed to 2 July and to 7 August.
Members of the European Parliament, human rights groups and media have expressed public outcries at his incarceration, and the UN Special Rapporteur on Freedom of Expression, David Kaye, called for his release from prison at the 35th UN Human Rights Council in Geneva.
20 Jun, 2017
Duraz Remains Under Siege One Year Later
On 20 June 2016, the Ministry of Interior (MOI) revoked the citizenship of a top Shia Muslim Leader, Sheikh Isa Qasim. Sheikh Qasim is the religious leader of the Shia Muslim community, and has been a leading figure in the introduction of democratic reform in Bahrain since the 1970s. Sheikh Qasim was sentenced on 21 May 2017 to one year in prison, suspended for three years, and ordered to pay a fine of 100,000 BHD on charges of alleged money laundering.
Read the report in pdf format here.
The MOI cited Article 10(c) of the Bahraini Nationality Law to justify its decision to revoke his citizenship. The law states that citizenship can be revoked if individuals "cause damage to the interest of the state or take action contrary to duty or loyalty to it." The MOI further accused Sheikh Qasim of having "exploited the religious pulpit for political purposes." The decision of the MOI to arbitrarily revoke the citizenship of the leading Shia cleric resulted in thousands of supporters spontaneously gathering in front of his house in Duraz in solidarity and in protest of the decision. The gathering turned into a sit-in towards the end of June 2016 and after people vowed not to leave the area, has continued for a whole year.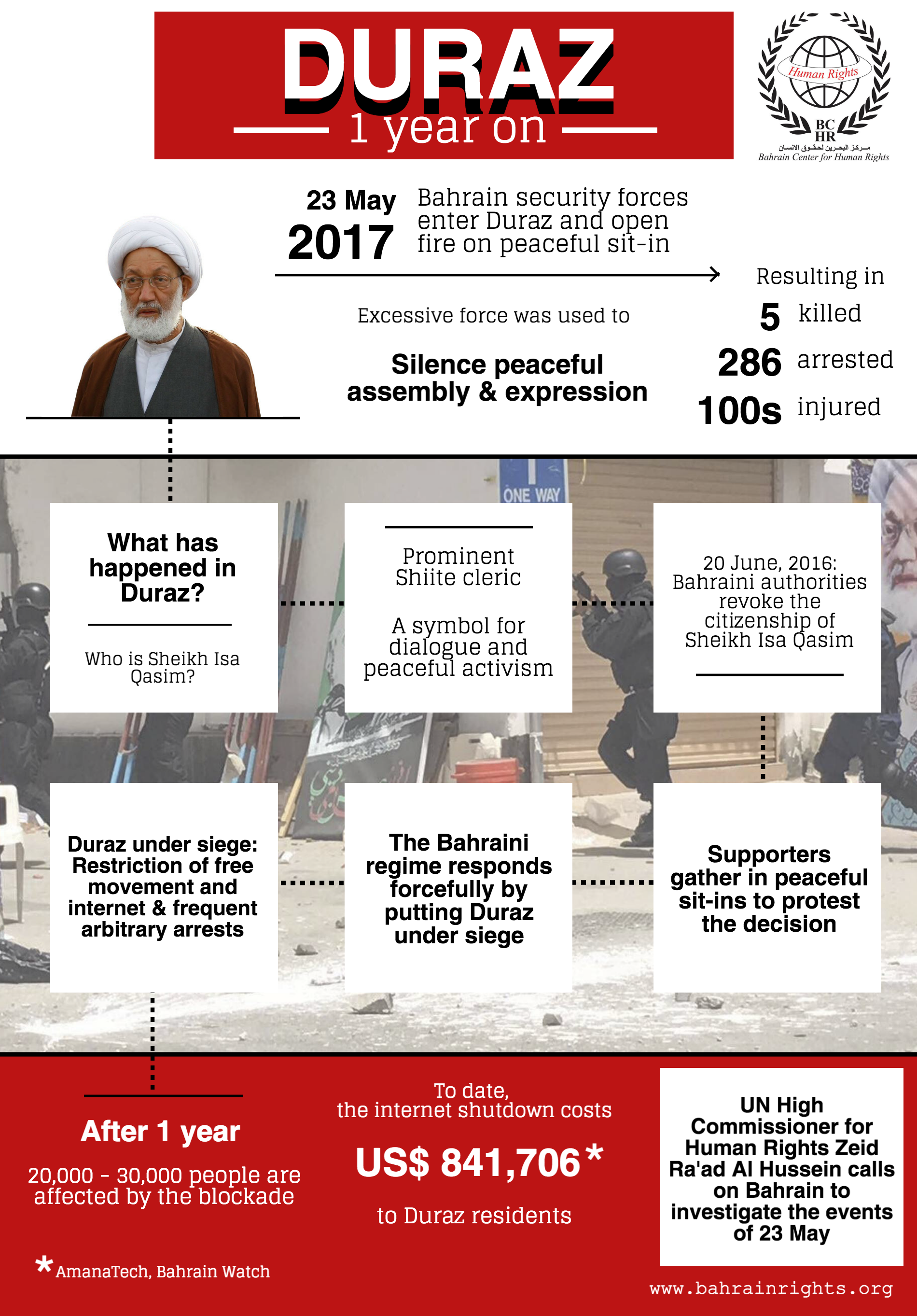 Since the outset of the protests, Bahraini security forces have responded harshly. Arrests were made from the start, and countless individuals have been charged with illegally gathering in Duraz, in violation of their rights to freedom of assembly and expression. The authorities have made numerous attempts to limit participation in the protests in Duraz, have limited access to the town, and have employed deterrent methods such as issuing summons, and arresting individuals who take part in protests - or even who visit the area.
In July 2016, police established blockades closing most roads into and out of Duraz, all major and minor entrances have therefore been sealed off. Other entrances and exits were blocked with concrete slabs, sandbags, police cars, and barbed wire. Only two entrances were left open, and people were queueing to enter and exit the town. Checkpoints were controlled by various security personnel. Restrictions on free movement were intensified during Eid Al Fitr in July 2016; the celebration at the end of Ramadan, families were unable to visit relatives, and many were unable to participate in celebrations. Usually busy sites during Eid, such as Abu Subh beach, were virtually empty. The blockades have also had a social impact; clerics are not allowed to enter the area, affecting Friday prayers, and family members are not allowed to enter. Schools have also been affected, the school bus is not allowed to enter Duraz without authorisation by the MOI. This has resulted in children having to walk long distances to school.
Since 23 June 2016, all major Internet Service Providers (ISPs), including the three largest, Batelco, Zain, and Viva, have enforced a daily Internet shutdown, most probably as a result of a device restriction order from the authorities. By limiting access to the Internet, e-commerce traders, IT professionals, and office workers are prevented from working effectively. Card payment machines have also been rendered useless during the shutdown, economically impacting businesses in the Duraz area. On 1 July 2016, the United Nations Human Rights Council passed a new resolution for the protection of freedoms on the Internet which "condemns unequivocally measures to intentionally prevent or disrupt access to or dissemination of information online in violation of international human rights law and call on states to refrain from and cease such measures."
Despite these increasingly harsh tactics protesters have continued to show their support to Sheikh Qasim.
Further developments in 2017
On 26 January 2017, Bahraini security forces fired live ammunition at protesters in Duraz. It is unclear what branch the security officials involved in this attack operate. The Bahrain Institute for Rights and Democracy (BIRD) reported that the type of ammunition recovered from the area was consistent with the types of ammunition used by Bahrain's riot police. During the attack several people were reported injured. Mustafa Ahmed Hamdan, aged 18, was shot in the head, and was taken to Salmaniya Medical Complex to receive emergency medical treatment. Hamdan died on 24 March, two months after the incident. He had been comatose since the shooting and suffered from numerous injuries including a skull fracture, concussion and internal bleeding. The Bahraini government failed to release any publicly available information on Hamdan's shooting. The security forces were not made to accept responsibility, and no public investigation has taken place. Bahrain's National Institute for Human Rights (NIHR) issued a statement on 30 January acknowledging Hamdan had suffered a head injury, but blamed the incident on "two groups of masked men exchanging rockets and fires shooting."
Ahead of Bahrain's Universal Periodic Review (UPR) by the United Nations in May 2017, 32 people were summoned for questioning by the Public Prosecution. As many as 24 of these individuals were charged with "illegal gathering in Duraz." The majority of those charged are not residents of Duraz, and non-residents have been prevented from entering the town since 20 June 2016. The charges appear to have been used to stop them, and act as a deterrent to others, from criticising Bahrain during its UPR. Eight of those charged were told that they had been placed under a travel ban, and were therefore unable to leave the country. 19 of those summoned were human rights activists, others were journalists, members of the political opposition, and bloggers. The protest in Duraz is being utilised by the Bahraini authorities as a 'go-to' charge for individuals who engage in civil society and human rights mechanisms, and prevented human rights activists from participating in the UPR.
One year on from the revocation of Sheikh Qasim's citizenship protesters continue to gather in Duraz in support of the cleric, and the Bahraini government still maintains a heavy security presence.
Violent attacks in May 2017
In May 2017, two days after United States President Donald Trump said international relations between Bahrain and the US were set to improve, and following the sentencing of Sheikh Isa Qasim, the government of Bahrain escalated its campaign in the besieged village of Duraz.
On 23 May 2017, national security forces, including members of the special forces, entered Duraz and opened fire on the peaceful sit-in supporting Sheikh Qasim. The Bahraini Ministry of Interior has confirmed that five individuals were killed; reports also indicate that dozens of people were injured with bird shot pellets. Internet access was shut down during the raid on Duraz by security forces, effectively preventing individuals from easily disseminating information using social media platforms. On 25 May, it was reported that security forces remained in Duraz, and that house raids were still ongoing; the house of Sheikh Isa Qasim remains surrounded by police officers. According to information received from Qasim's family members, residents of the house were prevented from accessing water. Individuals were being denied access to the town. There are also reports that many individuals have disappeared, and that family members are unaware of their whereabouts. In one case, a woman called her husband, and was told by the woman that answered that she had found mobile phones thrown on the streets.
The families of those who were killed were taken to Budaiya police station, one member of each family was called in, had their mobile phone removed, and was asked to identify the victims. The five men were subsequently denied funeral rites, and buried in secret on 28 May, without the presence or consent of family members. The deceased have been named as Mohammed Al-Ekri, Mohammed Hamdan, Mohammed Alsari, Mohammed Zain Eldin and Ahmed Al-Asfoor.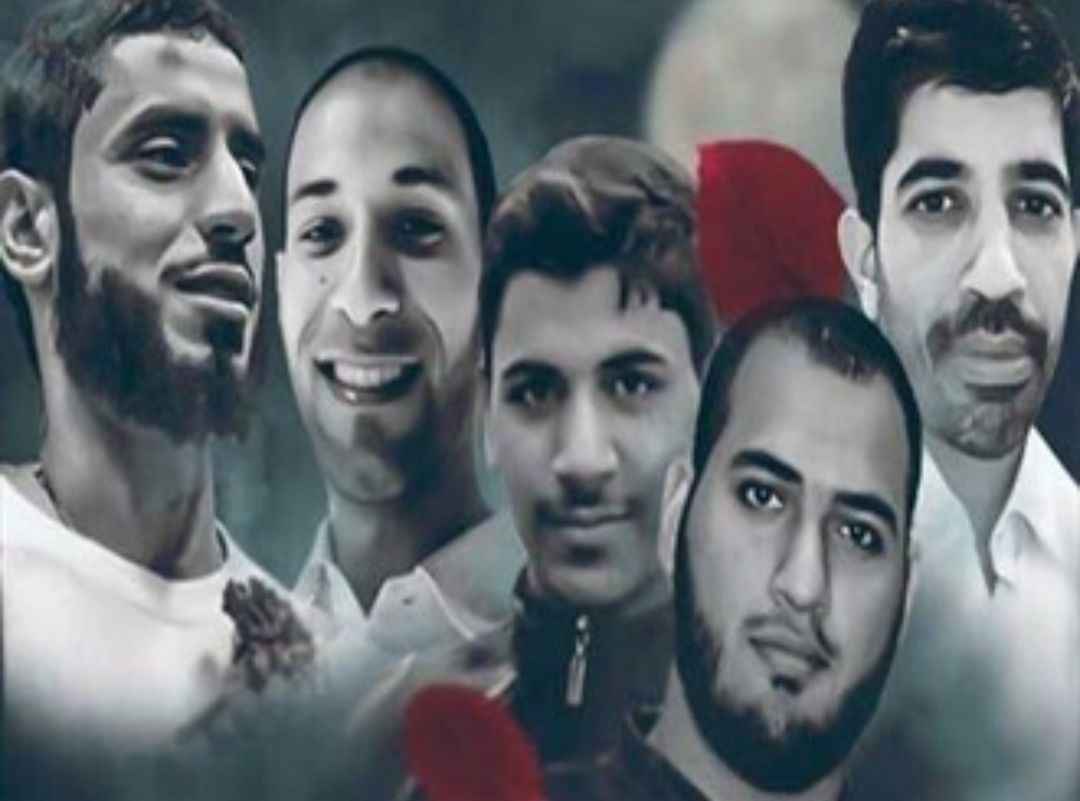 It is is believed that one of the victims, Ahmed Jameel Alasfoor, died from injuries sustained after his arrest. Mohamed Hasan Hamdan is the brother of Mustafa Hamdan, also killed in Duraz earlier this year.
The effect of this incident has been wide ranging; prisoners detained in Jau prison have been allegedly subjected to reprisals. Detainees have been stripped of their clothes, and subjected to beatings. All calls from inmates to their families have been stopped. Additionally, woman human rights defender Ebtisam Al-Sayegh was summoned to the National Security Agency (NSA) and interrogated for seven hours without her lawyer being present. During the interrogation, Al-Sayegh reported being verbally abused and sexually assaulted. Following her release, Al-Sayegh was admitted to hospital, suffering from a nervous breakdown. Other human rights activists who wish to remain anonymous have also reported being summoned to the NSA and interrogated in recent days. Those summoned were documenting and monitoring violations on the ground in Duraz
On 2 June, the UN High Commissioner for Human Rights Zeid Ra'ad Al Hussein called on the Government of Bahrain to launch an independent and effective investigation into the deaths of five protesters during the operation in Duraz. Zeid urged "the government to investigate the events of 23 May, in particular the loss of lives, to ensure that the findings are made public and that those responsible are held accountable." He also called on the authorities to release any individuals being detained for peacefully exercising their rights to freedom of expression and assembly.
Read the report in pdf format here.
19 Jun, 2017
U.N. Experts Warn Repression in Bahrain Will Breed Unrest
GENEVA — A crackdown on human rights in Bahrain, including a resumption of executions and suppression of dissent, is likely to spark increased unrest, U.N. rights investigators said on Friday.
U.S.-allied Bahrain, where the U.S. Fifth Fleet is based, crushed mass protests by the Shi'ite Muslim majority in 2011 and the Sunni-led monarchy has kept a lid on unrest since then by closing Shi'ite-led opposition groups and prosecuting activists.
Read the article here
19 Jun, 2017
Bahrain: Only Independent Newspaper Shut Down