26 Jun, 2015
Inside Jau: Report Finds Rampant Torture and Abuse Inside Bahrain's Political Prison
26 June 2015 – Bahrain's prison authorities continue to humiliate, torture and mistreat inmates at Jau Prison, according to a new report released today by Americans for Democracy & Human Rights in Bahrain (ADHRB), the Bahrain Institute for Rights and Democracy (BIRD), and the Bahrain Center for Human Rights (BCHR). The release of the report coincides with the International Day in Support of Victims of Torture.
The report, Inside Jau: Government Brutality in Bahrain's Central Prison, investigates the Bahraini government's response to a prison riot at Jau Prison in March 2015. It finds that psychological and physical torture, prevention of medical care, and massive overcrowding remain a systemic failure of Bahrain's prison system. This report comes four years after the Bahrain Independent Commission of Inquiry (BICI) called on the government to prevent torture and hold abusers accountable. It is against this backdrop that inmates rioted, only to be met with excessive force.
Though only a minority participated in the riot, prisoners were collectively punished. Riot police shot tear gas and birdshot in close quarters to subdue the inmates. Having used excessive force to re-establish control over the prison, police then led inmates into courtyards, where they were collectively beaten and humiliated. The prisoners were deprived of food for days at a time and prevented from bathing for several weeks.
"This is a new low," said Husain Abdulla, Executive Director of ADHRB. "Bahrain has always had a terrible torture record, but the scale of abuse we are witnessing at Jau Prison is beyond anything that has happened since 2011."
The report draws evidence from interviews with inmates released from prison in the weeks following the assault, interviews with families of inmates still in prison, and analysis of photographs taken by inmates on contraband mobile phones. Additionally, the report provides analysis on the response of the Government of Bahrain and related government-sponsored human rights institutions, including the Ombudsman of the Ministry of Interior, the National Institute for Human Rights, and the Prisoners and Detainees Rights Commission; it finds that the responses of these institutions have been inadequate and, at times, have even contributed to the deteriorating human rights situation at Jau.
The report also finds that many imprisoned peaceful activists were caught in the events of March 2015. According to one inmate, authorities treated Naji Fateel, a human rights defender, "like an animal," despite his not having taken part in the riot. Prison officials also beat Abbas al-Samea, a teacher, so severely that they knocked out his teeth.
"Bahrain desperately wants to push the narrative that torture is a diminishing problem, and that the government has taken massive strides against this type of abuse," said Sayed Ahmed Alwadaei, Director of Advocacy at BIRD. "The truth is that the situation has never been worse. The only new development is the government's increased capacity to hide its crimes."
Bahraini authorities have also targeted citizens who attempt to document these abuses. In April 2015, for example, police arrested Nabeel Rajab on charges of 'insulting a statutory body' and another charge related to free expression, after he publicly documented injuries resulting from torture at Jau and called for the prosecution of guilty officials on his Twitter account. He faces up to ten years in prison.
"There is something seriously wrong when documenting torture can land you in prison" said Said Yousif Al-Muhafdah, Vice-President of BCHR. "This is how Bahrain tries to hide its problem, with enforced silence."
Thus far, Bahrain's international allies have failed to press the Government of Bahrain to establish a transparent and accountable system of criminal justice. As major allies, the United Kingdom and United States must publicly address the failings at Jau Prison and actively engage the Government of Bahrain on actionable reforms for the country's judicial and prison systems.
The UK and US must review its bilateral assistance and provide a deadline by which all practical reform goals must be met. If such goals are not implemented, then the UK and the US must shift existing technical assistance programs to the United Nations to implement more effective practical assistance.
The report further calls on a full investigation into the police response to the riot and the prosecution of all police officers and prison officials responsible for torture and ill-treatment since March.
25 Jun, 2015
Bahrain: Halt systematic torture and allow UN SR on Torture to visit
On the occasion of June 26, the International Day in Support of Victims of Torture, the Bahrain Center for Human Rights (BCHR) reiterates its calls to put an end to the policy of systematic torture in Bahrain.
The BCHR has thoroughly documented systematic torture (psychological and physical) during periods of enforced disappearance, during interrogation to force confessions, during forced deportation of Bahrainis wanted by authorities, as well as inside prisons after sentences have been handed down. The documented cases show that no one is safe from torture, whether a child, a woman, or even the human rights activist who defended these people. Nabeel Rajab, President of BCHR, has been arrested and detained since April 2, 2015 for speaking out regarding the bout of cruel treatment and torture which occurred in March 2015 at Jaw prison.
Since 2011, six people have lost their lives under torture, the most recent of whom was Hasan Al-Shaikh, who was beaten to death in Jau prison in November 2014.
Based on confessions extracted under torture, allegations which the Bahrain judicial system has failed to investigate, many prisoners of conscience remain in prison today, including leading human rights defender Abdulhadi Al-Khawaja (read his testimony of torture).
Human rights activists have faced reprisal for documenting such violations. In this regard, on April 2, BCHR President Nabeel Rajab was arrested for posting information on Twitter concerning acts of torture and inhumane treatment at Jaw Prison. In an opinion piece that Nabeel Rajab published in the "Huffington Post" Rajab stated, "Prisoners have rights and prisons should be centers of rehabilitation. In Bahrain, inmates are punished for being inmates, and punished collectively. Torture is a crime against humanity, yet it is a constant feature in Jaw."
On the other hand, the officials responsible for torture continue to enjoy impunity, and there has not been accountability for the crimes committed by government officials, with the few low level police who have been taken to court either being found innocent or given very short term sentences. Moreover, country officials at the highest level publicly show support for those responsible for torture as evident in a video that surfaced in which the Prime Minister told an official who was acquitted of torture charges that he was "above the law."
Bahrain has acceded to three International Treaties that prohibit the use of torture and cruel, inhuman or degrading treatment. These are the United Nations Convention against torture in the International Covenant on Civil and Political Rights and the Universal Declaration of Human Rights. Bahrain also signed the Arab Charter of Human Rights. However, the Government of Bahrain has effectively cancelled the visit of the UN Special Rapporteur on Torture, Juan Mendez, and has not yet proposed a rescheduled date.
"Unless Bahrain's government sees real pressure from its allies, namely the US and UK governments, to put an end to this systematic policy of torture, it's likely that it will continue for the coming years," said Sayed Yousif Al-Muhafdha, the Vice President of BCHR.
Based on the above, BCHR calls on governments and on international organizations to put pressure on the government of Bahrain to carry out the following:
Hold a fair and transparent investigation into the testimonies of torture as reported by witnesses and detainees;
Hold accountable anyone proven to be responsible for ill-treatment or torture, including those who authorized or condoned such abuses;
Sign the Optional Protocol of the Convention Against Torture to strengthen accountability; and
Reschedule the visit from the United Nations Special Rapporteur on torture and other cruel, unusual, or degrading treatment or punishment.
24 Jun, 2015
Bahrain: Oral Intervention at 29th Session of Human Rights Council, 2015 by Nedal Al Salman
On June 22 2015, the Head of International Relations and Women & Children's Rights Advocacy Nedal Al Salman of the Bahrain Centre for Human Rights (BCHR), delivered an oral intervention on behalf of ADHRB and other NGOs during the ongoing 29th session of the United Nations Human Rights Council in Geneva. click on the youtube video below to watch and listen to the full intervention, or scroll down to read the full text of the intervention.
Mr. Vice President,
On behalf of Al Salam Foundation, Bahrain centre for human rights, Bird and Americans for Democracy & Human Rights in Bahrain, I would like to thank Special Rapporteur Heyns for his remarks on Bahrain.
Arbitrary executions in countries like my country Bahrain, where a pattern of executions from torture and excessive use of force exist as a direct appraisal to the exercise of expression, opinion and assembly. For example, in 2011, human rights blogger Zakariyah Ashiri was arbitrarily arrested and beaten to death in the custody of Bahraini authorities. All five policemen involved in his death have been acquitted, and authorities have vehemently denied accusations, despite images of his extensive bodily injuries validating these allegations.
Similarly, the co-founder of Bahraini newspaper Al-Wasat, also appeared dead in 2011 after 9 days of disappearance under the custody of Bahraini authorities. The injuries on his body were equally consistent with allegations that he was tortured to death.
Finally, it is also a grave concern that a growing number of individuals have been delivered execution sentences in Bahrain. It is even more worrying that many of these individuals have been convicted through arbitrary trials based on coerced confessions that are extracted by torture; with two death sentences of this nature having been issued as recently as March of this year.
We therefore ask Special Rapporteur Heynes to comment on how the Council can effectively respond to cases that warrant immediate attention, but also to cases that represent past occurrences.
Thank you.
23 Jun, 2015
Women Human Rights Activists Zainab Al-Khawaja and Ghada Jamsheer sentenced to prison again
The Bahrain Center for Human Rights (BCHR) condemns in the strongest terms recent court verdict on two human rights activists Zainab Al-Khawaja, and Ghada Jamsheer.
On Tuesday 02 June 2015, a Bahraini court sentenced activist Zainab Al-Khawaja to an additional nine months in prison, increasing her prison sentence in Bahrain to 5 years and one month, in addition to previous sentences. On this occasion, she was charged with entering a restricted area while trying to visit her father Abdulhadi Al-Khawaja, who is serving a life sentence at Bahrain's Jau Prison. Although, the sentence was suspended pending appeal on payment of 500 BD. (approx. USD$1325), Zainab Al-Khawaja is a mother of two, who has been arrested several times and jailed for 12 months in recent years due to her involvement in pro-democracy demonstrations.
On 04 December, Zainab Al-Khawaja was sentenced to three years' imprisonment for 'insulting the King' as well as received a fine of 3,000 BD. (approx. $8,000 USD). These charges were related to Zainab Al-Khawaja's exercise of her right to l freedom of expression where she tore up a photo of the King. The court set a bail fee of 100 BD.(approx. $265 USD) for putting the sentence on hold until the appeal trial outcome.
Meanwhile, on 09 December 2014, Zainab Al-Khawaja had three hearings when she was sentenced to one year in prison for allegedly "insulting a public officer." as well as four-month sentence for "destroying government property." The above charges against Zainab Al-Khawaja represent a pattern of the Bahraini government's attack on freedom of expression. Alkhawaja is expecting appeal trial on these cases on 13 September 2015.
In a similar development, on Tuesday 9 of June. Ghada Jamsheer, writer, blogger and human rights activists, was condemned to one year and eight months in prison regarding some messages she posted on Twitter about the corruption occurring at King Hamad Hospital.
Jamsheer has been charged with ' defaming a number of official employees on her Twitter account' after the complaint filed by Salman Attiyat Allah Al Khalifa, a member of the Bahraini ruling family and the head of the hospital.
It should be mentioned that Jamsheer, whose blog http://bahrain-eve.blogspot.com/ has been blocked in Bahrain since at least 2009, was previously arrested and detained in Semptember 2014 for over three months for charges of deflamation on Twitter. In addition in March 2015 Ghada Jamsheer was banned by the authorities from traveling, after she attempted to fly to France via Bahrain International airport to receive medical treatments. The BCHR believes that by enforcing such bans, the government of Bahrain continue in its attempt to clamp down on activists and restrict their movements.
The BCHR affirms that the sentence against the aforementioned human rights defenders is in direct violation of their right to freedom of expression and therefore call on the authorities to:
Drop all the charges against Zainab Alkhawaja and Ghada Jamsheer, and end the ongoing judicial harassment against them.
Immediately abrogate all the norms that restrict and impede basic human rights and freedoms stipulated by the Universal Declaration of Human rights.
Cease targeting activists and human rights defenders in all cases that contravenes international law.
22 Jun, 2015
Bahrain: Oral Intervention at 29th Session of Human Rights Council, 2015 by BCHR Representative
On June 18, a representative from the Bahrain Centre for Human Rights delivered an oral intervention on behalf of ADHRB and other NGOs at the 29th session of the United Nations Human Rights Council in Geneva, 2015. click on the youtube video below to watch and listen to the full intervention, or scroll down to read the full text of the intervention.
Mr. President,
The Alsalam Foundation together with Americans for Democracy & Human Rights in Bahrain, the Bahrain Center for Human Rights and the Bahrain Institute for Rights and Democracy would like to thank the Rapporteur for his report and for his work in advancing the universal human right to education.
The Vienna Declaration and Programme of Action considers education as an essential tool for achieving sustainability in all nations. Meanwhile, Article 28 of the Convention on the Rights of the Child mandates that States make primary education compulsory for all children and secondary education "available and accessible to every child." Unfortunately, States often ignore these international standards, and continue to deprive their youth prisoners of their fundamental right to education.
For example, authorities in Bahrain's Jau Prison regularly deny child and youth inmates serving arbitrary political sentences access to education. In 2013 and 2014, Jau Prison authorities prohibited arbitrary detainee Sayed Qassim, a grade 9 student, from studying. As a result, Sayed Qassim failed his courses, and can no longer register for school. Additionally, Sayed Adnan Sayed Majeed al-Khabbaz had to forfeit his education altogether due to alleged miscommunications between Jau Prison and the Ministry of Education. Sayed Qassim and Sayed Adnan's treatment are emblematic of how Jau Prison authorities deprive incarcerated youth of their fundamental right to an education.
International human rights law binds all States and their agents, including prison authorities. As States like Bahrain fail to fully implement the VDPA and CRC's requirements for child education, we invite the Rapporteur to comment on the need for education programs in prisons, and ask him to provide recommendations that States may immediately implement towards the education of incarcerated youth.
Thank you.
16 Jun, 2015
NGOs Condemn 4 Year Prison Sentence Against Bahrain Opposition Leader Sheikh Ali Salman
16 June 2015 – The Bahrain Institute for Rights and Democracy (BIRD), Americans for Democracy for Human Rights in Bahrain (ADHRB), and the Bahrain Center for Human Rights (BCHR) strongly condemn today's sentencing of Sheikh Ali Salman to four years in prison on politically-motivated charges. The arrest, detention and sentencing of Sheikh Ali Salman is in contravention of international obligations and is a reprisal against his peaceful political activities as the leader of the largest opposition party in Bahrain. We are also concerned that this sentence is a step back in the struggle for democratization in the country and symbolizes a greater repression of dissent.
Sheikh Ali Salman was charged with publicly inciting hatred, an act which disturbed public peace, inciting civil disobedience of the law, insulting public institutions and promoting a change in the regime, in addition to a litany of other charges. The Fourth High Criminal Court sentenced Sheikh Salman for a total of four years on the first three charges and found him not guilty of the latter. Sheikh Salman is to serve his sentence at Jau Prison. Following the sentence, Sheikh Salman's lawyers confirmed that they will appeal the decision before a Higher Court.
Earlier this month, the Office of the High Commissioner for Human Rights (OHCHR)repeated its earlier call for Sheikh Salman's release. The OHCHR reiterated its concern that Sheikh Salman is being targeted for his political activities in a recent Joint Communication Report . The Special Rapporteur on Freedom of Expression, Special Rapporteur on Freedom of Peaceful of Assembly, Special Rapporteur on Freedom of Religion, Special Rapporteur on Human Rights Defenders, Special Rapporteur on the Independence of Judges and Lawyers, and the Working Group on Arbitrary Detention also expressed concern that the arrest and prosecution of Sheikh Ali Salman was on the basis of his political views, leadership position with the Bahraini opposition, and his identity as a member of a religious group and as a religious figure.
At the time of his arrest in December 2014, the US Department of State also stated it was "deeply concerned" about Sheikh Salman's arrest. At the 29th Session of the UN Human Rights Council this week, the US Mission to the United Nations reiterated this concern and encouraged Bahrain to follow international standards of due process in Sheikh Salman's trial.
Husain Abdulla, Executive Director of ADHRB commented, "The conviction of Sheikh Ali Salman represents yet another major step backwards for democratic reform in Bahrain." He added, "His sentence makes it clear that the ruling regime is not interested in engaging in dialogue with its citizenry and represents a strong signal to Washington and London that their indulgent approach to Bahrain will not garner reforms, but only further repression."
Sheikh Ali Salman's lawyers have maintained that the court did not follow due process and that the trial was unfair. The lawyers stated that the only evidence the defence was permitted to present were excerpts of Sheikh Salman's speeches, which were taken out of context, and false testimonies. According Salman's defense team, the judge exhibited a clear bias by deliberately interfering in the cross examination of the defense's key witnesses, by objecting to their questions or rephrasing them. During the last trial session on 20 May 2015, the judge suspended the hearing after a few minutes without allowing the defense lawyers to submit further documents as evidence. Sheikh Salman's lawyers submitted a complaint to the Head of the Supreme Council of the Judiciary requesting the installment of a new court panel that would respect their client's right to a fair trial. However, no response has been received so far. The court has also repeatedly denied requests to release Sheikh Salman on bail.
"The sentence of Ali Salman once again cosnfirms the lack of transparency and independence of Bahrain's judiciary," said Said Yousif, Vice-President of the BCHR. "Like Nabeel Rajab and the Bahrain 13 before him, Ali Salman has been punished for his free speech."
The Bahraini government has been targeting Al-Wefaq Society members for their political views and human rights activism for years. Sayed Jameel Kadhem, head of Al-Wefaq's Shura Council, was also taken to court in January over comments he posted on Twitter regarding corruption during the November 2014 elections. He was sentenced to six months in jail and remains imprisoned. In 2013, authorities arrested Khalil al-Marzooq, the Deputy Secretary-General of Al-Wefaq, and imposed a travel ban after he delivered a public speech criticizing the government. Two Al-Wefaq ex-MPs were stripped of their citizenship while some were arrested, detained, and tortured in 2011. Additionally, the government opened an official investigation into the political society in for "criminal tweets" in February 2015.
"Sheikh Ali stood for national reconciliation and peaceful advocacy, and his imprisonment is the clearest indication yet that Bahrain has turned its back on honest reform," said Sayed Ahmed Alwadaei, Director of Advocacy at BIRD. "Bahrain's international allies must reject this categorically."
Sheikh Ali Salman's conviction is in contravention of international legal protections, including his right not to be deprived arbitrarily of liberty as set forth in Article 9 of the Universal Declaration of Human Rights (UDHR) and Article 9 of the International Covenant on Civil and Political Rights (ICCPR), to which Bahrain is a signatory. By sentencing Sheikh Salman for his political views, Bahrain has violated his right to freedom of expression under Article 19 of the ICCPR and his right to freedom of association under Article 22 of the ICCPR. Sheikh Salman is being targeted for being a leader of the largest political opposition group and for being a prominent religious figure in Bahrain, in violation of his right to freedom of religion under Articles 2, 18 and 26 of the ICCPR. Further, the court violated his right to prepare his defense as set forth in Article 14 of the ICCPR, and principle 21 of the Basic Principles on the Role of Lawyers.
We, the undersigned human rights organizations, call on the Government of Bahrain to:
Reverse the sentence against Sheikh Salman and release him immediately and unconditionally;
Cease targeting Sheikh Salman and other political activists in Bahrain and guarantee their freedom of expression;
Ensure that political societies and activists are able to conduct their work in a safe and enabling environment, without fear of reprisal.
4 Jun, 2015
June Champions for Justice: The Prisoners of Jau
Jau Prison is the largest male detention facility in Bahrain and is used to detain many prisoners of conscience. Conditions at the prison are characterized by inadequate healthcare facilities, unsanitary cells and toilets, and extreme overcrowding: recent estimates place Jau's current population at more than double its capacity. Prisoners protested these conditions by peacefully, staging demonstrations and going on hunger strike, but on March 10, 2015, a riot broke out as some prisoners took to violence. Prison guards and riot police backup reacted by collectively beating the prisoners and shooting tear gas and firing shotguns into enclosed cell blocks. The guards then herded the prisoners into the building courtyards, where they stayed in extreme temperatures for weeks. Since March, the prisoners of Jau have been subjected to collective punishment, enforced disappearance within the prison and physical and mental torture.
As June 26 is the International Day for Victims of Torture, this month we highlight the prisoners of conscience who continue to suffer abuse at Jau.

Abbas al-Samea is a 25-year-old teacher from the village of Sanabis. Al-Samea was arrested on March 3, 2014, after a bomb killed three policemen. Despite evidence that he was in school at the time of the bombing, a judge sentenced him to death on February 26, 2015. Government forces have subjected Al-Samea to various forms of torture, including cigarette burns, electric shocks, sleep deprivation, and sexual assault. After having his face beaten, Al-Samea suffers from swollen gums, missing teeth, a broken nose, and internal bleeding. The United Nations Special Rapporteurs for freedom of peaceful assembly and of association, independence of judges and lawyers, terrorism, and torture, and the Working Group on arbitrary detention have all expressed serious concern about Al-Samea in their latest Joint Communications Report.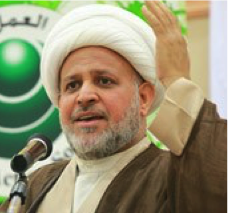 Naji Fateel is from the village of Bani-Jamra. Fateel is a prominent human rights defender and co-founder of the Bahrain Youth Society for Human Rights (BYSHR). On May 2, 2013, plain clothes security forces arrested Fateel at his home and held him incommunicado for three days. On September 29, 2013, a Bahraini court sentenced Fateel to 15 years in prison on political charges. He is serving his sentence in Jau, where he participated in a hunger strike to protest his detention and the treatment of prisoners. Mr. Fateel has also been the subject of multiple communications from United Nations Special Rapporteurs who have expressed concern about his arrest, conviction and treatment in prison. During the March 10 riot, government forces singled out Fateel for physical beatings, even though he did not take part in the riot. For several weeks after the March 10 events, Fateel's family was unable to communicate with him. On one occasion when Fateel's wife tried to visit him in prison, guards presented her with a note, not in Fateel's handwriting, stating that he did not want to see her.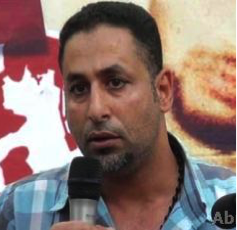 Sheikh Mahfooz is a Shia religious cleric and prisoner of conscience at Jau Prison. Sheikh Mahfooz has never advocated violence but was singled out for mistreatment by guards during and after the riot. Prison guards forcibly shaved his beard and head. Guards have also beaten and tortured him repeatedly, leaving him very weak.
We call on the Bahraini government to allow the UN Special Rapporteur on Torture into the country to conduct an independent investigation into the use of torture and standards of detention. We also urge a prompt and impartial investigation into crimes of mistreatment of detainees, and the prosecution of and all individuals found to have taken part or been complicit in acts of abuse.
During the month of June, we ask that all supporters of human rights in Bahrain, raise the issue of torture at Jau prison with their elected officials. Supporters can also highlight these cases by engaging on social media using hashtag #JauTorture.
1 Jun, 2015
Bahrain: Further information: Court upholds death sentences of two men
Death sentences imposed on Mohamed Ramadhan 'Issa 'Ali Hussain and Hussain 'Ali Moosa Hussain Mohamed in December 2014, following an unfair trial that relied on "confessions" extracted under torture, were confirmed on 26 May by a Court of Appeal in Manama. The death sentences will go to the Court of Cassation for final ratification.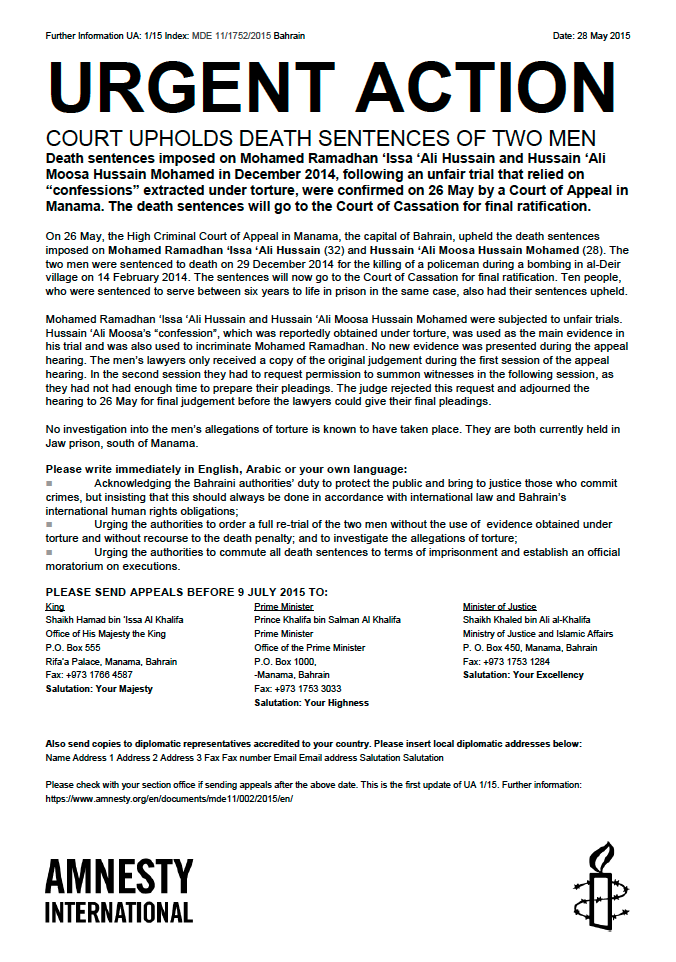 27 May, 2015
Nabeel Rajab's Speech at the 2015 Oslo Freedom Forum: Delivered by Said Yousif Almahafdah
Bahraini human rights defender, and president of the Bahrain Center for Human Rights (BCHR) Nabeel Rajab wrote the speech below, which he was to deliver at the 2015 Oslo Freedom. The Oslo Freedom Forum (OFF) is a thriving global community of people who share the common vision of making the world a more free and open place. However, due to Nabeel Rajab's imprisonment in Bahrain, he was unable to deliver the said speech in person. Hence, the Vice President of BCHR Said Yousif Almahafdah delivered the speech on behalf of Nabeel Rajab. Below is the complete speech.
My name is Nabeel Rajab, and I am writing you from my island country Bahrain, where I am in a prison cell. It was my intention to join you in person today at this exceptional forum and I was looking forward to meeting you human rights advocates and defenders of free expression, thought, and belief. However, I am now behind bars once again.
This is the fifth time that I am being jailed over the past four years. During most of my time in prison I have been completely isolated from the outside world. I am being punished not because I have committed a crime, but because I have defended the human rights of the oppressed and deprived ones, and because I have engaged in exposing the crimes of Bahrain's rulers and the dictators of the Gulf region.
My people are still living under a repressive regime that rules with an iron fist. A regime that prevents journalists from exposing abuses and rampant corruption; a regime that stifles the voices of intellectuals and advocates of reform and democracy. We, as a nation, are prevented from having ambition, dignity, or even dreams of freedom. Dreams have become crimes in my country of Bahrain, which, on a per capita basis, has more prisoners of conscience than any other country in the world.
I do not want to focus on myself and the suffering that my family and I have gone through, I am just one of the innocent hundreds whose fate is to be behind bars or in exile, simply for speaking or writing about our suffering. Gulf states like Saudi Arabia, are only known for being rich in oil and gas, for possessing the largest arms market in the world and for their wealthy sheikhdoms who hold investments in Western countries. Very few people know or talk about the fact that there are thousands of political detainees and prisoners of conscience in these countries, or that these countries are great violators of human rights.
The reason for the absence of this painful truth is that our authoritarian regimes have profitable economic ties with Western governments. Democracies in the West help whitewash our regimes, in order to obtain a share of their oil wealth. Western politicians choose narrow economic interests over the human rights of millions of oppressed people in the grip of tyranny in Bahrain and beyond.
Dear friends, as you can see we are not just the victims of autocratic regimes,we are also victims of the democratic West, a democratic West that supports and empowers our regimes and equip them with the tools and weapons they need to repress our people.
Regimes like Bahrain are wealthy and very generous in buying the silence of democratic governments and their media outlets in exchange for contracts and investments. The time to say enough with the silence and hypocrisy has come! The time has come to tell Western governments, do not build your interests and luxury on our people's misery. Please, consider that human rights should be the foundation of any commercial contract or economic interest.
We appreciate the global and Western commitment against militancy, extremism and terrorism, whose greatest ideological, social and financial incubator has been our region. However, we should not ignore the fact that one of the causes that leads to extremism is the absence of human rights, and the deprivation of any space for youth to express their aspiration for freedom, and the suppression of any calls for reform or opposition. Dissent has been crushed to such an extent in Bahrain that the place for our country's dignitaries and reformers is now prison or exile. We cannot defeat extremism without promoting freedom, having free and open debates, and involving the people in decision-making. If this will not be done, all efforts to combat militant extremism are meaningless.
Dear attendees, you are the most influential people in the world, you are capable of helping us bring to our region the change that we seek. You can make those changes through what you say and what you write, or if you support civil society and human rights groups. Thus, you are in part morally responsible for supporting the human rights movement in my country Bahrain and in the entire Gulf region. I hope you can consider supporting human rights and pro-democracy activists who work day and night in risky and difficult circumstances. We call upon you to pressure Western governments to respect justice and human rights standards -- the same human rights standards that you would work for within your borders.
One excellent example of this kind of support is the way the Norwegian government has sponsored this event. I thank the Norwegian government for giving me a platform to speak, as well as for demanding that my government release me. I also thank Norwegian civil society groups and all of the human rights defenders in the audience that ,from across the world, are in this same struggle.
I hope to meet you all soon.
Nabeel Rajab.
20 May, 2015
Two Men Ordered Deported After Bahraini Citizenship Revoked
20 May 2015 - The Bahrain Center for Human Rights (BCHR) is gravely concerned about the decision issued on 14 May 2015 by the Court to deport two men who had their citizenship revoked on 31 January 2015 together with 70 other people. The two men involved are Professor Masaud Mirza Jaffar Jahromi and Mohammed Hassan Ali Hussain, neither of whom has a second nationality.
The decision to revoke their passports in January 2015 was based on order from the Minister of Interior and allegations of "damage to the interests of the country and loyalty to the king". The court issued an order for their deportation and a fine of 100 dinars.
Professor Masaud Mirza Jaffar Jahromi holds a PhD in Telecommunication Networking from the University of Kent at Canterbury in the United Kingdom, and he was the Chairman of the Telecommunication Engineering Department at Ahlia University. In April 2011, he was imprisoned for five months on charges related to the peaceful exercise of his right to free expression and assembly. Professor Jahromi was released on bail on 12 September 2011, pending trial on 2 November 2011 and he remained suspended from the university. In January 2015, Professor Jahromi found himself on the list of Bahraini citizens whose passports were revoked.
Mohammed Hassan Ali Hussain is a member of the Secular Council.
On 28 October 2014, ten Bahrainis, who had their citizenship revoked on 7 November 2012, were also sentenced to deportation and a 100 Bahraini dinar (USD 265) fine. Shaikh Hussain al-Najati has already been forced into exile on 23 April 2014, after the government threatened his family with physical harm if he refused self-deportation.
The revocation of passports by a state and the decision to deport people whose passports were revoked, thus rendering them stateless and without any rights, constitute violations of internationally recognized human rights, as guaranteed by the International Covenant on Civil and Political Rights, and the Universal Declaration of Human Rights, to which Bahrain has acceded.
Since November 2012, Bahrain has revoked the citizenship of over 100 persons either through direct statements by the Ministry of Interior or through court orders.
The Bahrain Center for Human Rights call on the Government of Bahrain to:
Immediately halt the deportation of the two Bahrainis, which is in violation of Article 15 of the Universal Declaration of Human Rights;
Immediately reinstate the nationality of all those whose citizenship was revoked in January 2015, and;
Accede to the 1954 Convention relating to the Status of Stateless Persons and to the 1961 Convention on the Reduction of Statelessness.