9 Mar, 2017
Bahrain: Activist's Family Targeted
Bahraini authorities are apparently targeting the family members of a prominent Bahraini activist in retribution for his human rights work, Human Rights Watch said today.
Since March 2, 2017, authorities have detained the brother-in-law and mother-in-law of Sayed al-Wadaei, a United Kingdom-based Bahraini human rights activist who has accused the Bahraini authorities, including senior members of the ruling Al Khalifa family, of serious human rights abuses. Sayed al-Wadaei's wife, Duaa, told Human Rights Watch in October that a senior official had referred to her husband as "an animal" and asked, menacingly during an interrogation at Bahrain airport, "Where shall I go first, shall I go to his family or your family?"
Continue reading here.
9 Mar, 2017
Exiled Bahraini activist's family 'detained as revenge'
Family members of a London-based Bahraini activist have reportedly been arrested on the Gulf island in "retaliation" for his human rights work, campaigners have said.
The mother-in-law and brother-in-law of Sayed al-Wadaei were both recently detained by Bahraini authorities, his wife told Human Rights Watch, following what she said were continued threats against the activist's family.
Read full article here.
9 Mar, 2017
UK must stop Bahrain's reprisals against death penalty campaigner
The family of a UK resident who campaigns against the death penalty in Bahrain is coming under sustained attack, human rights group Reprieve has warned the Foreign Secretary.
Sayed al-Wadaei, director of the Bahrain Institute for Rights and Democracy (BIRD), says that Bahrani detectives have detained and tortured his relatives.
Read more here.
9 Mar, 2017
HRC 34 Oral Interventions: ID w/ UN High Commissioner for Human Rights
Mr. High Commissioner,
Americans for Democracy & Human Rights in Bahrain with the Bahrain Institute Rights and Democracy and the Bahrain Center for Human Rights would like to thank the High Commissioner for his report. We share your concerns raised about the deeply troubling human rights situation in Bahrain.
In January of this year, Bahrain unlawfully executed three victims of torture, in a move that ended an informal moratorium on executions in Bahrain since 2010, which you remarked was "deeply regrettable." Two additional men remain at imminent risk of execution.
In your report, you raised concerns over Bahrain's closing political and civil society space. Indeed, since June 2016, the government has moved to dissolve the leading political societies, al-Wefaq and Wa'ad, imposed lengthy arbitrary prison sentences against political opposition leaders, imprisoned human rights defenders like Nabeel Rajab, issued widespread travel bans against activists traveling to Geneva, and targeted civil society members and their families with acts of reprisal.
We agree that, "repression will not eliminate people's grievances; it will increase them."
We also echo your deep concern over the increasing human rights violations in the kingdom. Just this year, the government expanded the arrest powers of the National Security Agency (NSA) and approved a measure allowing civilians to be tried in military courts. The NSA was responsible for widespread enforced disappearance and deaths of detainees under torture in 2011. The agency's arrest powers were withdrawn in line with the recommendations of the 2011 BICI Commission. Reinstating these powers represents a dangerous reversal of one of the few constructive reforms undertaken since 2011. In another move that recalls the 2011 protests and subsequent government crackdown, Bahrain's legislature this week approved a draft law that would allow military courts to try civilians.
Finally, we agree that the government must undertake concrete confidence building measures to arrest the kingdom's steep decline over the recent months. With this in mind, we ask: what steps would you recommend to Bahrain's government, parliament and judiciary to effectively and urgently reverse these recent trends? And, what are some immediate steps you would recommend to the Government of Bahrain to de-escalate the rising crisis?"
Thank you.
8 Mar, 2017
The Legal Status of Women in Bahrain
In recognition of International Women's Day, the Bahrain Center for Human Rights has produced a report highlighting the legal status of Bahraini women. It is our belief that women in Bahrain should be accorded equal status in accordance with international human rights law.
Read the full report here.
Women in Bahrain are among the most liberally educated in the Gulf/MENA region, yet they are still underrepresented professionally. Women in Bahrain remain underrepresented politically and in the workforce. In the 2014 elections a small number of women were elected to both houses, only 21 members of the judiciary in the country are female. In spite of high graduation rates for women, 60% of those graduating in 2013-2014 were women, females are still underrepresented professionally, representing 33% of the private sector workforce. Women face unofficial discrimination in the workforce in regards to the provision of benefits such as bonuses and pay.
Bahrain ratified CEDAW in 2002, however the country failed to ratify the optional protocol of preventing violence against women, and acceded to the regulations with five reservations. Reservations were made in relation to articles 2, 9, 15, and 16. All reservations that were made directly contravened existing Bahraini legislation. The reluctance of the Bahraini government to wholly implement CEDAW has a significant impact on gender equality in the region.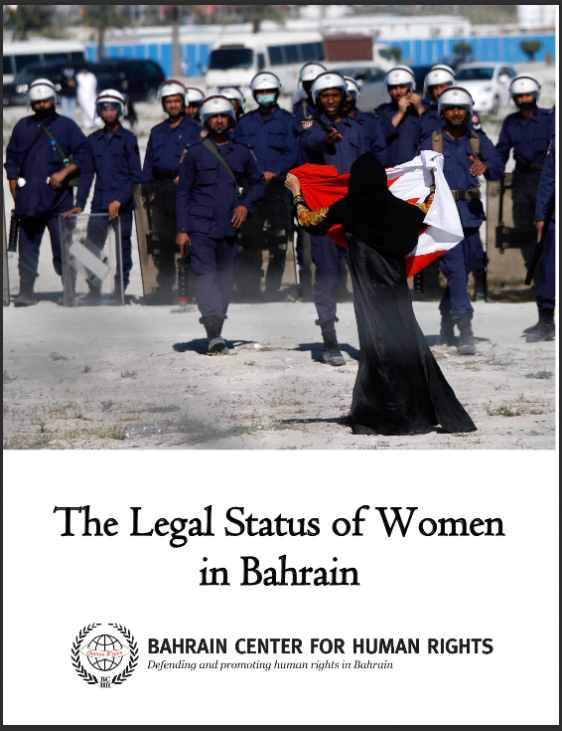 The first article that Bahrain made a reservation against was Article 2, Paragraph B, which states that a country should condemn all types of discrimination against women. Bahrain has no legislation protecting the freedoms of women in the region, and specific reference to protecting women's rights is made only when referring to their honour. The failure to condemn discrimination against women means that is difficult to prosecute individuals who discriminate on grounds of gender. The Bahraini government has also failed to recognise violence against women (VAW), there is no direct reference to VAW in the legislative framework. Pressure from the Supreme Council for Women, has however, resulted in training on gender issues being offered to the police force, and the judiciary. Spousal rape has yet to be criminalised by the Bahraini authorities, whilst Article 353 of the Penal Code, allows rapists to marry their victim, meaning that they avoid persecution. Services for victims of domestic violence, and sexual assault remain limited.
The second reservation made by Bahrain was in relation to the ability of Bahraini women to transmit their Bahraini citizenship to their offspring. In Bahrain nationality is transmitted through the male line. Women married to foreign born spouses, are unable to secure citizenship for their children, except in extremely limited circumstances by exceptional royal decrees. It is only through exceptional, royal decrees, that women have been allowed to transmit their citizenship to their children. The inability of women to transmit their citizenship to their children has resulted in children being refused identity documents, such as passports, and in some cases, birth certificates.
Read the full report here.
8 Mar, 2017
High Commissioner for Human Rights on the activities of his Office and recent human rights developments
In Bahrain, the Government has imposed increasing restrictions on civil society and politics since June 2016, including intimidation, arrests and interrogations, travel bans and closure orders. I repeat that this repression will not eliminate people's grievances; it will increase them. I am deeply concerned over the increasing levels of human rights violations in the Kingdom. I call on the Government of Bahrain to undertake concrete confidence building measures, including allowing my Office and Special Procedures mandate holders to swiftly conduct visits
Check the full report here.
8 Mar, 2017
Injured man and another 11 persons subjected to incommunicado detention, the new norm in Bahrain
The Bahrain Center for Human Rights (BCHR) is deeply concerned about the recent alarming increase in the use of incommunicado detention by the Bahraini authorities.
In the month of February 2017 alone, BCHR was able to document at least 10 cases of people arrested and detained without access to their lawyers, nor being granted free access to communicate with or receive visits from their families. It's under such conditions that the risk of being subjected to torture increases. BCHR strongly condemns the practice of incommunicado detention and expresses great concern over the safety of the victims and their wellbeing.
Hamed Jassim Al-Aabed (28) was arrested on 9 February 2017. In a statement, the Ministry of the Interior (MOI) said that it conducted an operation on 9 February "at dawn in Bahrain's surrounding waters, which was undertaken following an attempt by escapees from Jau prison to flee to Iranian waters." The MOI added that the operation resulted in the death of three individuals, and the ultimate arrest of seven others. Al-Aabed's name was mentioned as being one of those arrested, for involvement in "the terrorist attack on Jau Prison and/or aiding and abetting fugitives." The MOI statement confirmed that Hamed was injured during arrest, but his family received no official communication about the condition of their son. Up until 8 March his family was completely unaware of Al-Aabed´s whereabouts or wellbeing. They went to ask about Al-Aabed at the military hospital on 16 February 2017, after they heard news he was there; however they were turned away and no info was provided to them.
Mohamed Jassim Al-Aabed (28), Hamed Jassim Al-Aabed's twin brother, was arrested in the same conditions. His family told BCHR that Mohamed Jassim Al-Aabed suffered injuries in his hand and back during the arrest. He was treated at the military hospital, where he heard news that Hamed was there as well and he informed his family on 16 February 2017. He called his family from detention at the Criminal Investigations Directorate (CID) several times, but no visits were allowed, nor access to a lawyer.
Ahmed Mohamed Saleh Al-Arab (26), according to a statement released by the MOI, was among the escapees that on 1 January 2017 broke out from Jau Prison and allegedly killed a policeman. Al-Arab´s family first heard news about him on 9 February, when the police announced they had recaptured him. The family was not able to get any details of the arrest other than what was announced by the MOI. According to Al-Arab's brother, he called very briefly on the morning of 11 February. He sounded very weak and his father couldn't recognize his voice. He said he was at the CID and asked to bring him clothes. "My father took the clothes later that day and the police took them from him. We remain extremely worried for Ahmed. On top of that, Ahmed was subjected to severe torture at CID when he was arrested in 2014, which is why we fear his life is at risk while there now." Ahmed Al-Arab has not been granted access to his family or lawyer since arrest.
Ali Mohamed Ali Al-Arab (23) was arrested along with Ahmed Al-Arab. His family has no idea he was arrested and they know only what was on the MOI statement on 9 February 2017. His two brothers were arrested on 2 February 2017 to force him to submit himself for arrest, and they were released immediately after his arrest on 9 February. He was not wanted before, but became a wanted man after the prison escape. He first called on 11 February, sounding very weak, and said he was detained at CID. He later called several times, always sounding very tired and weak. During a call on 28 February he said he was held in solitary confinement and was unable to speak about his wellbeing when asked. He said he doesn't know for how long he will be in solitary and said he can't hear any voices there. Al-Arab has not been granted access to his family or lawyer since arrest.
Sadeq Ahmed Mansoor (27) was arrested on 10 February 2017, through a house raid on his friend's house in Saddad. No arrest or search warrant were presented and the house owner was brutally beaten. Mansoor suffers pain in his back as a result of a police attack prior to his arrest. The only time his family found out about his charges was when the MOI published a statement on 21 February 2017 along with photos of the defendants accusing him of "executing the jailbreak and sheltering fugitives." Mansoor was able to make a call for the first time on 12 February, from CID, but was not allowed visits from his family or a lawyer up until 7 March 2017.
Amira Mohamed Saleh Al-Qashami (35), mother of two children, her father Mohamed Saleh al-Qashami (65), and brother Abul Alfadhel Mohamed Saleh Al-Qashami (24), were arrested on 9 February 2017. Their house was raided at 9 AM by riot police and security men in civilian clothes, plus commandos in black who are believed to belong to the national security apparatus, who stormed the house after breaking doors; no arrest warrant or search warrant was presented. They covered the head of Abul Alfadhel Mohammed Saleh Al-Qashami with a black plastic bag while taking him out. His sister was outside the house and was not allowed to enter. The house was damaged during the raid. Their family was provided no information about the charges, until the MOi published a statement along with photos of the defendants accusing them of "executing the jailbreak and sheltering fugitives." They made frequent calls to their families, but neither visits nor access to lawyer were allowed up until 7 March 2017.
Yousif Hasan Mohamed (21) was arrested through a house raid on 11 February 2017, at 3AM, by security men in civilian clothes, plus others in black clothes who are believed to belong to the national security apparatus. They broke the door and immediately took Mohamed out, before his family could recognize what was going on in the house. He called several times from detention but could not talk freely. On 21 February his photo appeared with the MOI statement in which he was accused of being allegedly involved "in various terrorist crimes." During a call on 22 February he sounded very weak and tired. He has not been allowed visits from his family, and is believed to be held at CID (as per the phone calls).
Jaffar Naji Humaidan (21) was similarly arrested through a house raid on 9 February by security men in black clothes, who are believed to belong to the national security apparatus. No arrest or search warrant was presented, and the security men used pepper spray against Jaffar's sisters when they refused to hand over their phones. On 21 February his photo appeared with the MOI statement in which he was accused of allegedly being involved "in various terrorist crimes." As per the other cases, no visits from family and lawyer were allowed.
The practice is not new though. Two cases of people held in incommunicado, are still ongoing since 2016.
Sayed Fadhel Abbas Radhi (24) was arrested from his house on the night of 29 September 2016 by security forces in civilian clothes who did not have any warrants permitting a search of the property nor his arrest. His family has since been unable to visit him, despite having been granted permission from the public prosecution. The CID, which is detaining Radhi, has refused them access. Although he was allowed to make a few calls, he was not allowed to talk freely and his family reported that he sounded very weak. On 1 March 2017 his family received a call from him, after 87 days of silence. He is still not permitted to meet his family or to access his lawyer.
Sayed Alawi Hussain Alawi (43), has spent more than four months in detention without access to his lawyer, and has also been denied visitation with his family. Charges against him remain unknown. Arrested on October 24 without a warrant, his family filed a complaint with the Ombudsman for illegal and arbitrary arrest and called upon the National Human Rights Institute (NHRI), a governmental body whose members are appointed by the king, to act on the case. Accordingly, the government, via the head of the Human Rights Committee at the Bahraini Parliament, stated that Alawi is "detained pending investigation" and that "all the formal procedures have been taken properly and correctly according to the rules applicable in the Kingdom of Bahrain." On 29 February 2017, he was allowed a brief phone call to his family, in which he asked them to pray for him.
The United Nations Special Rapporteur on Torture considers that incommunicado detention creates conditions that facilitate the perpetration of torture and can, in itself, constitute a form of cruel, inhuman or degrading treatment or even torture. Indeed, as has been the case in many instances reported by BCHR, the period of disconnecting detainees from contact with the outside world is often the period they are allegedly subjected to torture to force confessions at the notorious CID.
The UN Working Group on Arbitrary Detention considers that incommunicado detention "constitutes the most heinous violation of the norm protecting the right to liberty of human beings under customary international law. The arbitrariness is inherent in these forms of deprivation of liberty as the individual is left outside the cloak of any legal protection."
According to Article 9 of the International Covenant on Civil and Political Rights (ICCPR), to which Bahrain acceded in 2006, "Anyone arrested or detained on a criminal charge shall be brought promptly before a judge or other officer authorized by law to exercise judicial power and shall be entitled to trial within a reasonable time or to release."
We therefore call on the government of Bahrain to:
Abide by international norms and regulations, and grant detainees access to legal procedures, as well as visits from family members; and
End the practice of arbitrary arrest, enforced disappearance and incommunicado detention in Bahrain.
7 Mar, 2017
Bahrain's Third Cycle UPR: A Record of Repression
Bahrain Center for Human Rights (BCHR) together with Bahrain Institute for Rights and Democracy (BIRD) and Americans for Democracy & Human Rights in Bahrain (ADHRB) are publishing today the report "Bahrain's Third Cycle UPR - A Record of Repression" during the event "Third Cycle - Bahrain - Universal Periodic Review", marking the 34th session of the United Nations Human Rights Council in Geneva. See a summary of the assessment below, and click here for the full report.
Assessment
Just over a year after government forces violently suppressed the country's mass pro-democracy protests in 2011, Bahrain entered its second four-year cycle of the Universal Periodic Review of Human Rights (UPR). On 6 July 2012, member and observer states of the United Nations (UN) Human Rights Council (HRC) submitted 176 recommendations to the Bahraini government, addressing a wide range of issues from criminal justice reform to women's rights. That October, the government partially or fully accepted 158 of these recommendations, pledging to take the requisite steps to bring the country's practices in line with international human rights standards.
Four years later, at the end of Bahrain's second cycle, Americans for Democracy & Human Rights in Bahrain (ADHRB) is forced to confirm its 2014 midterm assessment:[1] the government's second chance has become yet another missed opportunity.
Since 2012 – and since the 2011 pro-democracy movement, more broadly – the Bahraini government has intensified its campaign against civil society and peaceful political opposition, imposing increasingly draconian restrictions on basic freedoms that have stifled progress across the spectrum of human rights. ADHRB, the Bahrain Center for Human Rights (BCHR), and the Bahrain Institute for Rights and Democracy (BIRD) have assessed both the Bahraini government's technical implementation of its second-cycle UPR recommendations as well as its larger efforts to resolve the country's major political and human rights challenges.
We find that the Bahraini government has failed to fully implement any of its 176 second-cycle UPR recommendations. Of the 158 recommendations accepted by the government, only two have seen any significant progress toward implementation. ADHRB, BCHR, and BIRD have not perceived any substantive progress for 133 recommendations and assess that 23 others have been merely technically implemented with little to no substantive impact.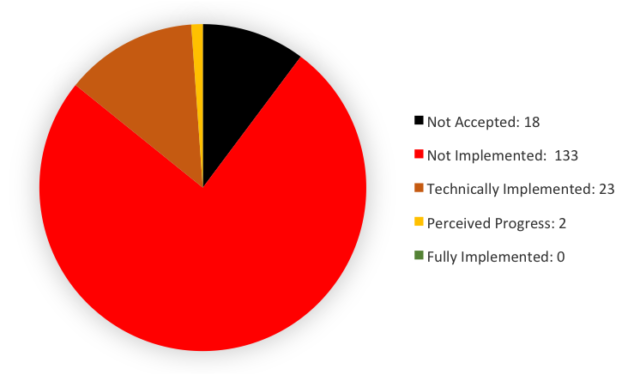 Key Figures and Findings
76% of the second-cycle recommendations are wholly unimplemented
These include issue areas such as:
Criminal Justice; Freedom of Expression, Media, and Press; Treaties and International Human Rights Mechanisms; National Dialogue; Implementation of BICI; Religious and Cultural Rights
13% of the second-cycle recommendations have seen only technical progress
These include issue areas such as:
Compensation for Victims; Women's Empowerment; Children's Rights; Welfare
1% of the second-cycle recommendations have been partially implemented
These comprise two recommendations to:
Establish an Arab Court of Human Rights; and Rebuild Shia Religious Sites
10% of the second-cycle recommendations were rejected outright
These include recommendations to:
Abolish the Death Penalty; End Violence and Impunity; Release Political Prisoners (specifically Abdulhadi al-Khawaja); and Ratify Specific Treaties including the Rome Statute, Strengthen Cooperation with UN Human Rights Mechanisms, and Facilitate Country Visits by the UN Special Procedures
| | | |
| --- | --- | --- |
| Implementation Status | 2014 Midterm Assessment | 2016 Final Assessment |
| Not Accepted | 18 | 18 |
| Not Implemented | 117 | 133 |
| Technically Implemented | 39 | 23 |
| Perceived Progress | 2 | 2 |
| Fully Implemented | 0 | 0 |
At the end of its second UPR cycle, the Government of Bahrain has proven either unable or unwilling to implement almost any recommendations, including those to reform its criminal justice system, curb the use of torture, or institute sufficient protections for fundamental human rights like free expression, assembly, association, and belief. Rather, Bahraini authorities continue to arbitrarily arrest, disappear, torture, and imprison individuals for exercising these rights. Since 2012, the government has significantly expanded its penal code, counterterror legislation, and cybercrime law to broadly restrict civil society and effectively criminalize all forms of dissent. The government has additionally taken steps to harass, dissolve, and constrain most of Bahrain's civil, political, and religious organizations.
Notably, some important issue areas had seen limited improvement at the halfway point of Bahrain's second UPR cycle, such as women's rights and gender equality. Yet today, the government has significantly regressed even here, targeting women human rights defenders for reprisal and issuing problematic new policies such as a male guardianship system for female religious pilgrims. For these reasons we have downgraded the ratings of several recommendations since ADHRB's 2014 midterm assessment, resulting in a lower final evaluation.
Ultimately, the poor implementation status of Bahrain's second-cycle UPR recommendations underscores a disturbing backward trend in the overall human rights situation. ADHRB, BCHR, and BIRD therefore call on the international community to not only hold the Bahraini government accountable for this complete failure to fulfill its second-cycle UPR obligations, but to also issue an even more thorough, pointed set of recommendations for the upcoming third cycle. We additionally urge the international community to take all possible measures to ensure the Government of Bahrain responsibly and transparently commits to a path of true reform as laid out by the UPR process for the next four years.
Read the full report here.
[1] A Follow-Up Report on A Bahrain's UPR Second Cycle: The Deteriorating Human Rights Situation in Bahrain, ADHRB, 23 April 2014, http://www.adhrb.org/2014/04/a-follow-up-report-on-bahrains-upr-second-cycle-the-deteriorating-human-rights-situation-in-bahrain/
7 Mar, 2017
US Department of State: 2016 Human Rights Report - Bahrain
The US Department of State Human Rights Report cover internationally recognized individual civil, political, and worker rights, as set forth in the Universal Declaration of Human Rights and other international instruments. It provides a global overview as well as sections on each country.
See the executive summary written on Bahrain below:
The constitution does not explicitly protect freedom of religion, but does provide for freedom of worship, and the government generally respected the right of citizens and foreign residents to practice their religion. The trend in the government's respect for religious freedom did not change significantly during the year. The Sunni Muslim citizen population enjoyed favored status. The country experienced some sectarian violence and predominately Shia groups conducted regular demonstrations and protests calling for political reform. The government increasingly scrutinized clerics' sermons, arrested members of the Shia community, including clerics, and stripped the citizenship of 31 Shia citizens, including three clerics, it deemed posed a security threat to the country. There were allegations of excessive use of force, torture, and mistreatment of detainees arrested during protests. The government took steps to implement the Bahrain Independent Commission of Inquiry (BICI) recommendations related to the Shia community, such as reinstating many Shia governmental and parastatal employees who were dismissed in 2011, and rebuilding some of the Shia religious sites that were destroyed in 2011. The government welcomed the transfer of the Roman Catholic Vicariate of Northern Arabia from Kuwait to Bahrain, and donated land for its complex.
There were some reports of societal abuse or discrimination based on religious affiliation, belief, or practice, including incidents of sectarian violence, especially between the Sunni and Shia communities. Some pro-government press outlets and social media posters employed anti-Shia rhetoric and epithets. When the Roman Catholic Vicariate of Northern Arabia moved to the country, some clerics protested, saying that it was forbidden to build churches in the Arabian Peninsula region.
Senior U.S. government officials, including U.S. embassy representatives, raised with the government, political societies, civil society organizations, and the broader public U.S. concerns about government restrictions on and abuses of religious freedom. Embassy officials monitored the implementation of the BICI recommendations, including the reconstruction of places of worship. Embassy officials and visitors from the United States also engaged the public on issues of religious tolerance.
Download the full section on Bahrain here.
For the entire report see: US State Department 2016 Human Rights Report
7 Mar, 2017
Event Summary: Bahrain - 3rd Cycle UPR
On 7 March 2017 BCHR´s Julie Gromellon chaired a side event at HRC34 focusing on Bahrain´s upcoming Third Cycle Universal Periodic Review in May 2017.
Julie Gromellon of the Bahrain Center for Human Rights (BCHR) started off the panel mentioning this is one more Council session where the HRC has not taken action despite deteriorating human rights abuses in Bahrain, including reprisals against human rights defenders, executions, and the continuing deterioration of the broader human rights environment in the country.
Sam Jones, Researcher at Americans for Democracy & Human Rights in Bahrain (ADHRB) followed Ms. Gromellon and framed the debate. He remarked about Bahrain's engagement with the Universal Periodic Review (UPR) process during its second cycle review in 2012, noting that Bahrain engaged with the UPR mechanism one year after the government suppressed the popular pro-democracy movement. During that cycle, the international community made 176 recommendations, of which the government accepted 158. In the aftermath of the government's violent response to the peaceful protests, the government also accepted the 26 recommendations made by an international panel of human rights experts, the Bahrain Independent Commission of Inquiry. As Sam noted, despite this ostensible engagement with the international community, "ADHRB is forced to conclude that the government has is either unable or unwilling to engage in reform." The Bahraini government has failed to fully implement any of its 176 recommendations and has only made progress on two of the recommendations. It has technically implemented 23, but demonstrated its unwillingness to reform by actively contravening recommendations to curb torture and arbitrary detention or to protect free expression, free assembly, and detention.
Some issue areas that had seen limited success have since been downgraded by ADHRB due to government backtracking on recommendations where that had been nominal progress, including those pertaining women's rights. Since 2012, the government has expanded its legal framework to restrict civil society and taken steps to harass and dissolve civil society organizations. Recently, it has dissolved the Al-Wefaq National Islamic Society and now it is targeting Wa'ad, a secular, leftist organization. These actions have heralded a "disturbing backward trend in its overall human rights environment" as the government "harasses scores of activists and journalists." According to Mr. Jones, "in just two months since sent we this report for printing, the government has committed some of its most egregious human rights violations": not only have the authorities targeted Wa'ad, but they have executed of three victims of torture after unfair trials based on coerced confessions, empowered the NSA to prosecute activists, and advanced an amendment to allow military courts to try civilians. Mr. Jones finished his remarks by re-emphasizing past recommendations that should be implemented, noting that recommendations should be specific and time bound and should including reporting procedures. "Bahrain is at a crucial juncture" and the UPR is one of the few mechanisms for serious human rights reform. "If there is not concerted international pressure, it is deeply troubling to imagine where Bahrain will be by the next UPR cycle."
Ebrahim Demestani, the Vice-President of the Bahrain Nursing Association followed Mr. Jones' remarks and spoke about medical impartiality, access to medicine, and the recent militarization of hospitals and medical services. He spoke about his experience in 2011 as one of the medics targeted by the government for treating injured protesters and noted how the government arrested the medics and subjected them to different types of torture. Recently, the situation has become worse as the government has militarized the medical services, beginning with taking over the only civilian hospital in the country. "The government replaced civilian management with military management and targeted the nurses and paramedics." Mr. Demistani also stated that he was one of several medical personnel, including Dr. Ali al-Ekri to be tried and sentenced in a military court. Furthermore, after a government edict, hospitals cannot treat protesters immediately, but must first wait for the approval of the Ministry of Interior. The government also transferred the oversight of ambulances from the Ministry of Health to the Ministry of Interior. "This led to the case of a protester who was hit in the head with a bullet, but who was scared to receive medical attention because of the fear of torture that he became effectively braindead while waiting for attention."
Mr. Demistani also talked about the dismissal of medics from their jobs who participated in 2011 protests. "Thanks to Canada who recommended reinstating dismissed employees, and other international efforts, some were reinstated. But we are hoping in the coming UPR to receive more and more specific recommendations regarding dismissed employees." While the ILO and Ministry of Labor have an agreement to reinstate dismissed employees, many have not been given back their jobs. He closed his remarks by speaking about the human rights environment in Bahrain, saying, "Things have gotten worse and we heard two days ago that government is trying to dissolve Wa'ad society. We want the international community to support us so we can continue to advocate for human rights and freedom and to do this, we need the help of the human rights community."
A representative from Reprieve followed Mr. Demistani and spoke about executions and the death penalty and about the United Kingdom's role in whitewashing the human rights abuses perpetrated by the Bahraini government. Over the past five years, the UK Foreign and Commonwealth Office (FCO) has spent millions of pounds to improve Bahrain's human rights standards, particularly the Ombudsman, National Institute for Human Rights, and the Special Investigation Unit. The UK argues that these bodies are progressing and getting better and working to improve the situation of human rights in Bahrain, but this is untrue. "I want to push back against the myth that there is legitimate human rights reform in Bahrain." This reform program serves the "Bahraini government to white wash" human rights abuses. Since the UK's involvement, Bahrain's human rights situation has not gotten better. Rather, its record remains extremely poor.
Despite their mandate and the outcry over Ali al-Singace, Ali Mushaima, Abbas al-Samea, Mohammed Ramadan, and Husain Ali Moosa over their torture and coerced confessions, "These reform bodies have flatly refused to investigate allegations of torture." According to Reprieve, "This is not an issue of these bodies needing more time to develop. Rather, these institutions are responsible for illegal conduct that has made them complicit in the abuses." Continued UK endorsement of these institutions thus serves to deflect international scrutiny of Bahrain's human rights record at a time when this scrutiny is needed, as country's see the UK is working with them and thing to hold off their criticism.
International mechanisms operate as a means to challenge Bahrain and the UK over these institutions and consistent allegations of torture. If Bahrain wants to prove these are legitimate reform efforts and not an elaborate white washing exercise, it needs to ratify the Optional Protocol to the Convention Against Torture and allow the Special Rapporteur on torture to visit the country. These are basic anti-torture steps. If there is political will to end torture these are easy steps.
Sayed Ahmed AlWadaei from the Bahrain Institute for Rights and Democracy (BIRD) closed the panel and discussed his experience as a protester and victim of reprisals for his engagement at the United Nations Human Rights Council. In many ways, the pro-democracy uprising in Bahrain was the most inconvenient protest in the Arab world as so many countries have interests in the country. In suppressing the protests, the government used military courts whose staff members enjoy humiliating defendants. After being detained for his engagement with the protests, security forces detained Mr. AlWadaei and assaulted him, sentencing him to one year in prison. After he was released, he fled to the UK for asylum. In 2015, Mr. AlWadaei took an advocacy trip in Europe with Nabeel Rajab. They told the world what it means to be a human rights defender in prison and highlighted harassment of Nabeel, "There is no clearer case for human rights defenders being imprisoned as a voice for the voiceless than Nabeel Rajab" and he is now in prison for interviews and tweets.
On 31 January 2015, Mr. AlWadaei found out that the Bahrain News Agency had listed him along with 72 other individuals as denaturalized persons. He thought there must be an international outcry over this, but there was no serious consequence. In to the mass denaturalizations, Bahrain has committed a number of acts that some would consider red lines, such as empowering military courts to convict terrorists and putting Bahrain is now a de facto state of martial law. "No one from the state has taken responsibility for the death of Mohammed Hamdan and the same state bodies are responsible for murdering Kareem Fakhrawi." The only difference between now and 2011 is that in 2011 governments condemned the issues in 2011. Now, the UK supports Bahrain, "putting its faith in the abusers."
Recently, Mr. AlWadaei took part in a protest against King Hamad when he visited Theresa May during which he was detained for a few minutes. On that same day, his wife and infant son were about to leave Bahrain to go reside in the UK, security forces beat, mistreated, and detained his wife for 7 hours, telling her they would take reprisals against Mr. AlWadaei for his activism. Last week, his mother-in-law and brother-in-law were detained and his brother-in-law was tortured and forced to confess against Mr. AlWadaei Security forces told his brother-in-law they would take revenge against him for coming to the Human Rights Council. Mr. AlWadaei said, "Before it was me paying the price, but now it is my family that is paying the price." But the international community has "failed to at least put Bahrain under scrutiny. To do a joint statement – that would at least put something on the record. If this is the case, then why are we even here, that is the question I have for all states here." He urged the community to act and to take full advantage of the opportunity for engagement represented by the UPR, especially in light of the silence at the current HRC session.