10 Dec, 2014
Bahrain: Human Rights Defenders Zainab and Maryam Al-Khawaja Sentenced To Prison in Separate Trials
On 01 December, Maryam Al-Khawaja was sentenced in absentia to one year imprisonment in Bahrain on charges related to an alleged assault on a police officer in Bahrain's airport. Ms. Al-Khawaja had travelled to Bahrain in an attempt to visit her father, imprisoned human rights defender and founder of the BCHR, Abdulhadi Al-Khawaja, who went on hunger strike in August of 2014. Following a dramatic and rapid decline in his condition, Ms. Al-Khawaja travelled to Bahrain to visit him, only to be detained on arrival in the airport on 30 August.
Maryam Al-Khawaja was held in prison for 19 days on charges of allegedly having 'assaulting a police officer'. She was released while the investigation was ongoing, and no travel ban was imposed upon her. Ms. Al-Khawaja chose to boycott the trial because she does not believe in the independence of Bahrain's judiciary. The BCHR believes that Maryam Al-Khawaja was wrongfully arrested and targeted due to her work in exposing human rights violations in Bahrain.
Zainab Al-Khawaja, who is also a daughter of Adbulhadi Al-Khawaja and an older sister to Maryam Al-Khawaja was sentenced to prison two recent occasions; 04 December and 09 December. On 04 December, Ms. Al-Khawaja was sentenced to three years' imprisonment for 'insulting the King' as well as issued fine of 3,000 Dinars (approx. $8,000 USD). These charges were related to Ms. Al-Khawaja exercising her right to peaceful freedom of expression where she tore up a photo of the King. The court set bail for 100 Dinars (approx. $265 USD) for putting the sentence on hold until the appeal trial outcome, which she paid. Ms. Al-Khawaja has appealed the case, and the sentence will therefore only be implemented if the court rules against her at this time. Ms. Al-Khawaja was not present at the trial.
Two of the charges against Ms. Al-Khawaja on 09 December were related to 'destroying government property' while she was detained in 2012, where she ripped up a picture of Bahrain's King. Lastly, she was charged with 'insulting a police officer'. These charges, and more than a dozen other charges against Ms. Al-Khawaja represent a pattern of the Bahraini government's attack on freedom of expression. This pattern of targeting human rights activists is also a part of a wider crackdown against journalists, bloggers, photographers and activists to exercise their freedom of expression in Bahrain. Ms. Al-Khawaja was sentenced to one year and four months imprisonment, issued by the court of appeal, which upheld the sentence. This verdict will be implemented immediately, and she can be arrested at any moment.
Zainab Al-Khawaja gave birth to a healthy baby boy, her second child, on 27 November.
The BCHR calls on the Government of Bahrain to
Immediately and unconditionally overturn all convictions of Zainab Al-Khawaja related to freedom of expression;
Immediately and unconditionally drop all charges against Zainab Al-Khawaja related to freedom of expression;
Immediately and unconditionally overturn the conviction of Maryam Al-Khawaja; and
Release all political prisoners and end the systematic targeting of individuals for exercising their right to peaceful freedom of expression.
1 Dec, 2014
Press Release: The Enablers
The Manama Dialogue will celebrate its 10th anniversary when it opens in Bahrain on Friday, December 5th, and as the international community comes together to discuss the present state, and future of, security in the Gulf.
It is important to hear from the people of Bahrain in order to fully understand how the international community's security policies, and trade agreements, are affecting the situation on the ground.
In the coming days, we will investigate how the international community has
enabled the government to suppress the peaceful pro-democracy movement and to let serious human rights violations continue relating to freedom of expression,
freedom of assembly and the right to life - through the sale of traditional arms, tear gas, shotgun pellets, and public relations services.
In the coming days participants of the conference will be shielded off in a section of the Ritz-Carlton, but we believe that the people of Bahrain and the Gulf in general should be part of the conversation when talking about security in the region, therefore we are inviting the public to be part of that conversation.
During this time of reflection, the Bahrain Center for Human Rights, when the 10th annual Manama Dialogue commences, interested parties will have gotten an insight into the awful methods that the Bahraini Government continue to use to suppress its population - but more importantly, who the ENABLERS are to make the atrocities continue to happen.
To view the press release as a .png file, please click here.
19 Nov, 2014
France24: Video Depicts Bahrain Police Abuse - But Will Inquiry Lead Anywhere?
A video recently emerged showing a Bahraini police officer mistreating a prisoner and showering him with insults, while making references to the man's Shiite faith. The video, posted on Monday to YouTube, quickly went viral – to the extent that the Bahraini authorities were forced to respond. The day after its release, the Interior Ministry announced the suspension of the police officers involved and the opening of an investigation. According to our Observer, it's all a smokescreen.
The images were posted by activists of the February 14 movement, the group behind the protests against the Sunni monarchy headed by King Hamad bin Issa al-Khalifa. The movement is now regarded by Bahraini authorities as a terrorist organisation.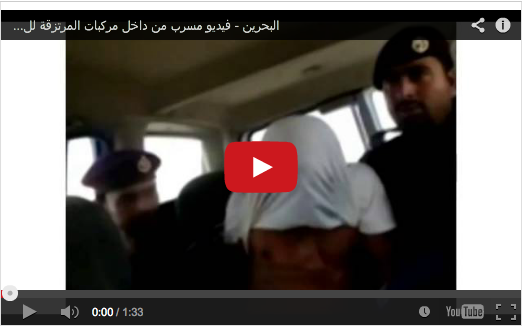 The video takes place in a police car, with a prisoner sitting on the back seat between two police officers in uniform, his hands tied behind his back and his head covered by his shirt. It is clear he is Shiite due to the police's mention of "zawaj al-mut'a", literally meaning "pleasure marriage", the name given by Shiite Muslims to "temporary marriage". The marriage is agreed between potential spouses for a limited period of time and generally sealed by a religious authority. This form of union, which is still practiced by a number of Shiites, is rejected by a large majority of Sunnis.
The policeman sitting in the seat next to the driver (whose face is hidden) asks the prisoner if he can make a "pleasure marriage" with his sister. "Do you agree?" yells the police officer. The prisoner nods his head as the officer continues: "And a Sunni, can she have a zawaj al-mut'a?". The prisoner remains silent, so the police officer gets angry: "Do not even say 'Sunni', you son of a b***!". The officer proceeds to punch the prisoner on the head and back while the other policemen try to calm him down.
The Interior Ministry said on Tuesday via its Twitter account that an investigation had been launched and that the police officers involved in the video had been suspended from their duties.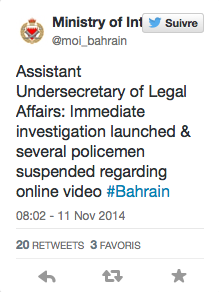 "However, Said Yousif Al-muhafdah, vice-president of the Bahrain Center for Human Rights, believes it is certain there will be no legal consequences for the police officers.
Unfortunately, the police officers who commit abuse or even acts of torture are spared due to a culture of impunity. Since 2011, there have been 7 or 8 proven cases of abuse, which came to light thanks to
leaked videos.
Each time, it's the same scenario: the authorities announce the opening of an investigation, but the investigations go nowhere and very rarely result in sanctions. The ministry's announcements are only intended to calm public opinion and sell a semblance of democracy abroad.
In the rare cases where there is a conviction, the sentences are eventually reduced. In May 2013, a police officer sentenced to 7 years of prison for shooting an unarmed demonstrator dead saw his sentence reduced to 6 months.
That same year, the court acquitted two police officers who killed a demonstrator by shooting him with buckshot pellets. The court found that the two officers had not fired with the intent to kill, and were therefore free to go [Editor's Note: In May 2014, an unarmed 14-year-old protestor was also killed by buckshot pellets during a demonstration].
In April 2012, police officers were involved in a case involving thugs damaging a grocery store owned by Shiites. The scene was recorded by the store's security camera, but it did not lead to an investigation, even though the faces of the police officers were clearly identifiable in the video.
This situation will not change until Bahrain has effective institutions and most notably an independent judicial system. To achieve that would require genuine democratic reform, and that is still a far-off dream."
The organisation Human Rights Watch issued a report last May denouncing impunity and judicial bias in the kingdom. "In Bahrain, a police officer who kills a protester in cold blood or beats a detainee to death might face a sentence of six months or maybe two years, while peacefully calling for the country to become a republic will get you life in prison," the report states.
Bahrain is a Shiite-majority country (about 75 percent of the population), ruled by an exclusively Sunni monarchy and government. Since February 2011, members of the Shiite community who feel discriminated against regularly go into the streets in protest. In May, the International Federation for Human Rights estimated that at least 89 people had been killed since the start of the protests.
http://observers.france24.com/content/20141114-shiite-prisoner-bahrain-investigation-video-sunni-police
19 Nov, 2014
The Guardian: It's Dangerous To Be So Cosy With The Gulf's Autocrats