10 Jul, 2013
Bahrain: Prime Minister to Officer Acquitted on Torture Charges: "Thank you for your work"
The Bahrain Center for Human Rights (BCHR) is gravely concerned in regards to the authorities in Bahrain fostering the culture of impunity, and especially in regards to a video which was published recently online showing Khalifa bin Salman Al Khalifa, the world's longest-serving unelected Prime Minister of 43 years, visiting an acquitted torturer to thank him and guarantee impunity.
On the 7 July 2013, a pro-government account on YouTube uploaded a video showing the Prime Mister visiting Lt-Colonel Mubarak bin Huwail after he was acquitted on 1 July 2013 of charges related to torturing medics in detention back in 2011. (Read More on: http://bahrainrights.hopto.org/en/node/6205).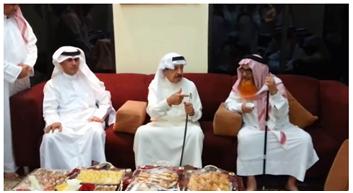 Photo taken from the video (Mubarak ben Huwail on the left, PM in the middle)
The Prime Minister's visit to bin Huwail only reaffirm that impunity comes from the highest levels of the ruling family. It also reaffirms the fact that the judiciary system in Bahrain is neither independent nor fair; and far from being in line with international standards. Kangaroo courts and unfair trials continue against political dissidents in continuation of allegations of torture both inside and outside official government buildings; whereas those accused of extrajudicial killings or torture are either acquitted or given very light sentences in regards to the charges.
During the visit, the prime minister began with "We do not allow any harm towards you. These laws, no-one implements them on you. Our relationship with you, what is implemented on you is implemented on us. We are one body."
"As I told you, I came here to thank you for your patience, and for your kind work. The work of this whole family, is the reason behind your reputation which can't get any better."
"I came here to thank you all, and to thank Mubarak. He is our son, and nothing shall harm you, wherever you are, I'll always be there for you." The PM ended.
Link to the video: http://www.youtube.com/watch?v=YVundvyyNS8
It is important to note that Huwail had numerous torture allegations made against him over years. Rula AlSafar, the nursing society chief who was arrested on April 4, 2011 stated "The principal investigator, Maj Mubarak bin Huwail, tortured us. He blindfolded and handcuffed us during the interrogation. He wrote whatever he wanted to write and then took our signatures on the false statements by beating us. We were humiliated, intimidated and degraded."
The culture of impunity in Bahrain has acquitted many other officers as well despite the presented credible evidences; most of the officers whom were put on trial for charges related to torture allegations, where either acquitted or given light sentences. Read more on: http://bahrainrights.hopto.org/en/node/6193
In addition to the thanks and impunity offered by the highest officials, the culture of impunity in Bahrain is as well represented in the form of offering promotions to the torturers instead of accountability. On 28 Jan 2013, the King has promoted Bassam Al-Muraj in a royal decree to become the General Director for Anti-Corruption, Economic and Electronic Security in the General Directorate, despite the credible torture allegations which have been made against Al Muraj for several years by local and international human rights organizations. Read more on: http://bahrainrights.hopto.org/en/node/5628
The BCHR believes that the policy of impunity is clearly practiced by the Public Prosecution and the Judiciary in Bahrain, and it is a systematic policy implemented at the highest levels of government, which was proven by the recent video of the Prime Minister. Also, the fact that the visit of the United Nations Special Rapporteur on Torture was effectively cancelled by the Government of Bahrain, which was due to take place in May 2013, is another indicator that the Bahraini government is not serious about implementing reforms and about abiding by the local and international laws. Read more on: http://bahrainrights.hopto.org/en/node/5720
Based on the information provided above, the Bahrain Center for Human Rights (BCHR) calls for:
The intervention of the international community and the United Nations bodies to prevent the Authority from continuing to further fasten and exploit the culture of impunity, which will lead to more innocent victims.
Senior officials and members of the ruling family in Bahrain must be held accountable by an independent, transparent and impartial judicial system.
Investigations must be held in all cases of torture, and the perpetrators have to be held accountable.
Allies of Bahrain must pressure the Government of Bahrain to allow a visit by the Special Rapporteur on Torture.
8 Jul, 2013
Bahrain: Human Rights Defender Said Yousif Al-Muhafdha Under Judicial Attack Again
The Bahrain Center for Human Rights expresses its concern over the continued attacks on human rights defenders in Bahrain. Sayed Yousif Al-Muhafdha, the BCHR's Acting Vice President and Head of Documentation Unit, was acquitted on 11 March 2013, however, the public prosecution appealed his acquittal. His ruling hearing was postponed to 12 September 2013.
On 17 December 2012, Mr Al-Muhafdhah was arrested from the capital Manama while he was monitoring a protest and tweeting about the violations against protesters. The following day he was taken to the public prosecution for interrogation and was ordered to 7 days detention pending investigation. He was released a month later on 17 January 2013 on BD100 bail.
He was charged with disseminating false news over twitter. Following his arrest, the Deputy Attorney General stated that the public prosecution began investigating into the anti-cyber crime unit's report against Yousif Al Muhafdha for disseminating false news about security forces attacking protesters on Monday (17 December 2012) in Manama Souq on his personal account on twitter. The court acquitted Sayed Yousif on 11 March 2013 because of lack of evidence and that no link could be established between Said Yousif's tweet, that has been claimed to have caused protests and riot, and the protests that took place in the area. Also, a witness confirmed that there were other accounts calling for protests in Manama on the given date. These contradict article 168 of punishment law that states punishment for disseminating false news can only be implemented if lead to harming public security.
The first appeal hearing was on 1 July 2013 but the hearing was postponed to 12 September 2013. It is possible that the next hearing will be the ruling hearing, and it could lead to could lead to an overturning of the initial verdict.
The Bahraini government has targeted many activists in an attempt to silence them and stop the reporting of human rights violations committed by security forces against peaceful protesters and civilians. Nabeel Rajab, Abdulhadi Al Khawaja, Zainab Al Khawaja and Naji Fateel are Bahraini human rights defenders and activists sentenced to prison for their human rights work.
The BCHR call on the United States, the United Kingdom, the UN and all other close allies and international institutions to put pressure on the Bahraini authorities to:
Drop all charges against all human rights defenders and put an end to sham trials.
Immediately and unconditionally release all prisoners of conscience and activists including leading human rights defenders Abdulhadi Al-Khawaja, Nabeel Rajab and Zainab Al-Khawaja and Naji Fateel.
Immediately stop all actions that restrict freedom of opinion and expression.
Guarantee in all circumstances that all human rights defenders in Bahrain are able to carry out their legitimate human rights activities without fear of reprisals, and free of all restrictions including judicial harassment.
2 Jul, 2013
Bahrain: Court of Cassation rejects appeal of imprisoned unionist
The Gulf Center for Human Rights (GCHR) and the Bahrain center for Human rights (BCHR) call for the immediate release of human rights defenders and president of the Bahrain Teachers Society, Mahdi AbuDeeb, who has had his appeal rejected on 01 July 2013 by the Court of Cassation, alongside with the vice president Ms Jalila Al-Salman.
Mahdi AbuDeeb is in detention since 6 April 2011, currently serving a 5 years imprisonment sentence at Jaw prison. on 23 September 2011 Mahdi and Jalila were sentenced by a military court to 10 and 3 years imprisonment respectively for calling to a teachers strike. On 21 October 2012 their sentences were reduced to 5 years and 6 months imprisonment respectively. They were charged with halting the educational process, inciting hatred, attempting to overthrow the ruling system by force. Jalila has been released after she served the 6 months prison sentences, but barred from teaching in state schools due to her conviction.
When AbuDeeb was arrested, he was thrown from the second floor then taken by the security forces. He was held incommunicado for more than a month with no access to his family or lawyer, and kept in solitary confinement for the whole period until his first military court hearing on 7 June 2011. He reported that the security forces subjected him to severe torture and ill-treatment. Both Abudeeb and Al-Salman have reported torture to the court during their trial, however the allegations were not investigated although the court issued its verdicts in the case.
According to new reports received by both the GCHR and BCHR, AbuDeeb is still subjected to harassments at Jaw prison. On 6 June 2013 he was denied visitation rights for refusing to replace his medical shoes with the regular prison sandals. AbuDeeb wears the medical shoes as a